Lowbrow Barber shop taps into nostalgia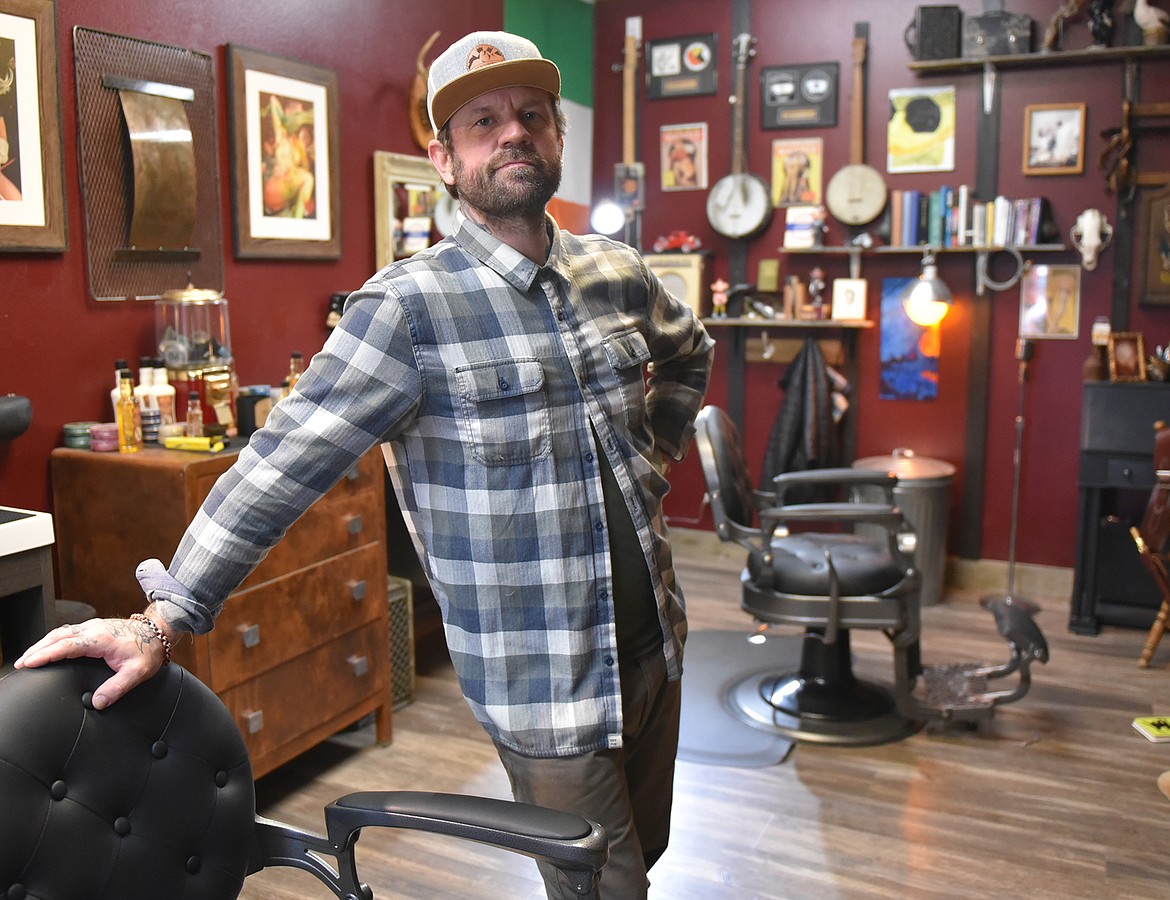 Mick O'Day has opened the Lowbrow Barber on Spokane Avenue. (Heidi Desch/Whitefish Pilot)
by
HEIDI DESCH
Editor
|
February 10, 2021 1:00 AM
The Lowbrow Barber shop provides the feeling of walking into nostalgia from the barber shops of long ago.
The deep maroon walls are decorated with antique and vintage finds, and the atmosphere provides a place for customers to chat about what's happening in the world or right down the street.
Barber and owner Mick O'Day opened the shop on Spokane Avenue this winter in what had previously been the Village Barber. He has been working in Whitefish for the last few years, but his intention has always been to open his own shop.
O'Day wants to ensure his customers have an experience when they visit his shop for a haircut or a hot shave.
"This is about creating an experience with a different kind of vibe," he said. "I want to make it that kind of barbershop you remember going to with your dad or your grandpa."
The shop offers haircuts, beard trims and straight razor shaves. O'Day focuses on providing quality services that make his customers return, sometimes twice a week for a shave.
"I want to provide something that's better than anything else you can find," he said. "I've been working as a barber professionally for three years, but before that I was cutting friends, family and my kids hair."
The logo for the shop has a rooster featured front and center, and O'Day says that was intentional.
"A rooster is always preening," he said. "The rooster never goes out of coop without looking good."
O'Day says the straight razor shave is a lost art, but it's one of his focuses because it provides that extra attention for his customers.
"It's one of the greatest experiences a man can have," he said. "It's a massage for the face, it exfoliates the face and it's good for the skin. Many men come in just for the experience of how it feels."
He also offers beard oil and pomade for sale noting that keeping the skin and hair healthy are one of the best ways for his customers to feel good. He mixes up his own beard oil using organic oils that smell not only pleasant but revitalize the face.
O'Day has a background in welding and operating heavy equipment, and also as a metal artist.
"I've always been an artist in one form or another," he says. "Barbering is just another form of sculpture. My idea was to build a place and sculpt it into a full gallery experience."
For more information, call 406-868-8905 or visit https://www.lowbrowbarber.com/
---