Whitefish wrestling loses 4 tight duals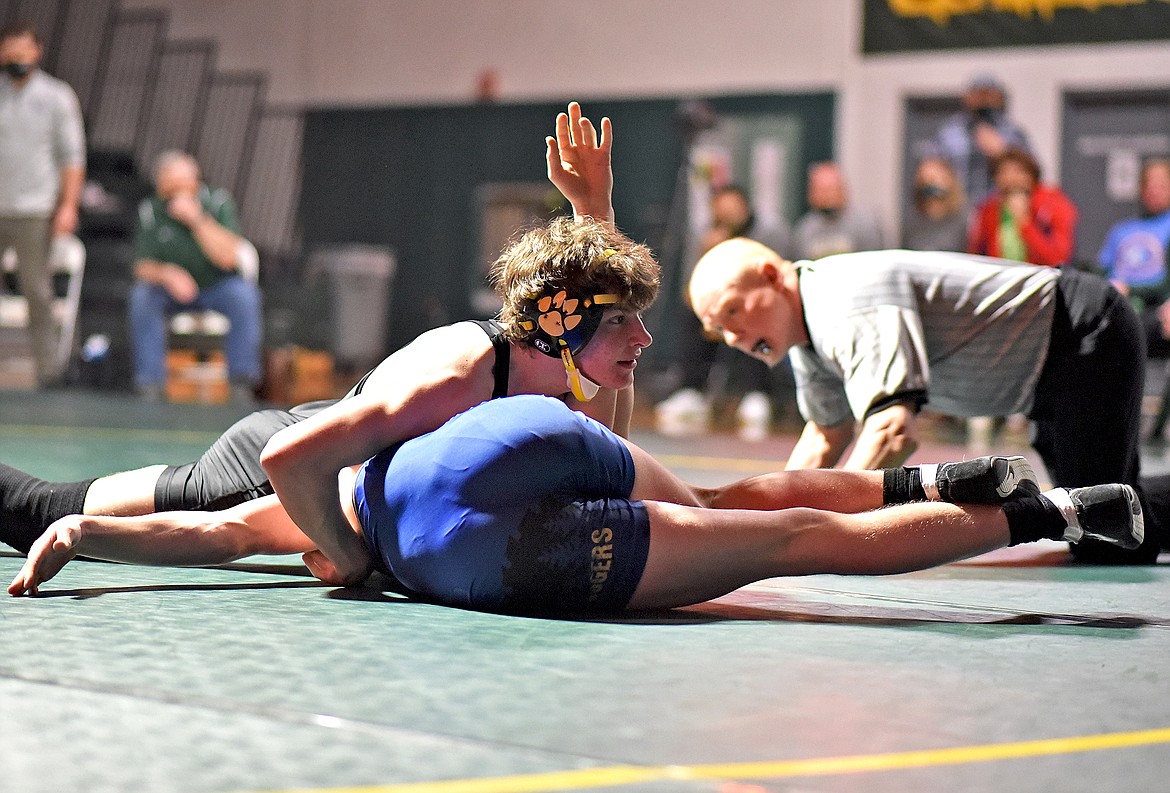 Bulldog wrestler Jack Akey seconds away from pinning Libby's Elijah Edwards at Whitefish's home duals on Saturday. (Whitney England/Whitefish Pilot)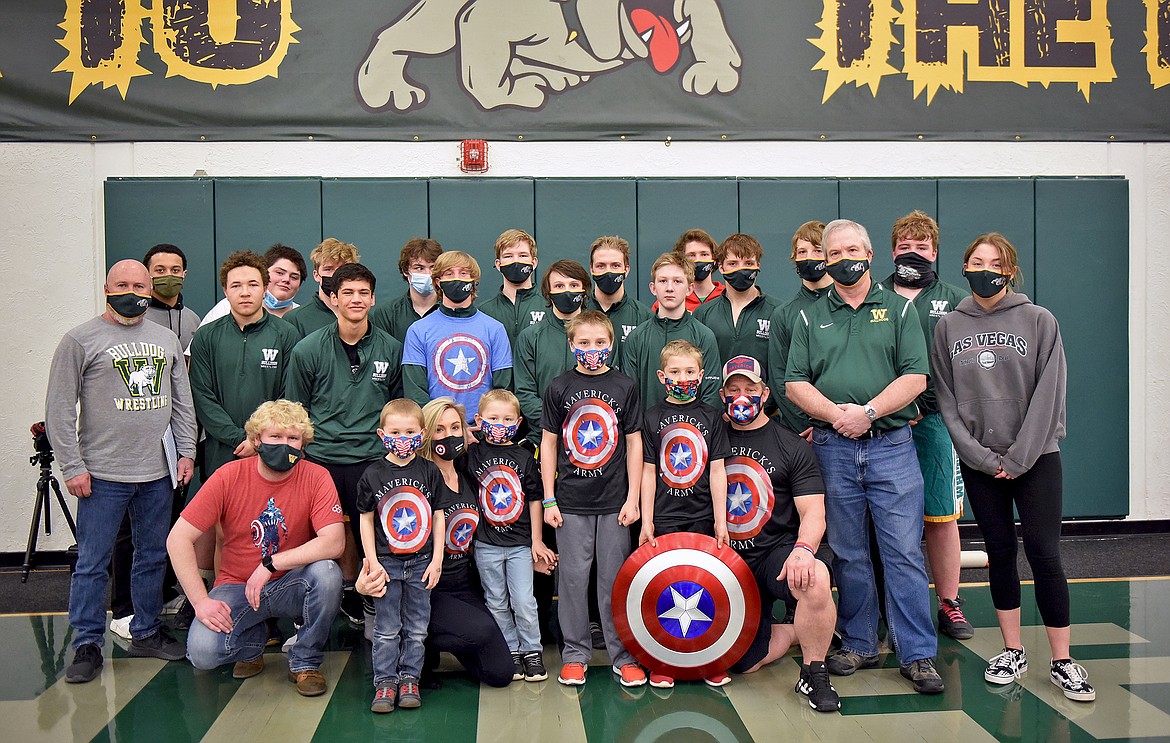 The Whitefish Wrestling team stands with the Bench family after their home dual on Saturday. Prior to the meet Whitefish had a moment of silence for Maverick Bench who recently lost his battle with a rare disease called Aplastic Anemia. His father Logan Bench wrestled for the Bulldogs in the late 1990s. (Whitney England/Whitefish Pilot)
Whitefish's Nathan Sproul works toward pinning Libby's Xavier Reatz on Saturday at Whitefish High School. (Whitney England/Whitefish Pilot)
Previous
Next
by
WHITNEY ENGLAND
Reporter
|
February 3, 2021 1:00 AM
By WHITNEY ENGLAND
Whitefish Pilot
The Bulldog wrestling team dropped all four duals last week, but that's not to say the athletes weren't wrestling well.
According to head coach Danny Neff, the team losses as of late are due mostly to giving up too many forfeits among weight classes. Whitefish wrestling has had a few athletes step away from the sport for personal reasons, leaving vacancies that are hurting the team.
"We really relied on those kids scoring points, so that's been a bummer," Neff said. "We're just having to battle with the team that we've got… The kids are wrestling really well, its just when you're giving up four forfeits in a dual it's tough to build back from that deep hole that's already been dug."
Last week Whitefish traveled to Ronan to face the Chiefs for the first time this season and also saw Polson for a second matchup. The Bulldogs held their own and both duals could have swung either way in a matter of only a few points according to Neff.
The Bulldogs lost to Ronan 36-27 and then tied Polson 36-36, however under tiebreaker criteria Whitefish lost to the Pirates as well.
"That was a fun Thursday, we were competitive, but giving up those forfeits is tough," Neff said.
Whitefish freshman Henry Bennetts continued his impressive performances with two pins, including coming back in a match against Polson senior Caleb Pierre for a reversal and dramatic pin.
On Saturday Whitefish hosted another home triangular event with Libby and Eureka. Prior to the meet with Libby, Whitefish had a moment of silence for Maverick Bench, a local kid who recently passed away after a courageous battle with a rare disease called aplastic anemia.
"Saturday was a heartwarming, special day for Whitefish wrestling as the Bench family came and witnessed some Bulldog wrestling," Neff said, explaining that Maverick's father Logan wrestled for Whitefish in the late 1990s. "Just emotions rolling with everything that's going on with Maverick and his amazing fight that he had for a little less than a year. So we wanted to represent the Bench family as well as we could."
The Bulldogs faced Libby first, who Whitefish beat by just one point a couple weeks ago, but lost 32-30. Later in the day Whitefish and Eureka wrestled with the home team also dropping that dual 42-32.
Both meets came down to the heavyweight matches and it was Whitefish's Brian Sweeney's first time back on the mat in over a year. Sweeney was pinned by both of his opponents, but Neff said it wasn't for a lack of heart.
"It's going to be tough for him for a few weeks just to get back into that aspect of wrestling with someone other than a teammate," Neff said. "It shows the heart that Brian Sweeney has though, finally getting down to weight and getting back on the team, getting out on the floor — his excitement is there, it's just that mat condition time that we need to work on."
Whitefish's Nathan Sproul had two pins in the dual at the 113 pound weight class and Jack Akey also went 2-0 at 145.
"Really excited to see where Nathan Sproul goes, he went down to the 113 pound weight class and he's going to compete really well," Neff said. "And (Jack Akey) is finding some confidence in himself and starting to take those shots that he needs to in order to win those matches."
Bennets had two more wins on Saturday as well as senior Camren Ross who won two matches, both by decision. Against Libby, Ross wrestled Tucker Masters who is ranked sixth in the state according to the latest coaches poll. Ross won by decision 4-3.
"He had a tough fight with Tucker Masters from Libby, ended up grinding out a 4-3 win which is really exciting because he's never beat Tucker before," Neff said. "Camren went out and made a point, that was really exciting and the kids really jumped on that wagon of excitement and camaraderie there."
Neff also mentioned he was impressed with his junior varsity kids Valen Lewis-Ingerson, who got his first pin of the season against Eureka's Austin Marshall, and Rylan McDaniel. Neff says McDaniel started last year wrestling at 170 pounds and has worked hard to now be wrestling in the 138 division.
"They're not in our starting lineup but they go out there and they work hard," Neff said. "Rylan's really stepped up from last year and is really competing well, excited to see where he goes as he's only a sophomore."
Whitefish wrestling was set to travel to Polson on Tuesday for a triangular between the Pirates and East Helena. Then the Bulldogs will be in Frenchtown on Saturday.
Lincoln County 42, Whitefish 32
103 Blake Lancaster (Lincoln County) over Unknown (For.)
113 Nathan Sproul (Whitefish) over Pancho Ibenez (Fall 2:43)
120 Carson Conard (Lincoln County) over Unknown (For.)
126 Kyle Durdan (Lincoln County) over Angelo Castro (Fall 4:50)
132 Gunnar Smith (Lincoln County) over Unknown (For.)
138 Caden Pecora (Lincoln County) over Carter Moran (Fall 4:17)
145 Jack Akey (Whitefish) over Jaxon Hume (MD 14-1)
152 Henry Bennetts (Whitefish) over Dominic Peltier (Fall 2:41)
160 Valen Lewis-Ingerson (Whitefish) over Unknown (For.)
170 Rylee Creasey (Whitefish) over Unknown (For.)
182 Camren Ross (Whitefish) over Colyn Johnson (MD 15-3)
205 Johnny Fehr (Lincoln County) over Ashton Akey (Fall 1:19)
285 Riley Hume (Lincoln County) over Brian Sweeney (Fall 0:42)
138 Extra: Michael Waters (Lincoln County) over Rylan McDaniel (Dec 10-5)
160 Extra: Valen Lewis-Ingerson (Whitefish) over Austin Marshall (Fall 3:44)
Libby 32, Whitefish 30
113 Nathan Sproul (Whitefish) over Xavier Reatz (Fall 1:40)
120 Cael Schwindt (Libby) over Unknown (For.)
126 Angelo Castro (Whitefish) over Zekiah Meyers (Fall 1:06)
132 Zack Morrison (Libby) over Unknown (For.)
138 Xander Spady (Libby) over Carter Moran (Fall 2:30)
145 Jack Akey (Whitefish) over Elijah Edwards (Fall 2:54)
152 Henry Bennetts (Whitefish) over Joey Wise (Dec 10-4)
160 Jace DeShazer (Libby) over Rylee Creasey (Whitefish) (Dec 7-4)
170 Camren Ross (Whitefish) over Tucker Masters (Dec 4-3)
182 Coby Booker (Libby) over Unknown (For.)
205 Ashton Akey (Whitefish) over Unknown (For.)
285 Aydan Williamson (Libby) over Brian Sweeney (Fall 1:03)
138 Extra: Rylan McDaniel (Whitefish) over Dawson Rose (Fall 1:20)
170 Extra: Coby Booker (Libby) over Valen Lewis-Ingerson (Fall 2:27)
285 Extra: Kai Nash (Whitefish) over Tyler Smith (Fall 2:39)
Libby: Unsportsman conduct -1.0
Whitefish 36, Polson 36
103 Ryley Knutson (Polson) over Unknown (For.)
113 Cole Cross (Polson) over Unknown (For.)
120 Nathan Sproul (Whitefish) over Micah Craig (Fall 3:41)
126 Angelo Castro (Whitefish) over Gavin Knutson (Fall 3:10)
132 Casey Trosper (Polson) over Unknown (For.)
138 Carter Moran (Whitefish) over Noah Trosper (Fall 1:39)
145 Jack Akey (Whitefish) over Xavier Pierre (Fall 0:46)
152 Henry Bennetts (Whitefish) over Caleb Pierre (Fall 3:18)
160 Michael Pierre (Polson) over Valen Lewis-Ingerson (Fall 0:37)
170 Camren Ross (Whitefish) over Abel Kimmel (Fall 0:59)
205 Jamison Webster (Polson) over Ashton Akey (Fall 0:43)
285 Aaron O`Roake (Polson) over Kai Nash (Fall 0:35)
Ronan 36, Whitefish 27
103 Ian Dillard (Ronan) over Unknown (For.)
120 Nathan Sproul (Whitefish) over Unknown (For.)
126 Trevor Bartel (Ronan) over Angelo Castro (Dec 9-7)
132 Beaudean Decker (Ronan) over Unknown (For.)
138 Landon Bishop (Ronan) over Carter Moran (Fall 4:48)
145 Caleb Cheff (Ronan) over Jack Akey (Fall 2:57)
152 Henry Bennetts (Whitefish) over Julian Strait (Fall 2:38)
160 Valen Lewis-Ingerson (Whitefish) over Unknown (For.)
170 Daniel Collins Bishop (Ronan) over Camren Ross (Dec 9-7)
182 Tristan Fisher (Ronan) over Unknown (For.)
205 Ashton Akey (Whitefish) over Unknown (For.)
285 Kai Nash (Whitefish) over Max Morency (Ronan) (Dec 3-2)
126 Extra: James Kenelty (Ronan) over Nathan Sproul (Dec 5-1)
138 Extra: Beaudean Decker (Ronan) over Rylan McDaniel (Dec 5-2)
205 Extra: Tristan Fisher (Ronan) over Ashton Akey (Fall 2:41)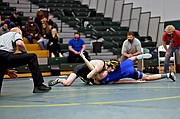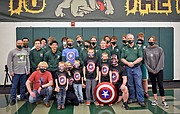 ---