Whitefish girls basketball paces wins with balanced scoring attack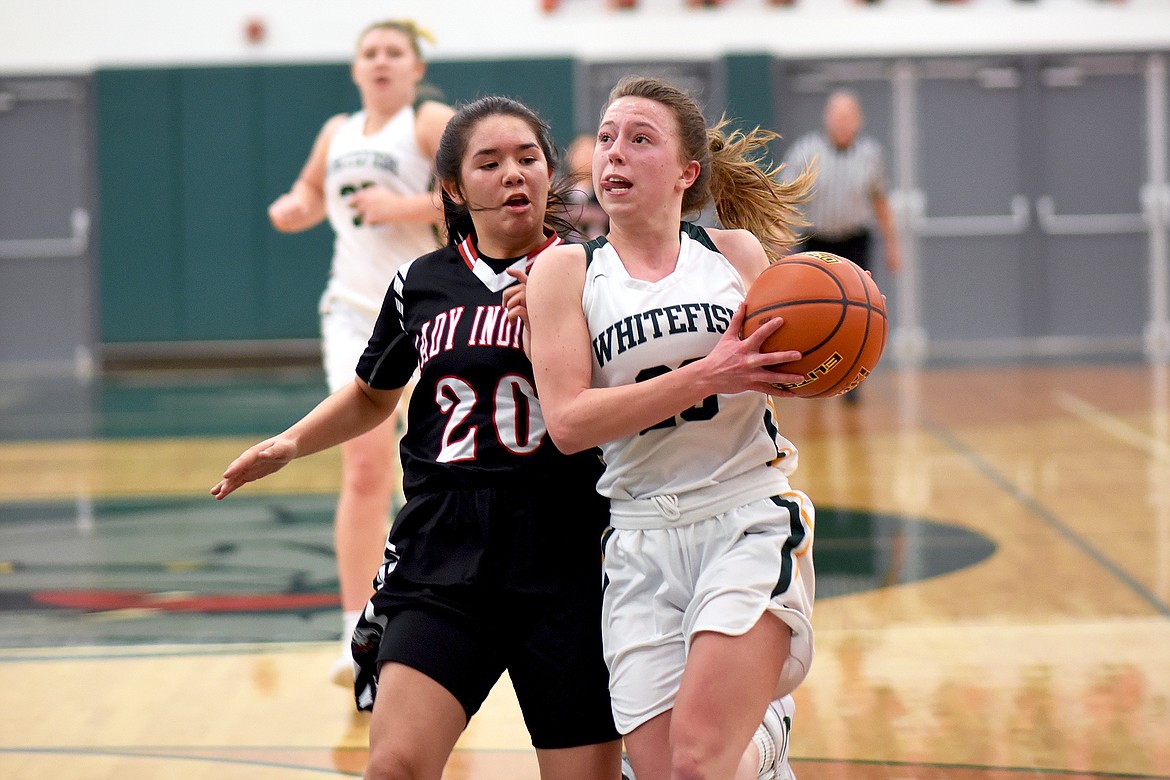 Whitefish senior Mikenna Ells drives to the hoop against Browning on Thursday evening at Whitefish High School. (Whitney England/Whitefish Pilot)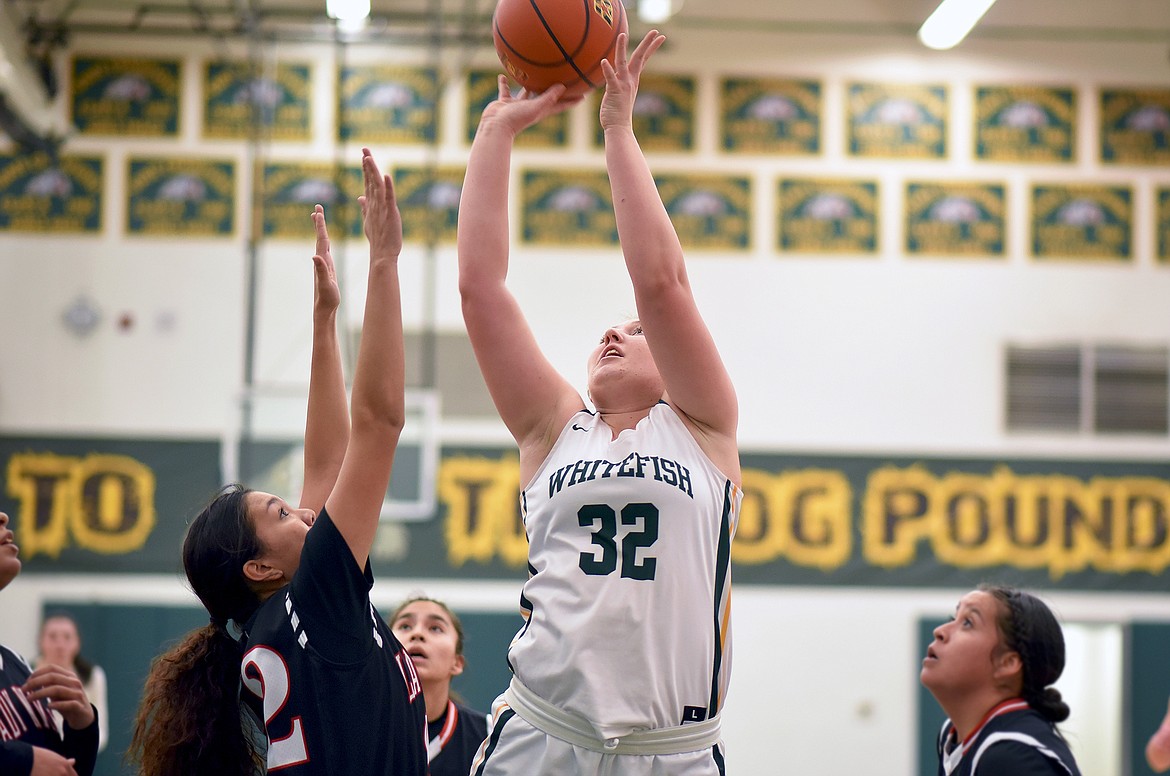 Whitefish senior Brook Smith rises up above the Browning defense to score during a game at Whitefish High School on Thursday evening. (Whitney England/Whitefish Pilot)
Previous
Next
by
WHITNEY ENGLAND
Reporter
|
February 3, 2021 1:00 AM
The Lady Bulldogs continued their winning ways last week with three wins over a period of four days to improve to a 7-2 overall and 3-1 Northwest A conference record.
After defeating Eureka, Browning and Stevensville last week, Whitefish has now won five in a row and lurking at the end of the week is a massive rematch with the undefeated Columbia Falls Wildkats.
"It's nice to just call this a big game, for us that's saying a lot with the way things have been (in previous years)," Whitefish head coach Bob Bolam said. "It's exciting to know that we're in a good position in our league, that this is a big game and we can make it count for something."
Lately Bolam has been most impressed with his team's defensive effort and also the balanced scoring attack the girls put together in each game over the last week. Multiple players scored in double figures during the contests and at least six girls got in the scorebook each game.
Whitefish first hosted Eureka on Tuesday, Jan. 26. The Lions are having a winning season thus far, but stood to be no contest for the Lady Dogs.
"When I look at the Eureka game, that's a quality opponent coming in," Bolam said. "For us to come out on top the way we did was really exciting."
Whitefish jumped out to an early lead and led by as many as 20 points in the game, eventually finishing off the Lions 55-43. Eureka scored five 3-pointers in the fourth quarter, but couldn't overcome Whitefish's lead built through a 19-4 third quarter scoring frenzy.
Lady Bulldog Gracie Smyley led her team with 15 points, Brook Smith added 14 and Jadi Walburn had 12.
Thursday the girls faced Browning at home and managed to pull off a huge 59-42 victory over the Indians, a win they haven't pulled off in years.
"Against Browning, that was just a big win for us to beat a team that we haven't beaten since I've been around — and then to beat them pretty soundly," Bolam said. "The girls were really excited about that one."
The Lady Dogs had seven players score in the game, led again by Smith with 16 points. Another positive in the game was Whitefish's high free throw percentage as they went 18-of-24 from the line.
The following day Whitefish hit the road and faced Stevensville with tired legs after a long week. Despite lower energy than usual, the Bulldogs tough defense and another sound showing at the free throw line pulled them through. Mikenna Ells hit four free throws within the last couple minutes of the game to maintain the lead and help Whitefish to a 43-41 victory.
Smyley was the team's high scorer with 13 and fellow senior Ashton Ramsey cashed in 12 points in the game.
"We had five games in eight days so we were pretty busy; it showed in that last game down in Stevensville, I thought the girls really toughed it out," Bolam expressed.
"The girls are working hard and wanting to be successful, so they've been rewarded for that hard work by getting some victories this past week," he added.
Whitefish will have had four days of practice to regroup, and work on getting even better according to Bolam, before hosting Columbia Falls on Friday at 7:15 p.m.
"Knowing we played well against (the Wildkats) last time and knowing that we can play even better," Bolam said. "It's going to be, can we do that? Can we step up and play to our potential on Friday night against a very good team — because if you don't then you get beat."
Browning 7 12 10 13 – 42
Whitefish 6 19 17 17 – 59
BROWNING – Arena Matt 7, Mecca Bullchild 8, Mishayla Croff, Walker Running Crane 7, Jerel White Grass, Tatum Running Crane 12.
WHITEFISH – Jadi Walburn 10, Erin Wilde 6, Taylor Means 6, Ashton Ramsey 3, Mikenna Ells 7, Gracie Smyley 11, Brook Smith 16.
Eureka 10 11 4 18 – 43
Whitefish 13 9 19 14 – 55
EUREKA – Kyla Bohne 18, Rhianna Hawkins 10, Katie Schmidt 2, Reena Truman 6, Remmi Stanger 7.
WHITEFISH – Jadi Walburn 12, Erin Wilde 1, Ashton Ramsey 9, Mikenna Ells 4, Gracie Smyley 15, Brook Smith 14.
Stevensville 14 7 16 4 - 41
Whitefish 12 14 7 10 - 43
WHITEFISH - Gracie Smyley 13, Ashton Ramsey 12, Mikenna Ells 8, Brook Smith 8, Jadi Walburn 2.
---