Bulldogs pick up wins after slow season start
by
WHITNEY ENGLAND
Reporter
|
February 3, 2021 1:00 AM
After winning three games in one week, the Bulldogs are on a roll.
The Whitefish boys basketball team defeated Browning, Eureka and Stevensville last week to improve their overall record to 4-5. Last week head coach Scott Smith said they needed to put together a win streak and that's just what they did.
"We needed to pick up some wins," he said. "Playing three games in four days is always tough, but I thought overall our kids brought pretty good energy to all three of those games."
"We just had a bunch of kids step up, hopefully right now we have a lot of confidence going into this week ahead of us," he added.
Whitefish traveled to Eureka on Tuesday, Jan. 26 and handedly beat the Lions 67-49.
The Bulldogs jumped out to an early lead and never looked back. Eureka had runs that cut into Whitefish's lead, but couldn't close the deficit.
"Eureka's a talented team, they're pretty athletic," Smith said. "Early on Jayce Cripe lit it up for us and helped us build a bit of a lead there and we just kept it."
Cripe hit five 3-pointers to finish with 15 points. Talon Holmquist had a game-high 17 points and Bodie Smith scored 16 in the game. Coach Smith was impressed with the balanced scoring approach as nine Whitefish players made it in the books.
"That was a good game for us, kind of a confidence booster," he said.
Two days later the Bulldogs traveled to Browning, which historically has always been a tough matchup. The game was back and forth with both teams taking the lead at various points. The Bulldogs had a 10-point lead at one point in the second half, but allowed the Indians to work their way back into the game. However down the stretch Whitefish executed and narrowly won, 51-48.
Smith was most impressed with his team's defensive effort, stifling the Browning offense to under 50 points. Though he'd like to see his players do a better job keeping a lead all the way to the end, it was a good win in the books.
"We just need to do a better job finishing, but down the stretch the kids did what they needed to do," Smith said. "Anytime you win in Browning it's a good win."
Lastly Whitefish hosted Stevensville at home on Friday evening. The Yellowjackets are yet to win a game, but Smith was concerned that his team might let up and expect an easy win. However the Bulldogs came to play.
Whitefish started off hitting shots on the offensive end, but more impressively they held Stevensville to only 10 points through the first two periods of play. The Bulldogs kept piling on points as they increased their lead to nearly 40 points in the third quarter.
The Bulldogs pulled all their starters from the game with six minutes remaining and the younger guys on the bench had an opportunity to hit the court. Whitefish finished off Stevensville, 65-35.
"We had balanced scoring, we had a bunch of kids score which is what you want," Smith said. "We had a ton of assists, I think Jayce Cripe had 10 assists which is very good."
Bodie Smith led the way this time with 17 points and Holmquist scored 12. Again, nine Bulldogs scored in the game.
From both the Stevensville and Browning games, Coach Smith said he was happy to see Whitefish junior Jaxsen Schlauch step up on both ends of the court.
"Jaxsen Schlauch really stepped up his game," Smith said. "He's starting to get a little more confidence offensively, but defensively in the Browning game I gave him a tough match up and he was up to the challenge, and also helped us out offensively."
Whitefish will get four full days of practice before meeting Columbia Falls in the two teams' second matchup of the season. Just a couple of weeks ago, Whitefish narrowly lost in overtime to the Wildcats and are eagerly looking forward to meeting them again on the court this Friday.
"We're chomping at the bit there," Smith said regarding the rematch against CFalls.
During practice Smith said his team will be working on improving in some areas before Friday, but overall he says the boys need to keep playing good basketball through all four quarters.
"We've got to start faster and then we've got to finish games, that's our biggest emphasis; and have more consistency throughout the game," he expressed.
Whitefish will play against the Wildcats in Columbia Falls on Friday starting at 7:15 p.m.
Stevensville 6 4 9 16 – 35
Whitefish 18 15 15 17 – 65
STEVENSVILLE – Gus Turner 9, Hunter Gum 4, TJ Brown 2, Kellan Beller 20.
WHITEFISH – Bodie Smith 17, Jaxsen Schlauch 6, Kiefer Adams 2, Logan
Conklin 9, Barrett Scott 5, Fynn Ridgeway 5, Jayce Cripe 9, Talon Holmquist 12.
Browning 11 13 11 13 - 48
Whitefish 12 16 10 13 - 51
WHITEFISH - Bodie Smith 15, Jaxsen Schlauch 9, Logan Conklin 4, Fynn Ridgeway 2, Jayce Cripe 11, Talon Holmquist 10.
Whitefish 18 17 16 16 - 67
Eureka 11 12 16 10 - 49
WHITEFISH - Bodie Smith 16, Logan Conklin 3, Marvin Kimera 4, Jayce Cripe 15, Talon Holmquist 17, Cody Bertry 2, Orion Moore 1, Fynn Ridgeway 7, Jaxsen Schlauch 2.
EUREKA - Joey Kindel 10, Danny Dunn 13, Colter Casazza 1, TJ Carr 9, Hazen Bohn 4, Gavin Bates 8, Corbin Hurst 4.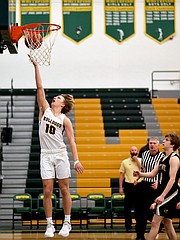 ---