Whitefish establishes curbside recycling, plans move to bear-resistant containers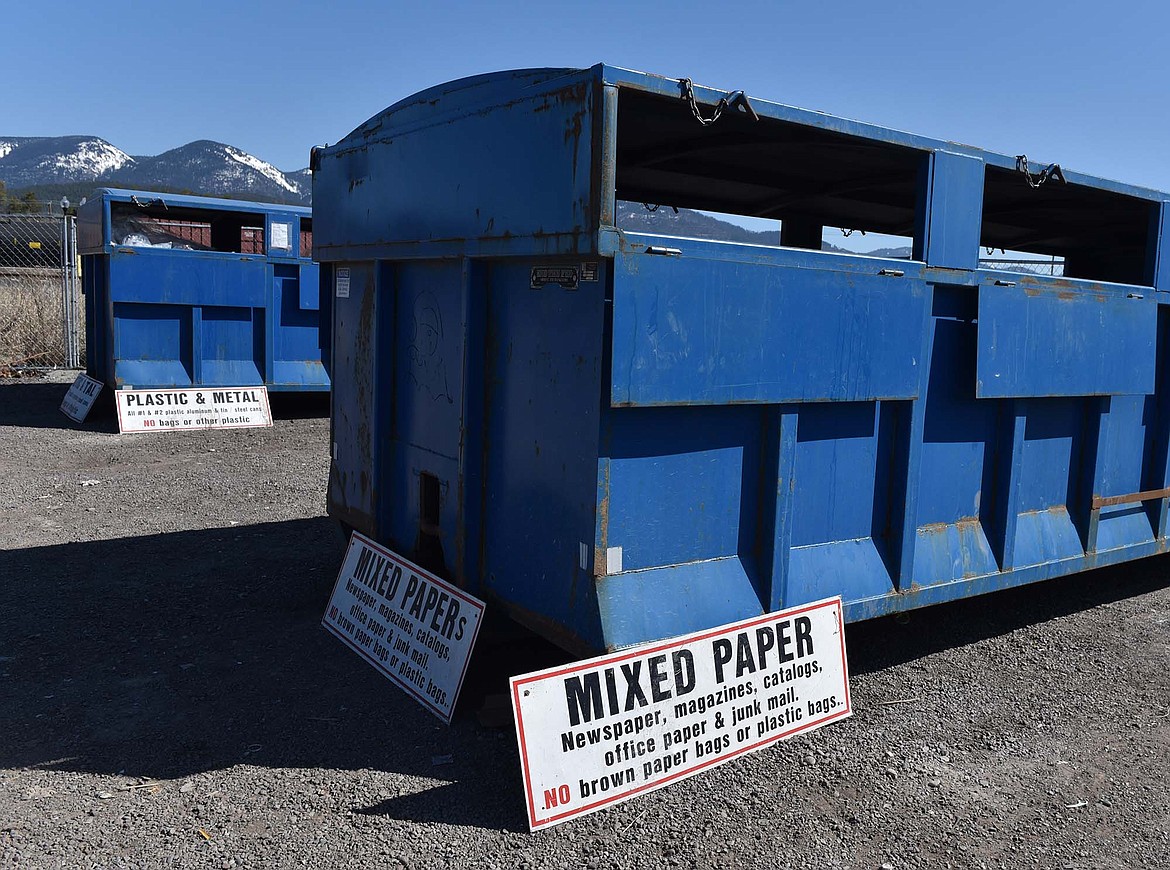 The City of Whitefish's previous centralized recycling site at the corner of Columbia Avenue and Railway Street. It closed in January 2022. (Heidi Desch/Whitefish Pilot file)
by
HEIDI DESCH
Daily Inter Lake
|
December 15, 2021 1:00 AM
Whitefish is moving forward with implementing a curbside recycling program and along with that is set to require animal-resistant containers for both recycling and garbage collection.
City Council last week approved an ordinance that creates a mandatory curbside recycling program. The program is expected to begin in the spring of 2022.
Council largely favored creating the recycling program and the new requirement for bear-resistant containers, but the associated increased costs prompted discussion about whether it was the right decision.
The cost for the recycling program is estimated to be about $12 per month. Garbage collection is expected to increase to about $16 per month with the new requirement of animal-resistant containers.
Animal-resistant containers add about $5.75 to the monthly cost each for recycling and garbage.
The city still has to negotiate a contract for recycling and garbage collection with contractor Republic Services before it sets the final rates for service.
Councilor Steve Qunell said the decision gave him heartburn knowing that adding recycling and the new containers would be a cost increase of about $200 per year for homeowners, but ultimately it was still the right decision.
"It's past time to have bear-resistant containers and it's also past time to have curbside recycling in this town," he said. "I'm glad we're going to be one of the leaders in our state by doing this."
Councilor Frank Sweeney too spoke about the increased cost for service.
"Some might not care, but my concern is that we're saddling the bulk of our citizens with this," he said.
Council for months has been working on the details of creating a new recycling program since the central recycling site on the snow lot will no longer be available for use next year as the property is planned for a housing project.
Public comments on the curbside program have been mixed. While many have supported the idea, others have said they don't want the burden of the increased costs with a mandatory curbside program.
The subject of animal-resistant containers for both recycling and garbage seemed to come to a head more recently after Whitefish saw a large increase in bear activity this summer.
At one point in late summer, Montana Fish, Wildlife and Parks reported that 19 black bears were roaming the city and at one point a grizzly bear was captured and moved from a neighborhood near downtown. The bears were getting into unsecured garbage as well as fruit trees.
Last week FWP officials told Council they could lead the way by making Whitefish a Bear Aware community.
"This year was a record year for bears," FWP Wildlife Conflict Specialist Erik Wenum said. "But the problem will persist and next year will likely be worse. There's a lot of new people living here and they are not used to living in bear habitat and they don't think of downtown Whitefish as bear habitat, but it is."
As part of the changes for the animal-resistant containers, the city intends to replace the large shared residential garbage containers in alleys around the downtown area with single household containers.
The curbside program is planned to be a bi-weekly collection of residential recycling. Items collected will be No. 1 and No. 2 plastics, flattened cardboard and paperboard, aluminum/tin/steel cans, and newspapers, magazines, office paper, catalogs, and junk mail.
There would be an estimated 3,500 customers as part of the recycling program.
Recent Headlines
---