Glacier to require tickets for Polebridge entrance, Sun Road corridor next summer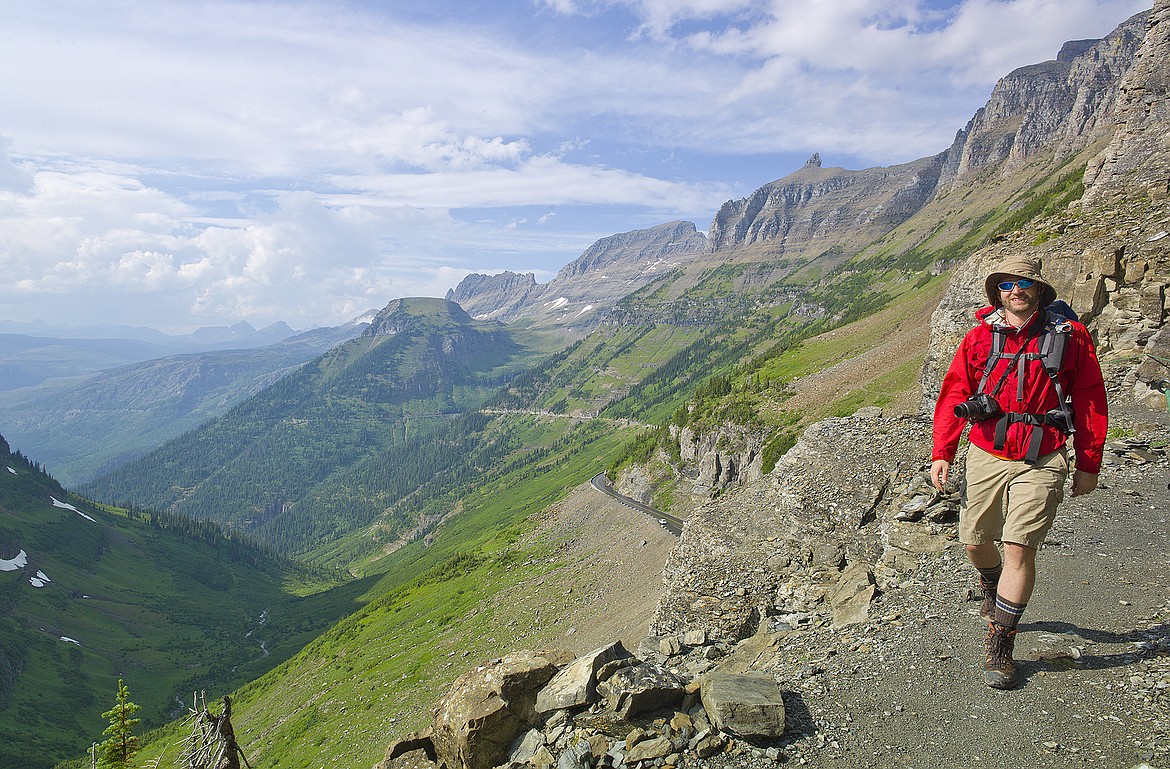 A hiker walks along the Highline Trail in Glacier National Park. (Hungry Horse News file photo)
by
CHRIS PETERSON
Hungry Horse News
|
December 13, 2021 11:00 AM
Glacier National Park formally announced Monday it will require a ticketed entry to gain entrance to the Going-to-the-Sun Road this summer and has added a ticketed entry for the Polebridge entrance to the park as well.
This year the Sun Road tickets will be valid for three days, while Polebridge tickets are good for one day. A full week-long ticket to drive the Sun Road will not be available.
In addition to the ticket, each vehicle entering the park is required to have an entrance pass for any entry point into the park. These passes could include any one of the following: a $35 vehicle pass, good for seven days; a valid Interagency Annual/Lifetime Pass; or a Glacier National Park annual pass.
Tickets will be required from May 27 through Sept. 11, 2022, with one caveat — they will not be required at the St. Mary Entrance until the full length of the Sun Road is open, which typically happens in late June.
Tickets will not be required for the Many Glacier, Two Medicine and Cut Bank entrances, but Glacier warns travelers that those entrances could close when parking fills up, usually between the peak hours of 10 a.m. to 2 p.m.
Tickets will begin to be available in early March at the recreation.gov website, the park said Monday.
Visitors with lodging, camping, transportation, or commercial activity reservations within the Sun Road corridor can use their reservation for entry in lieu of a $2 ticket. The North Fork, however, does not offer lodging, transportation or commercial services, and camping is first come, first served.
There will be times when people can access the Sun Road corridor and Polebridge without a ticket, though that hasn't been set yet, because the park is planning on doing utility and other work on the Sun Road next summer as well.
Park staff are currently working on details for a utility project this summer that may require the west side of Going-to-the-Sun Road to be closed at night, except for emergency vehicles. More details on this project will be forthcoming, but visitors should anticipate a late night through early morning closure from Apgar to Lake McDonald Lodge from June to September.
In addition, a ticket will be required to enter the Camas Entrance this year. The park put in a new entrance station just above the Fish Creek Road this summer.
The park is implementing the ticket system to ease congestion in Glacier. It first implemented it last summer and it seemed to work, though it did result in different traffic patterns. For example, Highway 2 traffic to Glacier early in the morning was heavy, as people without a ticket drove to the park to get in before 6 a.m., when tickets were not required. Columbia Falls Police reported catching motorists doing as much as 70 mph through town to get to the park. The speed limit through Columbia Falls ranges from 25 mph to 35 mph.
Traffic also surged about 5 p.m. as well, as tickets weren't required after that time, either.
On the campground side of things, the Apgar and Sprague Creek campgrounds will require advance reservations in addition to Fish Creek and St. Mary campgrounds. Reservations will be available on recreation.gov in 2022. Rising Sun and Avalanche campgrounds will remain first come, first served. The park anticipates all campgrounds to be operating in 2022.
The park also plans on operating its shuttle service this summer. Though service levels haven't been formalized.
Last year the park estimated that it would have had to shut down the Sun Road corridor 35 times if ticketed entry hadn't been in place.
By the same token, about 300,000 visitors were turned away at the gates, the park reported.
Even so, Glacier is on pace this year to break or come within a fraction of its all-time visitation record of 3.3 million people set in 2017.
Recent Headlines
---