Parents protest mask requirement; school board says goal is to keep students safe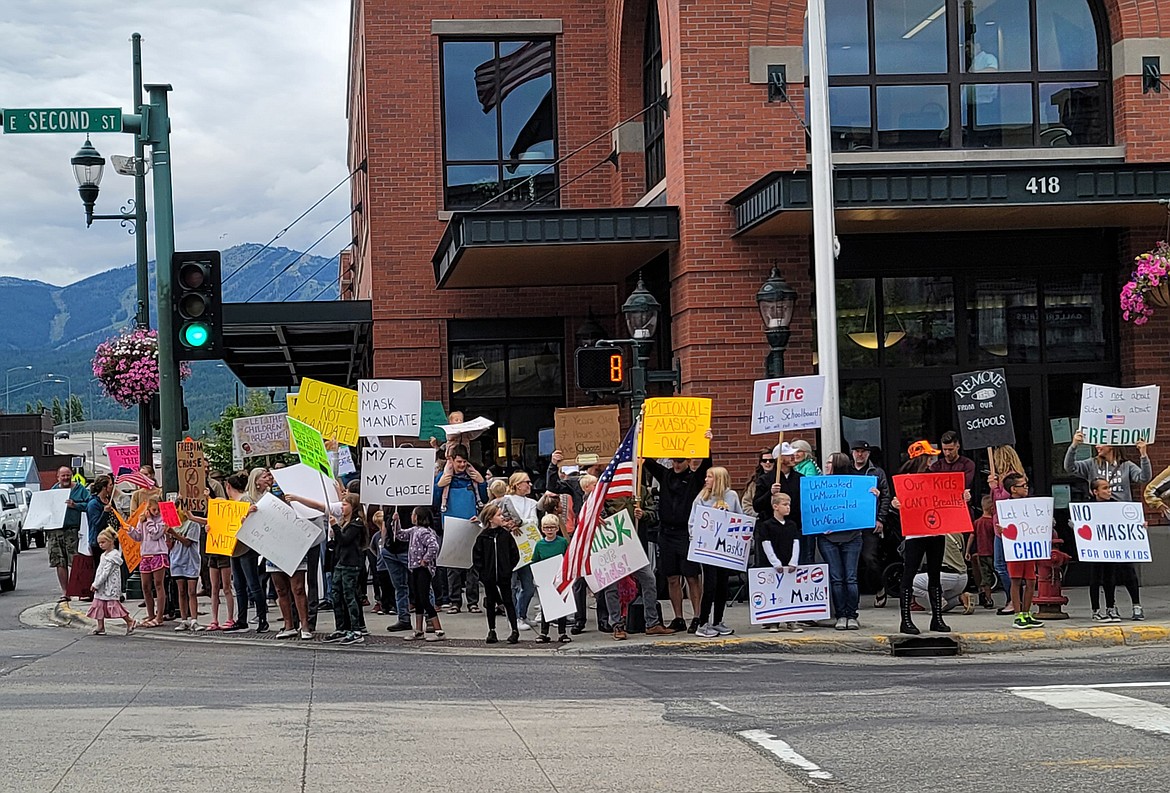 Protesters gather in front of City Hall Wednesday evening to protest the recent decision by the Whitefish School Board to require students in kindergarten through sixth grade to wear masks. (Courtesy photo)
by
HEIDI DESCH
Daily Inter Lake
|
August 25, 2021 1:00 AM
Parents, students and community members have gathered recently on several occasions in downtown to protest a recent decision by the Whitefish School Board that students in lower grades must wear masks when the new school year begins.
During one protest last week in front of City Hall roughly 100 people gathered on the corner holding up signs for a few hours. Several signs said, "Say No to Masks." One said, "Let the Children Breathe."
The school board on Aug. 12 voted to require students and staff in grades kindergarten through sixth grade to wear masks while indoors saying it's the best option for children to be safe and keep schools open. It plans to revisit the decision again at its October meeting.
The protest was organized by a group of parents upset by the recent decision who also say they don't feel heard by the school board.
Mike Smith, one of the parents who participated in the protest, says the issue of requiring masks is "about freedom of choice."
"We are a group of parents who want the choice about whether their kids wear masks or not," he said.
Smith pointed out that Whitefish is the only large school district in Flathead County that is requiring face coverings. Columbia Falls and Kalispell are making masks optional.
Smith says the issue is bringing back the stresses of last school year when the Whitefish School District remained in a partially remote learning environment for classes throughout the fall.
"What makes Whitefish different when it comes to spreading COVID," Smith asked.
Protests are planned to continue, Smith said, until the school board lifts the requirement.
School Board Chair Katie Clarke said the school board has received a lot of input regarding wearing masks in school and used that feedback to determine that wearing masks for grades K-6 is the safest option as part of the temporary six-week plan to begin the school year. Clarke says the board plans to revisit the decision and is hoping by then that the rates of spread in the community are lower and community vaccination rates have increased.
"Within the input we received, we heard from parents whose young children have immune issues that would make coming to school and interacting with their classmates, teachers, and staff who may be unknowingly infected while choosing not to wear a mask, really dangerous for these vulnerable kiddos," she told the Pilot. "We also heard from medical experts who relayed that masks are an effective method of COVID source control and that the Delta strain of the virus is infecting children, is incredibly contagious, and is highly prevalent in our valley at this time."
Some parents have taken issue with the school board's decision following the results of a district survey asking families for their preference on the issue.
There were 832 responses to the survey with the ability to select more than one option. The results showed that 479 supported an optional approach, 79 supported masks recommended for all grades, 128 were comfortable with K-6 wearing masks and 270 wanted masks required for all.
"There was overwhelming support for optional masks," Smith said. "The school board is trying to placate us and to satisfy some sense that they are listening to the community."
Clarke said she understands the frustration by parents, but points out that in addition to the survey, the board also took into consideration information from several different sources including infectious disease experts, local medical advisors and the Montana Chapter of American Pediatrics and the American Academy of Pediatrics, all of which agree that masks are necessary for children in schools.
"Our goal is to keep kids in school," she said. "In these times of an infectious, highly contagious, and potentially deadly disease, this involves considering community survey results while also weighing several other factors including the guidance of pediatric and public health experts."
Clarke says the board recognizes that everyone is ready to be finished wearing masks, but right now health experts agree that wearing a mask is the best thing to do to protect children while they're in school.
According to state data, Flathead County on Tuesday had 690 active cases of COVID-19, the highest amount for all counties in the state of Montana. Cascade County had 664 and Yellowstone County had 639.
For Flathead, 41% of the eligible population has been fully vaccinated. The statewide rate is 50%.
Recent Headlines
---