Great Fish fun run and celebration event canceled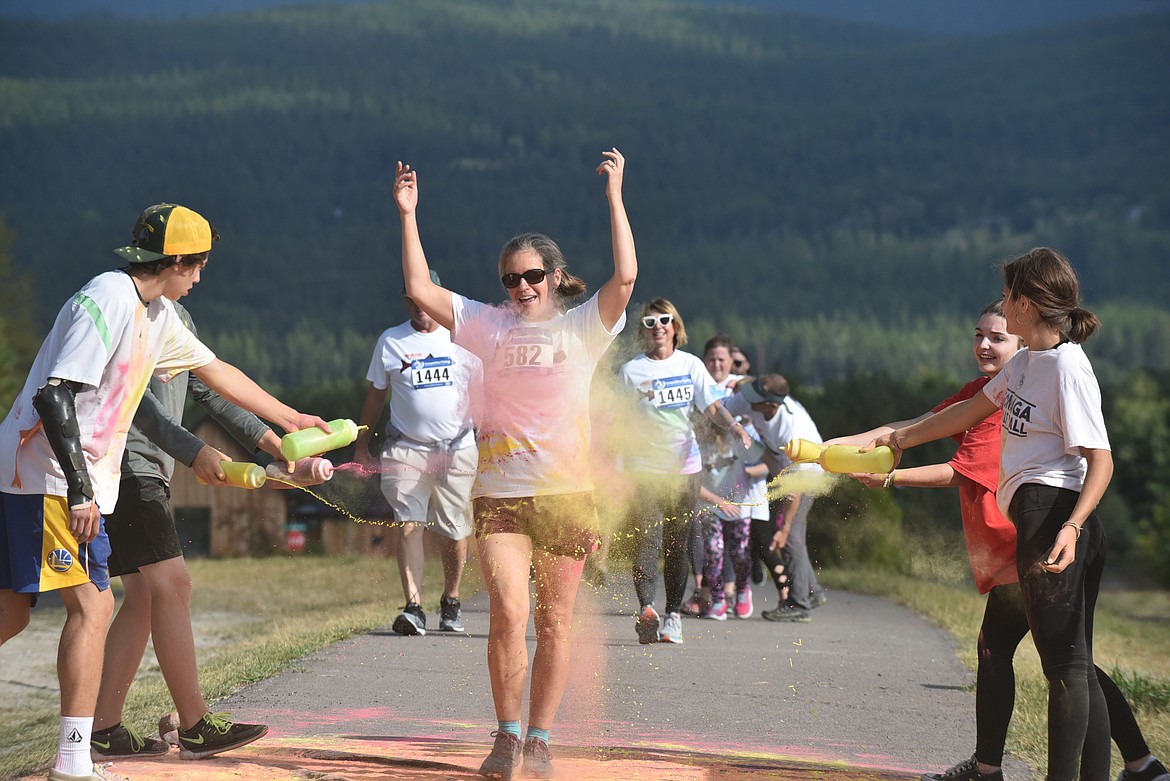 Sara Bonds runs through the green and yellow station during the Great Fish Community Challenge Color Run through Whitefish. (Heidi Desch/Whitefish Pilot file)
|
August 17, 2021 3:00 PM
While donations will continue for the Great Fish Community Challenge, the organization behind the giving campaign has decided to cancel the associated fun run and community celebration set for next month.
Due to a recent increase is positive COVID-19 cases, the Whitefish Community Foundation has canceled the Great Fish Fun Run and Community Celebration that had been set for Sept. 11 in Depot Park.
The Great Fish is a six-week giving campaign to raise funds for Flathead Valley nonprofit organizations. Donations are still being accepted for the 61 participating charities through Sept. 17.
"We, like many other local nonprofit organizations, have had to make the difficult decision to cancel our event out of concern for the health and safety of our frontline healthcare workers, children and most vulnerable community members," Whitefish Community Foundation President Linda Engh-Grady said. "Our local hospitals are reporting a sharp increase in COVID-19 patients requiring acute care, approximately 90% of whom are not vaccinated. Clearly, it has become unsafe again to gather in large groups. We strongly encourage eligible people to get the vaccine so the Flathead Valley can avoid more cancelations and shut-downs."
In place of the Great Fish Fun Run and Community Celebration, the foundation plans to broadcast a live program in collaboration with KGEZ Radio in September, with details to come. Listeners can tune in to hear from 61 local nonprofits about the valuable services they provide to the Flathead Valley. Throughout the broadcast, Whitefish Community Foundation will award thousands of dollars in Great Fish Incentive Grants.
The challenge offers donors the opportunity to give to multiple organizations with one transaction. At the conclusion of the challenge, the foundation will award a percentage matching grant on the first $20,000 raised by each organization that raises at least $5,000. Since 2013, the challenge has raised over $13 million for more than 70 local nonprofit organizations.
This year's challenge is on track to raise more than $3 million for the participating charities.
"As more and more local nonprofits are canceling their fundraising events due to COVID concerns, the funds they raise in the Great Fish Community Challenge are going to be critically important for their programs and projects in the coming year," Engh-Grady said.
One hundred percent of donations go directly to the nonprofits designated, Engh-Grady notes, plus donations help those nonprofits hit the $20,000 fundraising mark providing a percentage match from the foundation.
For more information about the Great Fish Community Challenge and how to make a donation, visit whitefishcommunityfoundation.org/great-fish or call Whitefish Community Foundation at (406) 863-1781.
---