Whitefish School Board votes to require masks for K-6 students following heated meeting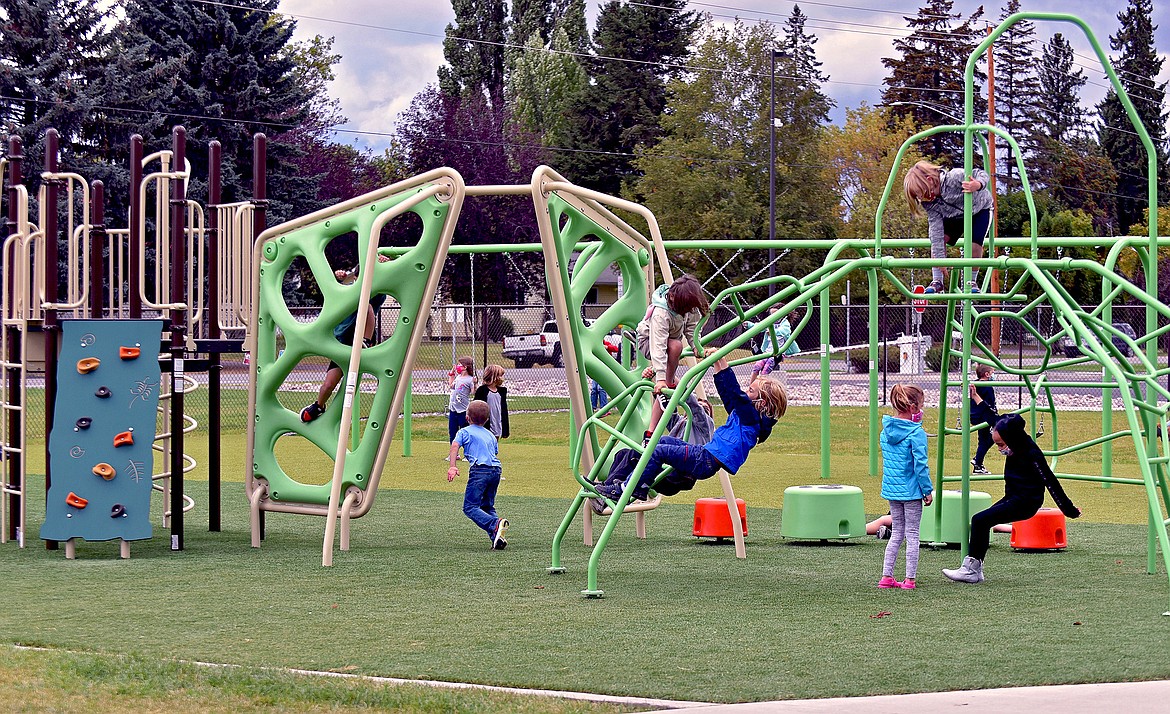 Muldown first graders play on the new playground outside of the elementary school. (Whitney England/Whitefish Pilot)
by
WHITNEY ENGLAND
Whitefish Pilot
|
August 14, 2021 4:00 PM
After heated comments from the public regarding the safe return to school amid the COVID-19 pandemic, the Whitefish School Board on Thursday during a virtual special meeting voted in favor of requiring face coverings for students in grades kindergarten through sixth while indoors at school facilities.
This follows the recommendation provided by the Whitefish School District Covid Task Force and also says that masks are recommended, though not required, for students in seventh through 12th grade.
The distinction between requiring the masks for younger students comes mainly due to the COVID-19 vaccination not yet being available to children 12 and under, according to the district. The board also decided to revisit the issue again at its October meeting.
"We recognize how challenging the last 17 months have been during this global pandemic," Whitefish Superintendent Dave Means wrote in a letter to families on Friday. "While opinions certainly vary on mitigation strategies, we are all ultimately after the same goal — keep our kids healthy and learning together in our schools. We will continue to strive to make decisions that are in the best interest of the health and safety of our district."
The special school board meeting on Thursday evening lasted for nearly four hours as more than 40 people provided comments on the matter. The trustees and school administrators also had a lengthy discussion on the pros and cons of requiring masks.
The meeting took a nasty shift with several people shouting out of turn on the Zoom video chat when the board began to make their motion to require face coverings
The aggressive comments that flew from people tuned in behind computer screens included messages such as, "child abusers," "Nazis" and "they can't breathe."
Several trustees responded that any comments outside of the public comment period were inappropriate and not allowed. When the angry remarks continued, the district had to mute all attendees in order to vote on the motion.
The vote was unanimous with six trustees voting in favor of the motion.
Comments from Whitefish parents, guardians, teachers and medical professionals varied widely. Some insisted on a mask requirement for all students, some asked questions about how recommending masks would work, and just over half were against mask mandates saying that they deserved to make their own choice for their children.
"Those survey results speak for themselves — the parents and the teachers have a very clear and majority opinion about this very controversial issue," Courtney Laabs told the board. "We as parents deserve to have a choice for deciding to mask or not mask our children. The reason is simple: risk. When there is a risk, you as a parent have to decide what is best for your children."
Many commenters said wearing a mask is a personal choice and should not be forced on their children. Other people against a potential mandate stated reasons such as the mental health and energy level of their children suffered last year, almost explicitly blaming the mask for that.
On the other side, parents and medical professionals in support of requiring masks in schools for the upcoming year stated issues of safety and were concerned about children being exposed to a deadly virus. Many parents were concerned that without a mask mandate, schools might have to close due to the spread of the coronavirus.
Another concern revolved around the delta variant of COVID-19, with many saying the new string of the virus is more deadly and affects younger children more often.
Chief Medical Officer at North Valley Hospital, and also a parent in the district, Dr. Jonathan Amick spoke about the variant.
"I just want everyone to know that the delta variant is dangerous, it's not even comparable to the original coronavirus; it's more virulent, it's making people more sick," he said. "People need to take this seriously and we need to do whatever we can to keep our kids safe."
There were two recommended options presented to the school board by Means which included requiring masks for students and staff in grades K-6 and recommending masks for the older grades or only recommending masks for all grade levels.
Means said several surveys regarding a potential mask mandate went out this summer to different groups, including a survey for families on their stance. There were 832 responses and people could select more than one option that they could support. In the survey 479 people supported an optional approach, 79 supported masks recommended for all grades, 128 were comfortable with K-6 wearing masks and 270 wanted masks required for all.
In addition, the district says it received 100 emails with letters to the district regarding the issue and the requests were split between wanting to require masks or wanting to leave it up to the individual family. The district also consulted with Logan Health representatives and Whitefish Physician Consultants who both said it would be best at this time to require masks for all students, staff and visitors, according to Means.
"We did look at this from a lot of different perspectives, we've been following the guidance," Means said. "We (the administrators) are a part of our Covid task advisory team and administratively we've met; those two options are what we felt were the most appropriate at the time based on the data that we have. So I do stand behind those two areas that we've brought forth to you and support either one."
The school board discussed potential measures to take and ways of helping parents navigate a mask requirement. All board members said they sympathized with the parents who had concerns about emotional issues rising in their children lately but didn't think the masks are the only thing to blame.
"I definitely believe that we're going to see some negative mental health issues going on, but that's because we're living through a pandemic," Trustee Darcy Schellinger said. "We're living through an unprecedented time… our lives have been uprooted in a way that we never expected and never thought would happen. So to try to pin all that on masks I find to be just maybe the scapegoat out of the group."
Ultimately the school board said they want one thing — that is for children to learn in a safe environment and to keep schools open.
"In the end my goal is to keep the kids with their teachers on campus in classrooms for as many days as possible this year recognizing that there are certainly some challenges and disadvantages to wearing masks," Trustee Todd Lengacher stated.
Board Chair Katie Clarke drew from the experience of last year to come to the conclusion that requiring a mask while indoors at school was the best option for the younger kids not yet eligible to receive a vaccine.
"Actually I think when we came back to school wearing masks (last year) case rates went down," Clarke recalled. "And I kind of think that's because in school we were following mitigation strategies that are proven to work… Last year when they were doing all these studies, schools where mitigation strategies were in play had way lesser infection rates."
Other items that were discussed and voted on include many items in the district's COVID-19 guidelines and procedures document. Students will now do a self health check at home rather than being screened upon entering school, physical distance is recommended as much as possible, and frequent hand washing and cleaning of surfaces is expected. Seating charts will still be in effect to perform contact tracing.
Also for medical or COVID related reasons, families may apply for remote learning. If any Whitefish schools are in danger of closing due to high case count or large number of quarantines, the school board authorized the superintendent to temporarily implement a requirement for face coverings to be worn in identified district buildings until the board of trustees can meet to adopt an applicable district requirement, according to the district.
According to Flathead City-County Health Department as of Friday Flathead County had 555 active cases of COVID-19, the highest amount for all counties in the state of Montana.
There have been 113 COVID-19 related deaths in Flathead County since the start of the pandemic.
Recent Headlines
---