Sun Road ticket reservation begins April 29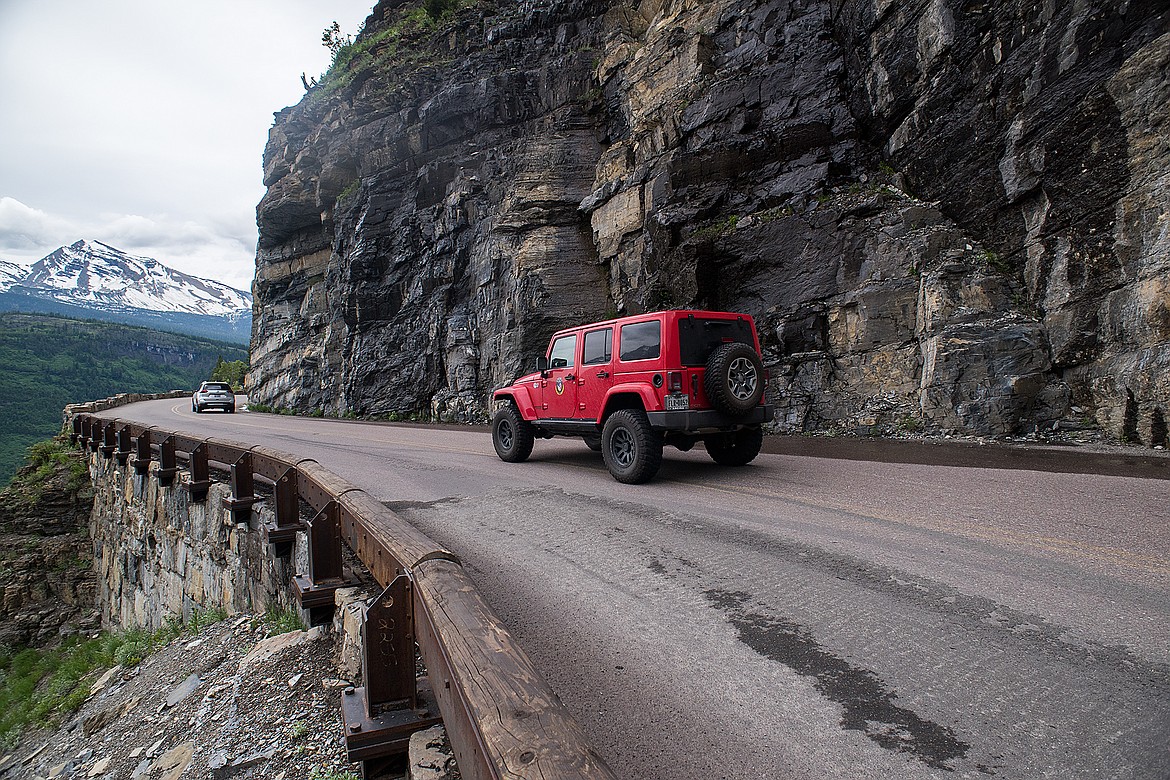 Cars travel down the Going-to-the-Sun Road in this file photo.
by
CHRIS PETERSON
Hungry Horse News
|
April 28, 2021 1:00 PM
Glacier National Park has changed the time that tickets for the Going-to-the-Sun Road entry will go live. The time is now 8 a.m. Mountain Time April 29.
The Park Service initially announced it was 6 a.m. April 29.
The change was made due to the requirements of recreation.gov, noted Glacier Park spokeswoman Gina Kerzman. recreation.gov is the only place tickets can be purchased. They will not be available in person.
Folks looking to get a ticket are urged to register at recreation.gov first, as demand is expected to be high and registration alone can take several minutes and requires email authentification.
The ticketed entry system will be required for anyone entering the east or west entrances or the Camas Road from May 28 to Sept. 6 from 6 a.m. to 5 p.m.
Before 6 a.m. and after 5 p.m., a ticket is not required, though an entrance pass is.
Tickets are good for a week and cost an additional, nonrefundable $2.
People who have a reservation for a boat tour, campsite, lodging, horse tour or have a special use permit do not need a ticket. Employees do not need tickets, either.
People walking into the park or riding a bicycle also do not need tickets, though the Sun Road on the west side to Logan Pass is closed to cyclists from 11 a.m. to 4 p.m.
Other roads in Glacier do not require tickets.
This is the first year of the ticketed entry system and the Park has implemented it as it expects record visitation coupled with road construction on Highway 2.
Last year the west entrance over Labor Day so was crowded that traffic backed up for miles.
The Park is trying to avoid that this year.
However, Glacier said it expects to have about 4,600 tickets available each day the Sun Road is fully open and people can get tickets on the same day of travel if they're available.
On the days the road is not fully open, there will be less tickets available.
The tickets do not guarantee parking spots. The Sun Road corridor has about 2,100 parking spots total and coveted places like Logan Pass fill quickly.
The Sun Road typically opens its full length in mid-June or early July, though this year Park plow crews have been making good progress, as there was less snow at lower elevations.
The Park welcomes public input as the system progresses, Kerzman said.
"We appreciate the feedback and we understand there will be adjustments as we go along," she said.
---