City parking program set for July, August test run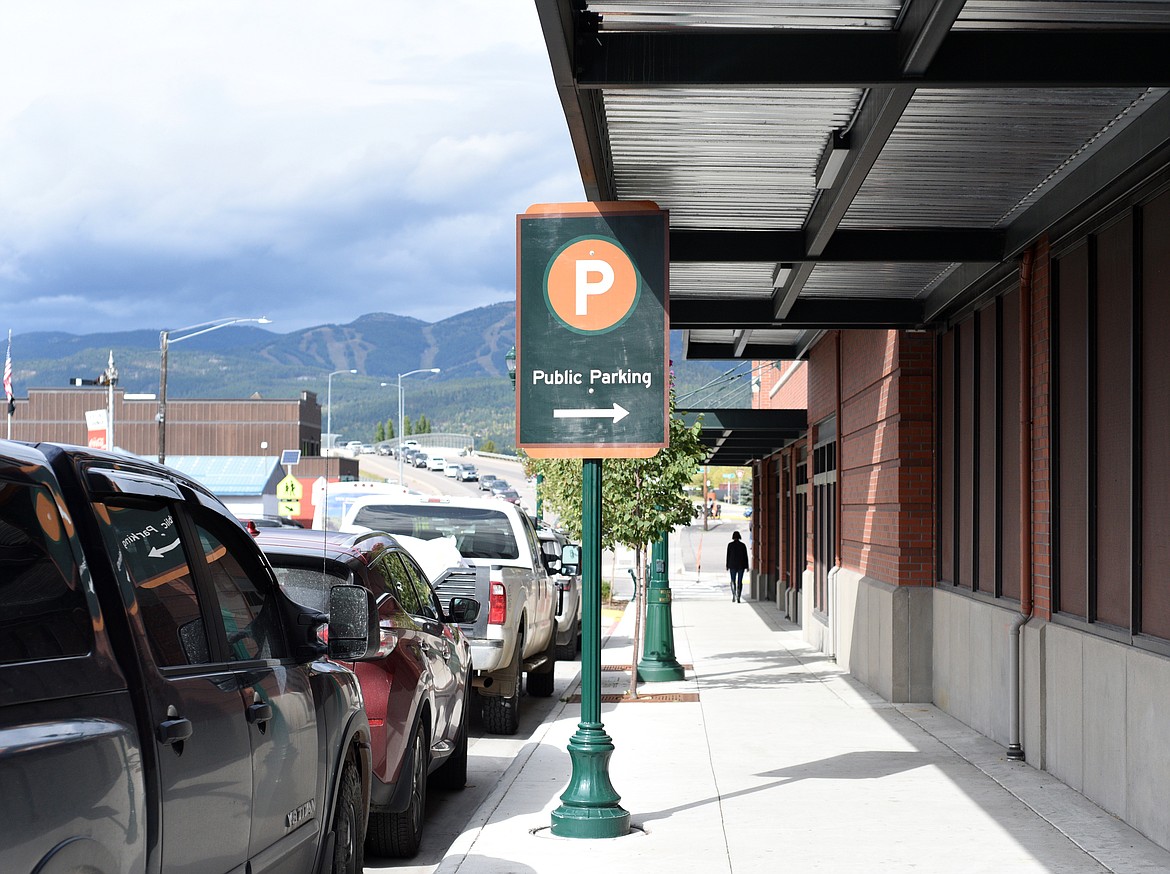 Cars park along Baker Avenue next to the city's parking garage attached to City Hall downtown. (Heidi Desch/Whitefish Pilot)
by
HEIDI DESCH
Whitefish Pilot
|
April 28, 2021 1:00 AM
Whitefish will launch a pilot parking program in July and August this summer creating a permit system with all-day parking passes.
City Council approved the plan last week that designates up to 85 parking permits for all-day parking in four parking areas throughout downtown. The permits will cost $20 per month — the same as the fine for one parking ticket.
Councilor Rebecca Norton said she is hopeful the pilot program will provide data on how well it works especially ahead of what's anticipated to be a busy summer season.
"I'd like to see us get input from the workers using it and on the cost," she said. "We'd really want to give people the ability to leave their cars and not have to worry about leaving their work over and over, and also open up space for visitors."
The program allows those with a permit to park Monday through Friday from 6 a.m. to 6 p.m. in one of four parking areas — the parking lot at East Third Street and Central Avenue, the lot at East First Street and Spokane Avenue, in the lot directly south of the Whitefish Community Library and on the third floor of the City Hall parking structure.
Those parking areas allow for two-hour and three-hour parking open to the public, but the permit would allow for all-day parking.
Whitney Brien, owner of Fleur Bake Shop, in an email to Council said she supports the permit program.
"This would be hugely beneficial not only for convenient downtown parking access for my staff, but to all employees who work in the downtown area," she said. "Finding available parking downtown in busy months when trying to get to work has become a headache for many."
Toby Scottsaid a parking permit is a good idea, but charging workers for the permits is not.
"I feel that a lower rate for verified workers in downtown with a supplemental fee to the businesses employing those workers would make it more just," he said.
While free parking is nice, he also added, it might be time to consider charging for parking downtown.
The city says the $20 fee is to cover the cost of running the pilot program including signage.
The city's parking permit implementation committee, made up of business owners, school representatives and city staff, recommended the program for a trial basis.
"The committee recognized the importance of alleviating the need for employees and business owners to leave work to move cars to avoid parking tickets," City Clerk Michelle Howke said. "Keeping convenient on-street parking open for customers of downtown businesses; minimizing the costs to the city of implementing the pilot program; and collecting data from the pilot program to form future parking management decisions."
The city adopted in 2019 a parking management plan with the goal of establishing a sustainable parking program and better managing the existing parking facilities. One of the recommendations of that plan was to create an employee parking permit program noting that there is a demand for better all-day employee parking options with between 200 and about 550 employee vehicles parking downtown on any given day.
Parking permits are set to go sale soon through the online portal of the city's website at https://www.cityofwhitefish.org/. For more information, contact Michelle Howke, mhowke@cityofwhitefish.org, or call 406-863-2400.
---