City adjusts fireworks ordinance adding conditions for public displays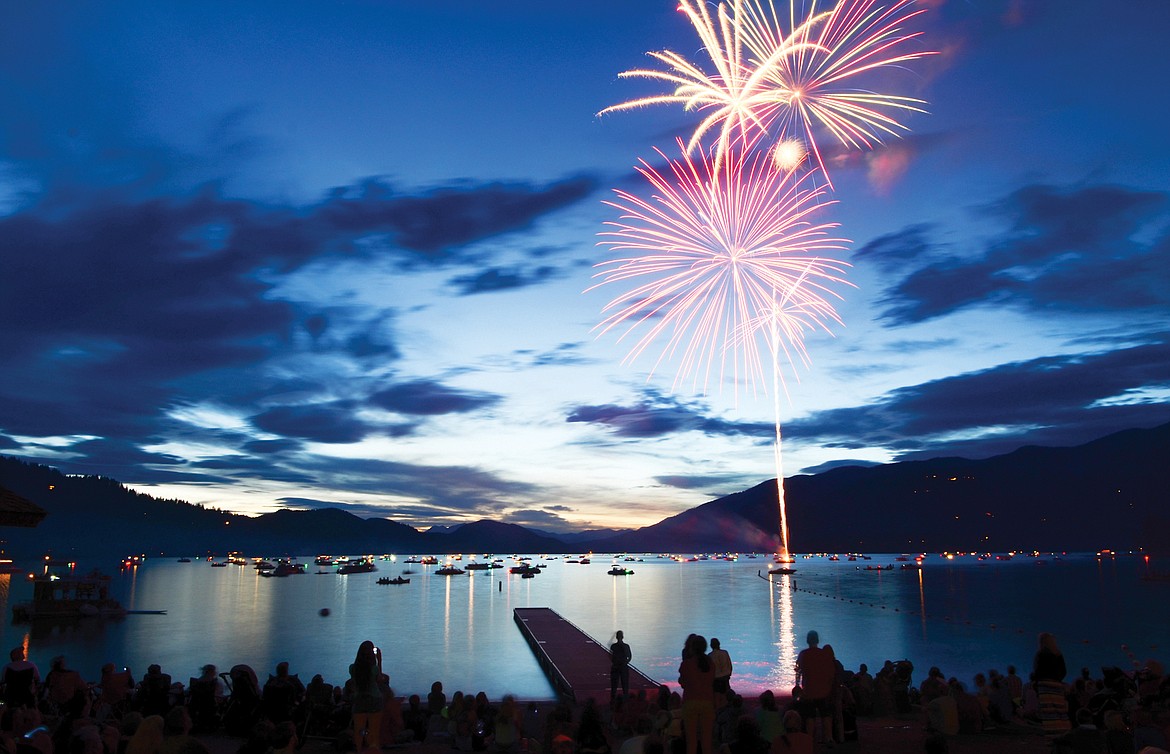 City Beach is a popular spot to watch the fireworks on the Fourth of July.
by
HEIDI DESCH
Whitefish Pilot
|
April 28, 2021 1:00 AM
Whitefish has updated its fireworks ordinance including allowing for extra conditions on public displays regarding noise and adding a plan to transition to more environmentally-safe fireworks over time for such displays.
Under the ordinance, the city manager and fire marshal would review permits for public displays and comply with regulations such as proof of liability insurance, providing a detailed safety plan for the display and cleaning up debris afterward.
The city can impose conditions on the public displays including banning "concussive" fireworks and requiring those who plan to hold a display to provide public notice.
The updated ordinance comes after several members of the public in 2019 urged the city to ban the use of fireworks, while others asked the city to continue to allow their use.
City Attorney Angela Jacobssaid the city has heard from residents particularly on Whitefish Lake about the noise from fireworks, which can upset pets and impact people with post-traumatic stress disorder.
"Those big bangs can really travel over the water," she said.
In addition, those holding the public display would need to replace a portion of the fireworks to be used with low or no-perchlorate fireworks.
The change to more environmentally friendly fireworks, came as a suggestion submitted to the city by the Whitefish Lake Institute saying that a key pollutant in fireworks is perchlorate — a chemical compound that can be toxic to human health and the environment. Perchlorate is highly water soluble and can travel significant distances and contaminate surface and ground water, WLI notes in a paper submitted to the city.
The U.S. Center for Disease Control and Prevention, WLI notes, warns that perchlorate exposure can result in thyroid damage and those especially sensitive to the effects include, infants, children, pregnant women and their fetuses. In addition, perchlorate can cause biological issues in fish and amphibians, WLI notes.
Whitefish Chamber of Commerce Executive Director Kevin Gartland said the chamber doesn't have an issue with moving to more eco-friendly fireworks, but the product doesn't currently exist on the open market. The chamber puts on the annual Fourth of July fireworks show over Whitefish Lake.
"Our pyrotechnic contractor has checked with all of his suppliers in the U.S., China and Mexico and none of them sell the type of product that the Whitefish Lake Institute suggests," he told Council.
The ordinance set a schedule of 10% non-perchlorate fireworks in 2021 and then increasing to 50% in 2025.
However, after hearing that such fireworks might not be available, Council suggested that an event be allowed to forgo the requirement if it can provide proof that it made efforts to obtain non-perchlorate fireworks but was unsuccessful.
Councilor Andy Feury said it's important to make the change to the type of fireworks used, but if they're not on the market then a display should still be able to occur.
"As much as I want to do this, we have to make sure they're available," he said.
In terms of "consumer" fireworks, the ordinance allows for those to be discharged from 11 a.m. to 10 p.m. on July 3, and between 11 a.m. and 11:59 p.m. on July 4.
Fireworks can be discharged on paved city streets that are not arterial or collector streets. Fireworks can not be discharged in parks, within 1,000 feet of a hospital, nursing home or assisted living facility, and within 300 feet of a gas station. Cleanup of firework debris is also required.
It increases the penalty for violation of the ordinance to $500 for the first offense, and holds the members or officers of entities that violate it personally responsible.
It also prohibits the sale of fireworks within the city limits, but there has been no such vendors doing so in many years, the city notes.
---