Boys tennis records early season wins
Whitefish junior Joe Brandt hits a volley in a boys doubles match against Havre Saturday morning at FVCC. (Whitney England/Whitefish Pilot)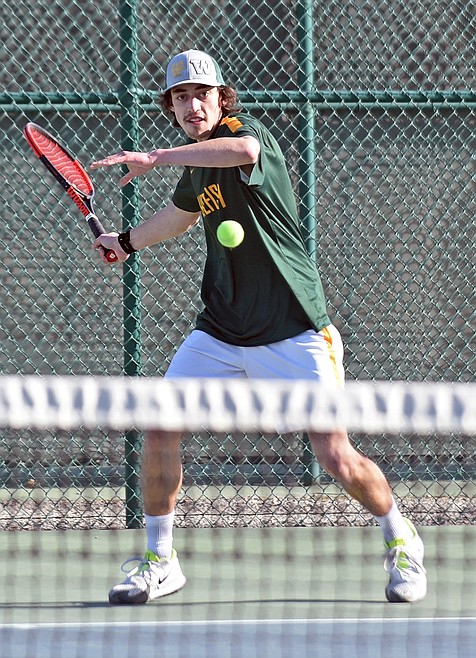 Bulldog Jayce Cripe lines up a shot against Havre in a boys singles match Saturday morning at FVCC. (Whitney England/Whitefish Pilot)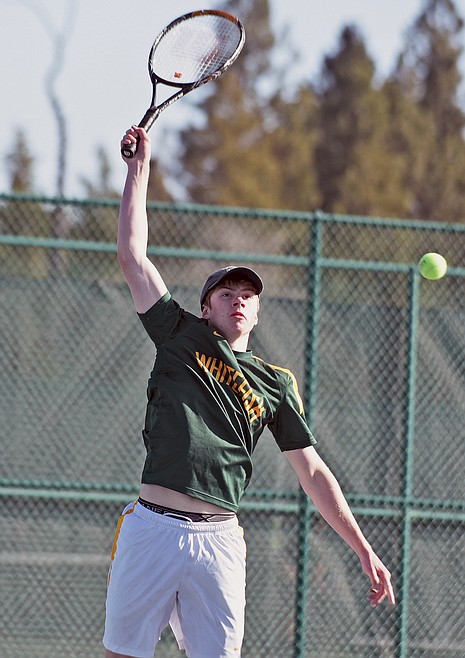 Bulldog Aaron Dicks plays in a doubles match against Havre on Saturday at FVCC. (Whitney England/Whitefish Pilot)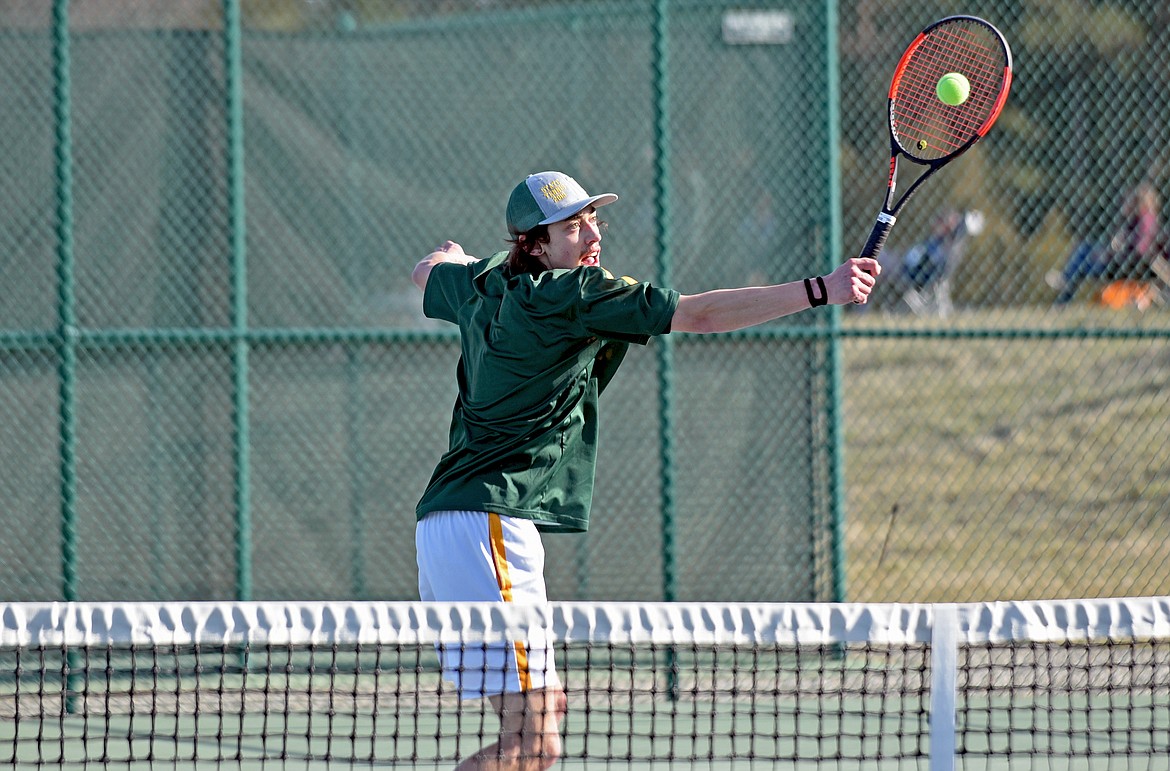 Whitefish senior Jayce Cripe hits a volley in a boys singles match against Havre on Saturday at Flathead Valley Community College. (Whitney England/Whitefish Pilot)
Previous
Next
by
WHITNEY ENGLAND
Whitefish Pilot
|
April 21, 2021 1:00 AM
The Bulldogs hit the court this week and recorded their first three wins of the season.
This was the first week of the season that the Whitefish boys were able to play due to weather cancellations last week, and they stepped up to their shot.
"I'm really, really happy with the way the guys got started this year," Whitefish boys head coach Chris Schwaderer said. "We've had a few ups and downs with the weather and missed some opportunities… And it's still early season right now so it's hard to figure out who we are and where everybody sits."
The team first traveled to Libby on Tuesday, April 13 which resulted in a 6-1 win over the Loggers. Then on Saturday Whitefish hosted Havre and Stevensville at Flathead Valley Community College.
With the Libby matches, Schwaderer said he was impressed with how his players came out for the first meet of their season. He attributes their readiness to working hard and consistently throughout the offseason.
"Everyone just felt ready to play, it didn't even look like they had two years off," Schwaderer recalled.
In Libby Jayce Cripe got things started off right in the No. 1 singles match by defeating Logger Ryker McElmurry in two sets, 6-3, 6-2. Cripe notched two more wins last week, one against Havre, defeating Josh Currie in straight sets and then won by forfeit over Stevensville.
"Jayce Cripe looked really sharp and I'm just happy to see that," the coach said. "He looked so much stronger and his skills looked sharper than a couple years ago. He's just mature and showing a lot of patience on the court."
At the No. 2-4 singles spots Whitefish only had one loss on the week, to the Loggers when Michael Hollingsworth defeated Jack Robertson. Highland Lee-French and Robertson won both their matches easily for Saturday's double-header.
Schwaderer expressed it was great to see players that were sophomores the last time he saw them play stepping up into big roles on the team.
At No. 1 doubles the team of Joe Brandt and Aaron Dicks went 2-1 last week, defeating both Libby and Stevensville easily and their only loss going to Havre. Whitefish's No. 2 doubles team of Fin Stagg and Johnny Nix is looking to be in top form as well, last week defeating both Libby — 6-2, 6-2 — and Havre — 6-4, 6-2.
"All my doubles teams seem to be really showing great chemistry," Schwaderer said. "They like each other, they understand each other's game and are communicating on the court."
Whitefish was set to travel south for duals at Ronan and Polson on Tuesday after press time. Then they will take on Flathead on Friday and a tournament in Libby on Saturday.
Whitefish 6, Libby 1
Singles
Jayce Cripe (WF) def. Ryker McElmurry 6-3, 6-2. Michael Hollingsworth (Libby) def. Jack Robertson 6-1, 6-2. Highland Lee-French (WF) def. Ayden Montgomery 6-0, 6-1. Luke Roberts (WF) def. Steven Valecia 6-2, 6-0.
Doubles
Aaron Dicks/Joe Brandt (WF) def. Colton Halvorson/Ryan Collins 6-3, 6-0. Fin Stagg/Johnny Nix (WF) def. Trever Collins/Cylis Goddard 6-2, 6-2. Austin Gunset/Mason Kelch (WF) def. Zach Fantozzi/Thomas Roark 6-1, 6-0.
Whitefish 6, Havre 1
Singles
Jayce Cripe (W) d. Josh Currie 6-2, 6-3; Highland Lee-French (W) d. Jared Rosgaard 6-0, 6-2; Jack Robertson (W) d. Collin Miller 6-2, 6-2; Aydin Mulholland (W) d. Carter Spangler 6-2, 6-1;
Doubles
Josh Warp/Trenton Maloughney, Havre, d. Joe Brandt/ Aaron Dicks 6-3, 6-3; Fin Stagg/Johnny Nix, Whitefish, d. Mick Chagnon/Caleb Spangler 6-4, 6-2; Austin Gunset/ Mason Kelch, Whitefish, d. Connor McKay/Theron Peterson 6-1, 6-4.
Whitefish 7, Stevensville 0
Singles
Jayce Cripe, Whitefish, won by forfeit; Highland Lee-French, Whitefish, won by forfeit; Jack Robertson, Whitefish, d. Gavin Vaillencourt 6-0, 6-0; Aydin Mulholland, Whitefish, d. Colvin Whitehair 6-0, 6-0.
Doubles
Joe Brandt/Aaron Dicks (W) d. Dominic Bridges/Matt Hock 6-0, 6-1.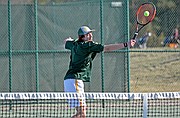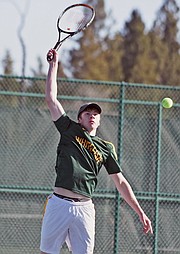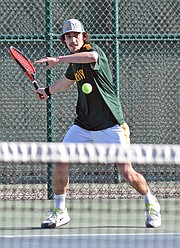 ---