Whitefish considers employee parking program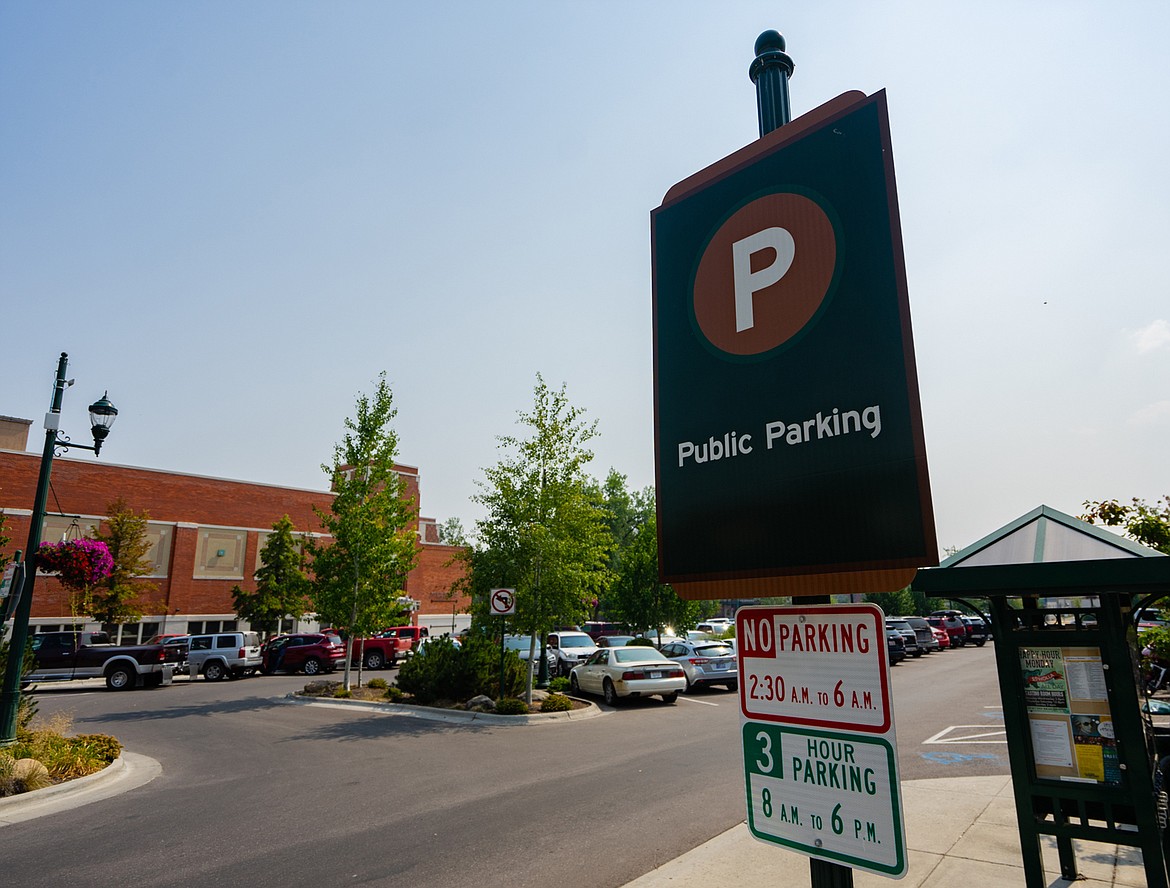 The parking lot at East First Street and Spokane Avenue. (Pilot file photo)
by
HEIDI DESCH
Whitefish Pilot
|
April 14, 2021 1:00 AM
Workers in Whitefish often struggle to find a parking space especially during the busy summer months when visitors flock to the retail shops and restaurants downtown.
In order to address the issue, the City of Whitefish is considering launching a pilot parking permit program that would designate 85 parking permits reserved for employees and business owners in four parking lots throughout downtown. The city is proposing to run the pilot program in July and August this year.
Whitefish City Council is set to hold a public hearing on the program on April 19 before voting on whether to implement it. Council meetings begin at 7:10 p.m. and are being held virtually through WebEx.
The city's parking permit implementation committee recently presented its recommendations to Council regarding implementing the pilot program.
"The purpose of creating an employee parking program was to ease the peak demand in prime parking locations so customers have a better parking experience and so employees don't add to the congestion of town because they are circling to find parking spaces," said Hilary Lindh, city long range planner. "We're looking at running this two-month trial as a way to evaluate how interested employees are in participating, where they are interested in parking and how much they're willing to pay. We look at this pilot as a way to build on the program for the following year."
Lindh says city staff plans to monitor the program to measure its effectiveness including where vehicles are parking the most, and then determine what changes might be needed as a result.
The city's parking management plan adopted in 2019 showed that there may be between 200 and about 550 employee vehicles parking downtown on any given day.
Parking permits for the program would cost $20 and would come with one licence plate per permit. The program would allow those with a permit to park Monday through Friday from 6 a.m. to 6 p.m. in one of four parking areas — the parking lot at East Third Street and Central Avenue, the lot at East First Street and Spokane Avenue, in the lot directly south of the Whitefish Community Library and on the third floor of the City Hall parking structure.
There would be a total of 85 permits available for purchase. Those four parking areas have roughly 190 total available spots for parking.
Those parking areas allow for two-hour and three-hour parking open to the public, but the permit would allow for all-day parking.
The city leases out spaces in the parking facility at a cost of $40 per month for covered parking and $30 for uncovered parking. Those leases, however, allow for the option to assign up to 10 vehicle licenses per permit so multiple vehicles can utilize one lease space at different times.

Thirty-one of the uncovered parking spots in the facility remain unsold.
Lindh says the permit program is designed to encourage employees to park in certain areas rather than take up spots in residential areas or in spots that are prime locations for customers visiting shops and restaurants.
"We really want to keep employees off of Central Avenue to leave that for those going into businesses," she said.
City staff has been monitoring the parking in parking lots and on streets downtown during the summer, fall and winter. They've been counting the number of full and empty parking spots on Thursday and Saturdays at 10 a.m., 1 p.m., 4 p.m. and 7 p.m. to determine when it's the busiest and where it is more difficult to find parking.
The survey of available parking spaces in August of 2018 on a weekday found that several blocks on Central Avenue, along with blocks on Lupfer Avenue, Spokane Avenue, East Third Street, had an occupancy of at least 85%. While parking lots in the downtown on a weekday had occupancy levels of 70% to 84%.
While in July and August 2020 at the height of the COVID-19 pandemic, much of those same streets that were previously at an 85% or greater occupancy level had more available parking spaces.
On weekday evenings in August 2018, some blocks of Central Avenue had the least available parking spots at 85% occupancy, but also the parking lot at East First Street and Spokane Avenue showed a greater occupancy.
In July and August of 2020, some of the same blocks of Central Avenue also had the least number of open parking spaces though much of the downtown area had open parking spaces.
On the weekend during the daytime and evening hours in August 2018, occupancy rates showed 85% occupancy along sections of Central Avenue. During the evening, the parking lot at East First Street and Spokane Avenue was also at 85% occupancy.
In July and August of 2020, on weekends there was much more availability or parking spaces compared to 2018.
"The idea is that we monitor changes in our parking as we implement programs so we can see the changes that are happening in the parking trends," she said.
The city says the $20 fee is to cover the cost of running the pilot program and the cost of signage for the program.
The city adopted in 2019 a parking management plan with the goal of establishing a sustainable parking program and better managing the existing parking facilities. One of the recommendations of that plan was to create an employee parking permit program.
The city last summer implemented a no re-parking provision that prohibits drivers from shuffling vehicles slightly to avoid time restrictions. Cars have to be moved to a different block or parking lot.
For more information on how to access the Council meeting through WebEx, contact City Hall at 863-2400 or visit www.cityofwhitefish.org
---