Four WHS musicians make All-State Jazz Band selection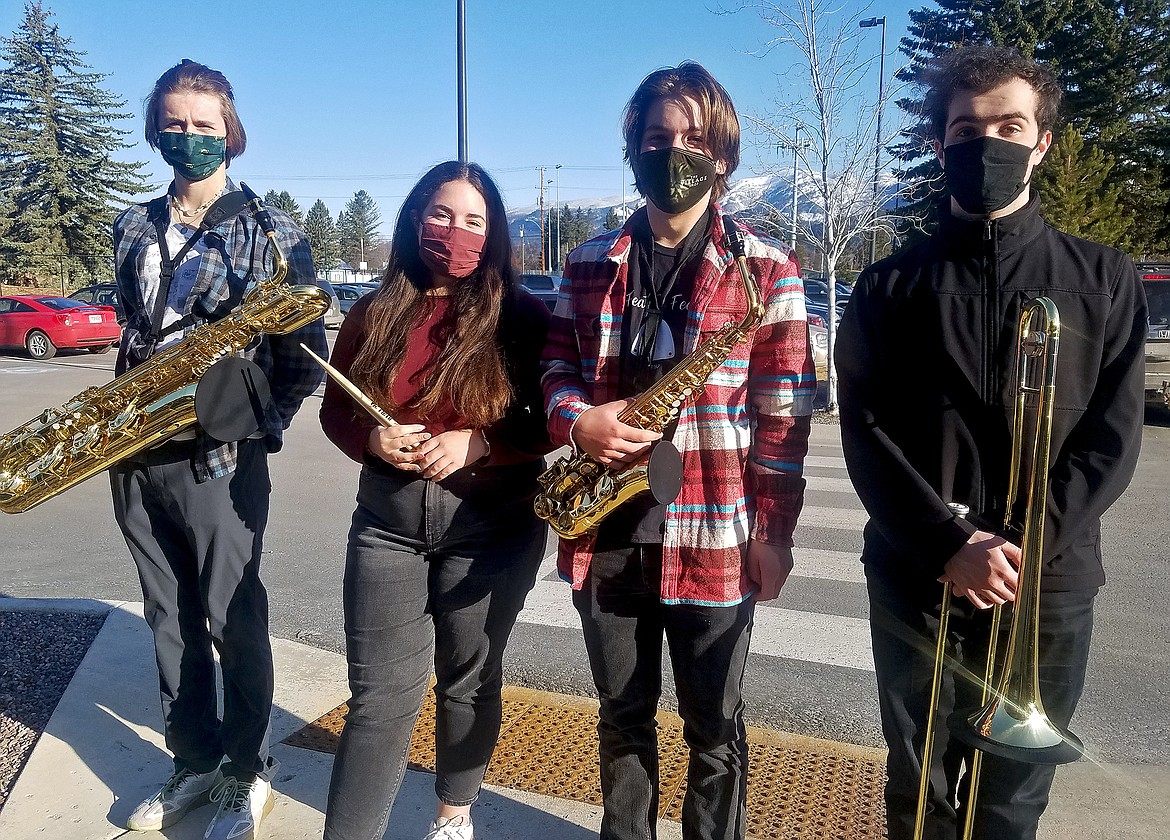 Four Whitefish High School Jazz Band students made the competitive 2021 Montana All-State Jazz Band. Pictured left to right: Aidan Calaway, Kathryn Rossi, Owen Meador and Dashiell Schindler. (Courtesy Photo)
by
WHITNEY ENGLAND
Whitefish Pilot
|
April 14, 2021 1:00 AM
Among a total of 25 high school musicians from various parts of Montana across all classes of schools, four Whitefish High School band students were selected as members of the All-State Jazz Band.
To have four kids from one school, especially not a Class AA school, achieve this honor was quite rare. According to WHS band director Matthew King, it takes real commitment to music and to the audition process in order to make the cut.
"For All-State Jazz Band we had a very strong representation," King said. "Unlike sports, it's not separated by school size for this honor — so there's maybe even a little extra umph to that honor."
The four students that were selected include seniors Kathryn Rossi and Owen Meador, and juniors Aidan Calaway and Dashiell Schindler. This was Schindler's first time earning the honor, while the other three were also selected to the All-State Jazz Band last year.
Meador is an alto saxophonist and also the Whitefish High School's band council vice president.
"He's just a phenomenal, dedicated student," King said. "He works really hard, take's private lessons, is just a great student. And all of them have those same characteristics."
Rossi is a drummer and percussionist. King says making all-state as a drummer is a high honor because there are only one or two percussionist parts in the ensemble, making the selection highly competitive.
Calaway is a junior and first made the All-State Jazz Band last year as a sophomore; now he is named with the honor for a second year and he plays the baritone saxophone.
"That's also highly select, also kind of one of a part instrument," King said.
Schindler is a junior and this was his first time named to this ensemble. According to King he had auditioned the last couple of years and now finally made it. He plays the trombone.
"He was very excited to get that honor this year, he worked hard for it," King said.
All four of these student musicians are members of the WHS Varsity Band and also the select Whitefish Birdland Jazz Combo.
In order to achieve this honor, the students had to dedicate one to two months practicing and filming auditions. For the audition, each person has to play some etudes, or musical studies, that are in different jazz styles as well as an improvisation portion where the student plays along with a track.
Although much work goes into making the audition tape, King says the endeavor to make an all-state band ensemble begins long before those couple of months spent preparing the audition.
"It shows not only their hard work this year, but more importantly it shows what a great education they've had even before I got here with Mark McCrady doing excellent work with them over the years," King said. "It's not a couple-month process, it's years of training really that goes into honors like this."
King says the honor feels a little extra sweet this year too after navigating the various challenges and hurdles caused by COVID-19. In band the students haven't been able to travel and concerts with a live audience have been limited this year, yet these students kept showing up everyday and working toward their goals.
Also due to COVID, getting named to the All-State Jazz Band consists of a certificate and getting their name printed in the hallway like normal years, however there will not be a physical gathering of the ensemble like past years.
Although slightly disappointing, King says the four students that made it this year were still excited to have earned the honor and it means a lot to the entire Whitefish High School band program to be represented that significantly on a state level.
"I'm super proud of the work they put in, not only to this audition but the whole year," King said. "There's been many additional hurdles this year than normal. Everything we've done has been without a lot of the fun, hang-your-hat-on-it moments… So this was huge, not only to give them something to be proud of and me to be proud of, but just to feel that there's some life in our program and that things are still happening around the state."
In addition to the four musicians from Whitefish that were selected, two students from Columbia Falls also made the elite ensemble making representation from the Flathead Valley pretty significant, King added.
---