Cameron Kahle headed to Air Force Academy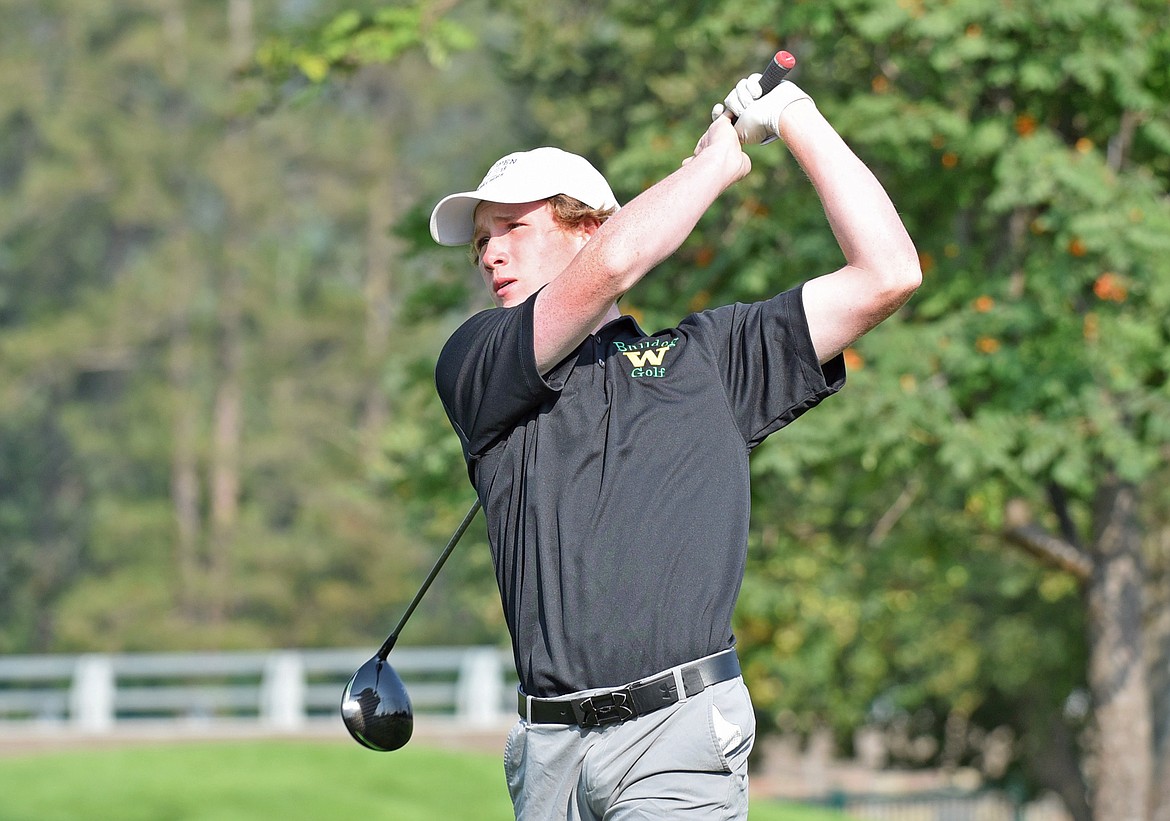 Whitefish High School golfer and defending Class A state champion Cameron Kahle watches his shot at the Whitefish Invitational on the south course of the Whitefish Lake Golf Course. (Whitney England/Whitefish Pilot file)
by
FRITZ NEIGHBOR
Daily Inter Lake
|
April 14, 2021 1:00 AM
Cameron Kahle split the fairway again this week with his acceptance of an appointment to the Air Force Academy, where the Whitefish senior will compete in Division I golf.
Kahle, the two-time State A boys' medalist, chose Air Force over New Mexico State and UTEP, among other schools. The Falcons get a player with back-to-back individual state championships, both via playoff. Last fall it was over Whitefish teammate Billy Smith.
It was in the middle of that state meet that Kahle was contacted by Air Force coach Tyler Goulding, after Kahle had fired a first-round 72 that left him two strokes off the pace.
"After the first day of the state tournament he was a little dejected," said Bill Kahle, Cameron's dad and the Whitefish coach. "But then the coach sent an email and said, 'Hey Cameron, we've looked at your information and feel you would be a good fit, and can we set up a time to talk?'
"This is probably 5 or 6 at night. Cameron wrote back and said, 'How about 7 a.m. tomorrow morning?' Sure enough, the coach called him."
Then the senior went out and won the championship.
"I was able to post a good score and then go win it," Cameron Kahle said. "I had that going for me. I think it was just extra motivation. Having that in the back of my head helped me. Some don't like the pressure of coaches watching you but for me, it makes me go out and compete at my best."
Kahle has had one B in high school — AP Calculus — and a lifetime spent on the course. He looked into the academy early on, including listing his interest on a recruiting website.
"I did some personal research and reached out," he said. "Then they did some research on me and found me on that app. I would say it was more individualized recruiting. It was more of an introduction.
"I thought really hard about it. I received the (appointment) about 2, 3 weeks ago. At that point it became a real option… to go and commit nine years of your life to military service is not something I can take lightly."
Kahle called on a Whitefish friend, Travis Catina, who is a senior at West Point, as part of his decision process. The COVID-19 pandemic has prevented a visit to the Colorado Springs campus, and possibly hurt recruiting overall.
"This year with COVID was really different than most years," said his dad. "A lot of schools have extended their scholarships and eligibility for a lot of players. We had a lot of coaches say we are not recruiting for the class of 2021. And being a recruit from Montana not named Ryggs Johnston (the Libby standout is golfing at Arizona State), it can be tough."
Both father and son feel fortunate about how things worked out.
"His mom and I obviously have been behind his career 100 percent from when he was a little kid," Bill Kahle said. "Seeing him get a chance to play Division I golf, and at one of the top universities in the world — what a payoff that was."
"I'm just thankful for everybody that helped me make the decision," Cameron Kahle said. "The coaching staff at Whitefish and all the support from the community has been awesome."
---