Talent is aplenty for Whitefish girls tennis' upcoming season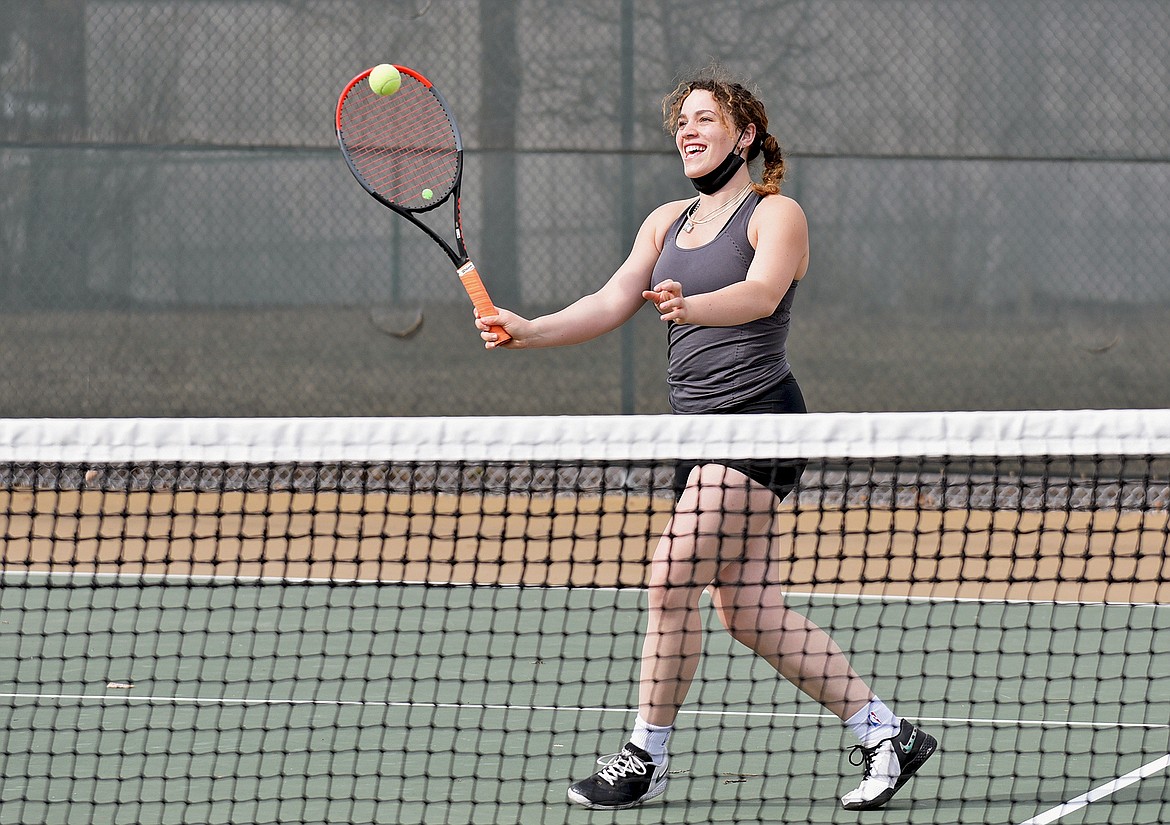 Whitefish senior and defending Class A girls tennis singles state champion Gracie Smyley practices a volley during the high school girls tennis practice on Thursday. (Whitney England/Whitefish Pilot)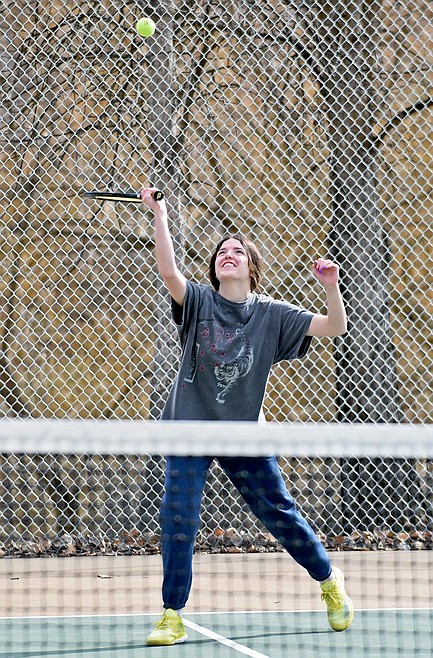 Whitefish's Ashley Gunset hits a ball during a drill at a high school girls tennis practice on Thursday. (Whitney England/Whitefish Pilot)
Whitefish junior Emma Trieweiler hits a shot during the high school girls tennis practice on Thursday. (Whitney England/Whitefish Pilot)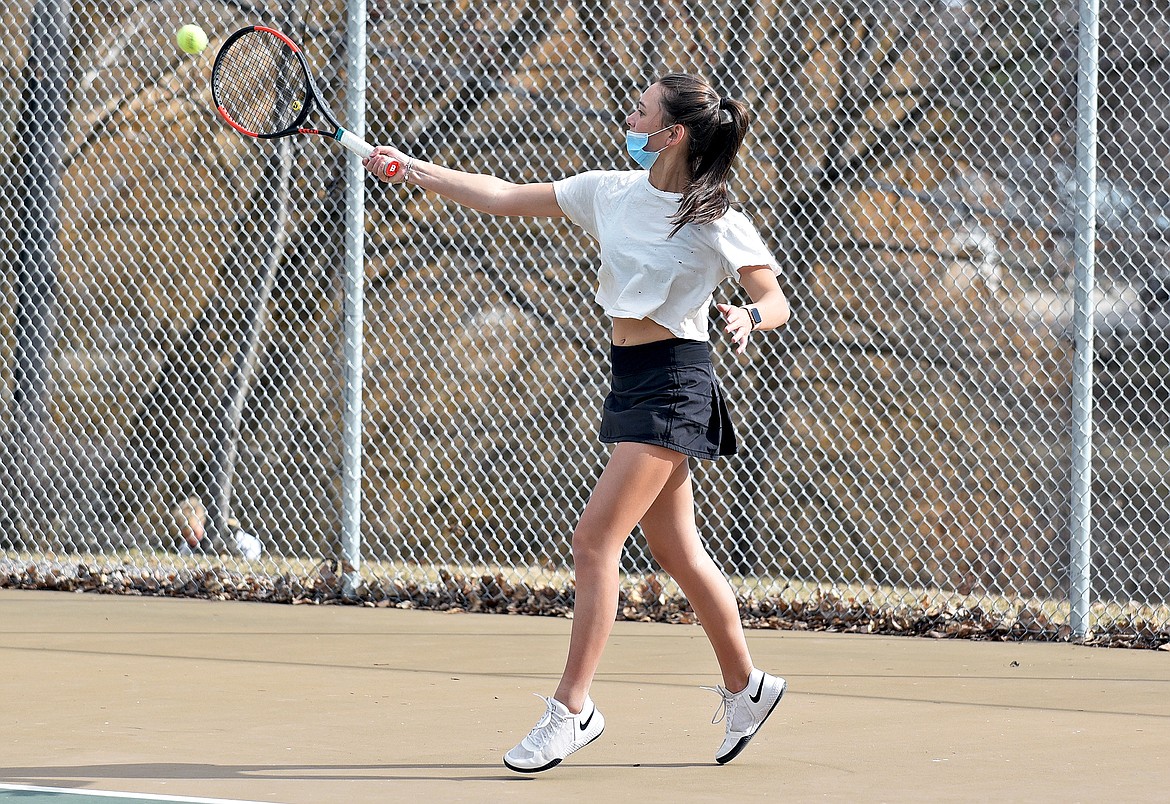 Lady Bulldog Alivia Lusko hits a shot during the high school girls tennis practice on Thursday. (Whitney England/Whitefish Pilot)
Previous
Next
by
WHITNEY ENGLAND
Whitefish Pilot
|
April 7, 2021 1:00 AM
Last week there were upwards of 15 girls on the court still vying for a varsity spot on the Whitefish girls tennis team for the upcoming season.
Girls tennis head coach Patrick Dryden said in recent years he's known almost on day one of practice who would fill the varsity lineup in both singles and doubles, but this year with several girls showing promising talent it's difficult to make the call.
"Probably the last two years I knew what my lineup was going to be on the first day of practice," he said. "But this year it is really going to be a struggle because we lost five senior doubles players, so we're starting all over.
"Last year would have been a good transition year for me to try out some combinations, but of course last year didn't happen so here we go. I've been experimenting all winter and I don't know if I'm any closer to a decision," he added with a laugh.
Coming off a team state championship in 2019, the Whitefish girls tennis team was predicted to have a standout season in 2020 with an all-star lineup in both singles and doubles. However since the spring sports season was cancelled due to the COVID-19 pandemic, that opportunity was harshly stripped from the program.
"Quite frankly it was a team of a lifetime (last season) and that's assuming I live to be 100. So that was a tough one to swallow, but I just really feel bad for those seniors…" Dryden said.
But as the new season approaches, missing last year is making the girls even more eager to get back to competing again.
According to Dryden, since they didn't have a season last year the team has been actively and willingly participating in optional practices and training together all winter long.
"The kids are pretty hungry," he said. "We had a lot of fun over the winter and I really appreciate the Summit making courts available for us. We're ahead of where we'd normally be… we're feeling pretty good that we have this kind of weather and we're out here hitting live balls outdoors."
Highlighting the girls team this year is defending state champion in Class A girls tennis singles, and Whitefish senior Gracie Smyley. She is coming off a successful basketball season and is preparing to defend her title.
Dryden says Smyley is just a talented, all-around athlete who is always putting in extra work in the weight room and on the court. He says Smyley's mom is a tennis professional and her dad also has an athletic background, and the way they raised her really shows through.
"They've given her a very humble outlook on things and I think that's really important," Dryden expressed. "She knows that she could be beaten anytime she walks on the court if she doesn't play well.
"But what separates her from other kids is just her determination, her focus and her power. She's always had the power but this year she's more consistent and has more weapons, a little more versatile."
With Smyley leading the way, the coach mentioned several other girls are competing for varsity positions.
For the two singles spots behind Smyley, Lauren Brown and Anyah Cripe both have a lot of experience. The coach also mentioned Tallory Workman will be the only sophomore to make varsity and Alivia Lusko will be the only freshman on varsity.
In doubles, Dryden has a plethora of possible combinations that could work well together. A returning senior and doubles player Ali Hirsch, who played number three doubles as a sophomore, will now be in the number one doubles spot.
Other potential doubles players showing promise are juniors Emma Trieweiler, Ashley Gunset and Addie Oehlerich, and senior Stacia Tremper.
Dryden says he's expecting to have a good, competitive team this season but will focus on just one match at a time. He also said other teams in the conference have a lot of seniors and will be exceptionally tough competition this year.
"This is my 21st year and I've never seen the girls side of the conference this tough," Dryden said. "It's going to be so incredibly competitive that getting kids qualified for state is going to be quite a task."
The Whitefish girls season will get underway on Thursday when they take on Columbia Falls at Flathead Valley Community College beginning at 1 p.m.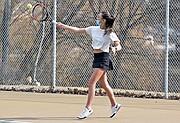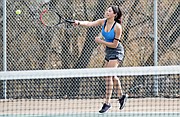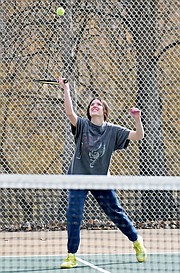 ---