Glacier Park to implement ticketed entry for Sun Road this summer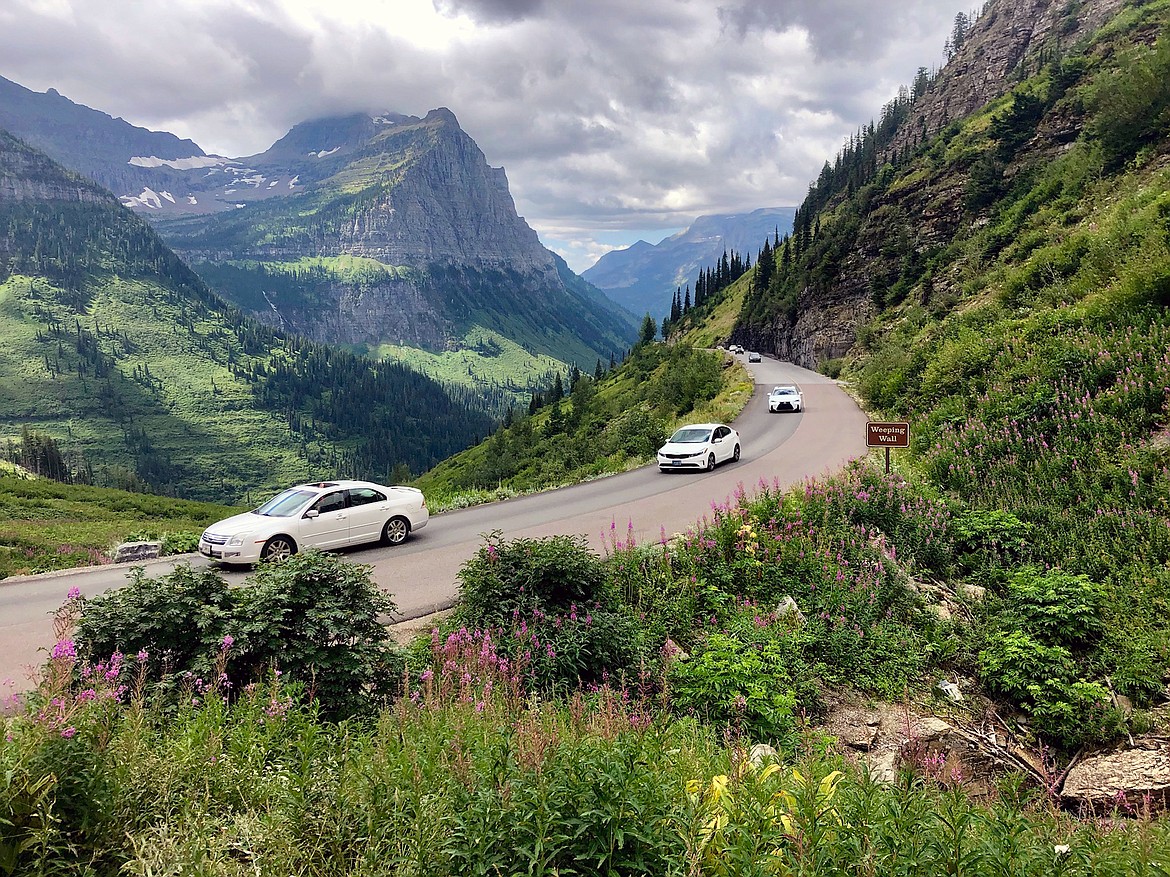 Vehicles travel by the Weeping Wall along Going-to-the-Sun Road in Glacier National Park. (Matt Baldwin/Daily Inter Lake file)
by
CHRIS PETERSON
Hungry Horse News
|
April 5, 2021 10:00 AM
After several meetings with business interests and the general public, Glacier National Park is implementing a ticketed entry system for the Going-to-the-Sun Road beginning this summer.
The ticketed entry system announced by the park last week will require visitors to set up an account on www.Recreation.gov and obtain a vehicle entry reservation ticket to enter the 50 mile long Sun Road corridor at the West Glacier and St. Mary entrances between 6 a.m. and 5 p.m. from Memorial Day weekend through Labor Day weekend.
The Park has not disclosed how many tickets will actually be available on a daily basis, though that number is expected to go up once the Sun Road is fully open, which usually happens in June or early July, depending on snow conditions. Park plows were expected to start the annual plowing effort on Thursday.
The reservation requirement does not apply to people who walk in or ride a bicycle, though they will need a park entrance pass.
The system is set to go live starting April 29, barring any unforeseen delays.
Folks arriving before 6 a.m. and after 5 p.m. will not need a ticket. The tickets are not required for other park roads, like the Two Medicine Road or Many Glacier Road, though Many Glacier travelers can also expect significant delays of up to 40 minutes each way, as that road is also under construction.
Entry reservation tickets will not be required for those with lodging, camping, transportation, or commercial activity within the Sun Road corridor. Landowners with property within the Sun Road corridor and affiliated tribal members are also not required to have an entry reservation ticket.
People will still need to pay a fee to enter the park and there's an additional $2 service fee for reservations.
Other details include:
• Visitors only need one entry reservation ticket per vehicle which will be valid for 7 days.

• Visitors who purchase a Sun Road entry reservation ticket will receive an email confirmation from recreation.gov with an attached entry reservation ticket. Folks should print out a copy of their entry reservation ticket or download on their mobile device or on the www.Recreation.gov mobile app prior to arriving at the park. All reservations are non-transferable and considered void if the reservation holder is not in the vehicle upon entering. A photo ID will be required by the reservation holder. If a visitor claims to have a valid Interagency Annual/Lifetime Pass or a Glacier National Park Annual Pass when making the reservation, the pass must also be shown at time of entry.
• Vehicles that arrive with reservations within the Sun Road corridor such as at a campground, Lake McDonald Lodge, or a chalet do not need a entry reservation ticket for the dates listed on the reservation, but are subject to the per vehicle entrance fee Visitors who have reservations for commercial services such as a horseback ride, boat ride or guided hike or other permitted special use and commercial use also do not need a Sun Road entry reservation ticket but are subject to the per vehicle entrance fee. Visitors must provide a copy of their reservation, along with a photo ID, as proof at the time of entry.

• If a visitor arrives at the West Glacier or St. Mary entrance without a GTSR entry reservation ticket, they will be turned away but can go online at www.Recreation.gov to see if an entry reservation ticket is available for that day. This may be possible if entry reservation tickets are not sold out. 


• A Sun Road entry reservation ticket does not guarantee a parking space. Parking will continue to be in demand at popular locations such as Avalanche, Logan Pass and St. Mary Falls areas.
The move comes as the Park is expecting a surge in visitors as well as major construction projects both inside and outside the Park.
On the east side, Highway 89 is under construction and on the west side, U.S. Highway 2 will see work.
With pent up demand for travel due to the pandemic, it's expected to be a very busy summer. Last year, Glacier on Labor Day weekend saw traffic backed up for miles at the west entrance because the Park was full.
It doesn't want that to happen again this year. Though last year, the east side was closed due to the pandemic. This year the east side is open, which hopefully, will spread the crowds out at least somewhat.
Glacier is expected to evaluate the success of the system this fall and determine whether it will continue it into the future, though right now it's calling it a temporary measure.
---