Peggy Elizabeth Boylan Saurey Marantette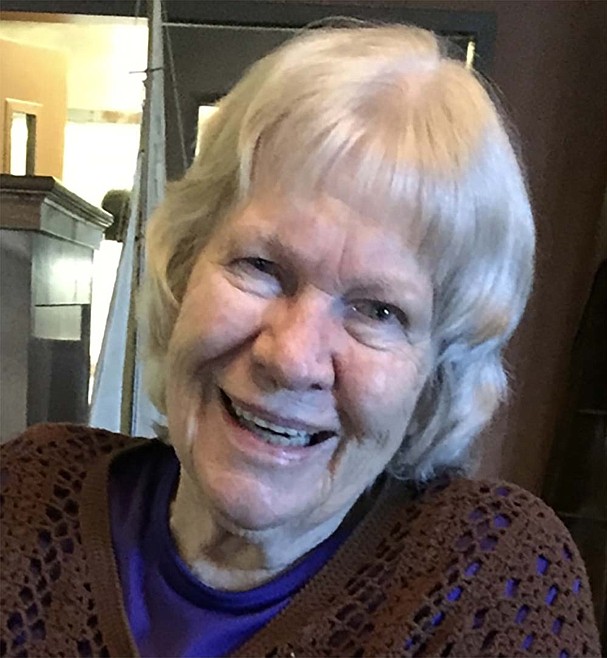 |
September 30, 2020 1:00 AM
Peggy Elizabeth Boylan Saurey Marantette, 95, was born on March 19, 1925 in Butte, Montana and died on July 3, 2020 at The Springs at Whitefish, surrounded by her family.
Peggy led a remarkable life that was defined by her ability to transcend adversity. Losing her mother at only 18 months, she became a ward of the state at the age of 6. She spent her childhood at the Montana Children's Home in Twin Bridges, where she learned to triumph over the many challenges of institutional living. Spinning her tales of adventure at the orphanage delighted many people, including her own children and grandchildren as well as a multitude of students from a career as an elementary school teacher. 
Peggy became the first "inmate" from the children's home to attend college, when her high school principal recognized her keen intellect and helped her secure a full scholarship to study chemistry at Montana State College in Bozeman. But her education was interrupted when she met a dashing Army Air Corps fighter pilot just returned from the war. She married Robert Gordon Saurey, a third-generation Montana resident, and they moved to Gordon's home town of Columbia Falls in 1947. From having no family in her childhood, she built and nourished a large and loving family who continue to honor her legacy as the "Grand Matriarch."
As her children grew, Peggy returned to college to become a teacher, where she taught every grade in elementary school, second through eighth, and excelled at developing programs for the gifted and talented. She taught in Deer Park, Coram, Hungry Horse, and Columbia Falls Elementary, retiring as the eighth grade math teacher at Columbia Falls Junior High. Her students remember her classrooms as stimulating, fun and challenging, while finding it impossible to get away with anything! She had a special gift for understanding children, having spent her entire childhood mastering all levels of misbehavior, motivated by her insatiable curiosity and suspicion of arbitrary rules. But from this unusual framework, she developed a strong core of integrity and accountability, which she shared with her family and students. Peggy had a unique ability to see worth and potential in all children, regardless of their circumstances, and to encourage their development – which may be why they were magnetically drawn to her home and classroom.
Following her retirement, Peggy began traveling the world in pursuit of her passion for learning  – pursuing courses of study in Irish history at Trinity College in Dublin, as well as post-secondary studies in Hawaii.  She returned to MSU as a student at the same time one of her grandsons was studying there. She retained her active and inquisitive mind throughout her life and continued to read voraciously through her last months.  
Several years after Gordon's death in 1986, Peggy married Columbia Falls native Jim Marantette, expanding her family to include his children, grandchildren and great-grandchildren.  
Peggy was preceded in death by her husbands Gordon and Jim, brother and fellow orphan Pat Boylan, with whom she was reunited after a 20-year search, son-in-law Greg Ordway, great-granddaughter Lillian Isabel Nelson, and stepson Pat Marantette. She is survived by her children Gary (Karen) Saurey, Marilyn (Rick) Nelson, Nadine Ordway and Wayne (Marisa van Lawick) Saurey, grandchildren Michelle (Peter Edland) Saurey, Leif (Gloria) Nelson, Jillian (Brett) Nail, Mariah (Brian) Joos, Michael (Kelly) Ordway, Adia and Sofia Saurey, and ten great-grandchildren. She also leaves behind her sister-in-law, Ramona Graham and her family, stepson Dan (Marie) Marantette, stepdaughter Linda Marantette, five step grandchildren and nine step great-grandchildren, niece Dyan Boylan LePage, as well as special family member Christine (Tony) DeMaria and her family, plus the extended families of all her loved ones. 
Peggy inspired her entire family with her unfailingly positive, courageous and grateful attitude, even in the infirmity of old age. She will be remembered for her fierce independence, her spontaneity, her fiery personality and flaming auburn hair, for singing at the top of her lungs, writing poetry about her adventures, correcting our grammar, and always challenging all of us to pursue excellence and live our lives fully without regret.
A small, family graveside service was held on July 21 at Woodlawn Cemetery in Columbia Falls, where she is interred next to Gordon. A celebration of Peggy's life will be held next summer.  
---