Care center has history of deficiencies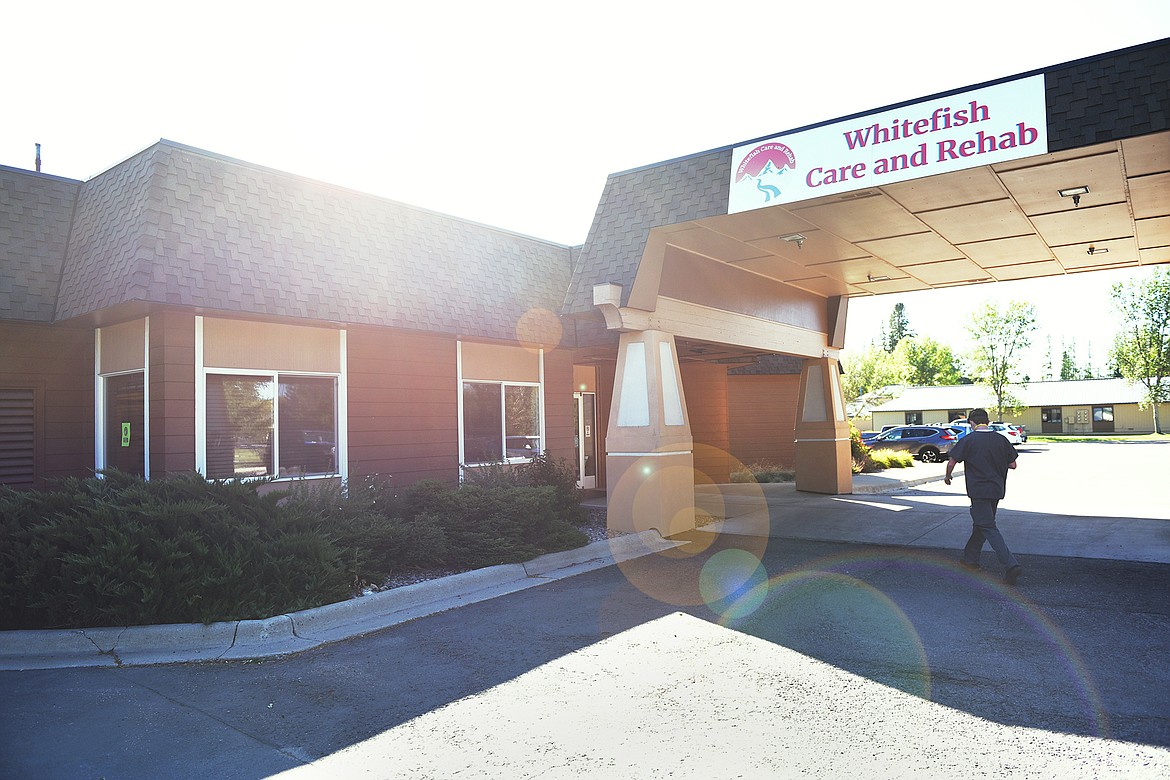 Whitefish Care & Rehabilitation Center in Whitefish on Thursday, Sept. 10. (Casey Kreider/Daily Inter Lake)
by
KIANNA GARDNER
Daily Inter Lake
|
September 14, 2020 9:00 AM
Following a recent state investigation into Whitefish Care and Rehabilitation Center, the Centers for Medicare and Medicaid Services stamped the facility with the most serious deficiency rating possible in early September — a federal designation that was later lifted as silently as it was assigned.
According to federal records, the issues that were discovered are only the most recent among a host of other deficiencies that indicate the facility has long struggled to meet state and federal regulations.
Documents from earlier investigations show residents at the long-term care and rehab facility have languished in filthy conditions, including in their own urine and feces, and have gone weeks without receiving a shower or bath, among a myriad of other issues.
Whitefish Care and Rehab is currently battling a COVID-19 outbreak that has claimed the lives of 10 residents. More than 75% of residents have tested positive for COVID-19 since August, according to the Flathead City-County Health Department.
The most recent rating given to the facility is known as "immediate jeopardy," or IJ. The Centers for Medicare and Medicaid Services (CMS) assigns an IJ rating when there is "a situation in which the provider's noncompliance with one or more requirements of participation has caused, or is likely to cause, serious injury, harm, impairment, or death to a resident."
The federal agency assigns a letter rating to deficiencies discovered in nursing homes that are required to comply with federal standards and guidelines in order to qualify for Medicare and Medicaid. The ratings range from A to L, with immediate jeopardy being the most serious deficiency type. According to a CMS manual, "an immediate jeopardy situation is one that is clearly identifiable due to the severity of its harm or likelihood for serious harm and the immediate need for it to be corrected to avoid further or future serious harm."
Jon Ebelt, spokesperson for the Montana Department of Public Health and Human Services, said CMS declared the immediate jeopardy for Whitefish Care and Rehab as a result of a recent complaint survey that was conducted by the state health department on behalf of CMS. But the rating was soon lifted after the state gave initial approval to Whitefish Care and Rehab's "Plan of Correction" for addressing the deficiencies.
As just one part of this plan, Ebelt said the health department and CMS required a "temporary manager" be brought into the facility to provide oversight until state and federal entities "determine the facility has achieved and is capable of maintaining compliance with federal nursing home requirements." That temporary manager is currently in place, Ebelt said.
Once the facility's plan is fully green-lighted and implemented, the report will be made public — a process that occurs every time deficiencies are found in CMS-certified nursing homes.
ALTHOUGH THE survey that prompted the dire rating for Whitefish Care and Rehab has not yet been released, other public reports show the facility has a history of failing to meet government standards for resident care, staffing levels and more.
According to the Montana Secretary of State's website, Sweetwater Whitefish OPCO LLC took over ownership of the facility in May 2019. Since then, the facility has been cited for more than 20 serious deficiencies ranging from D to H in severity, though the details of one report describes a handful of instances that took place prior to Sweetwater taking over.
As of Friday morning, officials with Whitefish Care and Rehab had not replied to emails from the Daily Inter Lake and did not offer comment for this article. A reporter called the facility multiple times and no one answered.
THE MOST recent public report on Whitefish Care and Rehab was completed on April 4, just a few weeks after nursing homes and assisted-living facilities across Montana closed their doors to all non-essential visitation in an effort to protect residents from COVID-19.
The 42-page report states that based on observations, interviews and records, Whitefish Care and Rehab failed to regularly bathe and/or shower residents, provide feeding assistance for a dependent resident, respond to and act on resident concerns voiced during monthly council meetings, ensure sufficient staffing, monitoring and supervision, and much more.
In one instance, surveyors found the facility "failed to ensure that necessary, timely assistance was provided for bowel incontinence, which led to the resident lying for a long duration of time on a soiled incontinence pad."
Residents were also found to have "matted, greasy hair," many went extended periods of time without a shower and call lights in rooms would sometimes go unanswered for more than an hour. Many residents reported the staff appeared fatigued.
One female resident that was interviewed on April 7 told surveyors "I feel neglected, and scared. I could die in here and rigor mortis could set in before they find me."
The report states she was lying on a dark blue air mattress with no bottom sheet and "it was clear to see the skin flakes all over the mattress." Bathing records indicated she had not received a shower in 35 days.
These deficiencies are similar to those detailed in two other reports filed in 2019 that collectively found 17 deficiencies at Whitefish Care and Rehab, indicating many of the issues have been long standing. The most recent April report states, "it was identified the facility failed to sustain corrections made on the 6/27/19 and 11/6/19 complaint surveys related to the quality and provision of care for residents needing assistance."
As one example of this failure, residents voiced concerns during regular council meetings that call lights had not been answered for up to 45 minutes in October 2019. Then in November 2019, residents said wait times had increased to one hour and that staffing was low and "they wanted it fixed as soon as possible because they felt they were the ones suffering due to the effects of short staffing."
Records of resident council meeting minutes were not provided for the following three months and therefore, "there was nothing to show resident grievances in previous meetings had been addressed by the facility." But according to March 2020 minutes, residents again said there was not enough staff and call lights were not being answered for an hour or more.
As another example, the facility had a plan of correction that went into place on Nov. 6, 2019, after a surveyor discovered eight of 10 sampled residents were not receiving showers on a weekly basis. The plan called for a new bath schedule to be implemented, but one was not put into place until Nov. 18 and according to the April report, nurses and CNAs were not trained on the schedule or documenting showers until early December.
ASIDE FROM making these reports public so individuals can better understand their options for CMS-certified nursing homes, the agency's "Nursing Home Compare" website also features a 5-star rating system. Officials review health inspection results, staffing data and quality of resident care information and then calculate a star rating for each of those three sources and provide an overall rating as well.
As of Friday morning, Whitefish Care and Rehab had been given an overall rating of 1 star. While quality of resident care received a 3-star rating, staffing received a 2-star mark and health inspections received 1 star.
According to the CMS website, the facility to date has received a total of 17 health citations.
Nursing Home Compare states the star rating "gives you a 'snapshot' of the quality of each nursing home." It continues, "the star rating system can give you important information and help you compare nursing homes by topics you consider most important, but isn't a substitute for visiting the nursing home."
In addition to a 1-star rating, CMS has placed an icon featuring a white hand in a red circle on Whitefish Care and Rehab's profile. The symbol is a consumer alert that means the facility has been cited for potential issues related to abuse.
Nine other CMS-certified nursing homes in Montana have been marked with the icon, including ones in Billings, Missoula, Deer Lodge and Plains.
---