Air quality unhealthy as wildfire smoke rolls in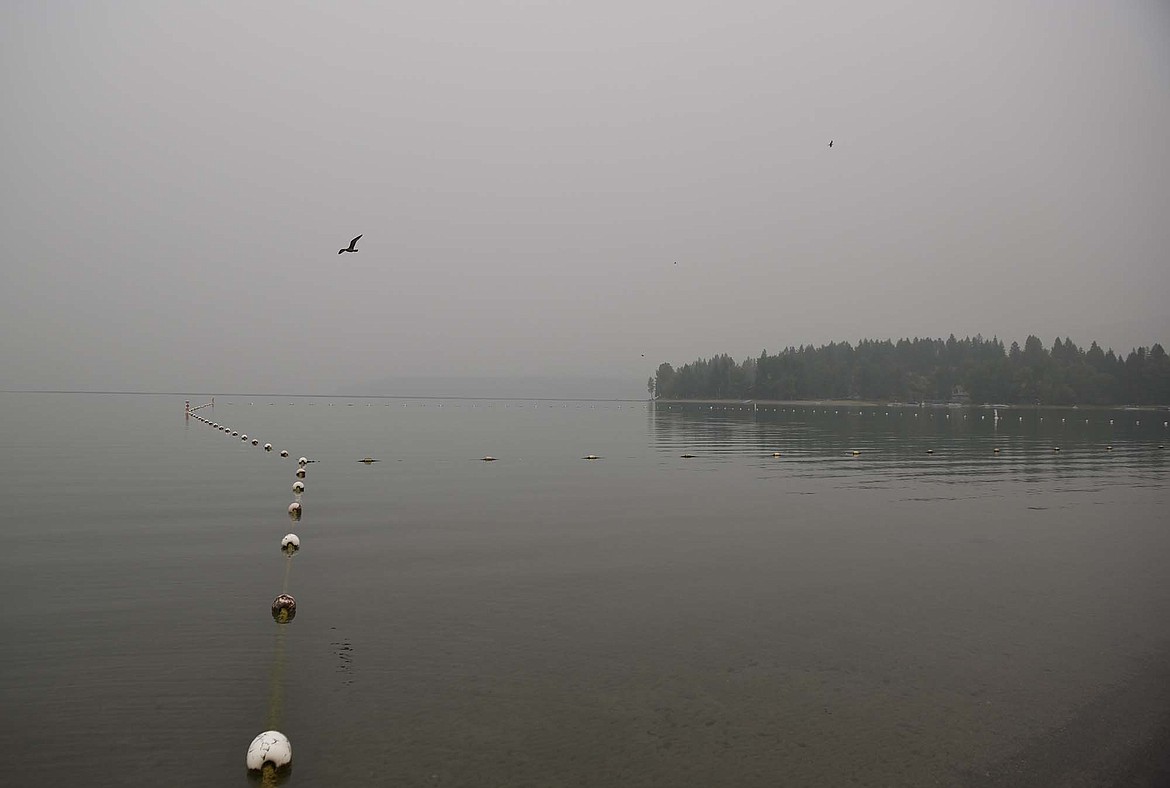 Wildfire smoke blankets Whitefish Lake Monday morning making it impossible to see Big Mountain from City Beach. (Heidi Desch/Whitefish Pilot)
by
HEIDI DESCH
Editor
|
September 14, 2020 11:35 AM
It has been impossible to see even the outline of Big Mountain from downtown Whitefish since wildfire smoke rolled into the area over the weekend.
Wildfire smoke form Idaho, Washington and Oregon has been moving east, impacting Montana's air quality, according to the Montana Department of Environmental Quality. Air quality is expected to worsen as smoke continues to push eastward across the state.
On Tuesday morning the air quality for Flathead County was listed as unhealthy meaning that people with respiratory or heart disease, the elderly and children, should avoiding outdoor activity. Everyone else should avoid prolonged exertion while outside.
The Flathead City-County Health Department issued a notice encouraging residents to regularly monitor air quality conditions and restrict outdoor activity accordingly.
The county has an air quality monitoring station in Columbia Falls and results of the monitoring are posted hourly on the health department's air quality website at http://svc.mt.gov/deq/todaysair/.
Air quality ratings include good, moderate, unhealthy for sensitive groups, unhealthy and hazardous.
When the air quality is anything other than good, folks should watch for symptoms such as coughing or shortness of breath and reduce exertion, according to the health department.
Smoke is made up of a mixture of gases and fine particles when wood and other organic materials burn, according to the health department, and the biggest public health threat from smoke is fine particles that can penetrate deep into the lungs causing a range of health problems.
Those most at risk for health issues are the elderly, children and those with respiratory issues or heart disease, the health department notes.
An air quality alert was issued for much of the state through Tuesday morning due to the wildfire smoke.
Smoky conditions are expected to continue for the Northern Rockies through the week, the National Weather Service in Missoula said.
There's expected to be a break form the smoke by the weekend, the Weather Service predicts, when a relatively moist Pacific storm system is expected to move over the Northern Rockies.
"A change in the weather pattern will occur Friday into Saturday," the Weather Service said Tuesday. "An upper low will move through the Northern Rockies and provide widespread rains."
The relief from smoky conditions may not last long as weather forests are indicating a high pressure ridge over California will transport smoke from California and Oregon wildfires once again across the region next week.
The fire danger in Flathead County remains very high.
Interagency fire managers are asking the public to remain careful when out recreating this fall.
"It's important for everyone locally to do their part to prevent human-caused fire starts," said acting Flathead National Forest Fire Management Officer Andy Huntsberger. "We need every resource available to help out our neighbors, and the more we can do to limit our local fire response, the better."
---