Council rejects ordinance restricting demonstrations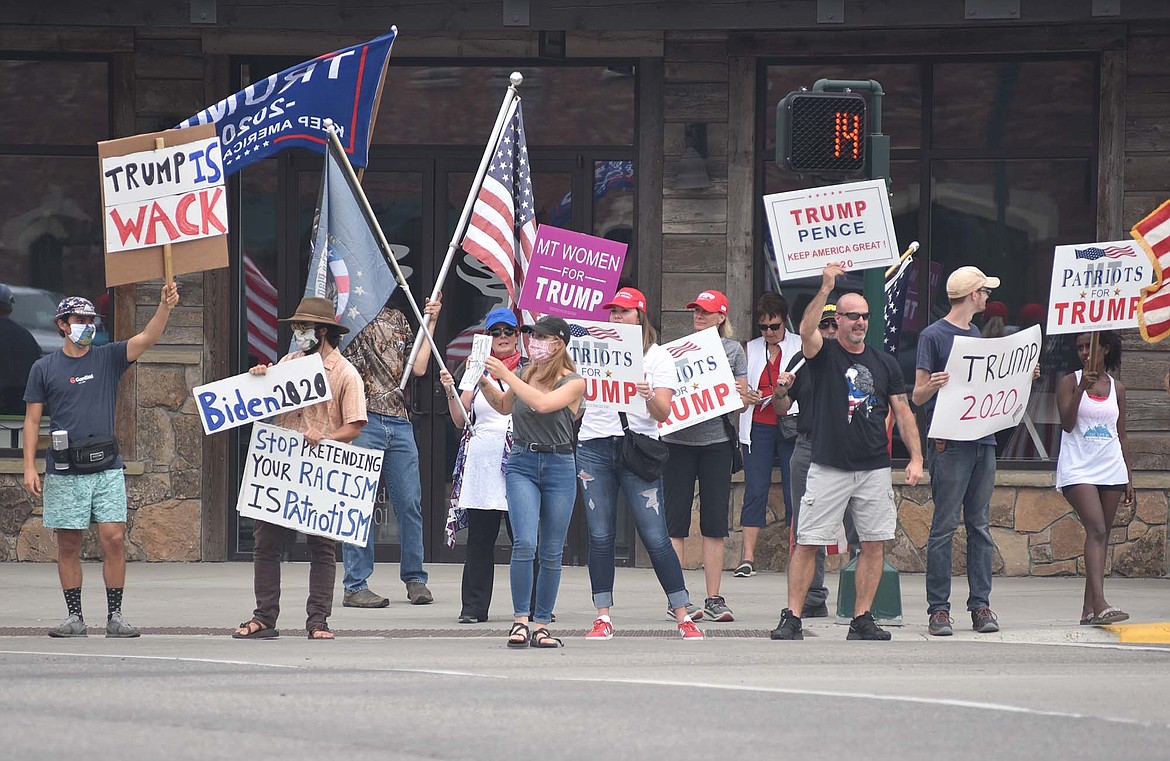 Supporters of Republican President Donald Trump, supporters of presidential candidate Democrat Joe Biden, along with those showing support for the Black Lives Matter movement stand near each other at the corner of Second Street and Baker Avenue on Monday, Aug. 24. (Heidi Desch/Whitefish Pilot)
by
HEIDI DESCH
Whitefish Pilot
|
September 9, 2020 2:00 AM
Whitefish City Council on a split vote Tuesday night rejected a proposal that aimed to place restrictions on gatherings and demonstrations.
In a 5-1 vote, Council denied the proposed ordinance that would have prohibited organized gatherings without a special event permit between the hours of 7 p.m. and 7 a.m. and bared those attending from using megaphones or speakers. Councilor Rebecca Norton was the sole vote against.
Several Councilors said they couldn't justify restricting free speech.
Councilor Steve Qunell said he has witnessed the safety issue that has arisen from demonstrations blocking the view of vehicles on the street and pedestrians attempting to use sidewalks, along with demonstrators who have been holding vulgar signs.

"There is nothing nefarious in this ordinance — this is about public safety," he said. "This is about the balance of public safety and our freedoms. I don't think limiting what's going on out there is going to solve a problem."
"To me this ordinance violates the First Amendment and I can't support it for that," he added. "We all have the right to peaceably assemble and we all have the right to protest. We should also all do it with public safety in mind rather than our personal agendas in mind."
Over the past several months demonstrations have taken place downtown primarily in front of City Hall. Some groups have shown their support of the Black Lives Matter movement, while others have rallied to support President Trump.
About 20 people attended the meeting Tuesday providing roughly an hour of public comment on the issue. At times, the exchange became heated between those seeming to fall into one group or the other.
Some Councilors worried about the backlash that might arise if the ordinance were approved.
Councilor Ryan Hennen said the ordinance might cause more harm than good.
"I have no doubt about the constitutionality of this ordinance," he said. "I think an ordinance like this would lead to an increase in gatherings. People would intentionally be trying to violate the ordinance and I don't think that's the best thing for our law enforcement officers."
As groups have stood outside City Hall during the evenings in recent weeks, there have also been reports of heated verbal exchanges and physical altercations.
Whitefish Police Chief Bill Dial requested approval of the ordinance saying that his department is understaffed to handle the up to 150 people who are gathering.
"This is about public safety," Dial said. "This is not about taking away people's First Amendment rights. We are looking at the best way to preserve law and order in this community, which people want us to do."
However, Dial says some people at the demonstrations have been "acting like children."
"For the most part people have been very cooperative," he said. "It's about community policing — it's about people policing themselves. We just all need to respect each others views."
Norton disagreed with her fellow Councilors saying that while she supports speech she is inclined to follow Dial's recommendation.
"We're possibly entering into a few unsafe months if we don't put some parameters around how people are behaving in front of City Hall," she said. "We have a chance to put some containment around these interactions and it would be safer for our community. We need to ask people to show their best self and not erode our community with hate or violence."
Comments from the public ranged from those asking Council to not restrict free speech to those who took the opportunity to air their grievances. Several people in attendance said they had been shouted at or even pushed during gatherings.
Maureen Cordoza asked Council not to restrict the gatherings.
"I ask you to allow both sides equal and fair rules," she said. "I ask that you do not limit our rights."
Susie Moore said those who are there to support of President Trump are only spreading positive messages.

"I'm very proud of this community, but since the death of George Floyd, Black Lives Matter protestors have hijacked our city corner," she said. "This is about our tourists, citizens and kids who have to go by this corner and see the vulgar signs."
Jill Goodrich said she has no issue with a restriction on when gatherings can take place, but does have an issue with the behavior of those gathering with the Black Lives Matter supporters.
"You invited this to our town with your words and actions," she told Council. "Because of the trash you have invited in to our town, if anything happens to me in the future my lawyer is going to enjoy meeting you."
Rafael Pease said protests have remained peaceful, but claimed that Trump supporters have been standing in the street waiving flags and have made verbal and physical assaults of others.
"No one is obligating anyone to come protest," he said. "The situation is to create progress and change, and not create more havoc in this town."
Megan Cline said protests are important and providing guidelines is a way to keep everyone safe.
"For those that feel unsafe or uncomfortable or offended, please remove yourself," she said.
In replying to a question, City Attorney Angela Jacobs said the ordinance did have penalties behind it, but that it would have been difficult to enforce.
"If no one comes forward as the organizer of the groups, as a practical matter, it would be hard to enforce," she said.
The city already requires a special event permit for any gathering held on public property that involves more than 75 people if the gathering would impede or obstruct the public use of a street or sidewalk.
Jacobs said no one representing the recent gatherings has applied for such a permit and that in the past the city while the city has placed restrictions on events, it has never denied a permit request.
Dial said he worries about what might happen if the situation escalates or when his officers are tied up dealing with the gatherings and have a difficult time responding to other calls.
"We are neutral as the police department," he said. "We want to protect everybody's rights. But when we see vulgarity on signs or people walking down the street being intimidated this becomes a health and safety issue."
---