Council to vote on emergency ordinance prohibiting gatherings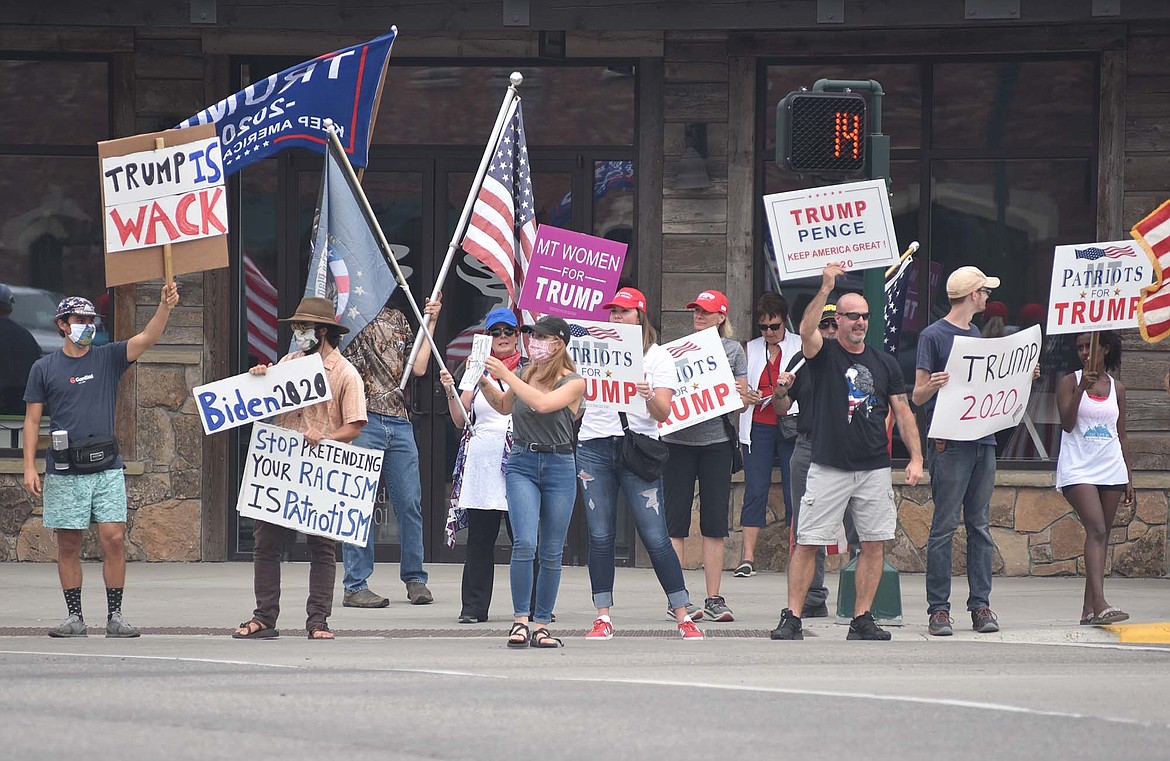 Supporters of Republican President Donald Trump, supporters of presidential candidate Democrat Joe Biden, along with those showing support for the Black Lives Matter movement stand near each other at the corner of Second Street and Baker Avenue on Monday, Aug. 24. (Heidi Desch/Whitefish Pilot)
|
September 4, 2020 9:00 AM
Whitefish City Council on Tuesday will consider an emergency ordinance prohibiting organized gatherings and demonstrations without a special event permit between the hours of 7 p.m. and 7 a.m.
The ordinance would also prohibit amplified sound during organized gatherings. If approved, it would go into effect immediately.
The potential prohibition stems from demonstrations that have taken place over the past several months downtown, often in front of City Hall at the intersection of Baker Avenue and Second Street. Megaphones and speakers have been used at the gatherings.
The city says it expects such gatherings to increase in frequency and attract more participants due to the Nov. 3 general election.
On Monday, Aug. 24, more than 100 people gathered at the intersection. Some were showing support for the Black Lives Matter movement, while others were showing support for President Trump. A week later the number of people who gathered was much smaller.
The city already requires a special event permit for any gathering held on public property that involves more than 75 people if the gathering would impede or obstruct the public use of a street or sidewalk.
Whitefish Police Chief Bill Dial on Monday said that while there have been some verbal and physical altercations things have remained largely civil during the demonstrations.

However, in the proposed ordinance restricting gatherings, the city says that it has the power to enact reasonable legislation for the "health, safety, welfare, or morals of the public" in order to protect citizens from unwelcome noise, maintaining city infrastructure, conserving limited police resources and preserving public safety and order.
The city says that numerous citizens have expressed concerns regarding the demonstrations because of excessive noise, traffic safety and pedestrian safety, and concern over the safety of those participating in the gatherings.
The Whitefish Police Department has taken steps to promote public safety, but is faced with limited resources, the city notes.
Demonstrations that occur during evening hours are "more likely that serious and/or violent crime and damage" to city infrastructure to occur than during daylight hours, according to the city. Evenings are more likely to cause conflict with motorists and pedestrians, the city notes.
A person found to be in violation of the ordinance, could face a fine of up to $300 for the first offense and up to $500 for the second.
An emergency ordinance requires two-thirds vote from City Council and remains effective for no more than 90 days.
City Council meets on Tuesday, Sept. 8 at 7:10 p.m. at City Hall.
Comments can be submitted to Council by email at mhowke@cityofwhitefish.org. Letters must be received no later than 3:30 p.m. on the day of the meeting to guarantee Council receives copy.
---