Large rock whacks mountain biker fracturing his hand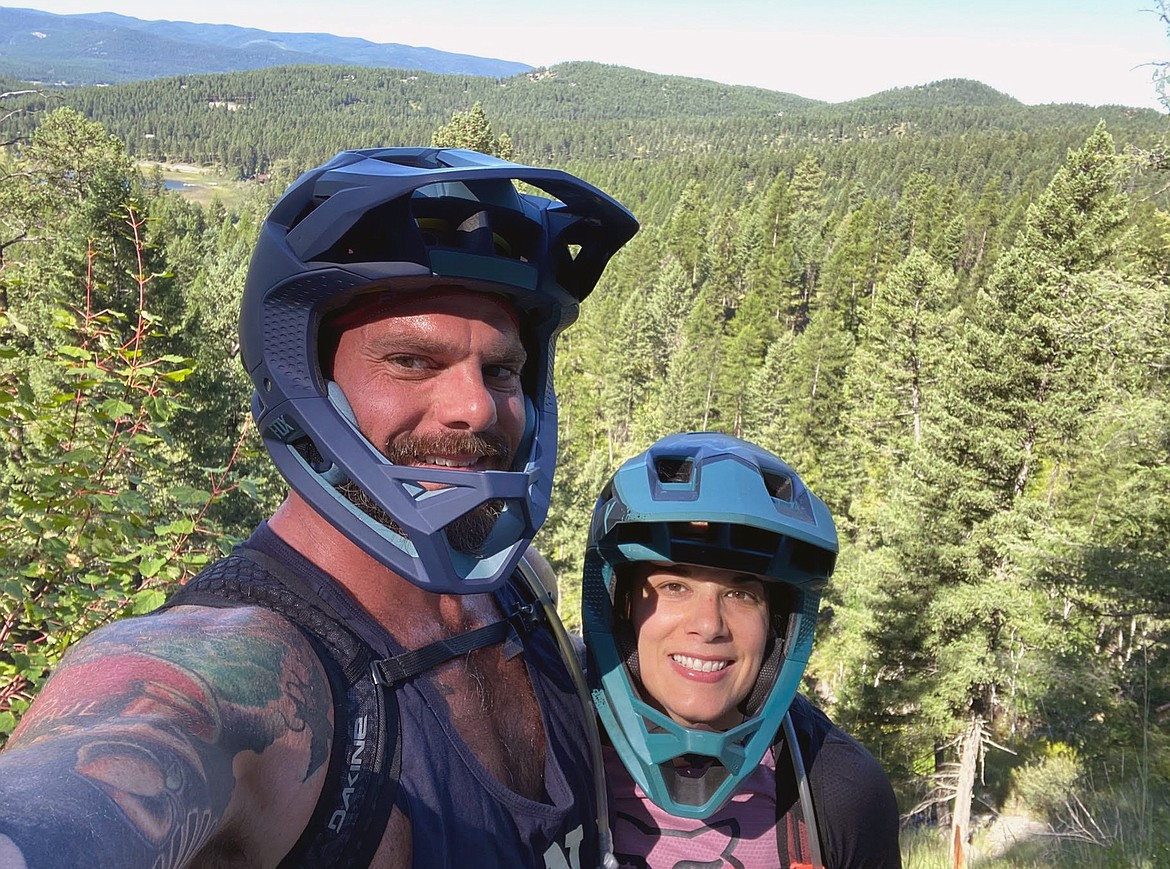 Dave Bartynski and his girlfriend Victoria Geppert at the Skyles Lake Overlook, a popular biking and hiking spot along the Whitefish Trail System, before Bartynski was hit by a falling boulder on the way back down. (Photo provided by Dave Bartynski)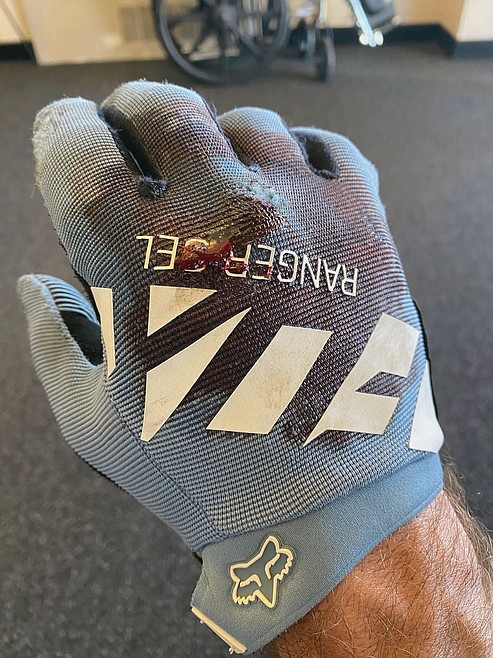 Dave Bartynski fractured a bone in his hand near his knuckles after a boulder fell on him while mountain biking on the Skyles Connection trail. (Photo provided by Dave Bartynski)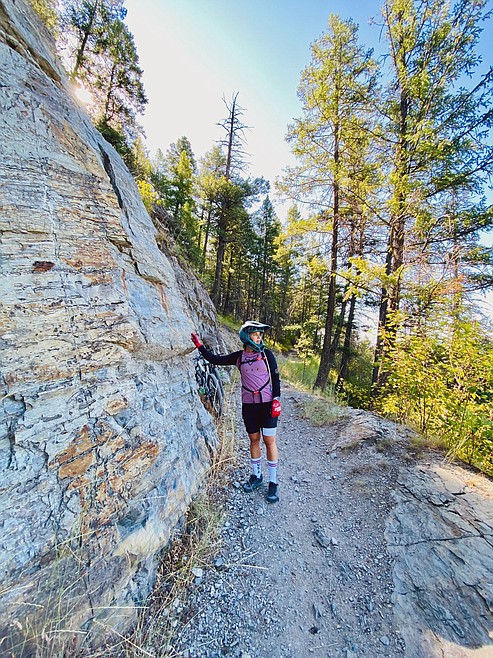 Dave Bartynski's girlfriend, Victoria Geppert, admires the view on a rocky part of the Skyles Connection trail. (Photo provided by Dave Bartynski)
Previous
Next
by
WHITNEY ENGLAND
Whitefish Pilot
|
September 2, 2020 1:00 AM
In what seems like a one in a million chance, Dave Bartynski recently experienced an unexpected danger when a shoebox-size rock fell striking his hand while he was mountain biking on the Whitefish Trail.
The adventure-seeking visitor from Pennsylvania came to the Flathead Valley with his girlfriend, Victoria Geppert, to meet up with a friend. As first-time visitors to the area, the pair had a list of things they wanted to experience during their trip including mountain biking.
On Sunday, Aug. 9 they ended up at the Skyles Connection trailhead, one of the many destinations along the Whitefish Trail system. According to Bartynski, they were having a lovely ride up to the Skyles Lake Overlook where the Skyles Connection and Lion Mountain trails meet.
"It was pretty," Bartynski recalled. "We were right at the tippy top, we saw the lake and it was beautiful."
The lookout became more crowded with hikers coming up Lion Mountain, so Bartynski and Geppert decided to go back out the way they came. As they rode their bikes down the mountain they were picking up speed quickly.
Suddenly Bartynski saw a rock fall in front of him and before he could even comprehend that, another rock even larger in size came tumbling down a sheer cliff lining the trail — this time colliding with Bartynski.
"I was flying, yeah I was moving," Bartynski said. "It's not like I was standing still, so the odds of this boulder hitting me while I'm moving were just so slim."
The rock, as described by Bartynski, was somewhat rectangular in shape and nearly as large as a shoebox. As it fell, the rock smashed into his hand before finishing its journey to the middle of the trail.
Bartynski went to brake and believed the rock also broke his brake lever, but as he looked down the bike was intact — he simply could not feel his hand squeezing the lever and shortly after extreme pain set in.
"I was shocked it only crushed my one knuckle, it looked like it could have taken my whole wrist apart," he said.
Bartynski attempted to slowly ride his bike out using his feet on the ground to push and guide him, but as soon as he set his injured hand on the handle bars the pain would become unbearable. He was forced to walk his bike out over a mile.
He left his biking glove on to help with the swelling. Bartynski had broken his other hand in the past, and felt positive that he needed medical attention.
An emergency doctor at North Valley Hospital cut off the biking glove, which revealed a deep wound extending to the bone. After treating Bartynski's hand and reviewing X-rays, the doctor determined Bartynski fractured the bone in his hand leading into his index finger's knuckle joint.
Although the doctor suggested surgery, the visitor from Philadelphia decided to wait and get reassessed when he returned home. He ended up not having surgery, but was in a cast for a week and now is currently in a splint.
Bartynski never thought this would happen to him, but according to some Whitefish locals he met on the trail that day, rockfall can become more prevalent in exceedly dry conditions. There has been little rain throughout August in the valley.
Bartynski was wearing a full-face protection helmet and light mountain biking gloves, though he plans to purchase padded, downhill gloves for the future.
Trail hazards can exist — rockfall, wildlife, trail irregularity, potential collision with pedestrians, negligence of people throwing rocks and many more — but Bartynski said potential risks won't keep him out of the mountains.
"To me it was a freak accident," Bartynski said. "I plan on hitting that trail again, I may say a little prayer before I hit it, but I feel like I need to... It's very easy and it was a nice little cruise, that's why I'm not too afraid of it, but I would like some closure."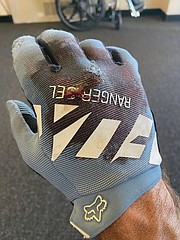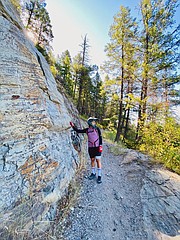 ---