Lady Bulldogs open season with win over Hamilton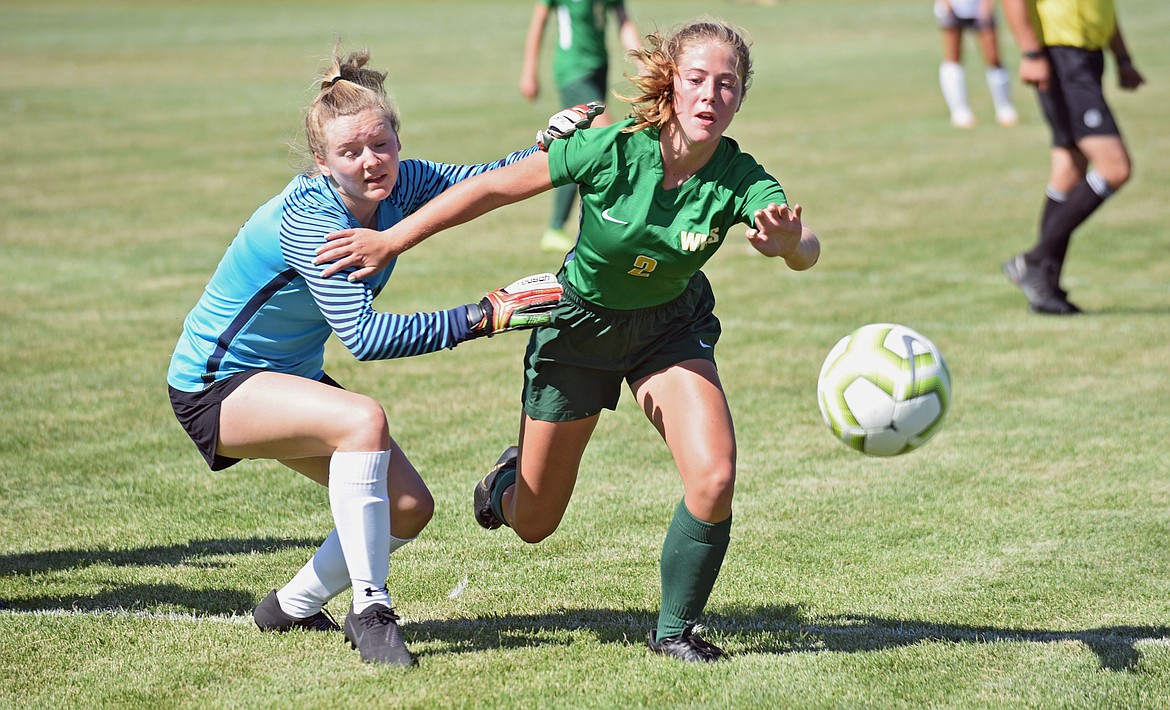 Whitefish forward Brooke Roberts chases down the ball past Hamilton's keeper in the Lady Bulldogs Friday afternoon season opener at Smith Fields. (Whitney England/Whitefish Pilot)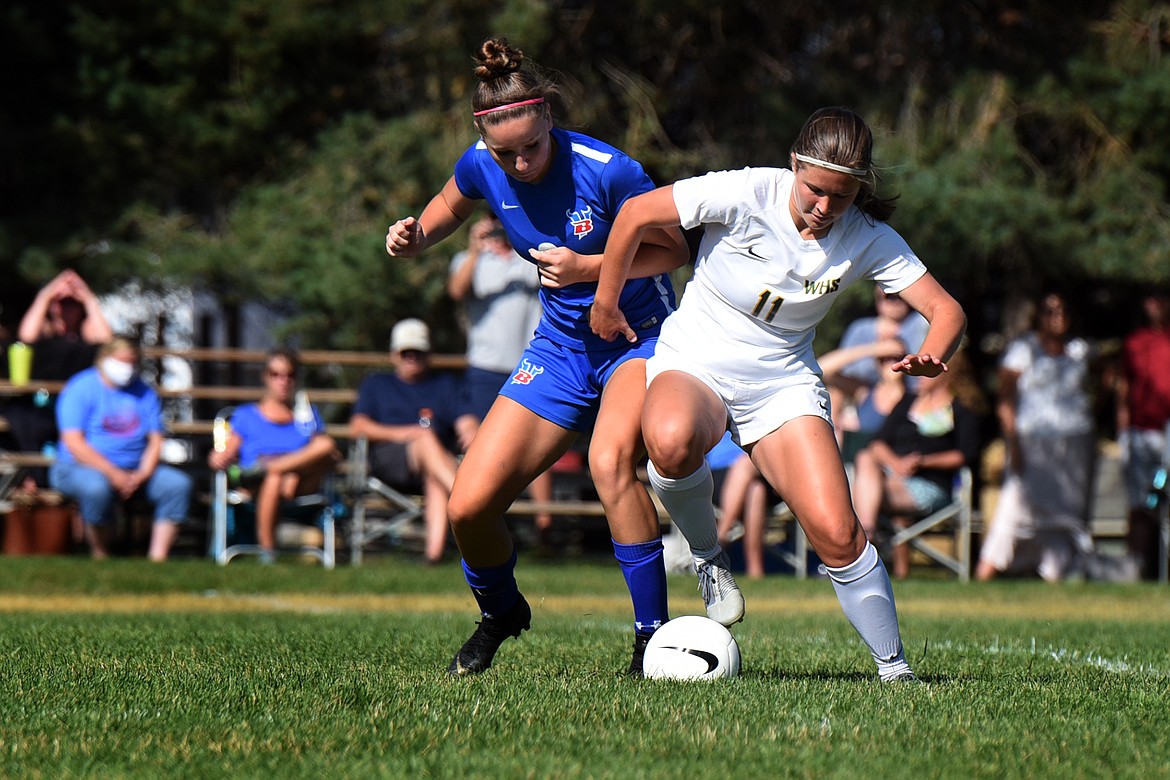 Whitefish's Emma Barron (11) battles Bigfork's Brette Guenzler for the ball Saturday as the teams fought to a 4-4 tie in Bigfork. (Jeremy Weber/Daily Inter Lake)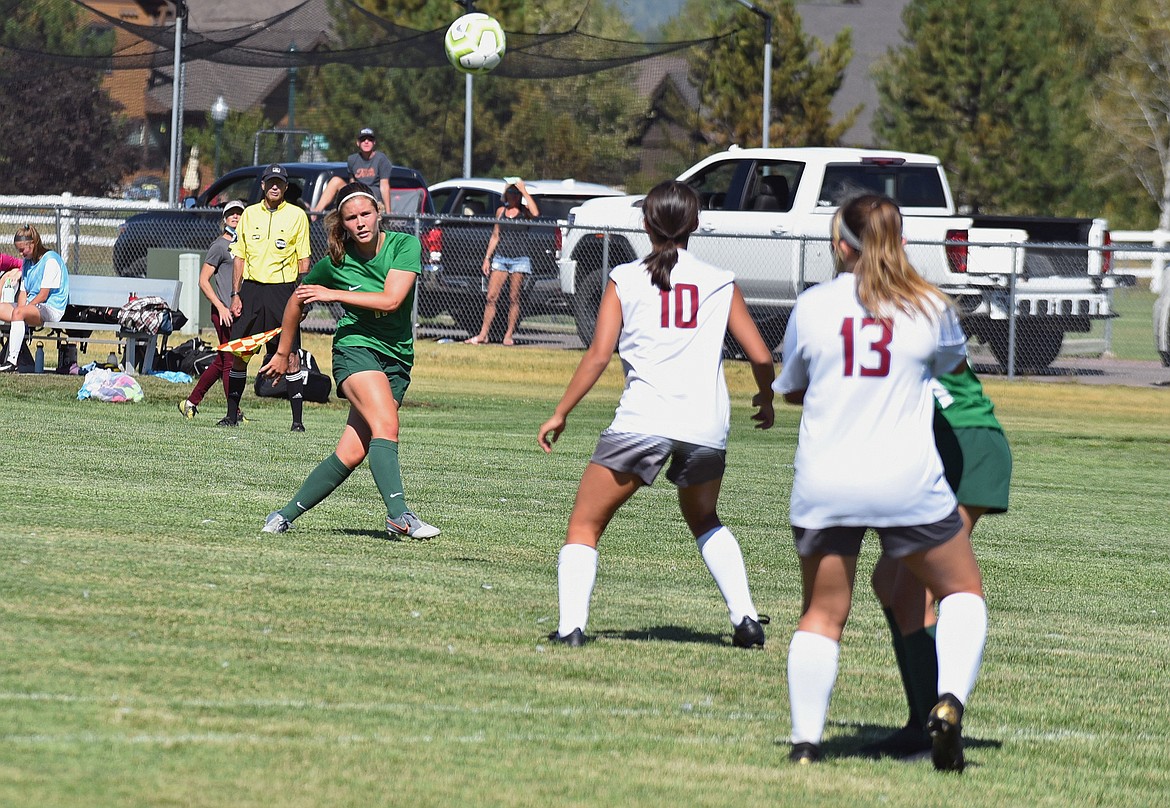 All-state central midfielder Emma Barron strikes a ball from outside the box in the second half of the game Friday, Aug. 28 at Smith Fields. Barron scored both second half goals to lift the Lady Bulldogs over Hamilton 3-1. (Whitney England/Whitefish Pilot)
Previous
Next
|
September 2, 2020 1:00 AM
The Whitefish girls soccer team may have had some first game jitters to work out, but managed to keep any tallies out of the loss column last week.
The girls opened their season with a 3-1 home victory over Hamilton Friday afternoon before traveling to Bigfork on Saturday where the Bulldogs settled for a 4-4 draw.
Head coach Roland Benedict said the team is learning new tactics and style of game play this year, and he is glad to get the nerves of the first couple games out of the way.
"Anytime you get into the first game of the year, you go from the training pitch to the real field against a new opponent — it's nerve wracking," Benedict said. "We're playing a brand new system this year, so a new game model for our team. There's lots of new information these girls are dealing with in order to understand how we want to play."
In their home opener the Bulldogs conceded a goal first when Hamilton's Anna Gordon put the ball in the back of the net in the 14th minute. The Bulldogs responded with a Sophie Olson goal assisted by Sofie Saurey 10 minutes later.
Midway through the second half, Whitefish found its groove and piled on two more goals both by all-state central midfielder Emma Barron.
"They grew into the game and they started to really find their stride in the second half," Benedict said. "The first half I thought we played really poor, however we were by far the better team."
Whitefish finished the game with 27 shots on target and left Hamilton with just eight decent looks. Benedict recalled that in the past his team might have 27 shots but not that many on target which signals improvement in the offense, however he would like to see more balls reach the back of the net.
"The finishing isn't clinical enough, when you're putting shots on frame, on target, you're creating quality chances," he said. "We need to finish our chances and finish our goals, and we'll get there."
As the Dogs faced Bigfork the following day, the girls again had a slow start.
Despite Barron netting an early goal in the 8th minute, the lead was quickly diminished as Bigfork's Calista Worble connected on two goals and Danika Bucklin added one of her own. Whitefish found themselves down 3-1 nearing the end of the first half.
The Lady Bulldogs quickly responded though, scoring three goals in four minutes to regain the lead just before halftime. The goals came from Barron, who scored two more to register a hat trick in the game, and Sofie Saurey off an assist from Brooke Roberts.
"It was a great response after we went down early," Benedict said.
Despite playing a better second half Whitefish could not quite hold off Worble again, who scored the equalizer in the 52nd minute.
Benedict said Worble is a strong freshman player for Bigfork with a lot of promise, but he expected his team to respond better.
"They have a really solid player down there, Calista Worble. She's a fantastic young player," he said. "I think I was just a little shocked that our players weren't prepared for that, to solve that problem on the field."
Whitefish again outshot their opponent with 25-7 looks on frame and had seven corner kicks to Bigfork's one. Barron's hat trick was a bright spot for the Bulldogs in the game and after scoring five goals in just two games, Barron is tied as the top scorer in the state.
"She's been phenomenal, she didn't put a foot wrong," Benedict said.
The Lady Bulldogs were also shorthanded as all-conference center back Lucy Lowry and all-state midfielder Anna Akey were out most of the game with injuries.
"It's a hard pill to swallow when you tie a team that you dominated for 80 minutes, it definitely feels like a loss which it shouldn't," Benedict said. "But when you look at the stats and the result of what we were trying to do on the field, we executed and did great. We scored four goals and should have scored a lot more."
Whitefish 3, Hamilton 1
Hamilton 1 0 — 1
Whitefish 1 2 — 3
H - Anna Gordon, 14:00
W - Sophie Olson (Sofie Saurey), 24:00
W - Emma Barron, 54:00
W - Barron (Brooke Roberts), 74:00
Shots on goal — Hamilton 8, Whitefish 27. Keeper saves — Hamilton 15 (Madison Johnson), Whitefish 7 (Sami Galbraith); Corner kicks — Whitefish 5, Hamilton 1; Fouls — Whitefish 15, Hamilton 7.
Whitefish 4, Bigfork 4
Whitefish 4 0 — 4
Bigfork 3 1 — 4
W — Emma Barron 8:00
B — Calista Worble 13:00
B — Danika Bucklin 20:00
B — Worble 31:00
W — Barron 32:00
W — Sofie Saurey (Brooke Roberts) 33:00
W — Barron 36:00
B — Worble 52:00
Shots on goal — Whitefish 25, Bigfork 7; Goalie saves — Whitefish 5 (Sami Galbraith), Bigfork 13 (Catherine Ponder); Corner kicks — Whitefish 7, Bigfork 1; Fouls — Whitefish 5, Bigfork 12.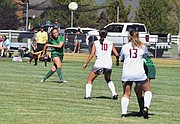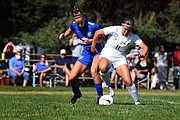 ---