BLM protesters, Trump supporters converge downtown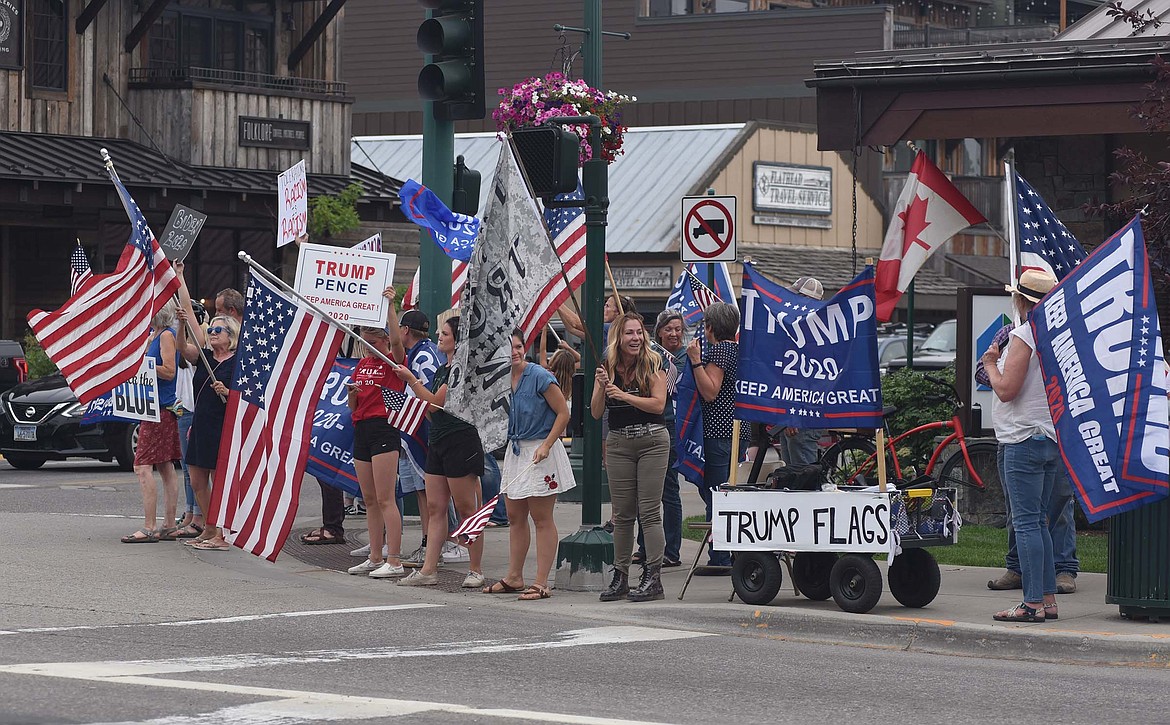 Supporters of President stand at the corner of Second Street and Baker Avenue on Monday, Aug. 24 waving flags and signs showing support for his reelection. (Heidi Desch/Whitefish Pilot)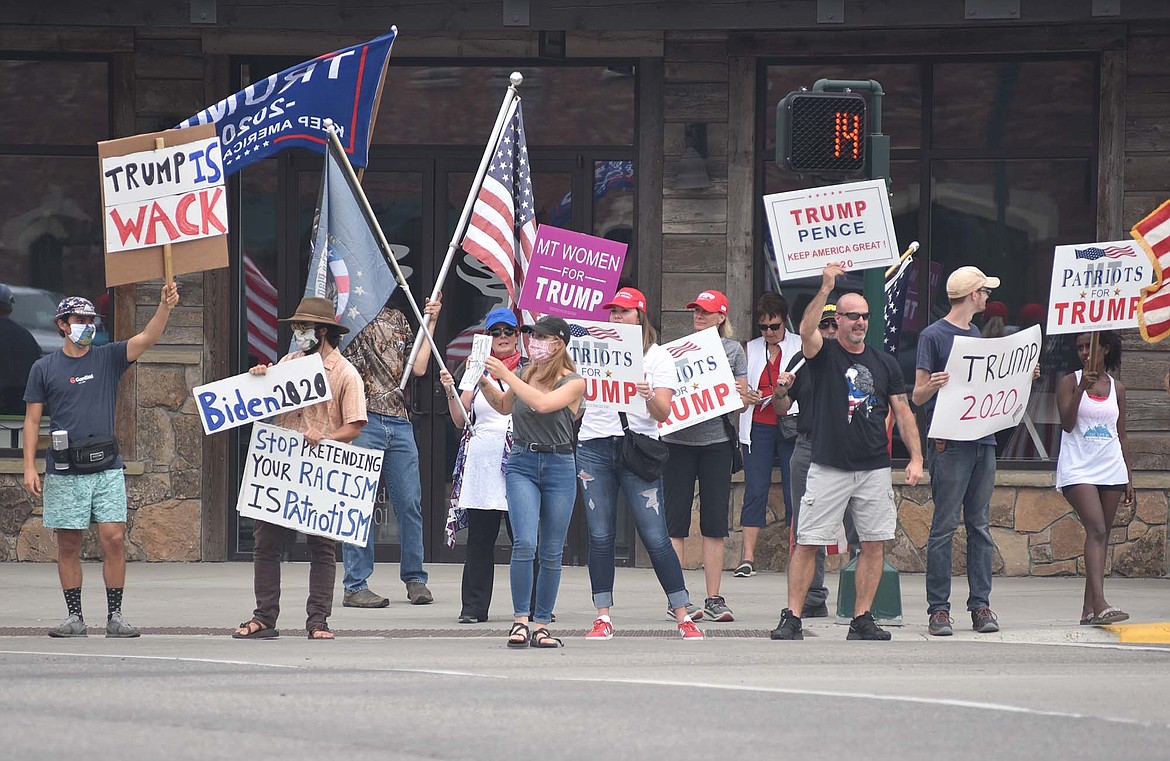 Supporters of Republican President Donald Trump, supporters of presidential candidate Democrat Joe Biden, along with those showing support for the Black Lives Matter movement stand near each other at the corner of Second Street and Baker Avenue on Monday, Aug. 24. (Heidi Desch/Whitefish Pilot)
Previous
Next
by
HEIDI DESCH
Whitefish Pilot
|
September 2, 2020 1:00 AM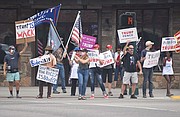 In recent weeks large groups have gathered on the streets outside Whitefish City Hall during evenings holding up signs and waving, while drawing honks of support from passing motorists.
Groups of a couple dozen, though the number has been larger at times, people have gathered to show support for the Black Lives Matter movement. More recently upwards of 100 Trump supporters have also gathered at the same intersection of Baker Avenue and Second Street.
Some attendees have reported individuals shouting at one another and verbal threats or aggressive behavior being lobbed from both sides. Others have expressed frustration with signs that contain profanity.
Police Chief Bill Dial said there have been some verbal and physical altercations between the two groups, but they've been largely "civil to one another."
"We're just asking them to act more mature," he said. "We all have the right to disagree, but we need to be able to shake hands at the end of the day. Some people have just been letting their emotions get the best of them."
The police department has been in contact with the City Attorney regarding one incident recently that involved one woman hitting another with an open hand.
Dial said neither woman wanted to pursue charges, but that will ultimately be up to the city attorney to determine.
Dial had words of caution for anyone attending the gatherings.
"Protests are inherently dangerous and we can't guarantee anyone's safety," he said. "If you feel unsafe, don't go."
Megan Cline has been showing her support for the Black Lives Matter movement and says in the last four weeks there's been about 20 supporters who have shown up, including about 10 high school students.
"We want to rally support and keep people well informed," she said.
Cline was inspired on a recent trip to Houston, Texas, to begin participating in the protests in Whitefish once she returned.
"I had never been exposed to racial inequity before and when I saw the riots happening I knew I had to do something," she said. "It's important to keep driving forward this message to the forefront."
The Black Lives Matter movement advocates for protests against incidents of police brutality and racially motivated violence against Black people.
Demonstrators showing their support for the movement began gathering in Whitefish in early June following the officer-involved killing of George Floyd, a Black man from Minneapolis. About 100 people gathered at times earlier in the summer, but more recently the numbers appeared to have dropped at times to just a few individuals.
Catherine Owens, who is running as a Republican for House District 5, has been amongst those gathering to show their support for President Trump in his re-election. She says the group is holding rallies to show their support of Trump and to "inspire and encourage" others.
"We want to give a voice to those who feel like they've been drowned out by the riots," she said. "We're the silent majority because we're people that don't speak up."
Owens says it was uplifting to hear the amount of honks and smiles that Trump supporters got from passing cars because conservatives in Whitefish often feel like they have to stay under the radar.
Some attending the gatherings have noted people carrying guns.
Dial said he would ask those attending to leave the firearms at home noting that it "serves no purpose," but with Montana's open carry laws there's nothing that can be done unless those carrying firearms are violating the law.
City officials have asked protesters with signs that include profanity to reconsider displaying them, but Dial acknowledges that they have the First Amendment right to freedom of expression.
"We hope they will all act mature and we expect them to respect each other's rights to protest so we don't have to respond," Dial said.
---