Young Whitefish cross country teams places 6th, 7th at state meet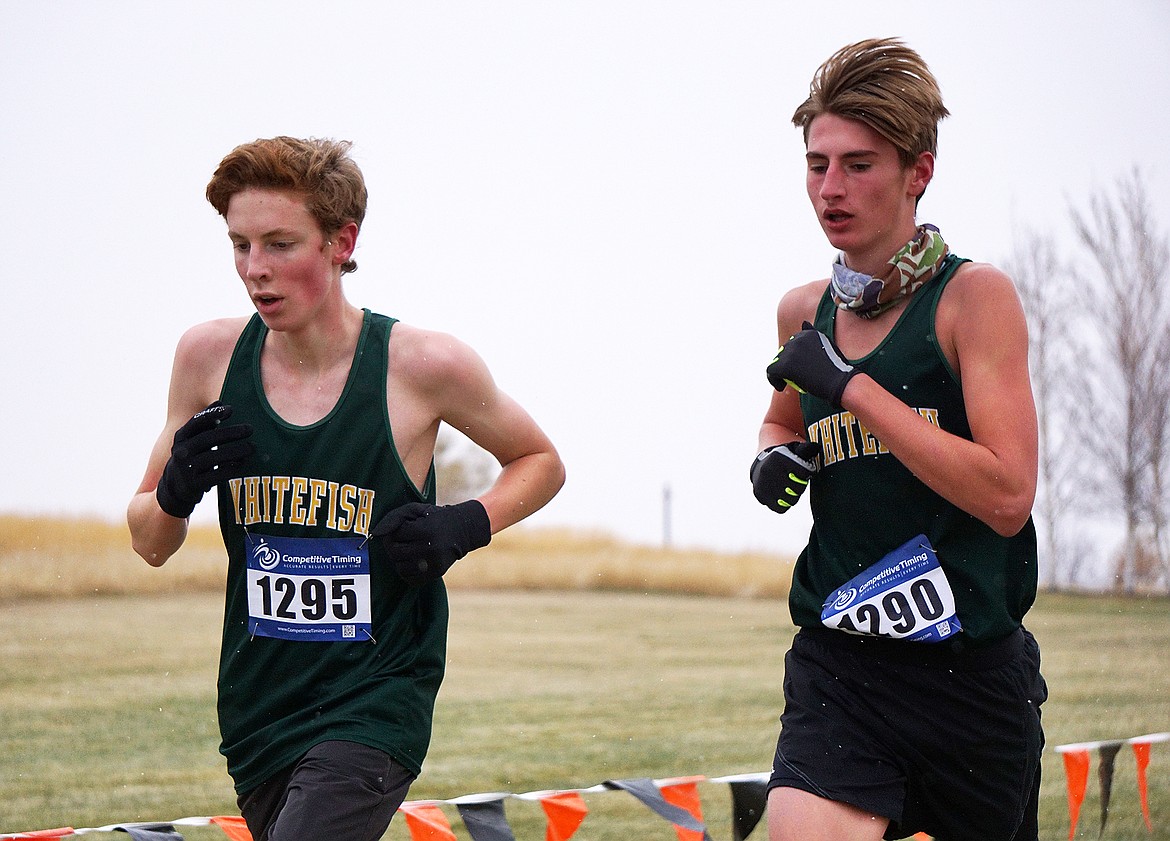 Bulldogs Nate Inglefinger and Landon Brown run together at the state Class A championship meet on Friday at Rebecca Farm. (Matt Weller photo)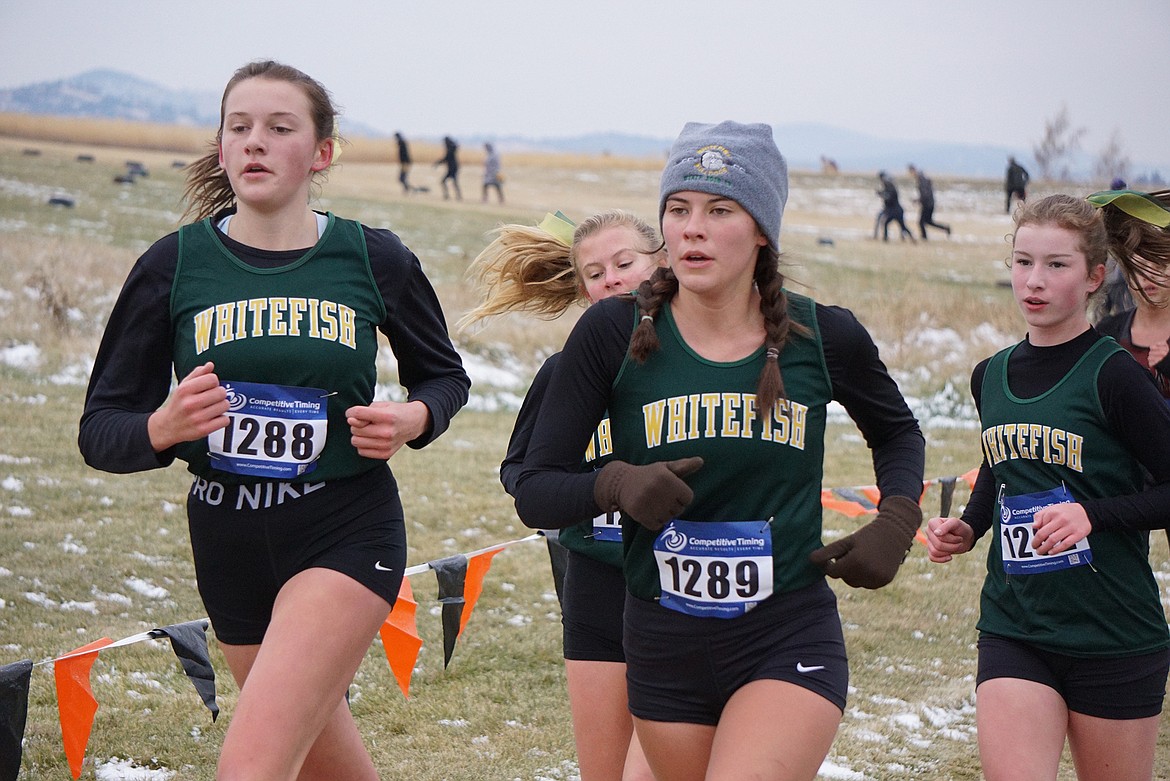 A pack of Bulldogs Maggie Pulsifer, Morgan Grube, Alie Simpson and Hazel Gawe run together at the state Class A championship meet on Friday at Rebecca Farm. (Matt Weller photo)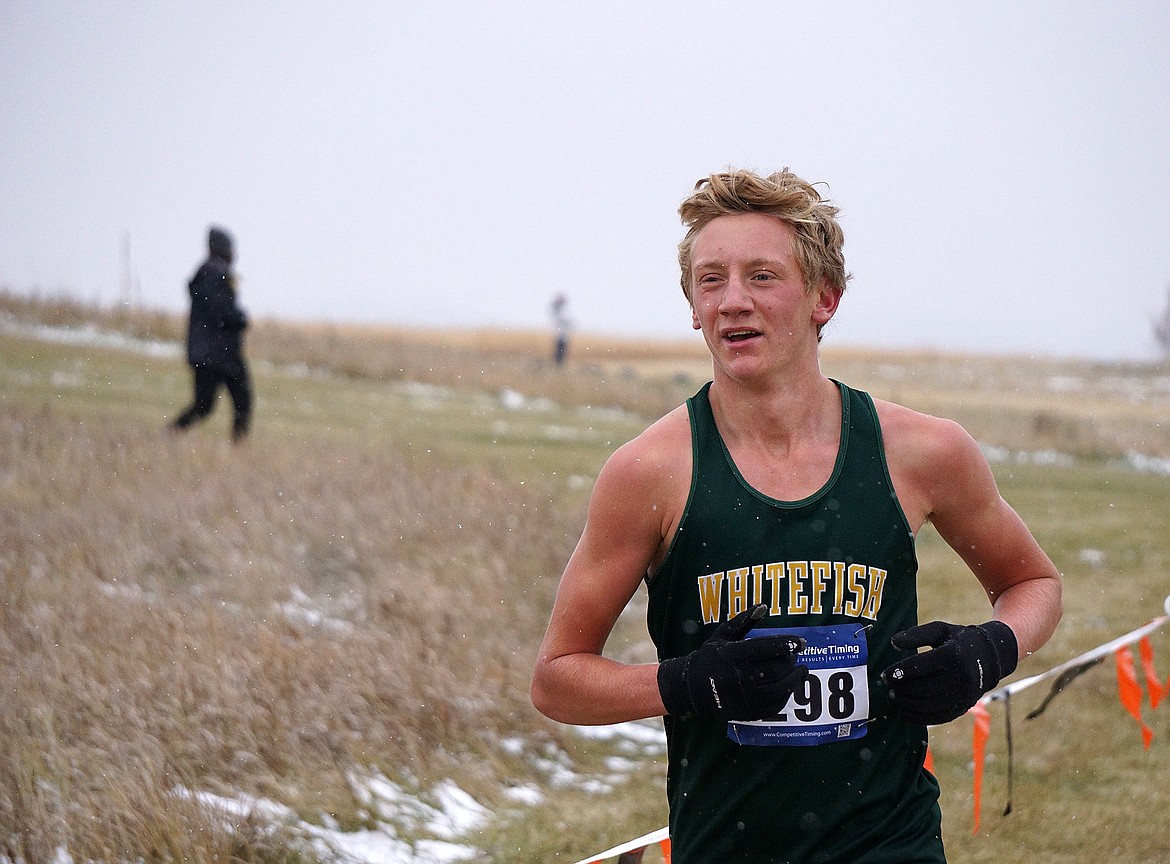 Running with snow falling, Bulldog Ruedi Steiner finished at the state Class A championship on Friday at Rebecca Farm with a time of 17:59.96. (Matt Weller photo)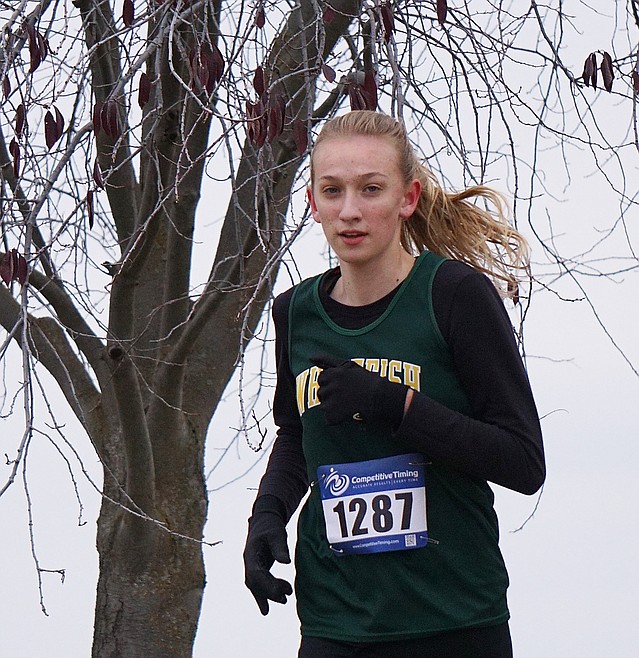 Bulldog Abby Priest finished at the state Class A championship on Friday at Rebecca Farm with a time of 23:09.70, (Matt Weller photo)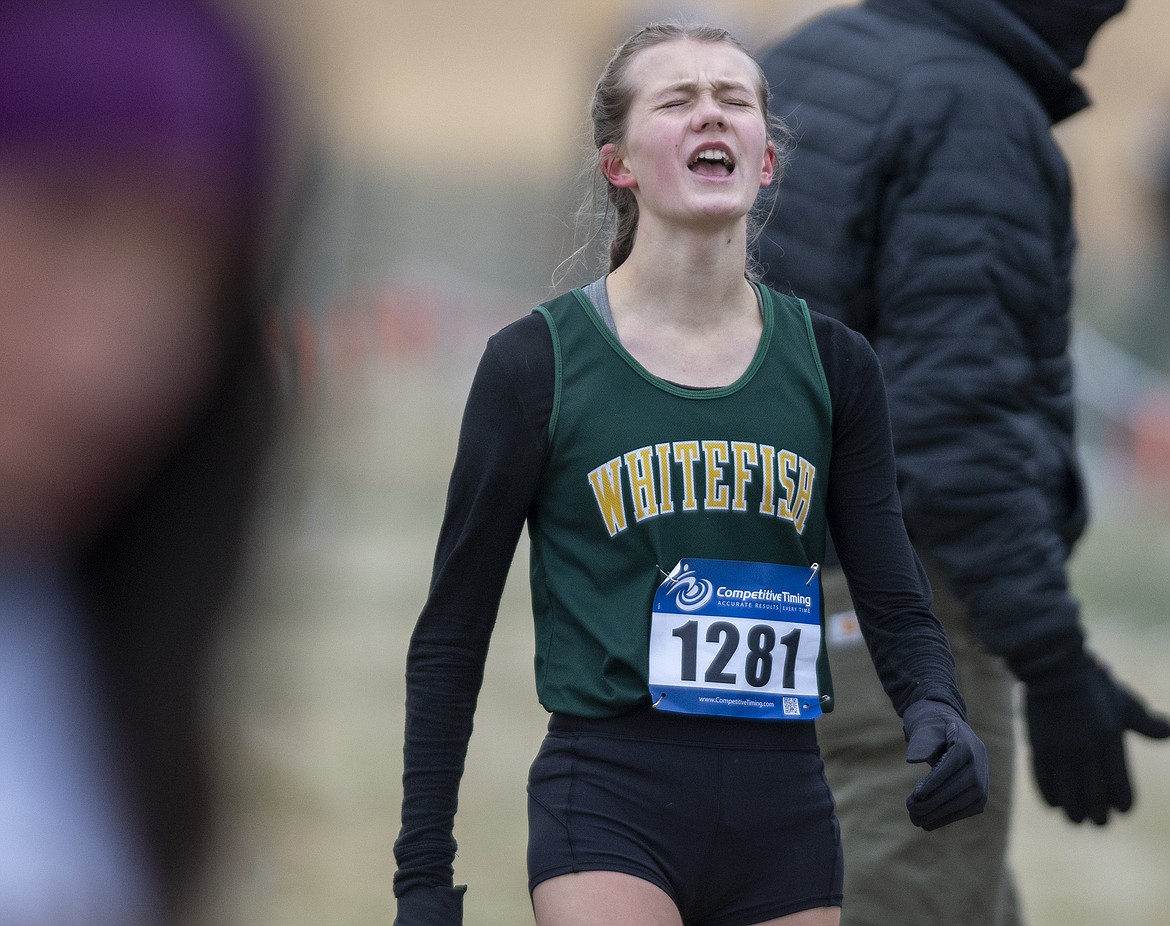 Paetra Cooke reacts after crossing the finish line at the state A championship meet at Rebecca Farm Friday. (Chris Peterson photo)
Previous
Next
by
WHITNEY ENGLAND
Reporter
|
October 28, 2020 1:00 AM
Whitefish Pilot
On another cold, wintry day in October the Whitefish cross country team ran its races at the State A Championship meet at Rebecca Farm on Friday just in time before a storm blew in more than 5 inches of snow.
Whitefish cross country coach Richard Menicke said they lucked out with the weather compared to the other classes running over the weekend. The weather holding off, combined with an all-out effort, led Bulldog junior Paetra Cooke to a season-best time of 20:37.5 and a 19th place finish.
She was the Whitefish girls team fastest finisher of the day, but that was hardly surprising since she's been leading the team all season. She's had top-10 finishes in every race this season leading up to state.
The next fastest Whitefish girl was freshman Raiya McCutcheon who ran to a shocking personal best time of 21:51.9, which shaved nearly 35 seconds off her previous record time she achieved last week at the Western A Fall classic. She took 33rd place, finishing in the top third of the pack.
Menicke also praised a group of three runners behind Whitefish's top two girls — Maggie Pulsifer (49th), Alie Simpson (51st) and Hazel Gawe (53rd) — who "all ran lights out to get it done for the team." He added the Lady Bulldogs were projected to come in eighth in the team results at state, but stepped it up to actually finish sixth as a team.
"The girls team result was remarkable, but not surprising; that group has a nice chemistry that is both supportive and competitive," Menicke said. "Kudos to Paetra Cooke and (senior) Abby Priest for their leadership roles this season."
On the boys side there was both triumph and unfortunate circumstances that the boys ran through to finish seventh as a team at state.
Bulldog junior Jacob Henson, who has been a team leader all season, suffered a cold induced asthmatic reaction that shut down his lungs, according to Menicke.
"Such a bummer for Jacob, he was in the top 15 at the one-mile and then things went south," Menicke recalled.
Despite Henson's upsetting outing that left him finishing in 78th place, Whitefish had some outstanding performances from a number of underclassmen. Freshman Mason Genovese ran a personal best of 17:20.8 to finish 20th in the individual standings and was the top Bulldog runner of the day. Another Whitefish freshman Deneb Linton was just behind him in 28th place and sophomore Ruedi Steiner had a season best time of 18:00 to come in 35th overall. Nate Inglefinger was Whitefish's fourth fastest boy runner and freshman Zachary Chiarito recorded a massive PR of 18:37, just over 30 seconds faster than his previous record he achieved last week. Landon Brown rounded out the boys in 59th place with a time of 18:39.33, just a few seconds off his personal best.
"Hands down we had the youngest team in the race — four freshmen, two sophomores, and one junior — and it's noteworthy that we had the two fastest freshmen in Class A, Mason Genovese and Deneb Linton," Menicke said.
Although the boys set a hefty team goal of taking third place at state and they fell short of that, Menicke explained he was pleased with what the team was able to accomplish this year. And that the boys should be proud of a well-run season.
"I think there is a little disappointment but, with that, there's hunger to get back here next year and perform at their best at state," Menicke said. "The guys had a fantastic season, they ran at a very high level. A feeling of pride will soon replace any disappointment."
---