Bulldogs wrap up season just short of playoffs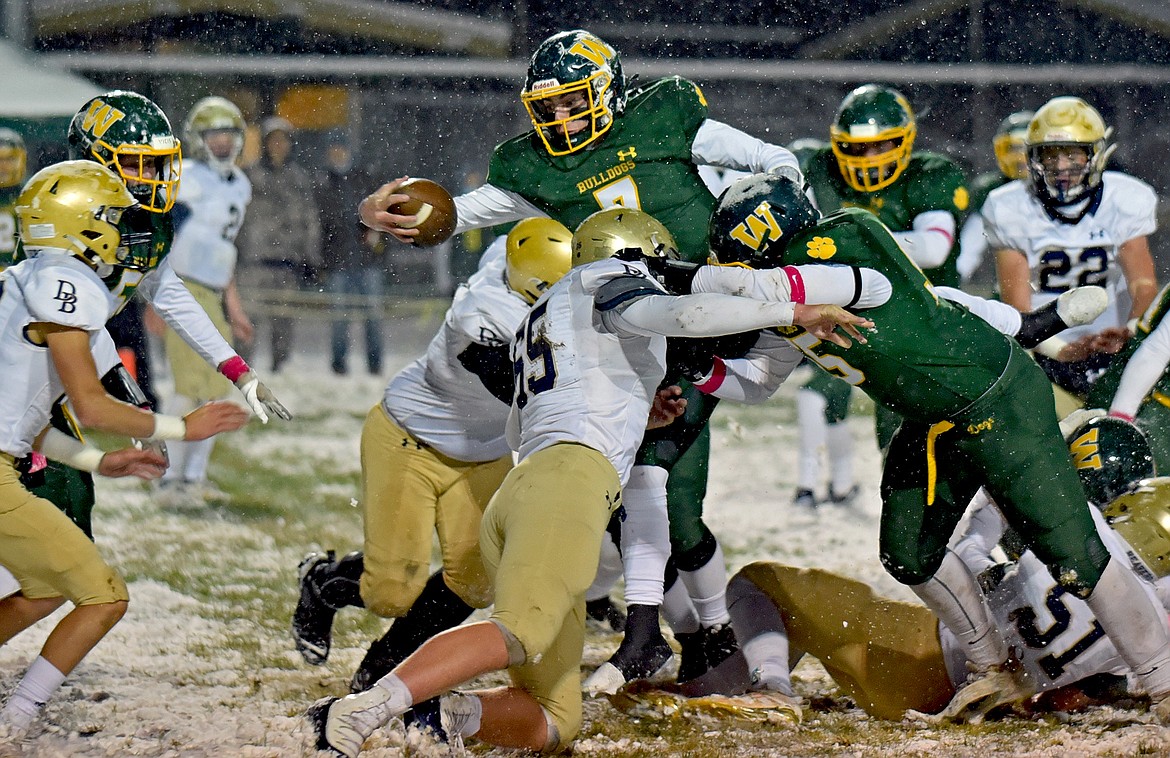 Whitefish quarterback Fynn Ridgeway reaches the ball over the goal line as the Bulldogs score their first touchdown of the game against Dillon Friday night at the Dog Pound. (Whitney England/Whitefish Pilot)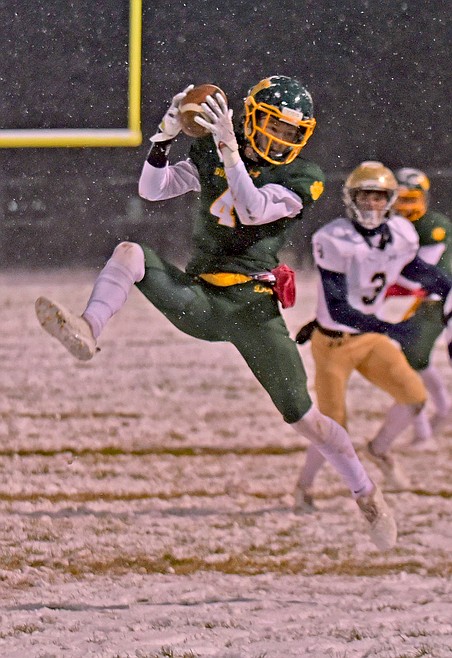 Whitefish receiver Jaxsen Schlauch makes a big catch on his way to recording 149 receiving yards in a game against Dillon Friday night at the Dog Pound. (Whitney England/Whitefish Pilot)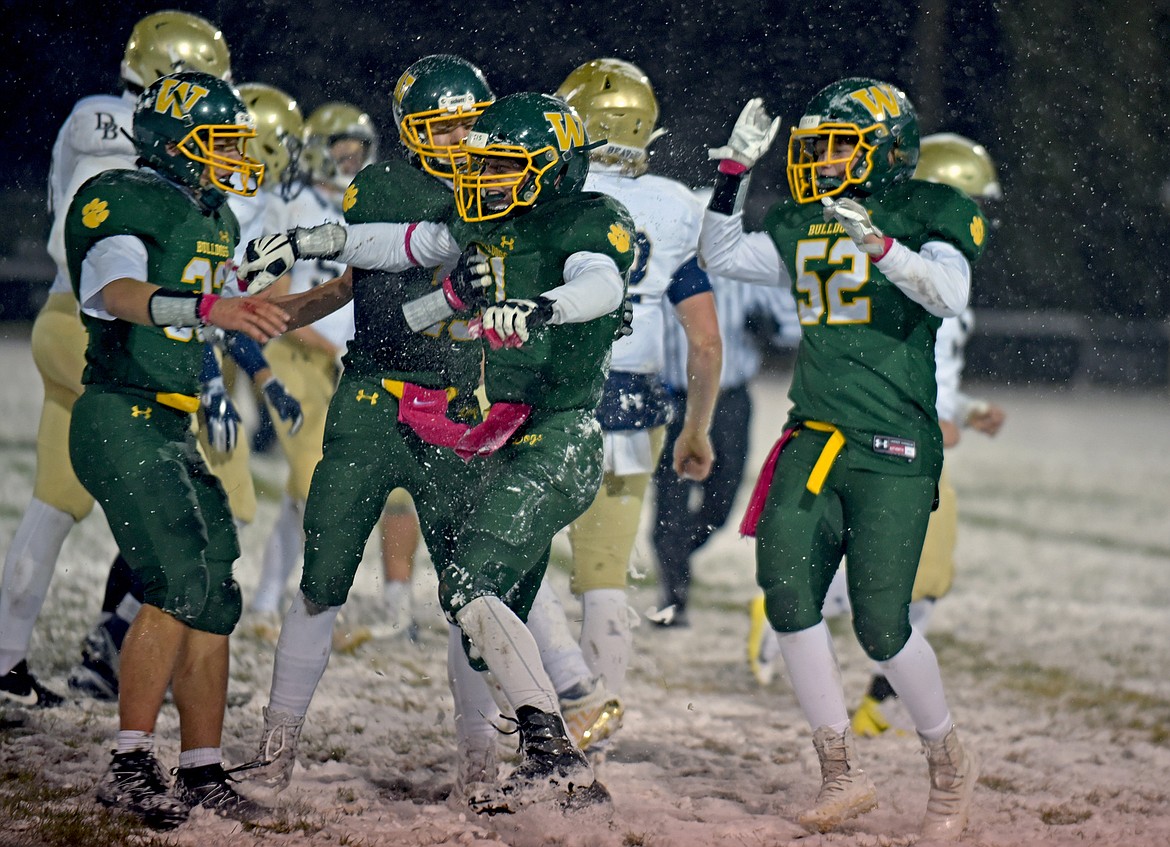 Whitefish lineman Camren Ross celebrates an unassisted sack with his teammates in a game against Dillon Friday night at the Dog Pound. (Whitney England/Whitefish Pilot)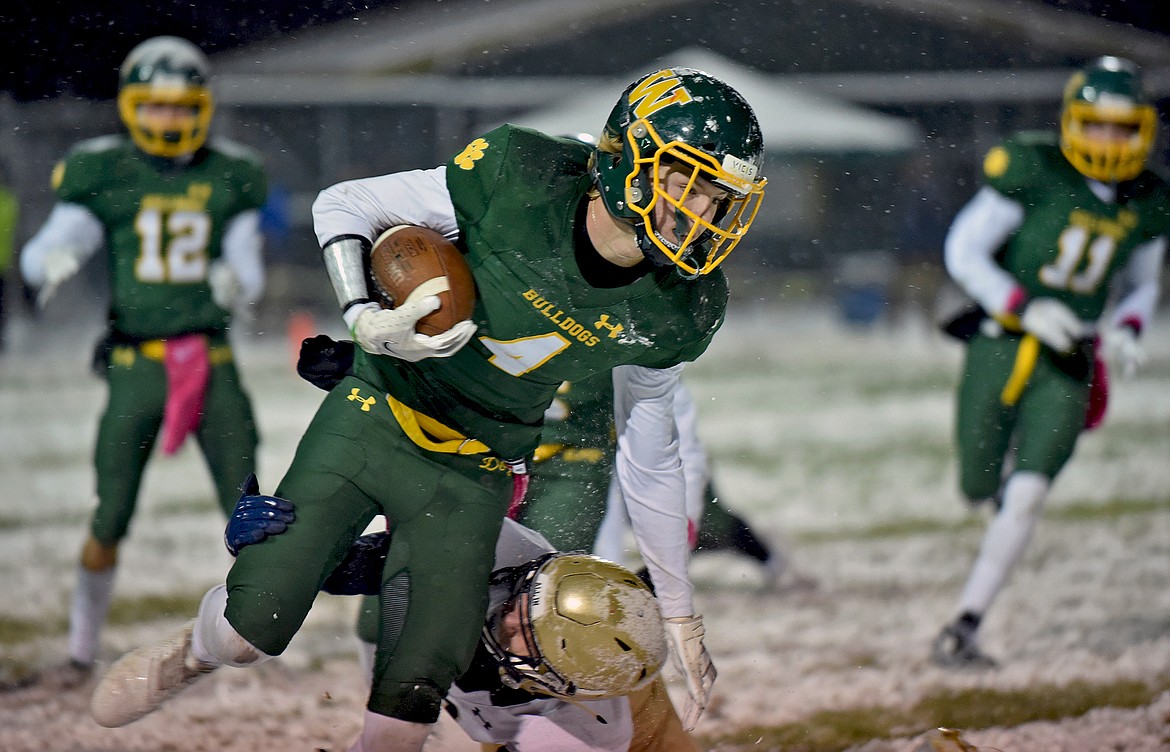 Bulldog Jaxsen Schlauch picks up additional yardage after making a catch in a game against Dillon Friday night at the Dog Pound. (Whitney England/Whitefish Pilot)
Previous
Next
by
WHITNEY ENGLAND
Reporter
|
October 28, 2020 1:00 AM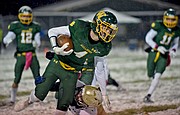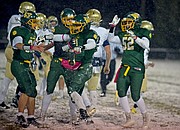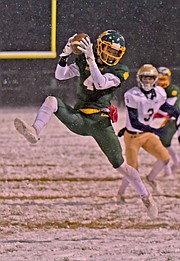 As the snow piled up on the Whitefish football field from a rare October snowstorm and cold front, the Bulldogs' chance of continuing its season into the playoffs teetered with every play.
The clock kept ticking and Whitefish was knocking on that playoff door, but simply ran out of time to save its season. The Bulldogs needed a win against Dillon to earn a postseason spot and fell short on Friday night, losing to the Beavers 42-33.
"In 23 years it was definitely a night to remember, I've never played or coached a game like that, just with that much snow," Whitefish head coach Chad Ross said. "It made for an entertaining night. It wasn't much of a defensive night, but made for a fun offensive night."
The Bulldogs were the first to get on the scoreboard after a nice drive ended in a 1-yard run from quarterback Fynn Ridgeway who jumped over the pile to extend the football past the goal line. Whitefish kicker Ryder Barinowski easily connected the extra point, he was three-for-three on kicks for the night.
In the second quarter Dillon put together two scoring drives, but Whitefish was able to tie up the game at 14 all before halftime. A huge reception by Bulldog receiver Bodie Smith got Whitefish into the red zone with just under two minutes remaining in the half. Ridgeway found his receiver Jaxsen Schlauch on a short touchdown pass just seconds after.
Ross said it was great to see Ridgeway confident in getting his receivers the ball, and Schlauch and Smith made phenomenal catches all night.
"It's neat to see all three of those guys, Fynn Ridgeway, Bodie Smith, even Jack Akey, and Jaxsen Schlauch just grow and come into themselves,and really start to connect," Ross said. "You get in that groove of believing your receiver is going to be there and believing the quarterback is going to get you the ball."
In the second half Whitefish found itself in trouble early on missing coverage on some big-time plays from Dillon. The Beavers quarterback Jace Fitzgerald kept the ball for a 1-yard touchdown run to give his team the go-ahead score. Whitefish made an error on a punt and gave Dillon great field positioning to score another touchdown right away.
The Bulldogs responded with a drive consisting of key catches from Schlauch and Akey, but the drive ended in a fumble.
"Just in the environment we were in, obviously that one turnover, if we score on that drive it kind of makes a difference," Ross said.
Dillon scored again on its next drive, giving the Beavers an intimidating 35-14 lead midway through the third quarter. But Whitefish didn't back down. Before the end of the third, Ridgeway found Jack Alton in the end zone for an 18-yard touchdown reception.
A couple of tough defensive pass interference calls helped Dillon to get in scoring position again and earn a touchdown early in the fourth quarter. Whitefish responded as Bodie Smith had two touchdowns in that final quarter both off long passes from Ridgeway. On Whitefish's final scoring drive, the Bulldogs converted on fourth down three times before getting the touchdown.
"We were moving the ball so well at the end of the game, I really thought if we get the ball back, we're going to win this," Ross recalled.
But with four minutes remaining in the game following the Bulldogs' final score, Dillon was able to get just enough yardage to run the clock down which prevented Whitefish from having another chance to score.
Although the season came to a close Friday night for the Bulldogs, Ross was pleased to see improvements throughout every game. Against Dillon, Ridgeway threw the ball 55 times for 382 yards and four touchdown passes. His two main receivers Schlauch and Smith each recorded 149 yards and 138 yards, respectively.
"Fynn's coming into his way as we progressed toward the end of the season, he's done a great job of taking what the defense gave him and not having to throw the deep ball, but when the deep ball is available, he makes the most of it," Ross said. "Bodie did just incredible, both of those guys made some incredible catches. Jaxsen made this one-handed catch, it was one of the best football catches I've seen on a field ever."
Ross went on to say that missing the playoffs is tough, especially for the seniors. But the future of Bulldog football is bright with its quarterback and his crew of receivers all returning next year. The team is focusing on the positives and remembering that during the summer it was questionable whether they would even have a season at all.
"We didn't even think we were going to play, so just the fact that we got to play eight football games was exciting," Ross said. "But the competitiveness in you just says one more and we would have been in the playoffs."
---