Bullock cracks down on Flathead businesses not following COVID-19 mandates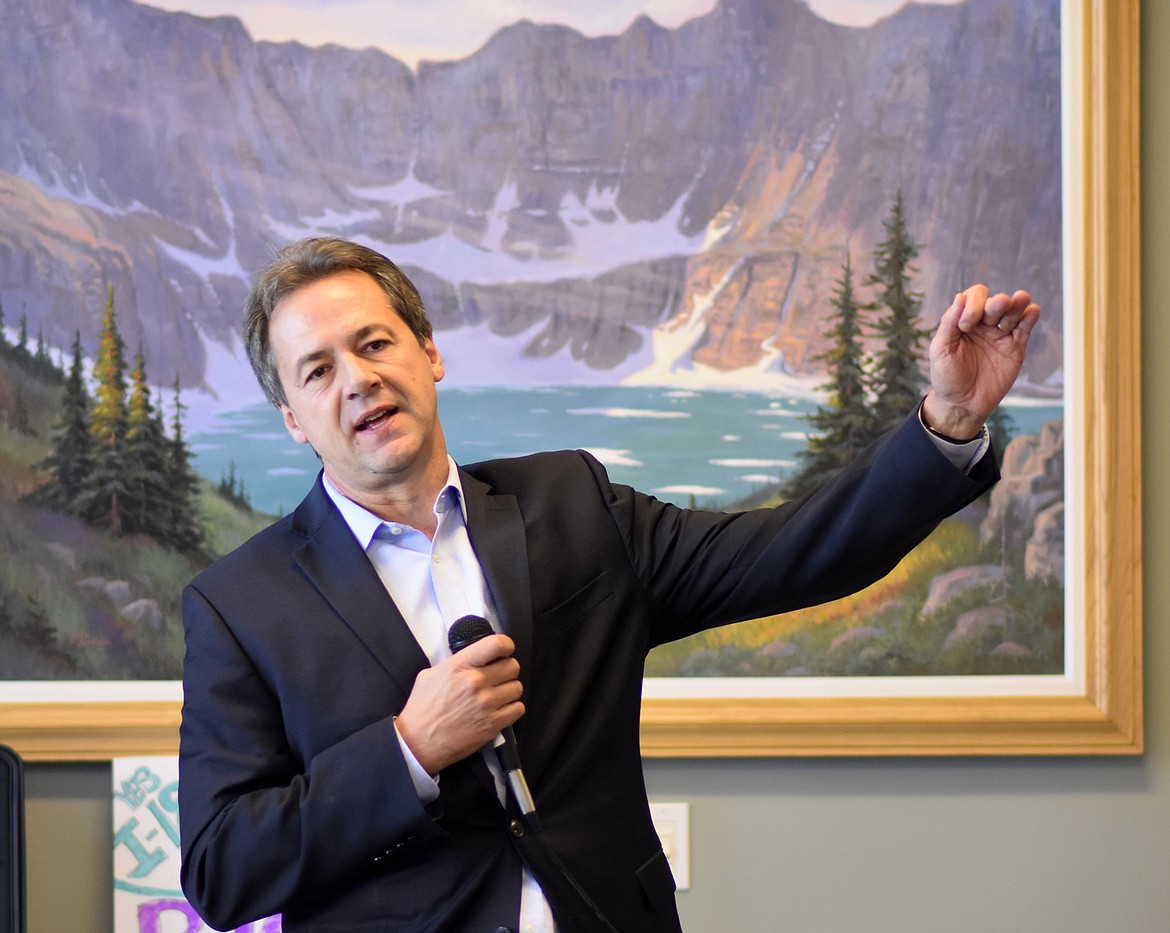 Montana Gov. Steve Bullock speaks at North Valley Hospital at an event in 2018. (Heidi Desch/Whitefish Pilot file)
by
CHAD SOKOL & KIANNA GARDNER
Daily Inter Lake
|
October 23, 2020 8:40 AM
On the same day Montana tallied a record 932 new cases of COVID-19, Gov. Steve Bullock announced the state will crack down on businesses that have refused to comply with masking and social distancing mandates, beginning with several in Flathead County.
State health officials are seeking temporary restraining orders against about five businesses in the county known to be "repeat offenders" of public health orders, Bullock said Thursday during a news conference in Billings.
Bullock's press secretary, Erin Loranger, declined to name those businesses but said complaints were being filed as public court records. If a judge grants the restraining orders, Loranger said in an email, "businesses will not be able to operate unless they submit a plan to implement measures to comply with the mask directive and other public health orders."
A deputy clerk at the district court in Kalispell said the complaints were not yet filed Thursday afternoon. Officials with the Flathead City-County Health Department and the Flathead County Attorney's Office said the state had not informed them which businesses were subject to enforcement actions.
"The goal here is to make sure that businesses are following the measures. We need to keep folks safe," Bullock said. "If businesses come into compliance, we'll gladly drop the enforcement."
Across Montana, at least 25,640 people had been infected with the coronavirus and 278 had died of COVID-19 as of Thursday, according to the latest state figures.
Bullock said he's especially concerned about Flathead County, which tallied 112 new cases on Thursday for a total of 801 active infections and a cumulative case count of 2,823.
He previously criticized local officials for failing to enforce public health measures, prompting the Flathead County commissioners to insist they have no constitutional authority to do so. The Flathead City-County Health Department Board of Health also voted 5-3 during a recent meeting to scrap plans for an order that would have placed tighter restrictions on the size of public gatherings.
"Last month alone, the county has reported over 1,700 cases – 503 new cases in the most recent reporting week alone," Bullock said. "I've heard from hospital leaders from the area that the situation is getting serious and our health care workers are stretched thin. I've heard from business owners that want to stay open and not lose employees or customers to this virus."
SO ON Tuesday and Wednesday, Bullock said, a team of state employees conducted "observational site visits" at businesses in Kalispell, Whitefish, Bigfork and Columbia Falls, including restaurants, bars, gas stations, convenience stores, retail stores and grocery stores.
Of those visited, most were following public health orders and requiring compliance by their patrons, Bullock said. Some had minor issues, such as a lack of signage laying out public health requirements.
"Concerns included repeated failure by employees and patrons to wear face coverings, social distancing and other public health measures meant to mitigate the spread of COVID-19," Jon Ebelt, a spokesman for the state Department of Public Health and Human Services [DPHHS], said in an email.
Bullock said a few businesses were flagrantly violating orders and had previous complaints against them.
"Just one business not complying with the public health measures puts an increased risk on everyone else who's doing their due diligence to be safe and keep others safe," Bullock said.
"It puts our families at risk, puts our health care workers at risk, and it puts Montana businesses at risk when their workforce falls ill."
Bullock also has offered state assistance to local health agencies and county attorneys in enforcing public health orders. The Flathead City-County Health Department has focused on case investigations and contact tracing as the number of infections has soared in recent weeks, and the county's Board of Health recently voted against additional COVID-19 restrictions.
Flathead County Attorney Travis Ahner said Thursday he did not have details about the state's enforcement actions. He did mention that he and local law enforcement officials decided early in the pandemic they wouldn't use criminal charges to enforce public health measures, though civil court orders would be considered.
"We decided that [enforcement] wouldn't fall under one department's authority or responsibility," Ahner said. "These things are more enforceable by the state, DPHHS and the attorney general."
Recent Headlines
---