Families sue Whitefish Care and Rehab over deaths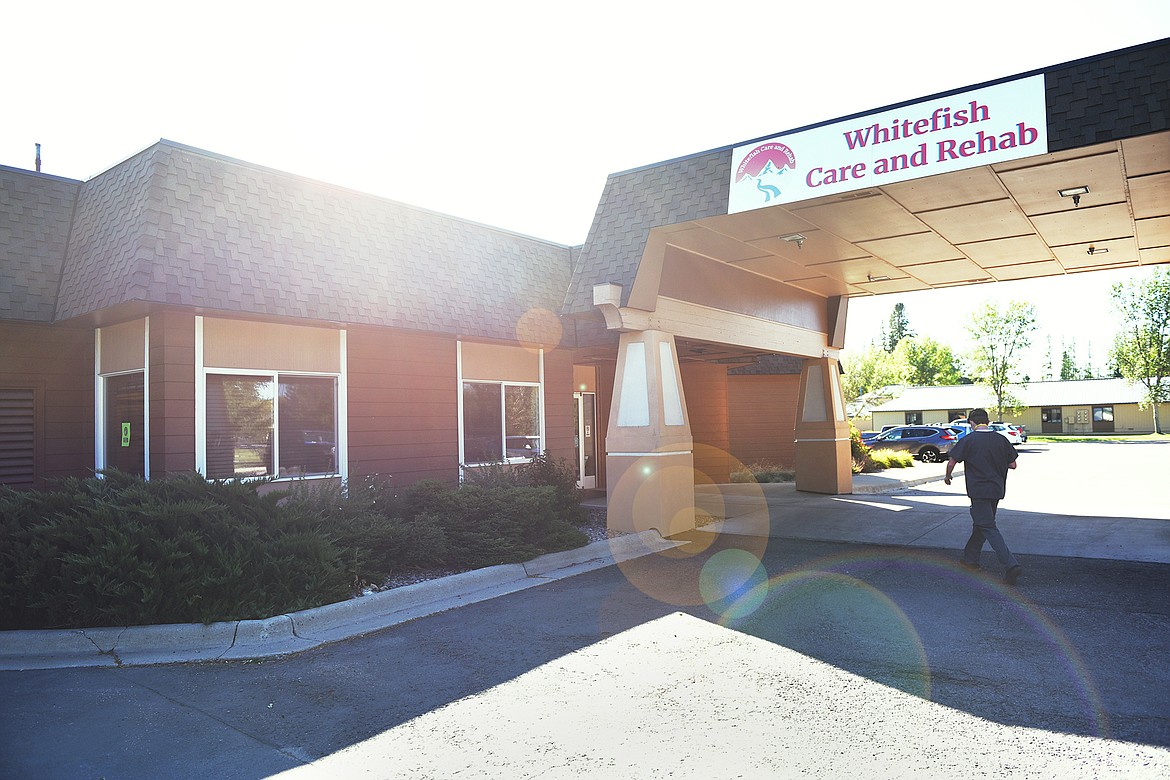 Whitefish Care & Rehabilitation Center in Whitefish on Thursday, Sept. 10. (Casey Kreider/Daily Inter Lake)
by
KIANNA GARDNER
Daily Inter Lake
|
October 22, 2020 8:00 AM
The Whitefish Care and Rehabilitation Center, along with its parent company and executive director, have been sued on seven counts including negligence, plaintiffs' right to dignity, and wrongful death by families who allege the facility did not adequately protect their loved ones from a recent COVID-19 outbreak that killed 13 residents and infected 39 others.
The lawsuit, filed in Flathead County District Court on Tuesday, alleges that residents of Whitefish Care and Rehab unnecessarily contracted COVID-19 or died from the virus, experienced unnecessary complications related to the virus, or were neglected, abused, malnourished or otherwise mistreated under the guise of "COVID-19 precautions."
The lawsuit's three plaintiffs, collectively represented by McGarvey Law of Kalispell and Heenan & Cook of Billings, are individuals who died from COVID-19 while under the facility's care and are being represented by living family members. Randall Johnson, Bryan Zipp and Dana Snyder are representing the estates of Alton Johnson, Berton Pew and Stanley Webber.
The families specifically allege the facility failed to provide a safe environment during a recent COVID-19 outbreak, to provide adequate and basic personal care during the pandemic, failed to inform families of deteriorating conditions and concealed their neglect behind COVID-19 restrictions.
The lawsuit highlights incidents in which family members noted the health of Johnson, Pew and Webber's was declining rapidly while under the care of those at Whitefish Care and Rehab.
For example, Webber, who was admitted to the facility in July and died Sept. 14, "deteriorated rapidly and shockingly due to defendant's negligence," the lawsuit alleges. The litigation goes on to detail how a September photograph shows Webber was, "greatly emaciated, his fingernails and toenails were untrimmed, and his hair was dirty and unkept."

Johnson and Pew, who also died from COVID-19-related complications a few short months after entering the facility, experienced similar incidents of neglect in the days leading up to their deaths, according to the lawsuit.
Upon citing these incidents, the lawsuit alleges the defendants — namely Whitefish Care and Rehab's Executive Director, Reid Crickmore — had firsthand on-the-ground knowledge of the deficiencies at the center and knew of the dangers associated with COVID-19 and what measures should have been taken in order to avoid the spread, per local, state and federal recommendations.
But the lawsuit alleges, "nonetheless, Mr. Crickmore and his co-defendants ignored complaints, guidelines, and agency recommendations and requirements, and allowed the unsafe conditions that existed at the Whitefish Care and Rehabilitation Center to persist until nearly the entire populations of residents at the facility had become infected with COVID-19."
The litigation states this was an act of malice in that the facility, its parent company, Sweetwater Whiteish OPCO, and Crickmore "had knowledge of facts or intentionally, consciously, and recklessly disregarded facts and created a high probability of injury" to Johnson, Webber, Pew and other individuals that were similarly impacted.
THE LAWSUIT comes about one month after the outbreak loosened its grip in mid-September.
According to legal documents, a staff member first tested positive on Aug. 12 and the first resident began displaying symptoms on Aug. 16. By late August, 41 individuals at the facility were infected with COVID-19 and four of its residents had died — an event that prompted a "Focused Infection Control Survey" by the Montana Department of Public Health and Human Services on behalf of the Centers for Medicare and Medicaid.
Surveyors discovered Whitefish Care and Rehab failed to protect its residents from the virus by rooming positive residents with negative residents, by not donning and doffing personal protective equipment properly, and more.
The investigation resulted in an "immediate jeopardy," which means violations discovered were serious enough to "risk imminent harm to life." The federal report ultimately found the facility committed "severe negligence" that "directly" contributed to their COVID-19 outbreak.
But these findings, according to the lawsuit, are only the most recent among a host of other deficiencies "indicating a long-standing course of conduct at the Whitefish Care and Rehabilitation Center failing to meet state and federal regulations and guidelines." These reports discovered, among other findings, that residents had languished in filthy conditions and had gone weeks without receiving showers or baths.
In late September, Crickmore responded to questions from the Daily Inter Lake via email, stating deficiencies that had been cited in past reports, including the September survey, have been addressed and improvements are being made.
---