Emergency ordinance would limit bar, restaurant capacity to 50% for Halloween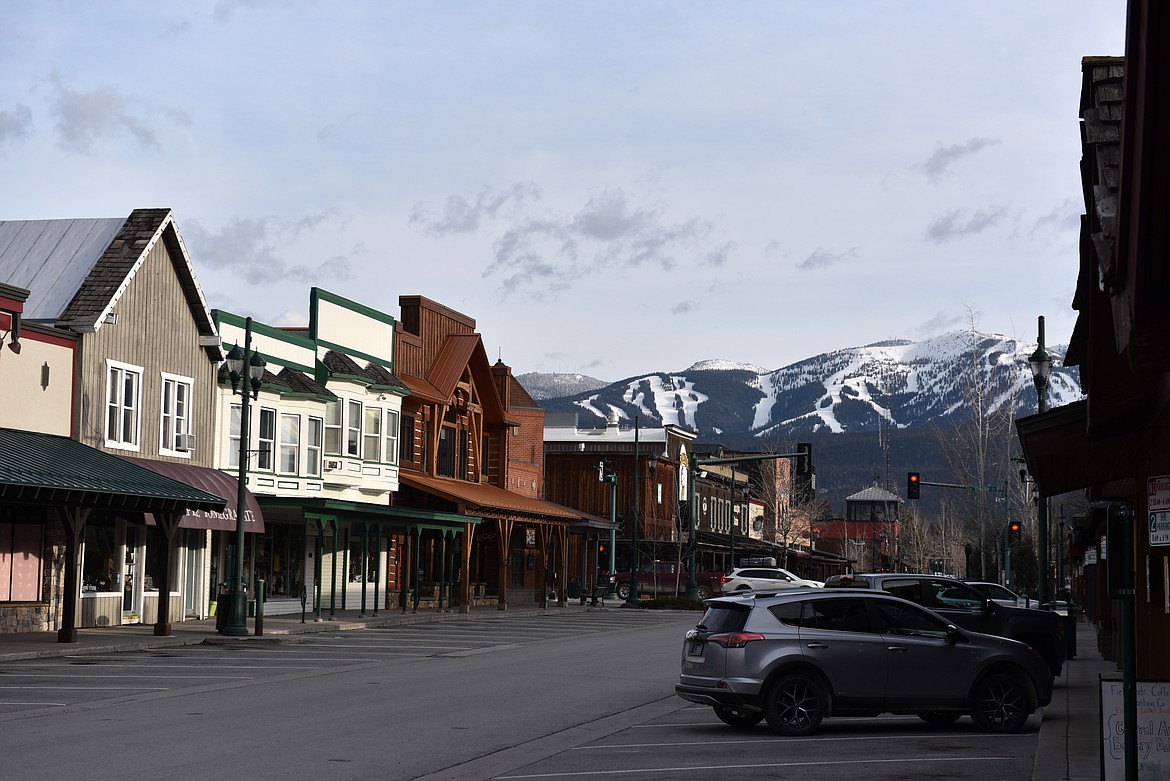 Central Avenue on a spring morning in downtown Whitefish. (Heidi Desch/Whitefish Pilot)
by
HEIDI DESCH
Editor
|
October 22, 2020 2:00 PM
An emergency ordinance could limit capacity at 50% for Whitefish restaurants and bars and limit the size of social gatherings on Friday, Oct. 30 and Saturday, Oct. 31, if approved by City Council.
Council is set to consider the ordinance the city says is aimed at helping to reduce the spread of COVID-19 during a special meeting on Monday, Oct. 26 at 7:10 p.m.

The ordinance would limit public and private gatherings to no more than 10 individuals, unless it's possible to maintain social distancing.
Restaurants, bars, breweries, distilleries and casinos could only operate at half capacity those two days, and they would have to close their doors to patrons by 11:30 p.m. In addition, a maximum of six individuals could be seated at the same table, and individuals would be prohibited from sitting or standing at bars or counters.
If approved, the ordinance allows churches to exceed the group size of 10, but they would be subject to the limit of 50% capacity and would need to comply with social distancing.
School districts would not face any limits under the ordinance.
The city says the ordinance comes after Flathead County had 889 new COVID-19 cases in the two weeks prior to Oct. 9 and "despite the significant community spread of COVID-19, many individuals are not adhering to required practices such as wearing a mask, social distancing, staying home when ill, and not attending large events."
Whitefish traditionally experiences an influx of visitors for the Halloween holiday.
Violation of the emergency ordinance may result in the suspension or revocation of any business license.
Any business, group or individual that violates the ordinance, could face a fine of up to $300 for the first offense and up to $500 for the second.
Council on Monday called for the special meeting next week to consider the emergency ordinance after expressing concerns that the Halloween weekend could become a "superspreader" event for COVID-19.
An emergency ordinance requires two-thirds approval of the whole City Council.
The Flathead City-County Health Department has warned that as the holiday season approaches individuals should be mindful of what events they choose to attend and residents should limit their number of close, non-household contacts to no more than six persons per week, as well as limiting the duration of close, non-household contacts to less than 15 minutes whenever possible.
Council is set to meet at 7:10 p.m. on Oct. 26 remotely through WebEx. For more information on logging in to the meeting, visit the city's website at www.cityofwhitefish.org or call 863-2400.
Those who wish to provide comment are encouraged to email the City Clerk at mhowke@cityofwhitefish.org by 4 p.m. on Oct. 26 or place comments in the Utility Drop Box at City Hall.
---