Comedy focuses on man, his dog and a mid-life crisis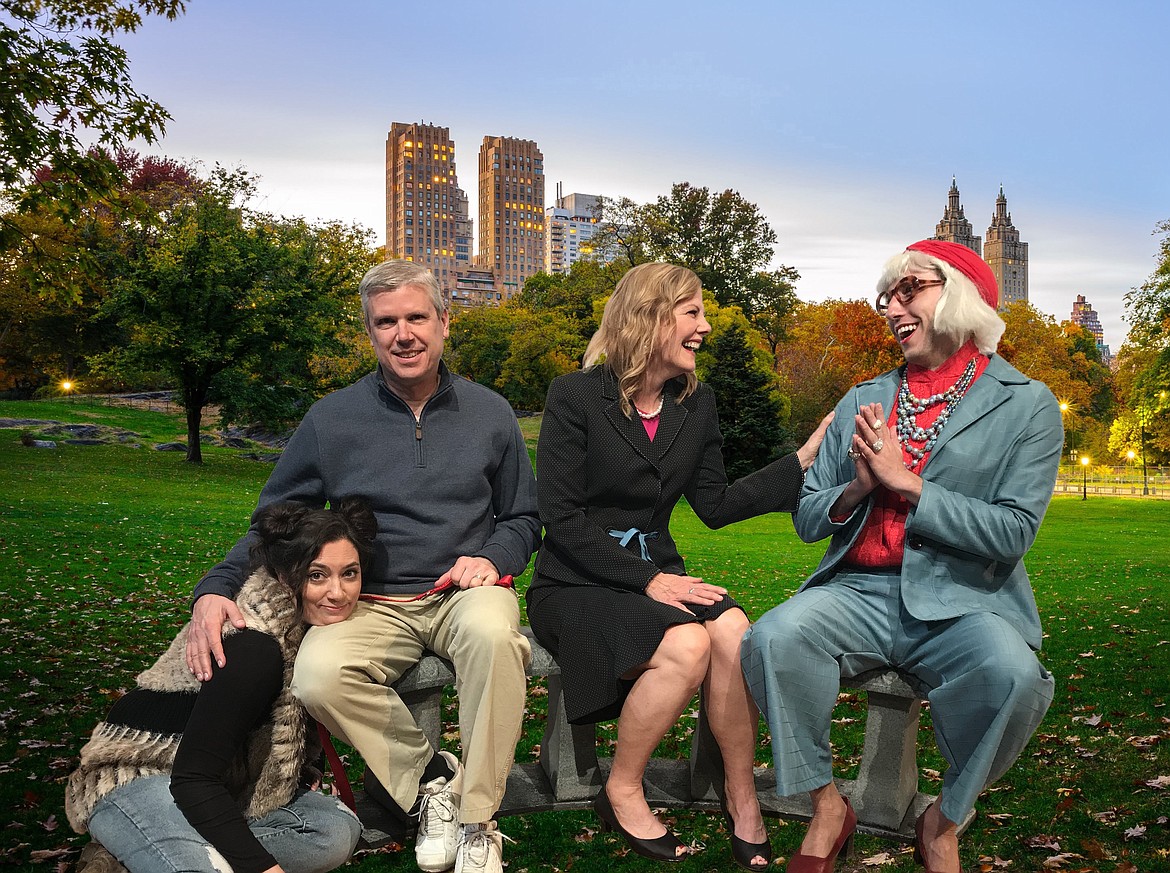 The Whitefish Theatre Company presents "Sylvia" starring Amy Galt, Tony Nelson, CrisMarie Campbell and Nick Rapp . (Photo courtesy of WTC)
|
October 21, 2020 1:00 AM
The Whitefish Theatre Company presents "Sylvia" this month as their first mainstage theatre production of their 2020-2021 season.
This "howlingly" funny play about a man, a dog, and a midlife crisis runs at the O'Shaughnessy Center in Whitefish on Oct. 23, 24, 29, 30 and 31 at 7:30 p.m. and on Oct. 25 at 4 p.m. A sneak preview performance will be held on Oct. 22 at 7:30 p.m.
There will be two ways to view this show on each night, including limited, socially-distant seating at the O'Shaughnessy Center in Whitefish and online in a pre-recorded version of the play. Please note that while this play is a comedy, it does have adult language.
"Sylvia" follows Greg and Kate who have recently moved to New York City from the 'burbs after becoming empty nesters. During a walk in Central Park, Greg, who's suffering through a midlife crisis, discovers a dog with a heart-shaped tag that reads simply "Sylvia" and becomes hopelessly smitten. Greg brings home the perky pooch — hilariously played by a real-life actor who brings Sylvia's every thought to life — only to find that Kate does not want a dog, let alone one that jumps, slobbers, chews up books and is clearly competing for Greg's affections.
"While the play is wrapped around one man's emotional bond with his dog, it's ultimately about a marriage and how a loving couple in transition is navigating their empty-nest world," says Director Kim Krueger. "They are trying to navigate their separate ships to the same harbor, but just keep missing the dock. Greg's connection with Sylvia, however, allows him to connect with new parts of himself and in the end, re-connect with Kate. That message of taking care of your relationships seems more important now than ever." 
"This seemed like the perfect time to do this show" she says. "We need some love, light and laughter right now. As author M.K. Clinton said, 'The world would be a nicer place if everyone had the ability to love as unconditionally as a dog.'" 
The production features Amy Galt as Sylvia, Tony Nelson as Greg, CrisMarie Campbell as Kate, and Nick Rapp playing multiple roles as Tom, Phillis, and Leslie.
"The whole cast is superb, although Amy Galt, who plays Sylvia, is an amazing physical comedic actress," Krueger says. "She walks the line of dog/human so well that you completely buy into Sylvia and her world."   
Tickets are $20 for adults, $18 for seniors, and $10 for students with reserved table and traditional theatre seating. Tickets for the sneak preview performance on Oct. 15 are $12 for adults and $10 for students with reserved seating and can also be purchased in advance.
Tickets can be purchased at the Box Office at 1 Central Avenue in Whitefish or by calling 862-5371. Box Office Hours are 11 a.m. to 3 p.m. Monday through Friday and one hour before a performance and online at www.whitefishtheatreco.org. 
When purchasing a ticket on our website, take care to click the correct ticket link to distinguish if you attending the live performance or if you are watching the recorded version of the pla. Also take care to click the correct link if you are attending the live Preview Night which does not have a virtual performance.
If you purchase an online ticket, a link to the show will be sent to your email. You will be able to watch the online show anytime from Oct. 23-31, however, you only have 48 hours to watch the play once you start it. The online ticket portal, ShowTix4U.com, will say "rent the video" instead of purchasing a ticket. As ticket sales are WTC's main source of income, it is important that you purchase the correct number of tickets (or devices as it says on the ShowTix4U website) for those watching the show online. 
This show is sponsored by Glacier Bank and Kristin Zuckerman of Engels & Völkers.
---