Whitefish records loss against Polson, looks to games ahead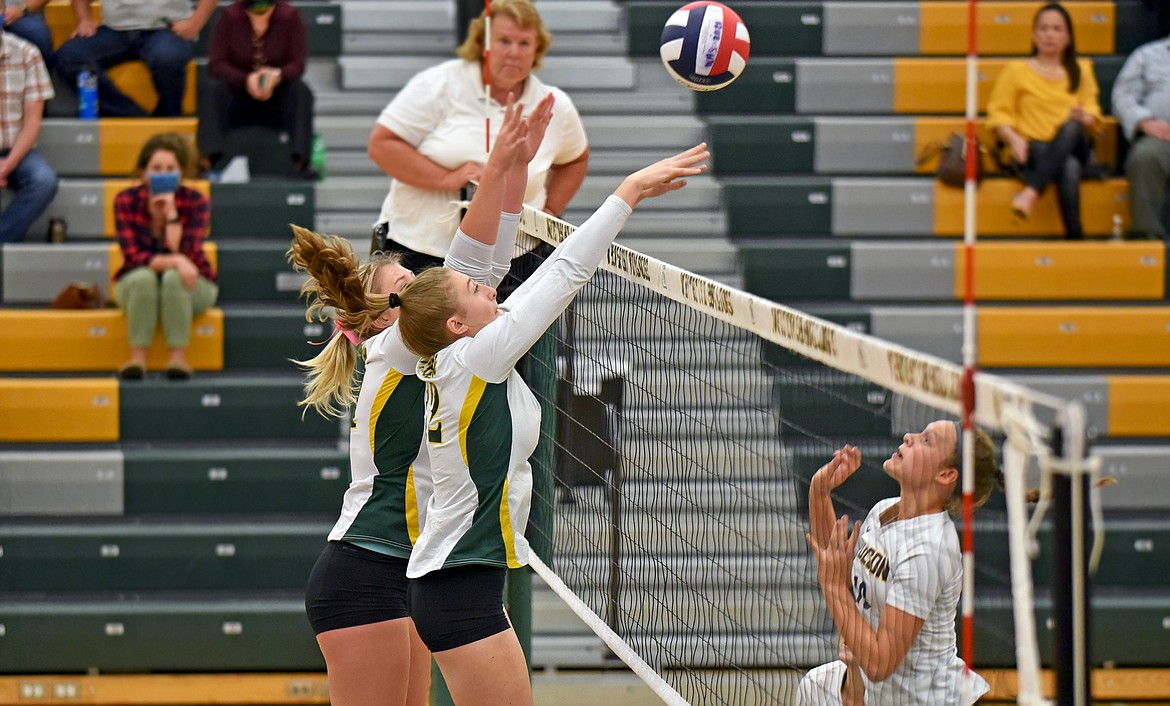 Whitefish's Brooke Zetooney and Brook Smith go up for a block in a match against Polson Tuesday, Oct. 6. (Whitney England/Whitefish Pilot)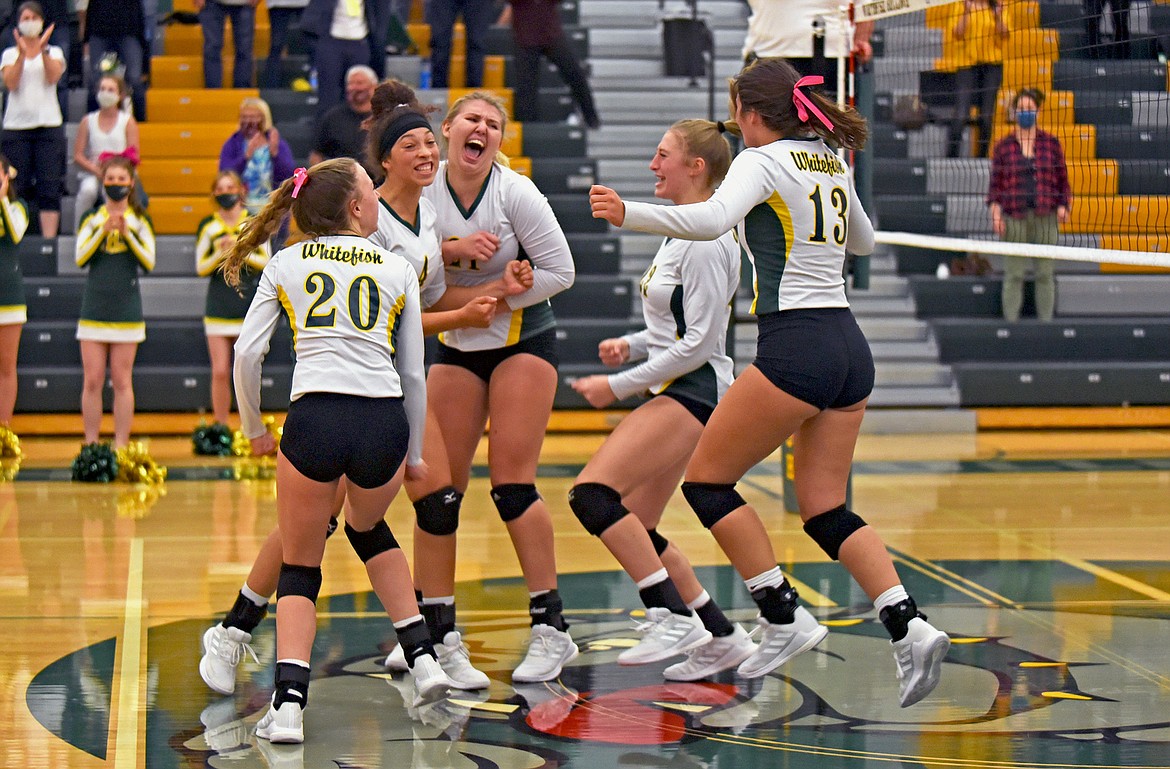 Whitefish volleyball players celebrate winning the third set in a match against Polson Tuesday, Oct. 6. (Whitney England/Whitefish Pilot)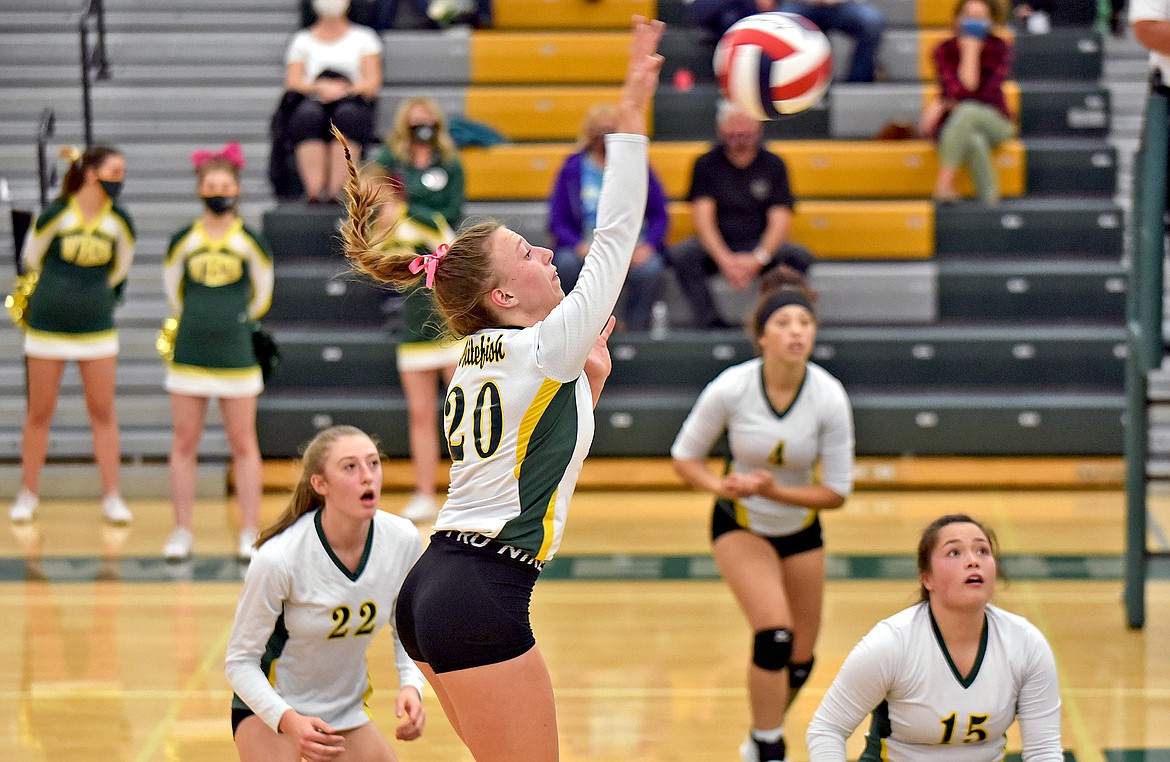 Lady Bulldog senior Mikenna Ells looks for the kill in a volleyball match against Polson Tuesday, Oct. 6. (Whitney England/Whitefish Pilot)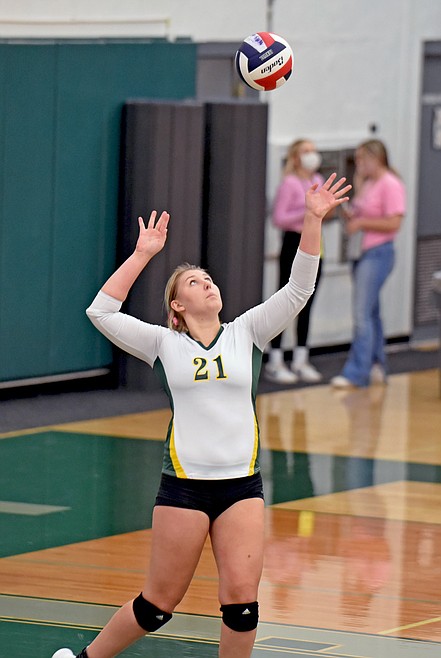 Whitefish senior Brook Smith lines up the ball as she serves in a match against Polson Tuesday, Oct. 6. (Whitney England/Whitefish Pilot)
Previous
Next
by
WHITNEY ENGLAND
Whitefish Pilot
|
October 14, 2020 1:00 AM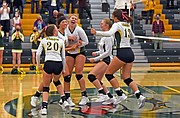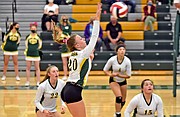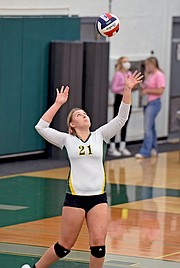 Although the Lady Bulldogs defeated Polson earlier this season, it was an entirely different tale this time around as Polson defeated Whitefish 3-1 on Tuesday, Oct. 6.
Whitefish celebrated its volleyball and cheerleading seniors prior to the game at the Dawg Pound before falling in four sets, 25-18, 25-23, 21-25, 25-17. The senior class has been huge for the Lady Bulldogs and head coach Addy Connelly also expressed the strength of friendship that group shares.
It shows on and off the court.
"I just have a great group of kids [seniors], they're really enjoyable to be with," Connelly said. "We might not get wins at the end of the day, but they're having fun, we've got great families that are supporting us and that's what they're going to remember is the memories they've made not whether they win or lose… They are inseparable."
Whitefish senior Brook Smith again led her team with 14 out of 30 total team kills along with recording 21 digs. Seniors Jenny Patton and Mikenna Ells passed well for the Lady Bulldogs with 12 and 15 assists respectively. And another senior, Ashton Ramsey hit the deck numerous times to lead her team with 30 digs.
According to Connelly though, Whitefish struggled with serving and also returning Polson's serves. Polson struck 18 aces in the game, with a game high of seven coming from Polson's Berkley Ellis.
"They had so many aces against us, they were just serving well and we were having a hard time getting any balls back," Connelly said. "When we're not serve receiving, it's hard to set a ball and then take care of it as hitters."
Despite losing the first two sets, Whitefish rallied in the third set. The girls got off to a slow start in game three and were down by six points early on, however they were able to rally to take back a set 25-21. Whitefish's players were pumped up, but had a tough start to the fourth set that ultimately they couldn't recover from.
"(In the third set) our serves were in and they were aggressive serves which took Polson out of their game a little bit," Connelly said. "They recognized at that point that it was a do-or-die, if they didn't win that one they were done so they really stepped up their game; but then let down again in game four."
Connelly said her team was on a mental rollercoaster and the focus was not there to win.
This week Whitefish looks to reset and play a match against Stillwater Christian on Friday, before the busy last few weeks of the season hit next week.
The Bulldogs are now 4-5 overall on the season.
Polson def. Whitefish 25-18, 25-23, 21-25, 25-17
Kills — Whitefish 30 (Brook Smith 14), Polson 39 (Maggie Todd 10); Digs — Whitefish 112 (Ashton Ramsey 30), Polson 82; Blocks — Whitefish 1, Polson 5 (Todd 2); Assists — Whitefish 28, Polson 34; Aces — Whitefish 3, Polson 18 (Berkley Ellis 7).
---