Runners record personal, season best times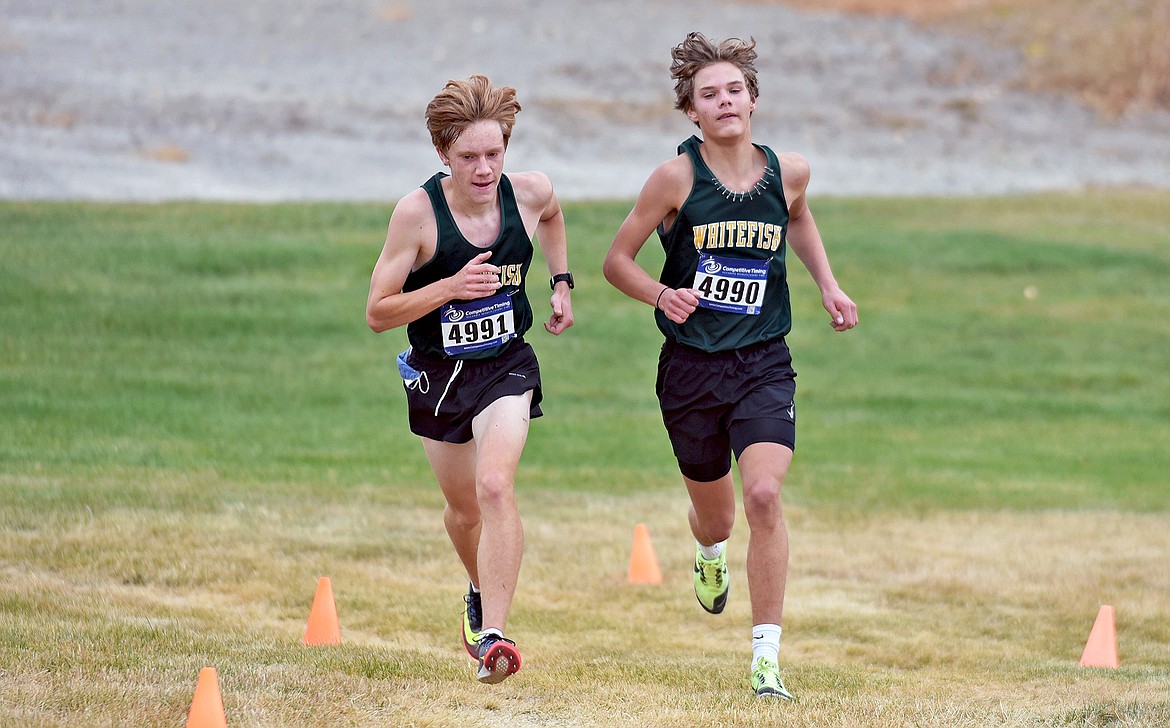 Whitefish's Jacob Henson and Mason Genovese keep pace with each other during the Western A Invite at Rebecca Farm on Saturday. The duo finished 9th and 10th, respectively. (Whitney England/Whitefish Pilot)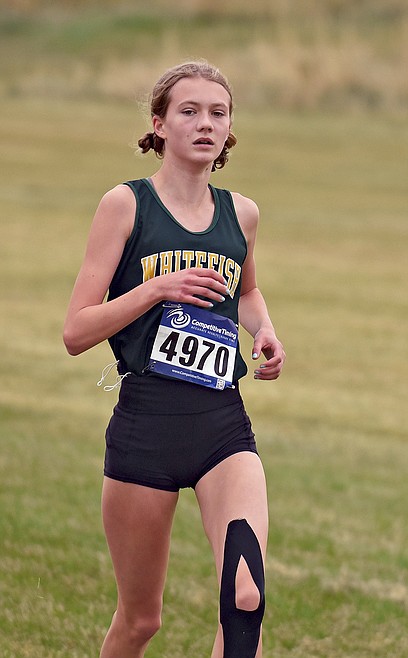 Whitefish girls team leader Paetra Cooke runs to a 9th place finish at the Western A Invite cross country meet at Rebecca Farm Saturday. (Whitney England/Whitefish Pilot)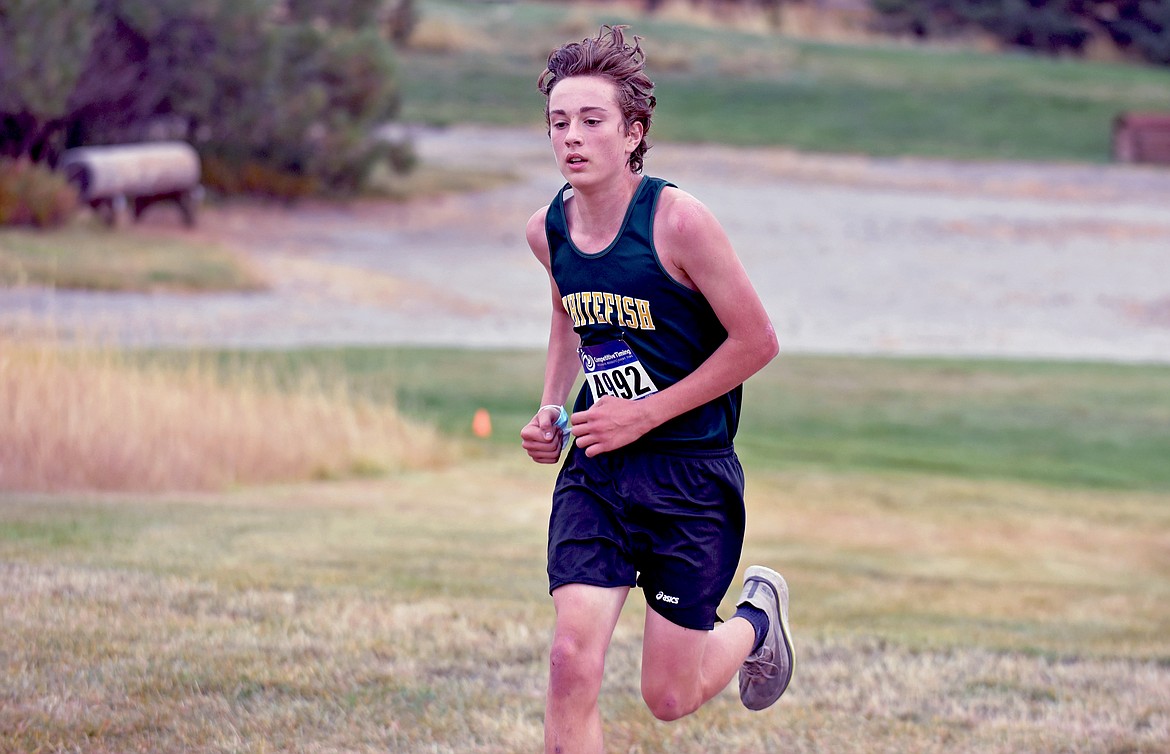 Whitefish freshman runner Deneb Linton competes to a fourth place finish at the Western A Invite cross country meet on a cloudy day at Rebecca Farm Saturday. Linton achieved a personal record of 17:05 at the meet. (Whitney England/Whitefish Pilot)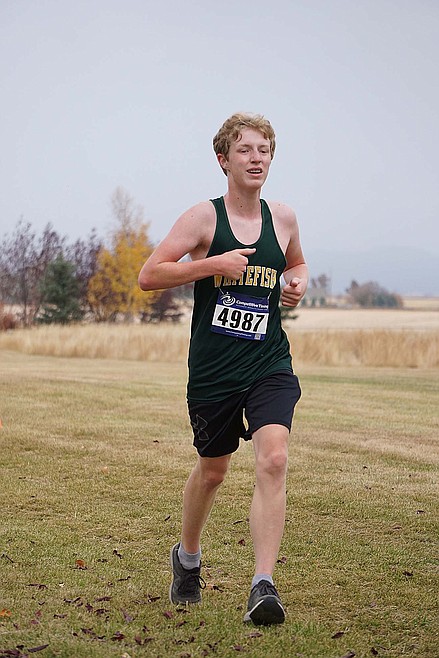 Bulldog senior Turner Haugen finished with a time of 24:20.10 Saturday at Rebecca Farm. (Matt Weller photo)
Bulldogs Jasper Clark and Adam Reardon vie for position Saturday during the cross country meet at Rebecca Farm. (Matt Weller photo)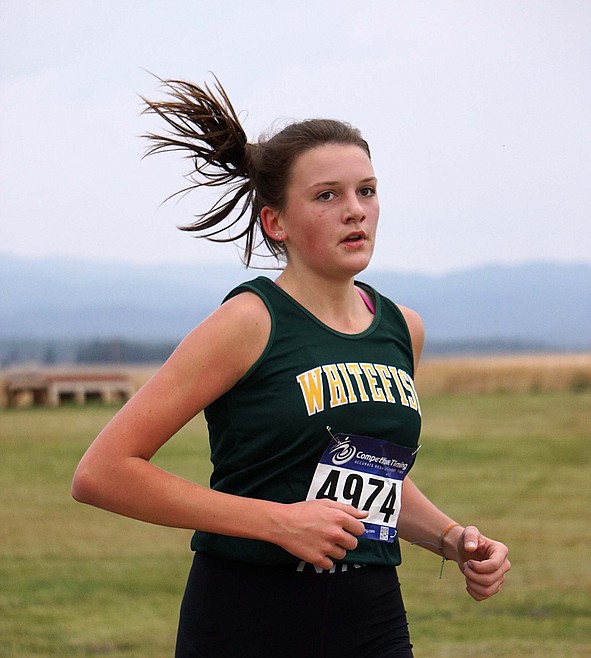 Bulldog Maggie Pulsifer finished with a time of 22:43.09 during the cross country meet Saturday at Rebecca Farm. (Matt Weller photo)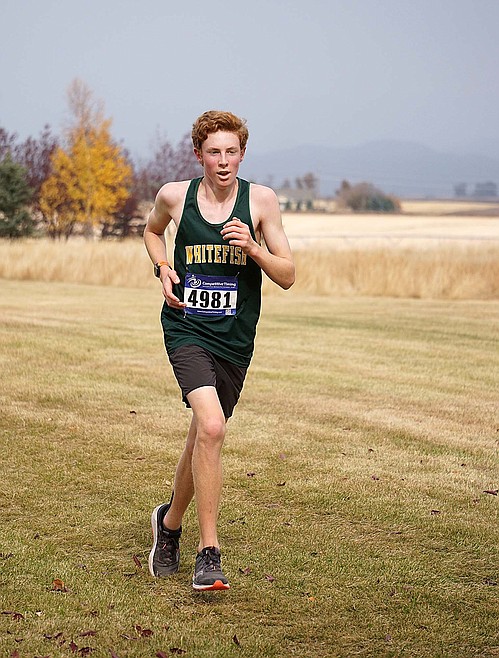 Bulldog Nate Inglefinger finished with a time of 18:43.58 Saturday during the cross country meet at Rebecca Farm. (Matt Weller photo)
Previous
Next
by
WHITNEY ENGLAND
Whitefish Pilot
|
October 14, 2020 1:00 AM
Bulldog cross country runner Deneb Linton led the boys team to a second place team finish at the Western A Invite at Rebecca Farm Saturday.
The freshman shaved 41 seconds off his previous personal record time to come in fourth overall, finishing the race in 17:04.93.
Whitefish cross country coach Richard Menicke said the ideal running conditions led to many personal and season record breaking moments, including Linton's shocking finish.
"Deneb Linton was a surprise," Menicke commented. "He's run well all season, but being a ninth grader competing against older athletes — well, he is fearless and clearly has more in the tank."
Next fastest boy for Whitefish was Jacob Henson who ran a personal best of 17:22.93 to come in ninth place and Mason Genovese was right on his tail, breaking his best time as well, finishing 10th in 17:24.80.
Nearly every runner on the boys side recorded a season best running in cloudy, cool temperatures. Whitefish took second in the boys' team standings, with 61 points. Hamilton finished above the Bulldogs with 17 points. A large pack of Hamilton's junior runners finished on top of the board with only Linton breaking up the Broncs sweep of the top seven spots.
"The boys ran very well; we had a team strategy to compete in small packs and match up with other athletes and teams, and that worked well," Menicke said. "Mostly we are grateful to have safely run another race."
The Whitefish girls team finished fourth overall, once again led by junior Paetra Cooke who ran to a season best 21:21.95 to take ninth place in the girls varsity race. The next fastest Lady Bulldog runner was Maggie Pulsifer who PR'd with a time of 22:43.10 to finish 19th.
Menicke praised the girls team for almost every runner getting season best times as well, and noted that freshman Hazel Gawe dropped over a minute off her previous record to insert herself into the Lady Bulldogs' top five in the varsity race.
With just two weeks remaining in the season, Menicke is thrilled to see his team taking shape as the state meet nears.
"Both teams are coming into great form at the right time, with state less than two weeks away," he said. "We're hoping to keep running safely and sharpen their speed a bit so some magic might be possible the next two weeks."
The cross country team will host the Western A Fall Classic on Saturday, Oct. 17 at the Whitefish Lake Golf Club with races set to begin at 1 p.m.
Western A Invite
Rebecca Farm, Kalispell
Saturday
GIRLS
Team scores - Columbia Falls 33; Corvallis 42; Polson 61; Whitefish 85; Frenchtown 118.
Top Individuals
Paetra Cooke, 21:21.95, Whitefish; 19. Maggie Pulsifer 22:43.09 Whitefish; 22. Hazel Gawe 22:56.03 Whitefish; 23. Alie Simpson 22:57.82 Whitefish; 24. Raiya McCutcheon 23:01.33 Whitefish
BOYS
Team Scores - Hamilton 17; Whitefish 61; Corvallis 90; Columbia Falls 97; Polson 123; Ronan 137.
Top Individuals
Deneb Linton, 17:04.93, Whitefish; 9. Jacob Henson, 17:22.93, Whitefish; 10. Mason Genovese, 17:24.77, Whitefish; 17. Ruedi Steiner 18:03.14 Whitefish; 21. Landon Brown 18:34.80 Whitefish
---