Fire Department begins study to look at satellite stations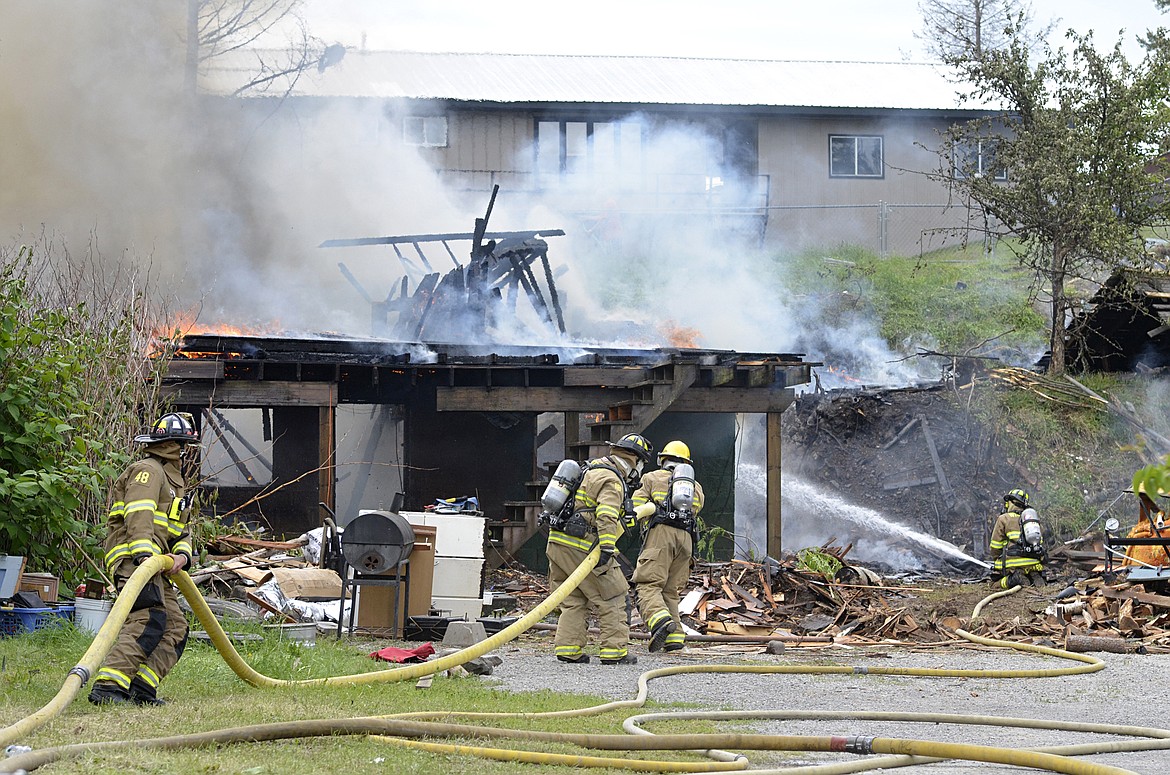 Firefighters spray a flare up at a Ramsey Avenue house that was destroyed by an electrical fire in 2018. The house was in the process of being demolished. (Heidi Desch/Whitefish Pilot file)
by
HEIDI DESCH
Whitefish Pilot
|
October 14, 2020 1:00 AM
The Whitefish Fire Department is embarking on a study that aims to identify potential locations for future satellite fire stations in and around the city.
The fire department currently serves the city and the Whitefish Fire Service Area, the rural area immediately outside the city limits, and a portion of the Flathead County Fire Service Area that is not covered by another fire district. In an effort to improve emergency services, the Whitefish Fire Department is conducting a study on the issue, with the assistance of the Kearney's Student Lab program at Carnegie Mellon University.  
Graduate students in the Student Lab program will be analyzing data to provide a design perspective on where to best locate potential new fire stations. Students have been provided GIS data on road networks and structure locations, but need additional information that the fire department is asking homeowners to provide in an online survey.

Whitefish Fire Chief Joe Page says being located near a fire station not only offers better response time, but can also provide a more favorable property insurance rate.
Typically, he notes, the insurance industry uses five road miles from a fire station as the distance when determining adequate fire protection.
"I've heard from some homeowners who have a hard time getting insurance, maybe only one company will insure them or their insurance is canceled," he said.
The study will look at where both inside and outside the city limits would be good locations for new fire stations. From experience, Page knows some vast areas north and west of Whitefish are lacking coverage, but placing stations without analyzing the data doesn't make sense.
"They're going to look at what areas are covered now and what would be the next best place to go," he said. "They'll look at what are the best locations for the stations based on the number of houses that could be covered."
Page says he's run the figures on a higher value home located farther than five miles from the city station and the savings could add up to thousands of dollars if a satellite station were constructed within the distance.
"We want them to look at is it unreasonable that homeowners could save a substantial amount of money," he said. "If they can save money on insurance then it would be worth creating a rural improvement district that would raise enough money to construct a station."
Additional fire stations are also important in an emergency situation because having equipment and first responders close by improves the chances of a favorable outcome, Page notes.
"It places the equipment closer to the need and staff can get out the door quicker," he said. "I'd even look at locating a water cistern at the stations to allow for refilling of the tender truck. Especially in those areas in the wildland urban interface it makes it critical for a rapid response because when it comes to those types of fires it makes it easier to extinguish or at least control the sooner we get there."
Whitefish Fire applied and was accepted by the Student Lab program, which is conducting the analysis for free.
The Whitefish team who provided assistance for the study consists of Joe Raudabaugh (Lazy Bay), Dave Mangold (Whitefish Hills), Ed Lieser (Lion Mountain), Matt Trebesch (Star Meadows), Greg Knuffke  (Tamarack Insurance), and Fire Chief Joe Page (Twin Lakes). The Carnegie Mellon team consists of Erin Gibson (Kearney Coach) and five students, Jaece Stokes,  Richard Ibsen, Julia Penkal, Rakshanda Rakput and Jay Park. 
Homeowners protected by Whitefish Fire are being asked to take a survey regarding their home and fire insurance. The survey is open until Oct. 21 and can be found at https://forms.gle/wdj2j5v9pd59YUhu7
---