Whitefish boys soccer throws down on Columbia Falls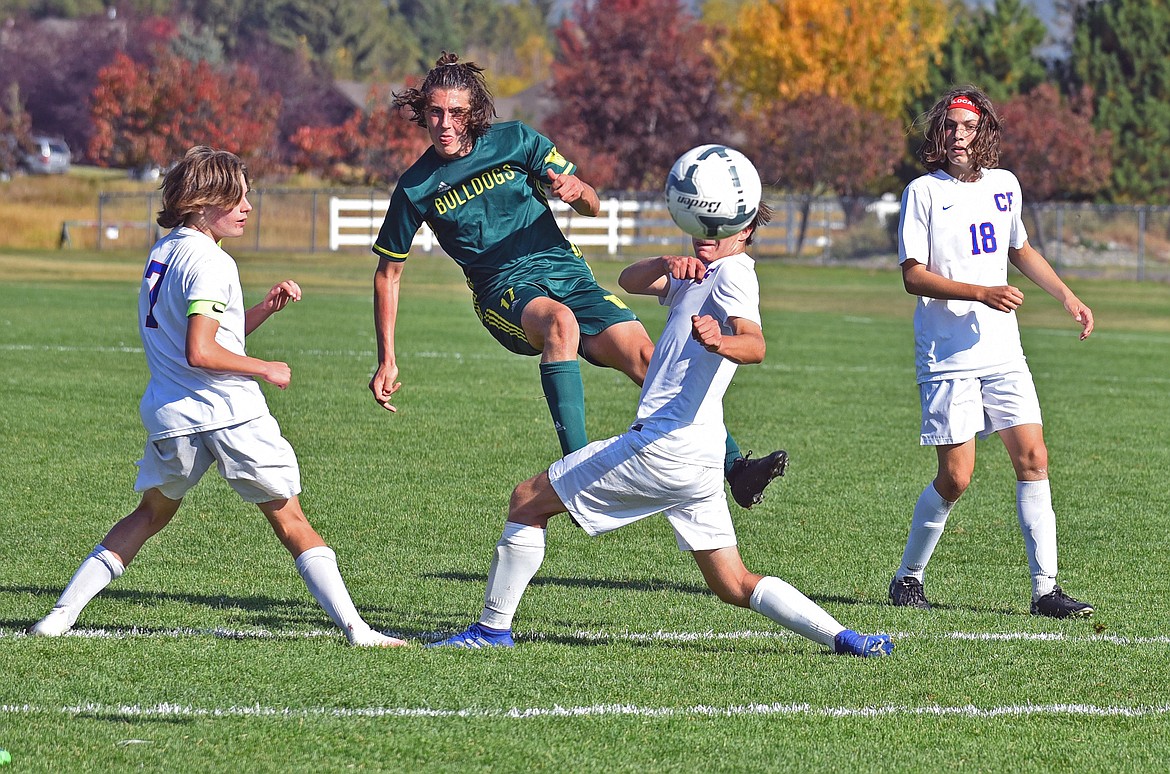 Whitefish midfielder James Thompson watches as his shot sails through the Wildcat defense as he scores in a game against Columbia Falls at Smith Fields on Saturday. (Whitney England/Whitefish Pilot)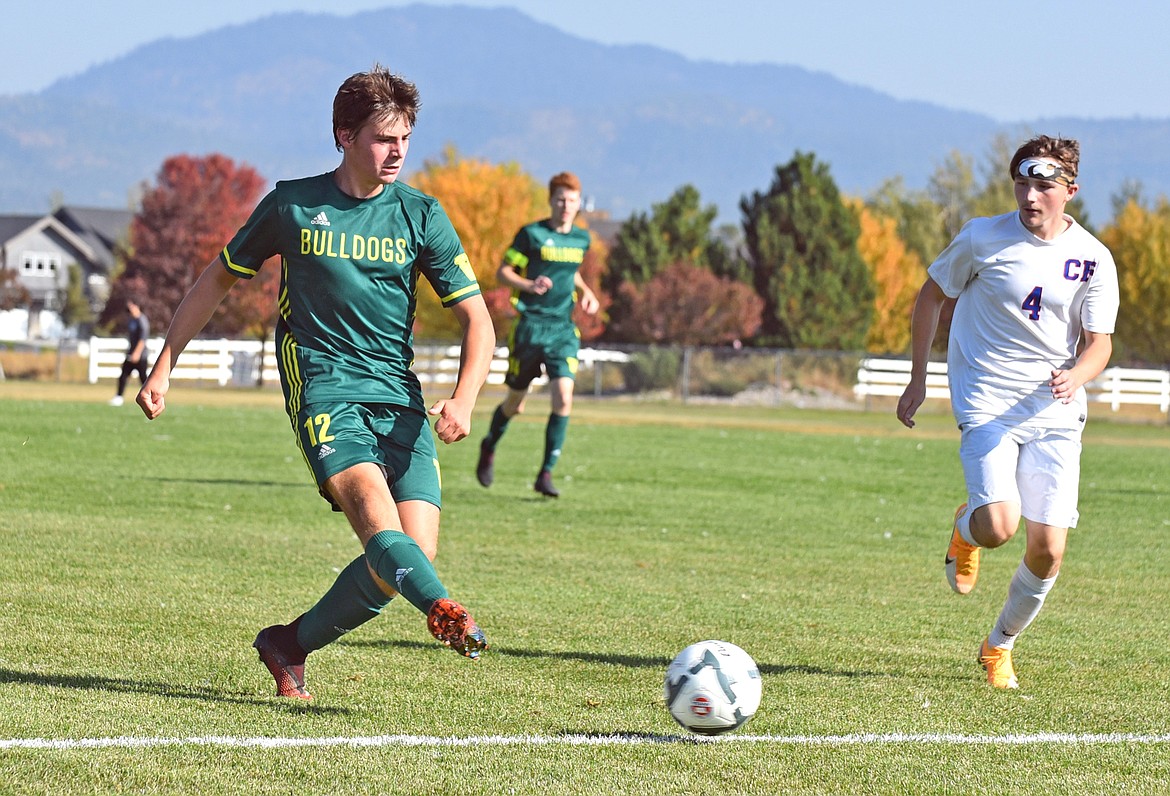 Bulldog defenseman William Hyatt controls the ball in a game against Columbia Falls at Smith Fields on Saturday. (Whitney England/Whitefish Pilot)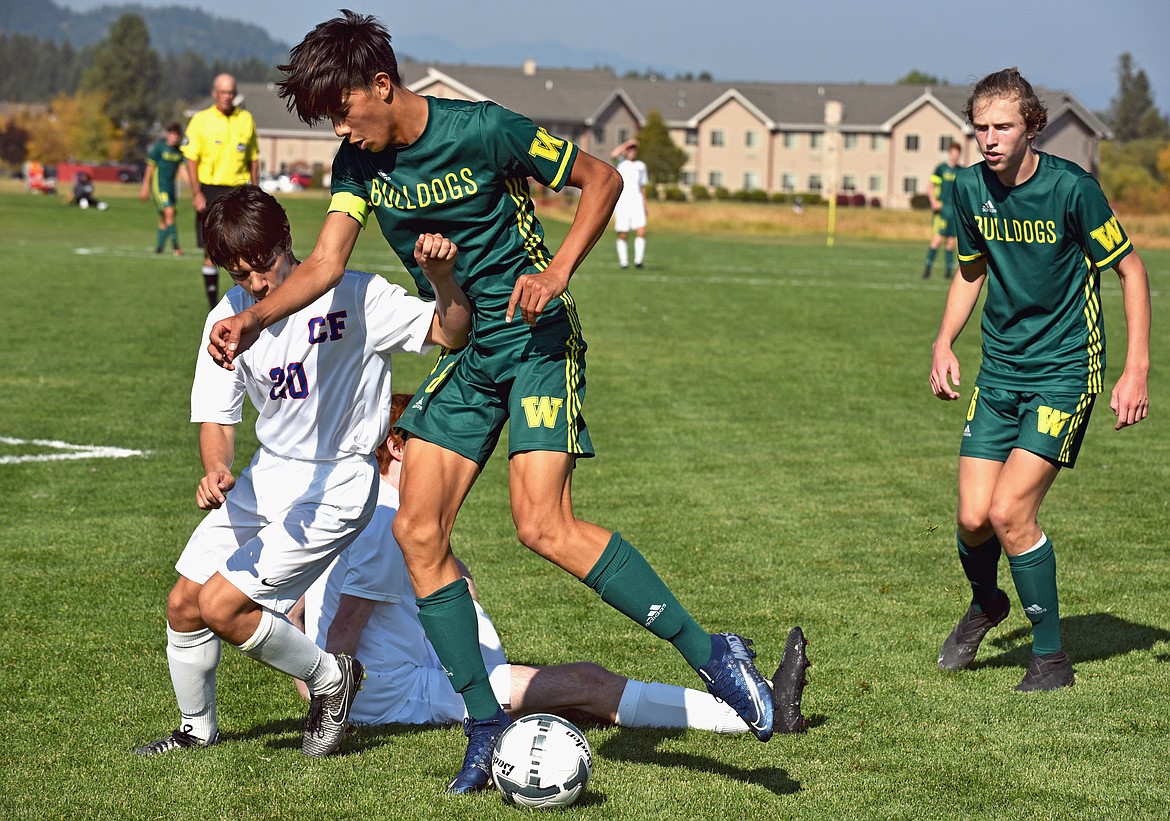 Whitefish senior forward Brandon Mendoza challenges a Columbia Falls player in a game at Smith Fields on Saturday. (Whitney England/Whitefish Pilot)
Previous
Next
by
WHITNEY ENGLAND
Reporter
|
October 7, 2020 1:00 AM
At the end of the first half the competition looked tight, the play was physical, the emotions were running high in the rivalry match between Columbia Falls and Whitefish.
But following halftime it was as if someone flipped a switch on the Bulldogs side. Whitefish came out faster, stronger and increasingly confident, finding the back of the net five times in the final half of play to defeat the Wildcats 5-0 Saturday afternoon.
"I think it was a great environment, really thankful to the whole community, everybody coming out and supporting us as we're allowed at this time," Whitefish coach John Lacey said. "So it was a great day for soccer."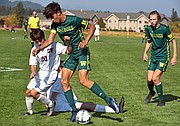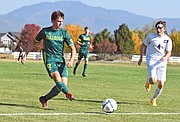 The Bulldogs remain undefeated at 8-0-1 overall, their blip coming in the previous game against Columbia Falls that resulted in a draw.
According to Lacey, throughout the first half Whitefish was "a little lax" with defensive pressure and it took the boys a while to settle in. Columbia Falls played right with them, creating chances of their own and controlling the game by maintaining possession of the ball often.
Within a couple of minutes in the second half, defender Darby McCarthy found junior forward Gabe Menicke who netted a ball to the far post putting Whitefish up 1-0.
"When we were able to get the ball by paying more attention to (defensive pressure) in the second half, it gave us more opportunities," Lacey said "Our guys are hungry to score goals, that's what they want to do."
As if Menicke broke the seal over the goal, successful shots on frame kept piling up and Whitefish's score climbed higher while the Wildcats' confidence appeared to tank. Bulldog forward Marvin Kimera scored in the 50th minute, followed by Menicke again and James Thompson got in on the scoring action in the 55th minute with a beauty from just outside the box.
Brandon Mendoza capped Whitefish's scoring frenzy in the 65th minute with a powerful, textbook shot into the upper corner of the net just out of Columbia Falls keeper Niels Getts' reach. Mendoza also had two assists, while Niath Edland and Kimera checked in with an assist each as well.
"The goal scorers were all beautiful goals," Lacey recalled. "Brandon Mendoza had a beautiful shot that, it's the kind of goal it doesn't matter whether you see it on TV or in person, it's just a fun goal to watch when you can hit a ball like he did."
Lacey was impressed with his defense, including goalkeeper Will Peppmeier who made five saves, as they delivered a well played shutout to the Wildcats.
"We're a very good defensive team, especially the designated defenders; those guys plus goalkeeper Peppmeier had a great day," Lacey said. Last week the Bulldogs also played back-to-back games Monday and Tuesday. Whitefish easily defeated Bigfork, 5-0.
The Bulldogs played Libby in a 12-1 rout of the Loggers.
Thursday Whitefish hosts Polson at Smith Fields at 5 p.m. before wrapping up regular season play in Libby on Saturday.
Columbia Falls 0 0 — 0
Whitefish 0 5 — 5
WF - Gabe Menicke (Darby McCarthy), 42:00; Marvin Kimera (Brandon Mendoza) 50:00; Menicke (Mendoza), 53:00; James Thompson (Niath Edland), 55:00; Mendoza (Kimera), 65:00
Shots on goal - Columbia Falls 5, Whitefish 12. Goalie saves - Columbia Falls 7 (Neils Getts), Whitefish 5 (Will Peppmeier).
Bigfork 0 0 — 0
Whitefish 5 0 — 5
WF - Chase Sabin (Brandon Mendoza) 2:00; Mendoza goal (Marvin Kimera) 10:00; Kimera goal 13:00; Collin Lyman (Niath Edland) 16:00; Gabe Menicke (Kimera) 19:00
Shots on goal - Whitefish 10, Bigfork 3. Goalie saves - Whitefish 3 (Will Peppmeier), Bigfork 5 (Caden Riedesel).
Libby 0 1 — 1
Whitefish 11 1 — 12
WF - Gabe Menicke (Marvin Kimera), 1:00; Brandon Mendoza (Menicke), 2:00; James Thompson (Menicke), 4:00; Mendoza (Chase Sabin), 8:00; Mendoza, 9:00; Darby McCarthy, 11:00; J. Thompson (Townsend Reed), 13:00; J. Thompson (Collin Lyman), 14:00; Lyman, 19:00; Joe Brandt, 25:00; Charlie Hyatt (Ford Thompson), 36:00
WF - F. Thompson, (Sabin) 73:00
Shots on goal - WF 18, Libby 4. Goalie saves - WF 3 (Will Peppmeier, Joe Brandt), Libby 6 (Ivan Cano).
---