Ridgeway throws 377 yards, Dogs stomp Blue Devils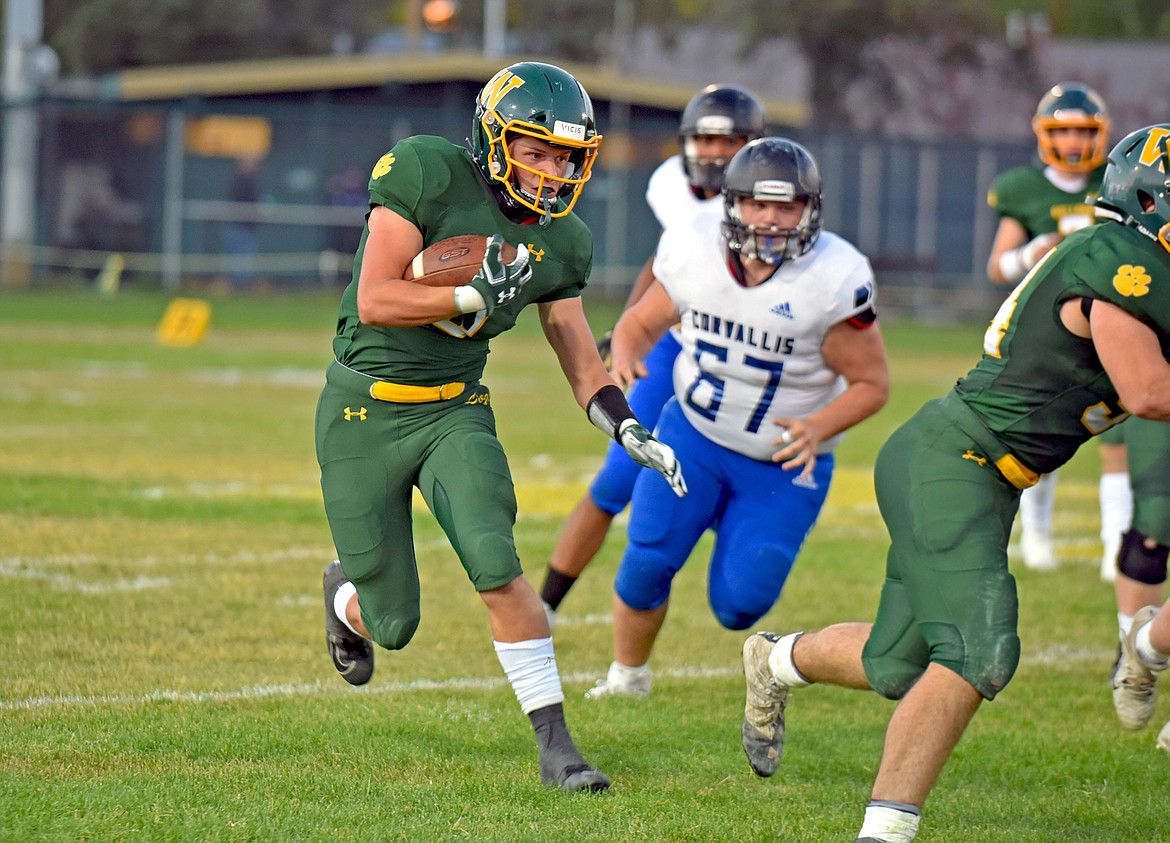 Whitefish RB Jack Alton gets some room to to run during the football game against Corvallis Friday at the Dawg Pound. (Whitney England/Whitefish Pilot)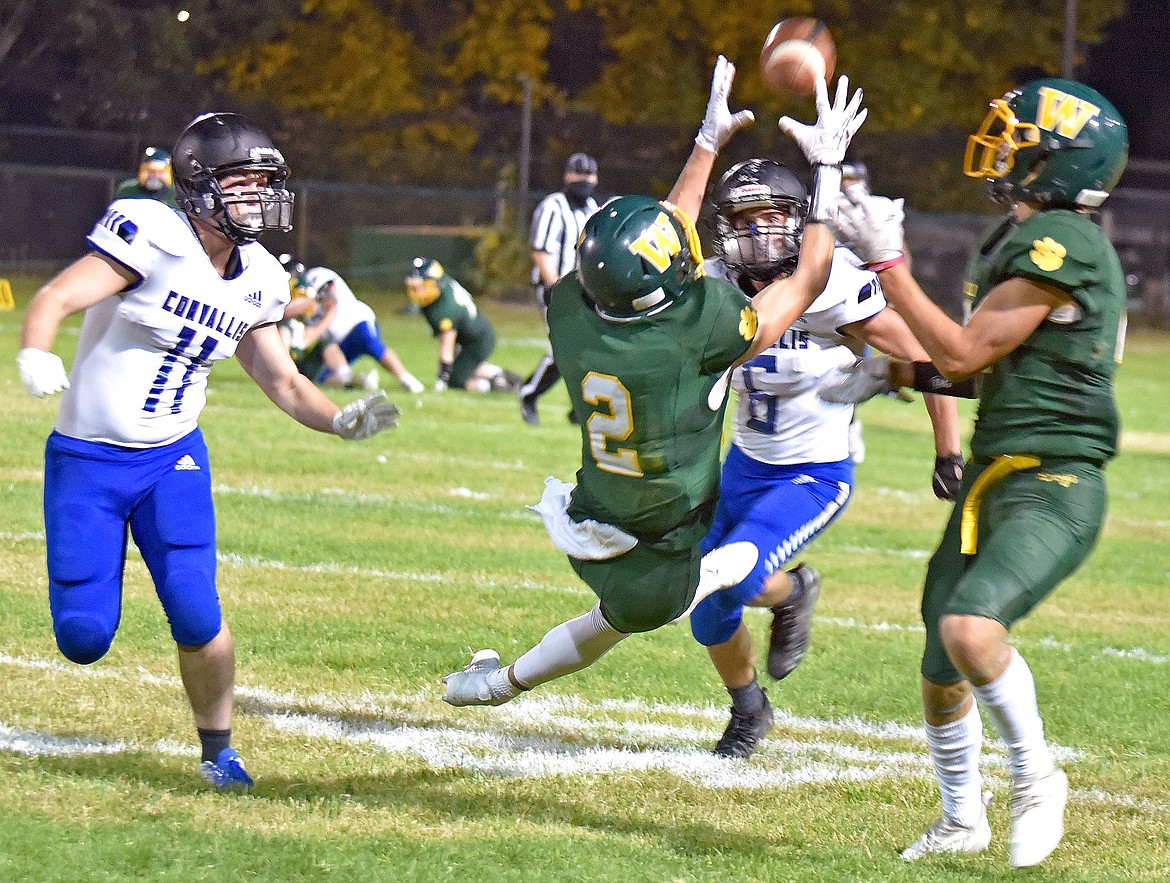 Whitefish reciever Bodie Smith lays out to catch a pass in a game against Corvallis on Friday night. (Whitney England/Whitefish Pilot)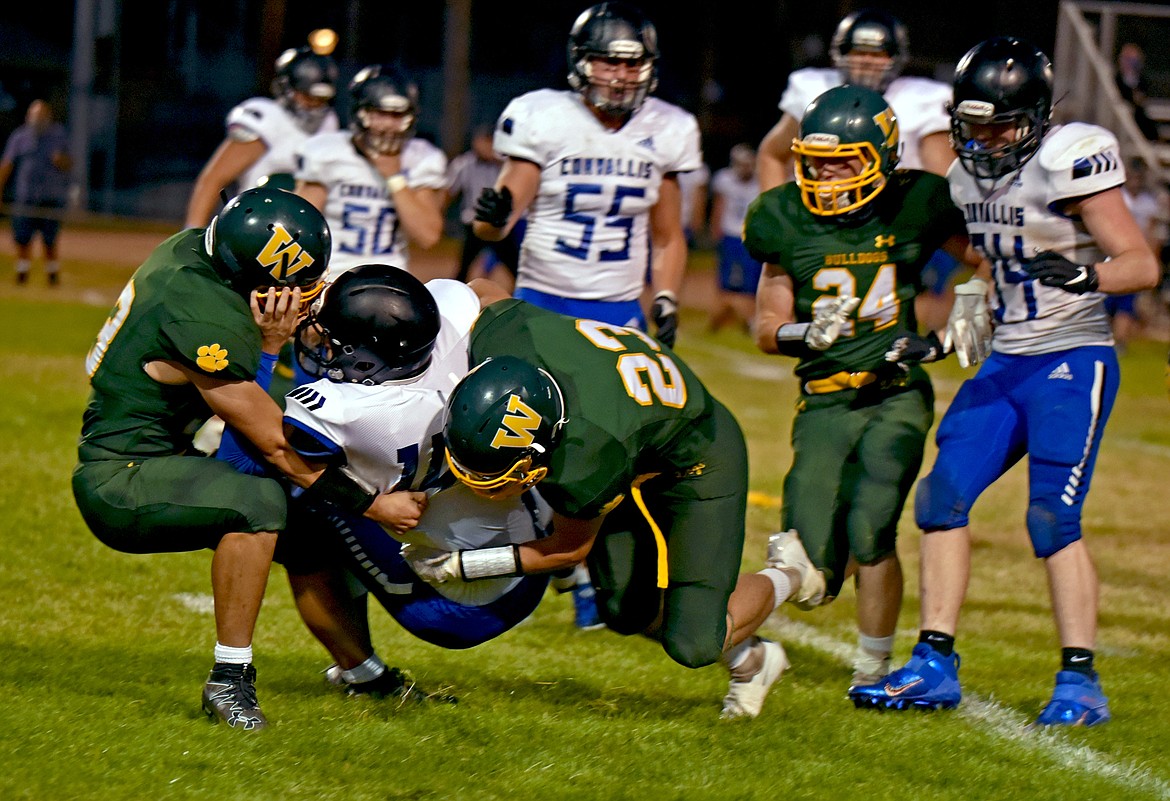 Whitefish's Ty Schwaiger sacks Corvallis quarterback Bryce Mayn with assist from his teammates during a game Friday night at home. (Whitney England/Whitefish Pilot)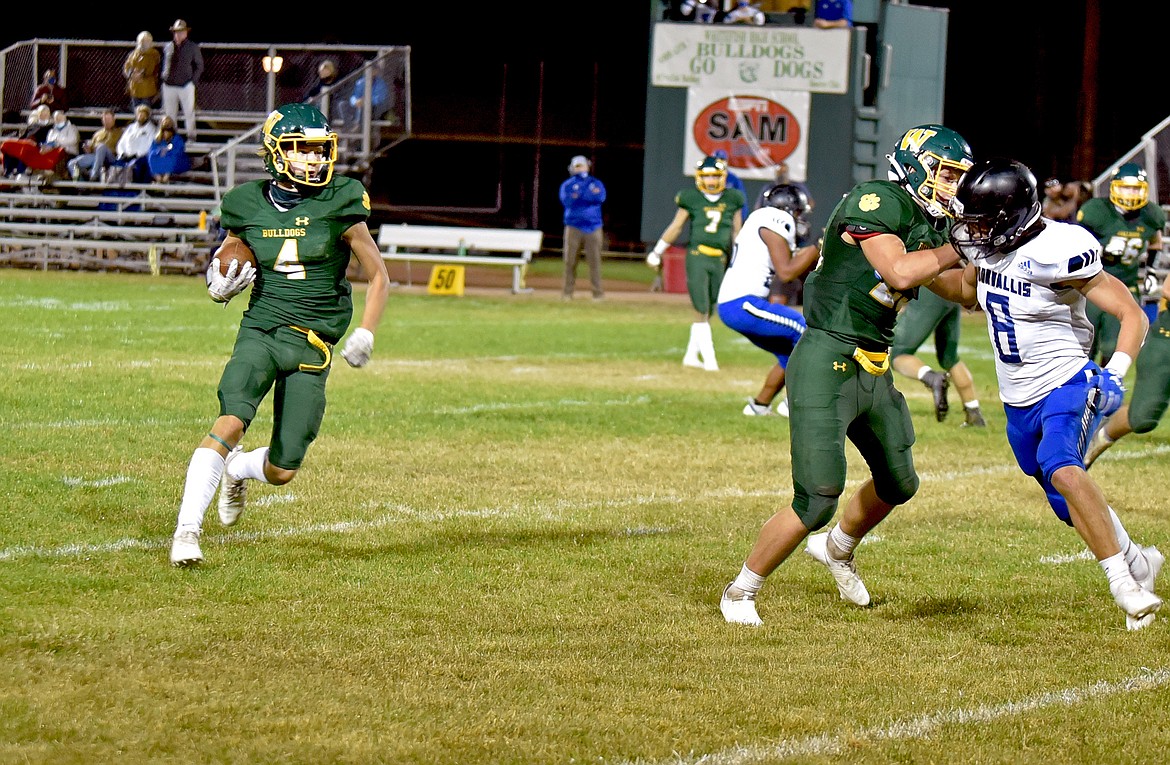 Bulldog Jaxsen Schlauch get some space to make a run upfield against Corvallis Friday night at the Dawg Pound. (Whitney England/Whitefish Pilot)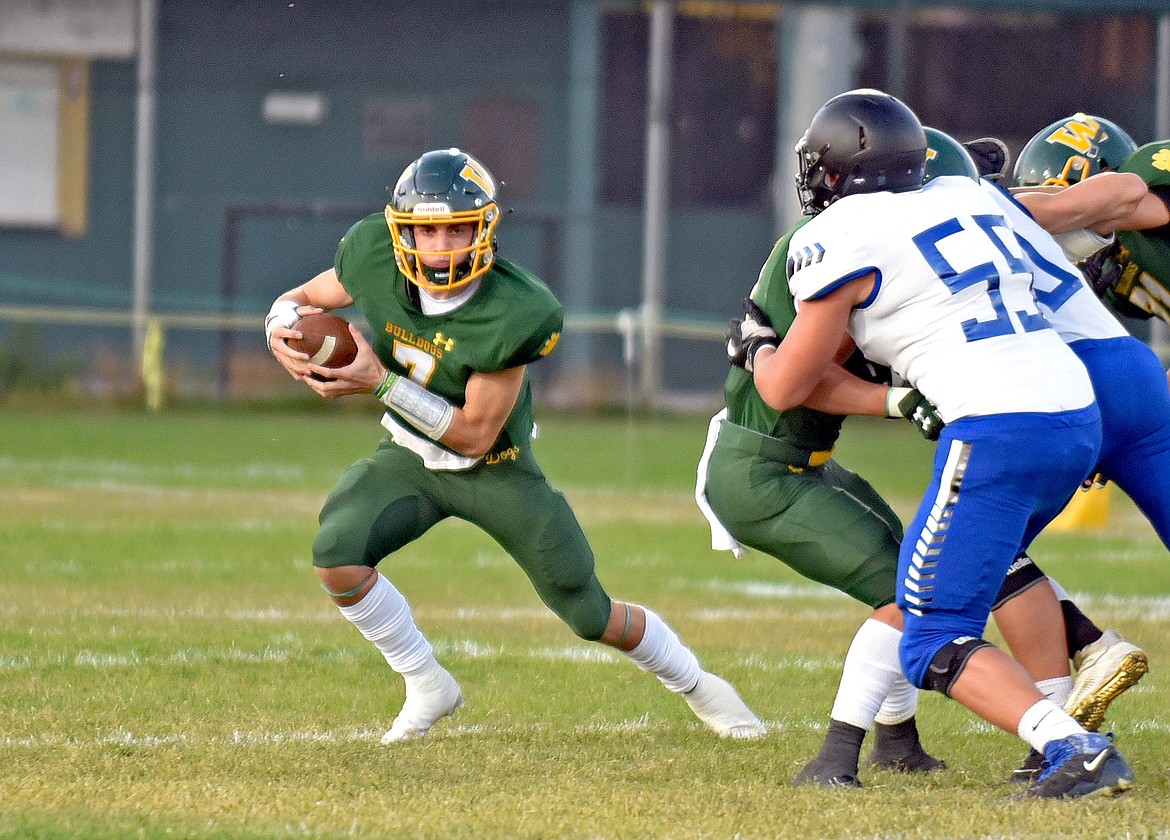 Whitefish quarterback Fynn Ridgeway looks to advance the ball upfield in a game against Corvallis Friday night in Whitefish. (Whitney England/Whitefish Pilot)
Previous
Next
by
WHITNEY ENGLAND
Reporter
|
October 7, 2020 1:00 AM
On the first chilly Friday night in October, the Bulldogs brought the heat to the field.
After a slow scoring first quarter, Whitefish found its groove and began racking up points quickly. The Bulldogs added up 25 first-half points to the Blue Devils lone field goal, and Whitefish maintained that lead to easily to defeat Corvallis 45-9.
So far Whitefish is undefeated at home, beating Columbia Falls, Browning and now Corvallis, which head football coach Chad Ross explained has not happened in quite some time.
"That's one of our goals, to be undefeated at home," Ross said. "So that's neat, we've got one more game at home against Dillon three weeks from now."
Despite marching the length of the field twice in the first quarter to get within scoring range, Whitefish was held to only field goal attempts where kicker Ryder Barinowski went one-for-two. On the kickoff following the field goal, Corvallis was forced to start on their own seven yard line. The Bulldog defense came up huge with a sack in the endzone for a safety.
With a touchdown-less quarter behind them, the Bulldogs started to find the end zone. The scoring frenzy started after a well put together drive ended in a one yard touchdown pass from quarterback Fynn Ridgeway to Jack Alton on third down.
Whitefish also had a special teams play where the defensive backs blocked the Blue Devils' punt and it was caught by senior Josh Nelson who ran it just short of the goal line. Shortly after Ty Schwaiger broke through Corvallis' defensive line for a three-yard run to put six more points on the board.

Before the end of the first half Ridgeway found one of his favorite targets Jaxsen Schlauch for a spectacular 43-yard pass reception. After catching the ball Schlauch spun out of multiple tackles before reaching the end zone.
In the third quarter Whitefish struggled to get in the game, with penalties and lackluster plays plaguing scoring chances. Corvallis gained some yards in that quarter, but the Bulldogs managed to still keep them scoreless.
"That second half when we played sloppy, we had guys there to make a play, but their guys were big and they ran over us; we need to be able to make that play," Ross commented.
In the final quarter, Whitefish scored three more touchdowns to seal the deal, with Schlauch nabbing a key interception from the Blue Devils. Schlauch finished the game with eight receptions for 158 yards and one touchdown.
The Blue Devils managed to score a touchdown with 1:40 left in the game, but an onsides kick that Whitefish recovered quickly silenced Corvallis.
Ridgeway threw for 377 yards while tacking on 20 yards on the ground as well. He completed 18-24 passes with three touchdowns and one interception. His longest caught pass of the day was 73 yards to Schwaiger.
"I think Fynn did a great job, stepping up and showing maturity; and the offensive line gave him a lot of time," Ross said.
Ross also highlighted the play of Ashton Akey at center, along with Tanner Harmon and Kai Nash on the offensive line.
"Ashton Akey, he's our center and it's one of those things that doesn't get a lot of praise, but he's had six games with no bad snaps," Ross said. "He's just done a great job."
Friday night was also senior night and a group of the team's leaders were highlighted at halftime. Ross said most of those boys, including his son Cameron Ross, have been together practically forever. And it's a special group of boys playing their last season of high school football together.
"It's senior night, but it's more," Ross said. "I love those guys I really do… It's a good group, they include everybody and it seems like we really care about each other not only on the football field, but outside of it."
Whitefish suffered a few injuries in the game to big seniors Cameron Ross, Bode Wold and Josh Nelson. Ross is hoping he can get everyone healthy before taking on the undefeated Hamilton Broncs this Friday.
"It's a huge game against Hamilton to really see if we can play with the big boys," Ross said following the game. "So right now we are kind of middle of the level, but we get to see how much better we've really gotten. We've won four in a row, but we also played really bad in those first two games."
Whitefish will travel to Hamilton Friday to take on the Broncs with kickoff at 7 p.m.
Whitefish 5 20 0 25 - 45

Corvallis 0 3 0 7 - 10
---