Lady Bulldogs tough it out to earn conference win over rival Wildkats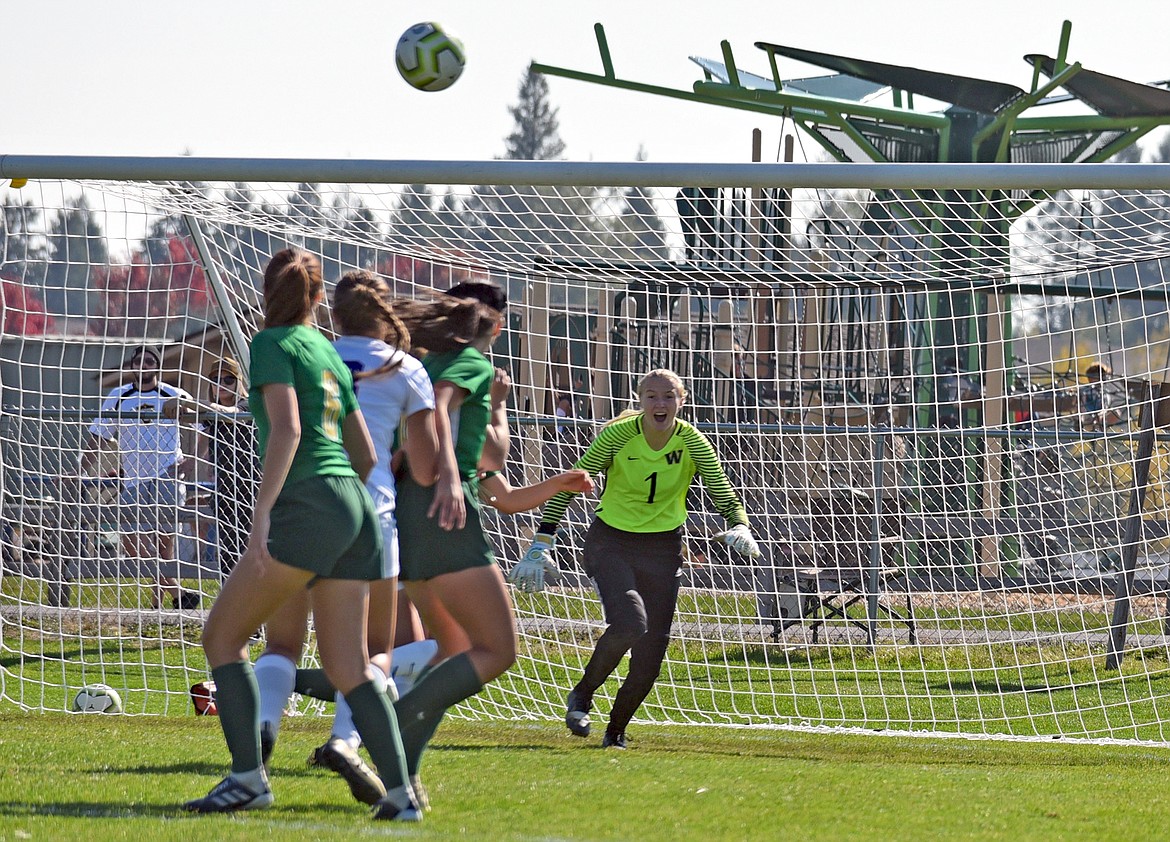 Whitefish senior goalkeeper Sami Galbraith calls for the ball as it sails over a group players in a game against Columbia Falls on Saturday. (Whitney England/Whitefish Pilot)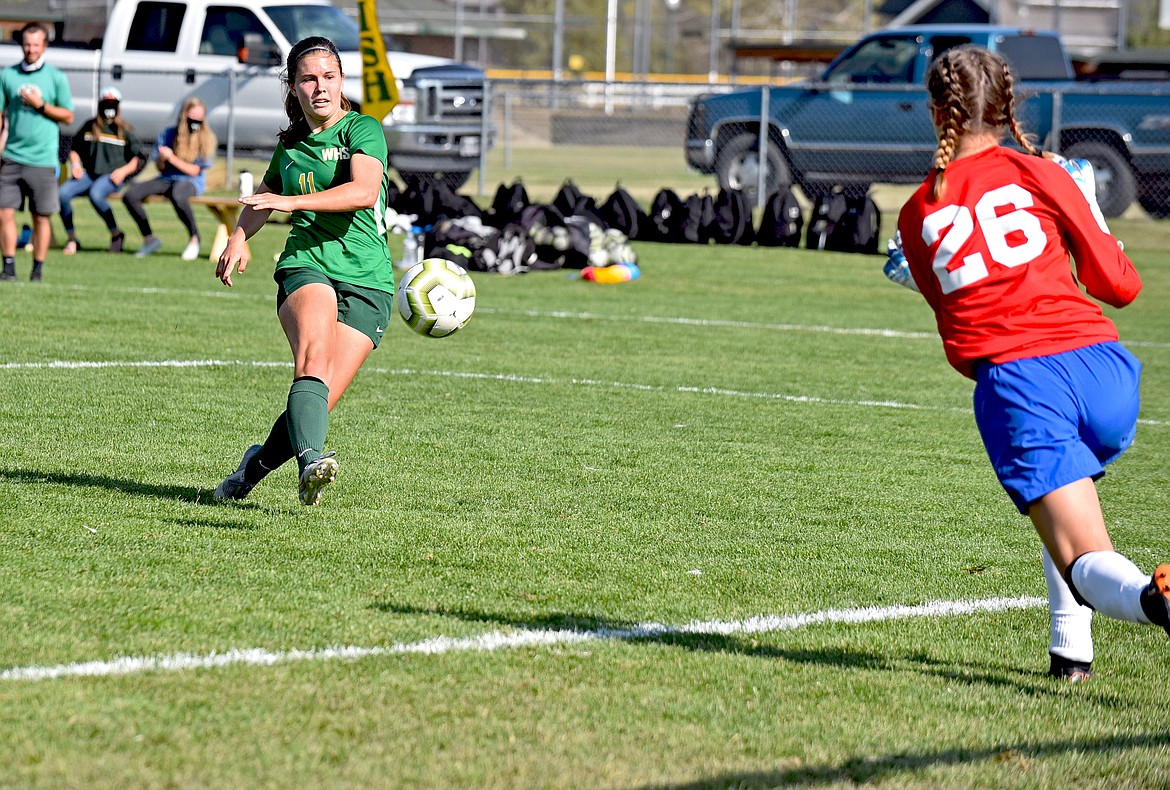 Whitefish midfielder Emma Barron drives a shot against Columbia Falls goalkeeper Nevaeh Carlin in the second half of the rivalry match at Smith Fields Saturday. (Whitney England/Whitefish Pilot)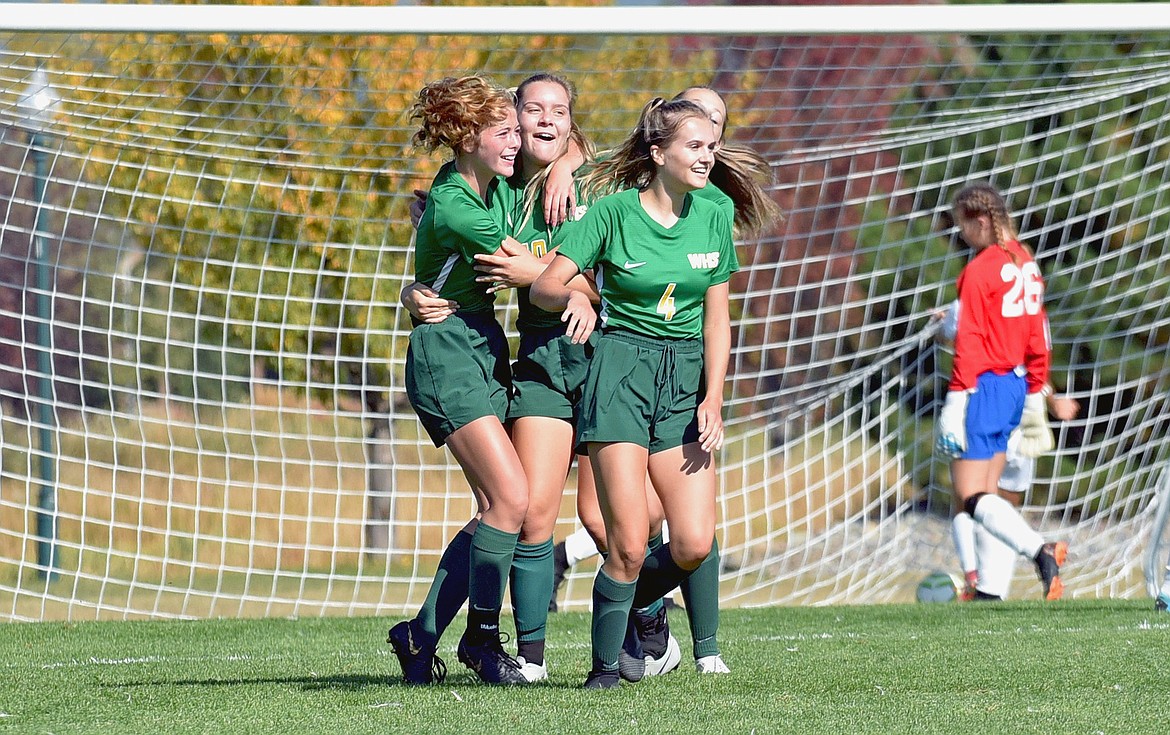 Whitefish players Brooke Roberts, Ali Hirsch and Sophie Olson celebrate a goal scored by Hirsch in the first half against Columbia Falls at Smith Fields on Saturday. (Whitney England/Whitefish Pilot)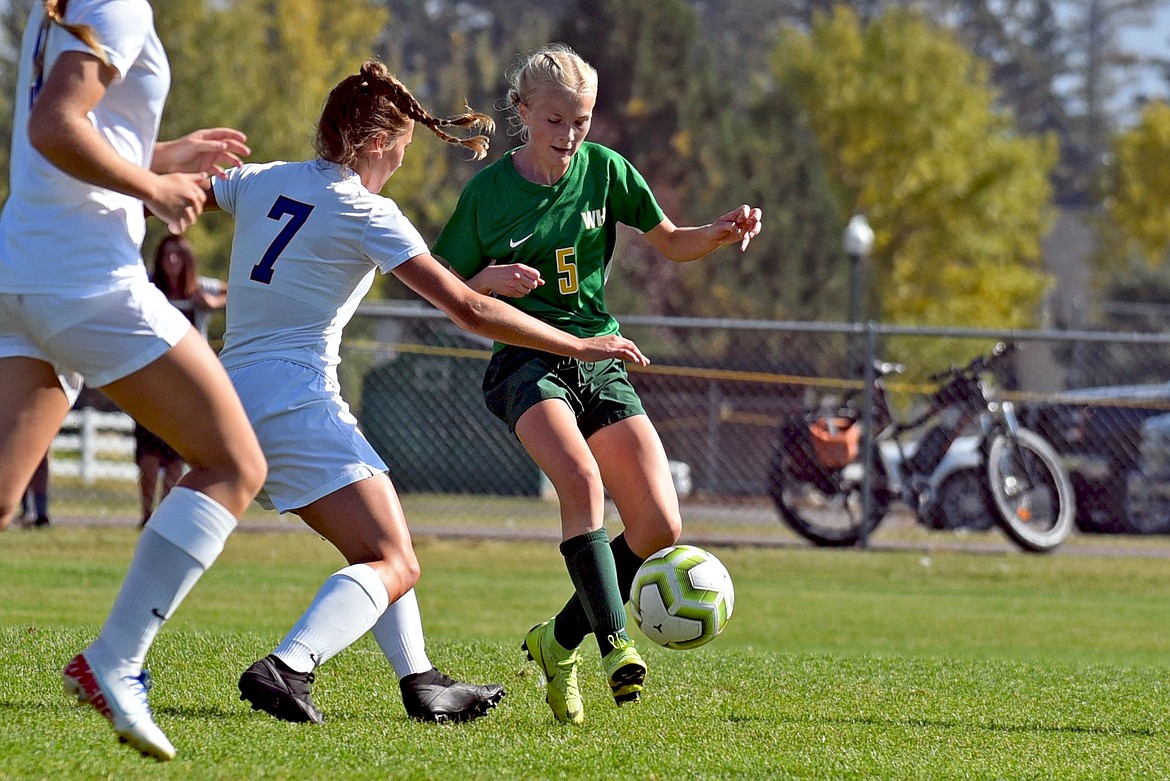 Whitefish freshman midfielder Isabelle Cooke controls the ball against CFalls' Maddie Robison at Smith Fields on Saturday. (Whitney England/Whitefish Pilot)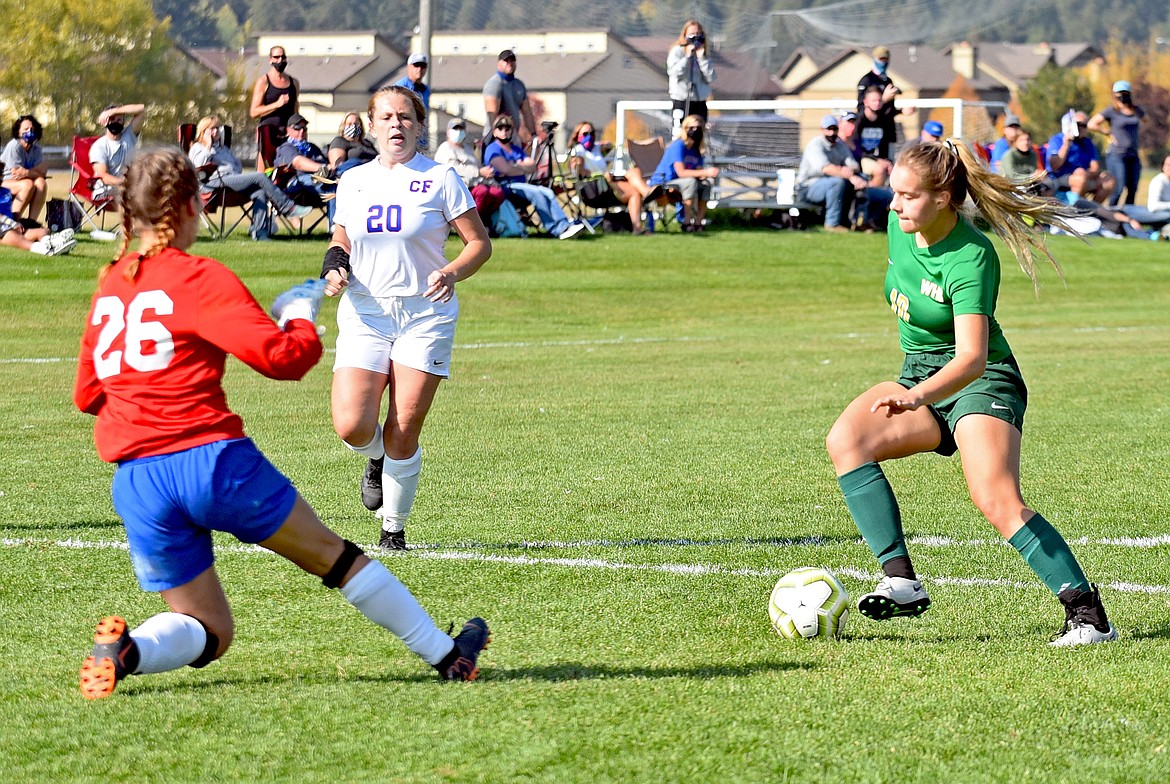 Whitefish senior Ali Hirsch drives toward the goal in a game against Columbia Falls at Smith Fields on Saturday. (Whitney England/Whitefish Pilot)
Previous
Next
by
WHITNEY ENGLAND
Reporter
|
October 7, 2020 1:00 AM
Going against the toughest opponent in the conference is never an easy task.
Add in the Class A leading goal scorer, Wildkat senior Maddie Robinson, and the emotions associated with a longstanding rivalry, it was a tough assignment but the Bulldogs didn't disappoint holding on to a first half lead to win 2-1.
Whitefish senior Ali Hirsch netted a beautiful shot after some physical play on both sides in front of the goal in the 23rd minute, assisted by Sophie Olson. Just 11 minutes later Brooke Roberts took a pass from defender Adrienne Healy to chip the ball into the net, giving Whitefish a 2-0 lead.
In the 67th minute Wildkats' Robison cut that lead in half with her 26th goal of the season.
Whitefish remained steady and both teams had several opportunities for more goals in the second half.
"It's a combination of our mental fortitude as a team — this year we're very strong and confident in what we can accomplish on a soccer field," Whitefish coach Roland Benedict said.
Whitefish outshot Columbia Falls 24-13. Bulldog senior goalie Sami Galbraith had seven saves.
"Columbia Falls always causes us problems and the main reason why is that their energy and physicality without possession, when they don't have the ball, is incredibly high," Benedict said.
Benedict admitted this was a problem in the first meeting between the teams on Sept. 17 when the Bulldogs won 1-0. Although Whitefish matched the intensity in that game the pressure was still making the girls uncomfortable and not fully play their game.
"We were very comfortable with the level of pressure they were providing us and it allowed us to finally play our style and really attack them with some more composure," Benedict said. "And because of that it ended 2-1, it could have been a four or five to zero win from our end in my opinion. I thought the girls played the best game of soccer we've played all year."
The coach also called out Anna Akey, Josie Schneider, Olson and freshman Isabelle Cooke on playing fantastic games against CFalls. Cooke had the task of defending Robison and stole the ball away from the Wildcats repeatedly.
"Isabelle Cooke is a very talented freshman and has an immensely bright future ahead for us," Benedict said. "The level of influence that she has had on our team has been incredible especially when you put her next to Emma Barron, Anna Akey and Sophie Olson who are all all-state players."
Last week Whitefish also easily handled Libby 9-0 and Whitefish defeated Bigfork 3-0.
This week Whitefish finishes up regular season play at Libby on Saturday.
Columbia Falls 0 1 — 1
Whitefish 2 0 — 2
W - Ali Hirsch (Sophie Olson), 23:00; Brooke Roberts (Adrienne Healy), 34:00
Shots on goal - Columbia Falls 13, Whitefish 24. Goalie saves - Columbia Falls 10 (Nevaeh Carlin), Whitefish 7 (Sami Galbraith). Corner kicks - Columbia Falls 2, Whitefish 5. Fouls - Columbia Falls 7, Whitefish 14. Cards - Columbia Falls 1, Whitefish 1.
---