Genovese runs to first at home meet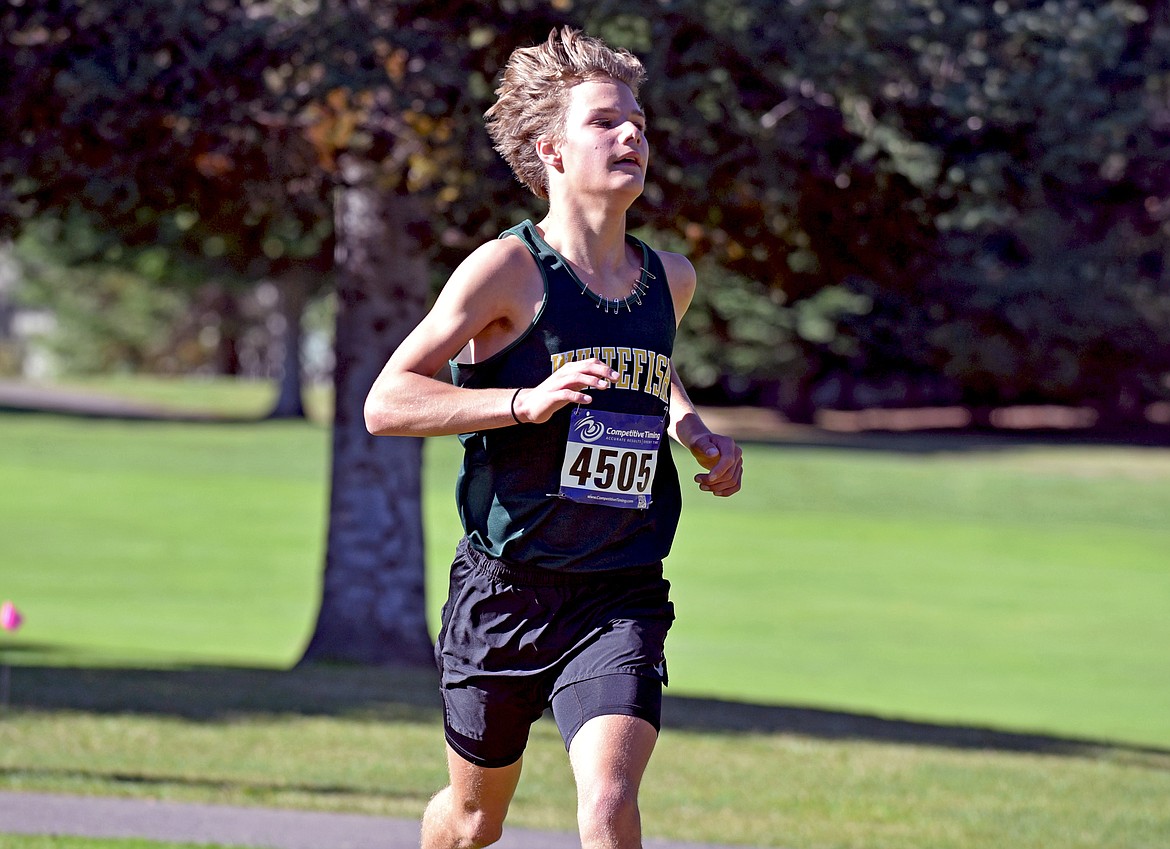 Whitefish runner Mason Genovese nears his PR time as he finishes first at the Stumptown Triangular at Whitefish Lake Golf Club on Tuesday, Sept. 29. (Whitney England/Whitefish Pilot)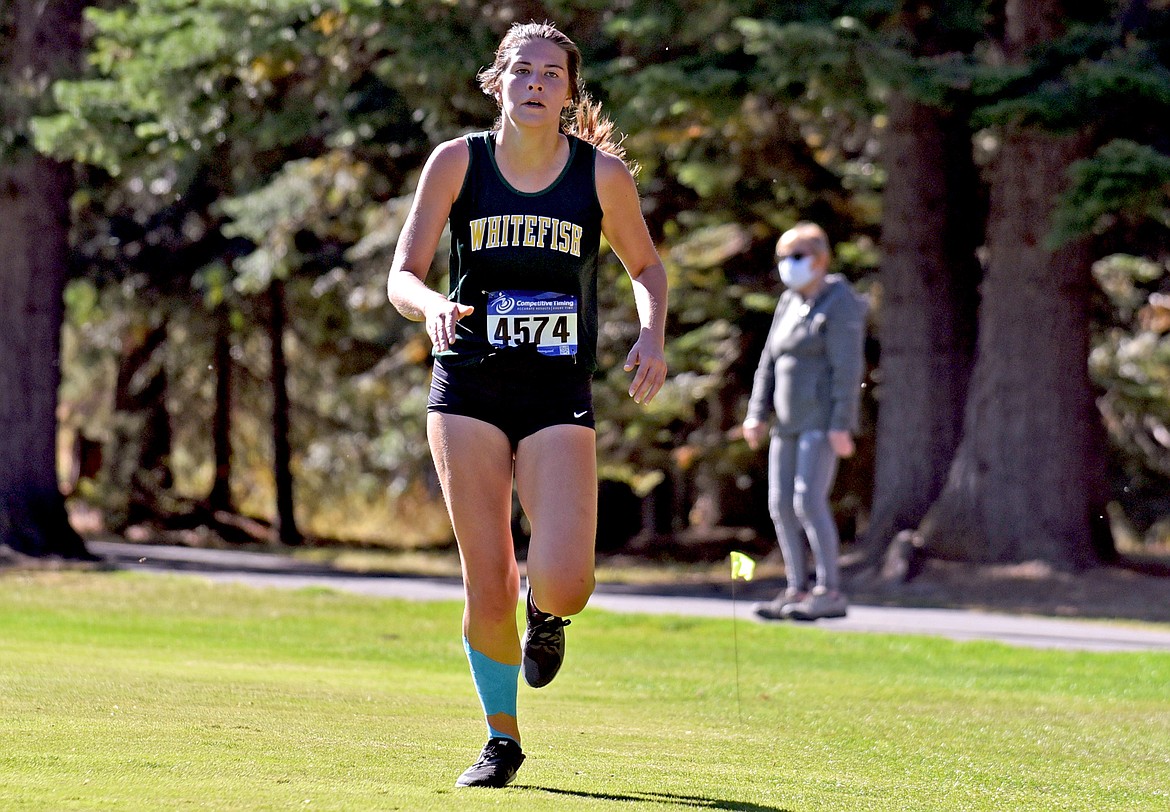 Bulldog Alie Simpson on her way to the finish line at the Stumptown Triangular at Whitefish Lake Golf Club on Tuesday, Sept. 29. She was Whitefish's second fastest runner of the day for the girls. (Whitney England/Whitefish Pilot)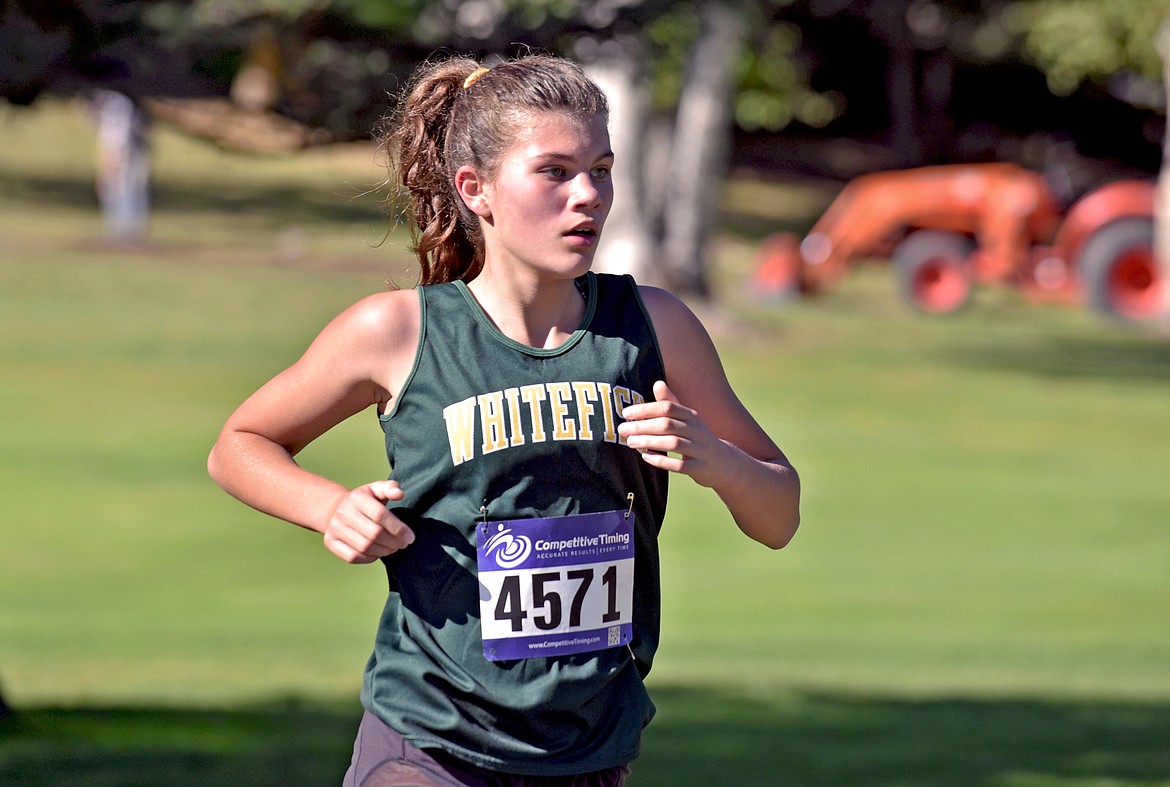 Bulldog freshman Raiya McCutcheon runs in the girls cross country varsity race at the Stumptown Triangular at Whitefish Lake Golf Club on Tuesday, Sept. 29. (Whitney England/Whitefish Pilot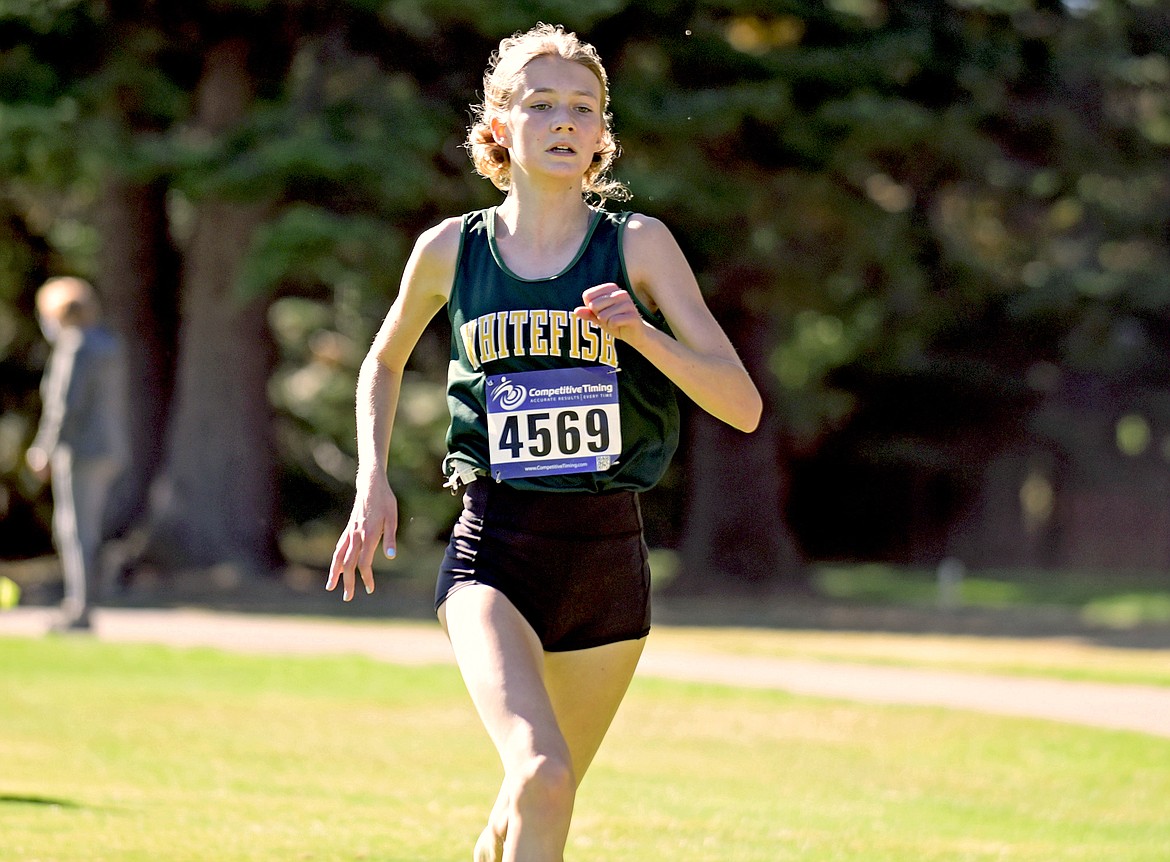 Whitefish runner Paetra Cooke finishes with a top-10 finish at the Stumptown Triangular at Whitefish Lake Golf Club on Tuesday, Sept. 29. (Whitney England/Whitefish Pilot)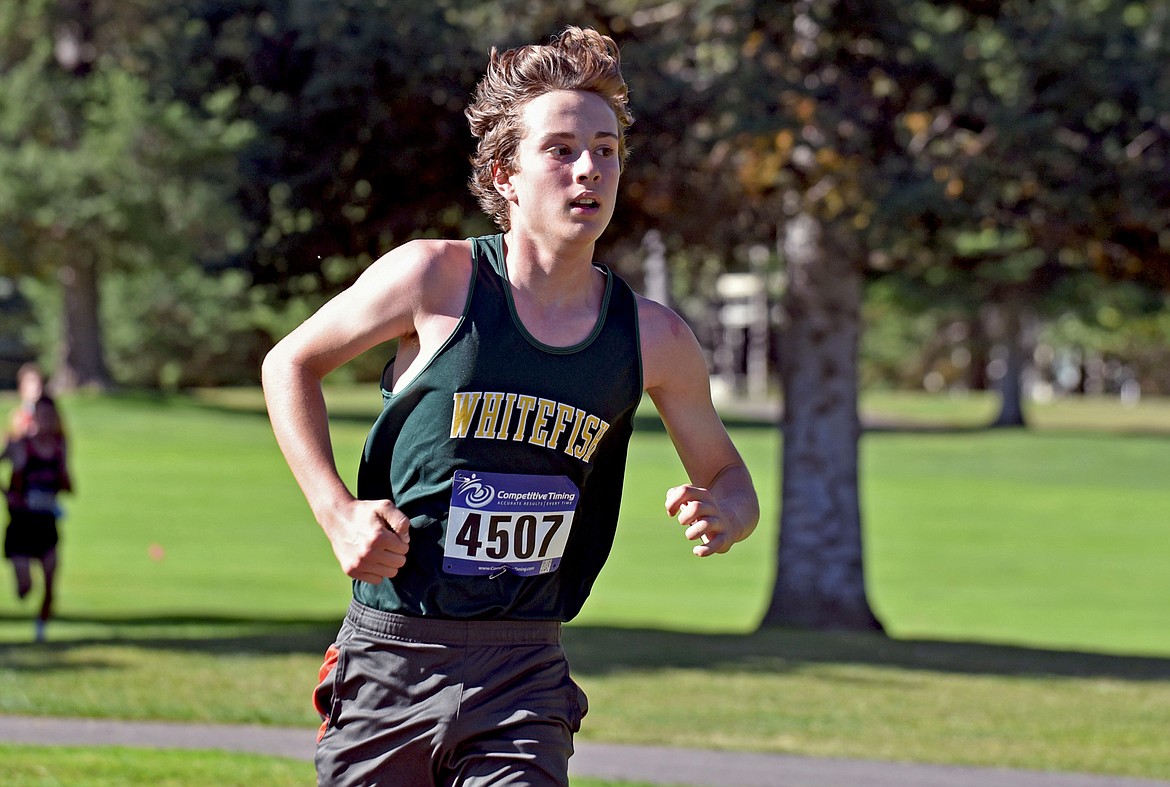 Bulldog Deneb Linton runs to a seventh place finish and was Whitefish's second fastest runner at the Stumptown Triangular at Whitefish Lake Golf Club on Tuesday, Sept. 29. (Whitney England/Whitefish Pilot)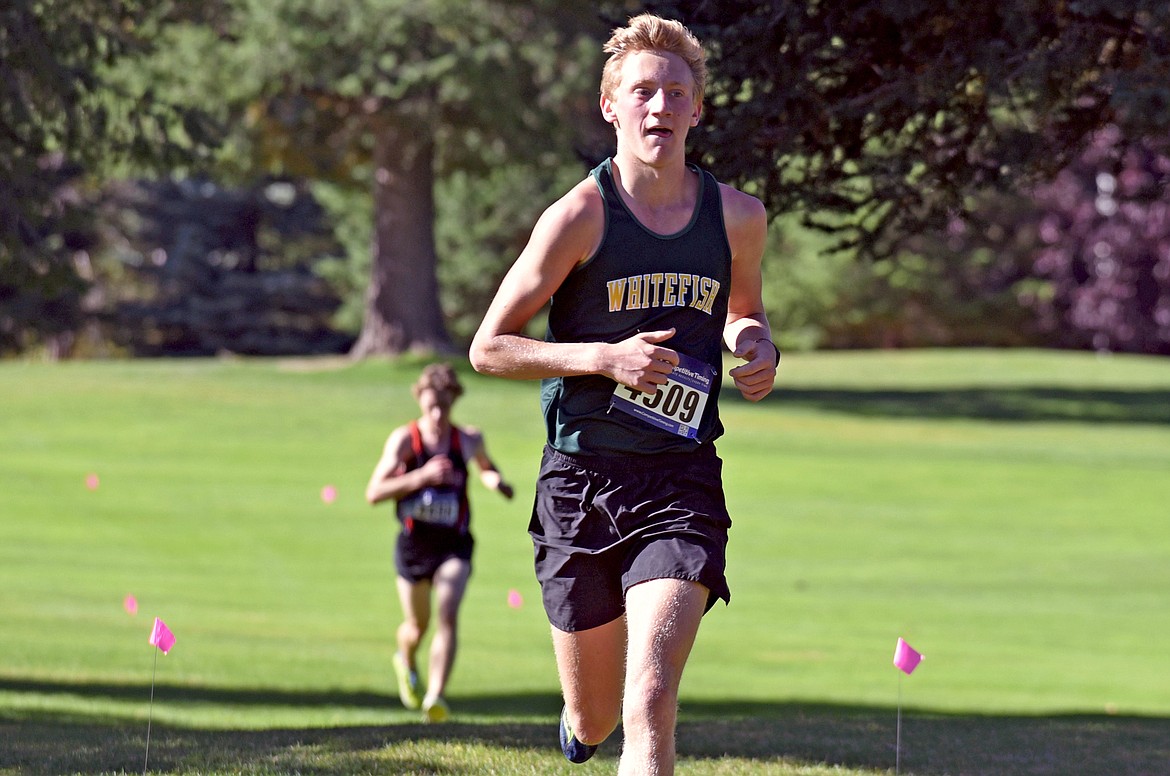 Whitefish runner Ruedi Steiner competes at the Stumptown Triangular at Whitefish Lake Golf Club on Tuesday, Sept. 29. He was the third fastest boy runner for the Bulldogs. (Whitney England/Whitefish Pilot)
Previous
Next
by
WHITNEY ENGLAND
Reporter
|
October 7, 2020 1:00 AM
Freshman runner Mason Genovese earned his best finish of his newly begun varsity cross country career when he placed first at the Stumptown Triangular Tuesday, Sept. 29.
Genovese has been cranking out great results all season, finishing in the top 10 in every race thus far. And although he didn't break his personal record, he neared it at Whitefish's home meet running 17:34.40 — good enough for first over a strong field of competitors.
"Mason we knew was a good athlete, but he really showed some maturity in how he raced," Cross country coach Richard Menicke said. "He was with a pack of very good, older runners and made a nice move during the third mile to pass them definitively."
A slew of younger runners on the boys team finished with good times including Deneb Linton in seventh, Ruedi Steiner in 11th place and Landon Brown in 13th.
"Our supporting cast of male athletes continued to improve, the boys team in general, all the key players are getting faster each week and the team performance is improving," Menicke said.
The boys team leader Jacob Henson ran to a 17th place finish at Pablo.
Freshmen Genovese and Linton both had a top 10 finish in Pablo.
Linton ran to a personal best of 17:46, shaving nearly 26 seconds off his previous record.
"Deneb, who has been good from the start but always getting better, kind of broke an important barrier in the sport — he went sub 18 minutes," Menicke said.
The girls cross country team has been hampered by injuries, however, Paetra Cooke continues to have strong races and finished in the top 10 in both meets.
"Really happy for Paetra Cooke to have her season's best time, to place in the top 10 of a pretty tough race [at home]," Menicke said. "She continues to really lead our varsity girls."
The cross country season is now down to three weeks remaining and Menicke says the team has an important race coming up over the weekend. Whitefish will compete among nearly all the Western A teams in a state preview meet of sorts at Rebecca Farm at 11 a.m. on Saturday.
Stumptown Triangular
Boys Team Results
Columbia Falls 24, 2. Whitefish 49, 3. Flathead 50
Individual
Mason Genovese 17:34.31 Whitefish
Deneb Linton 18:16.89 Whitefish
Girls Team Results
Flathead 19, 2. Columbia Falls 42, 3. Whitefish 80
Individual
Paetra Cooke 21:00.92 Whitefish
Mission Shadow Duels
Boys Team Results
Hamilton 41, 2. Whitefish 87, 3. Ronan 96, 4. Columbia Falls 107, 5. Beaverhead County 147, 6. Polson 159, 7. St Ignatius 167, 8. Thompson Falls 198
Individual
Mason Genovese 17:33 Whitefish
Deneb Linton 17:46 Whitefish
Girls Team Results
Columbia Falls 21, 2. Polson 73, 3. Whitefish 81, 4. Frenchtown 95, 5. Thompson Falls 101
Individual
Paetra Cooke 21:35 Whitefish
---