COVID guidelines prompt creativity for Muldown recess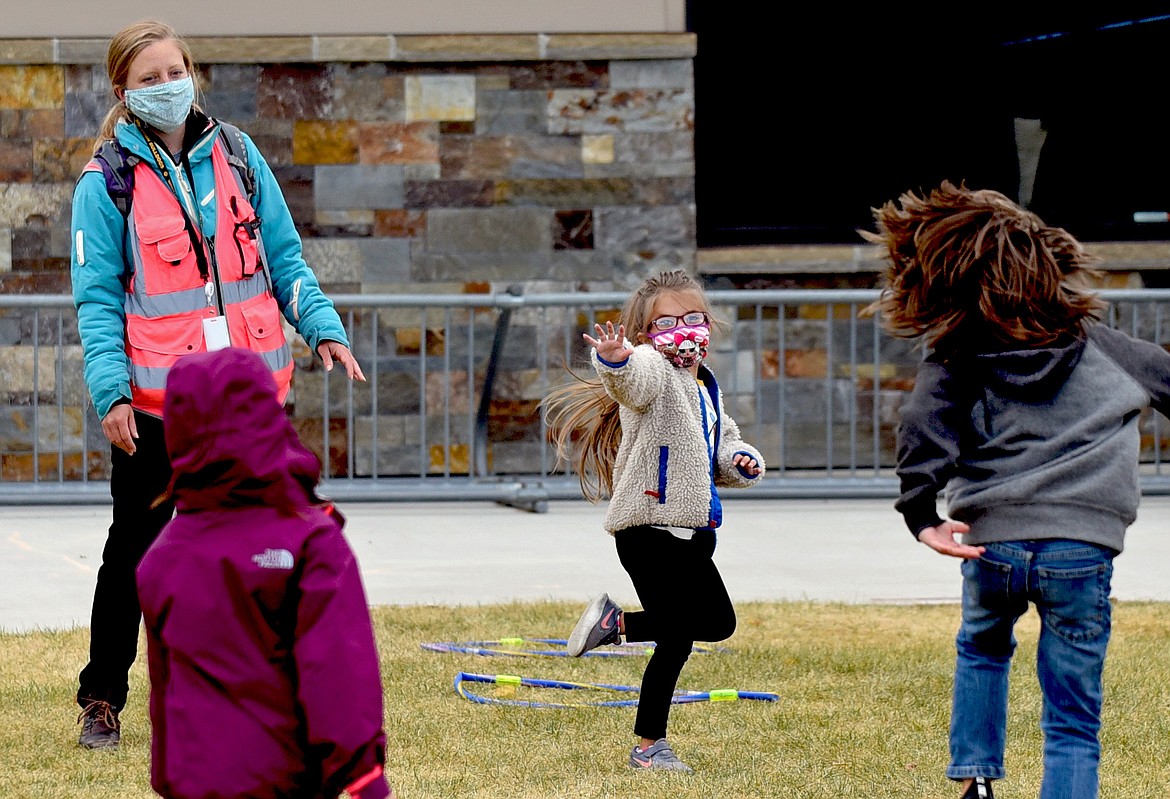 Muldown playground supervisor Rebecca McQuary helps direct a game of Red Light, Green Light with first grader Evelyn Vigil. The playground staff at Muldown has restructured recess time to make it safer for kids during the COVID-19 pandemic. (Whitney England/Whitefish Pilot)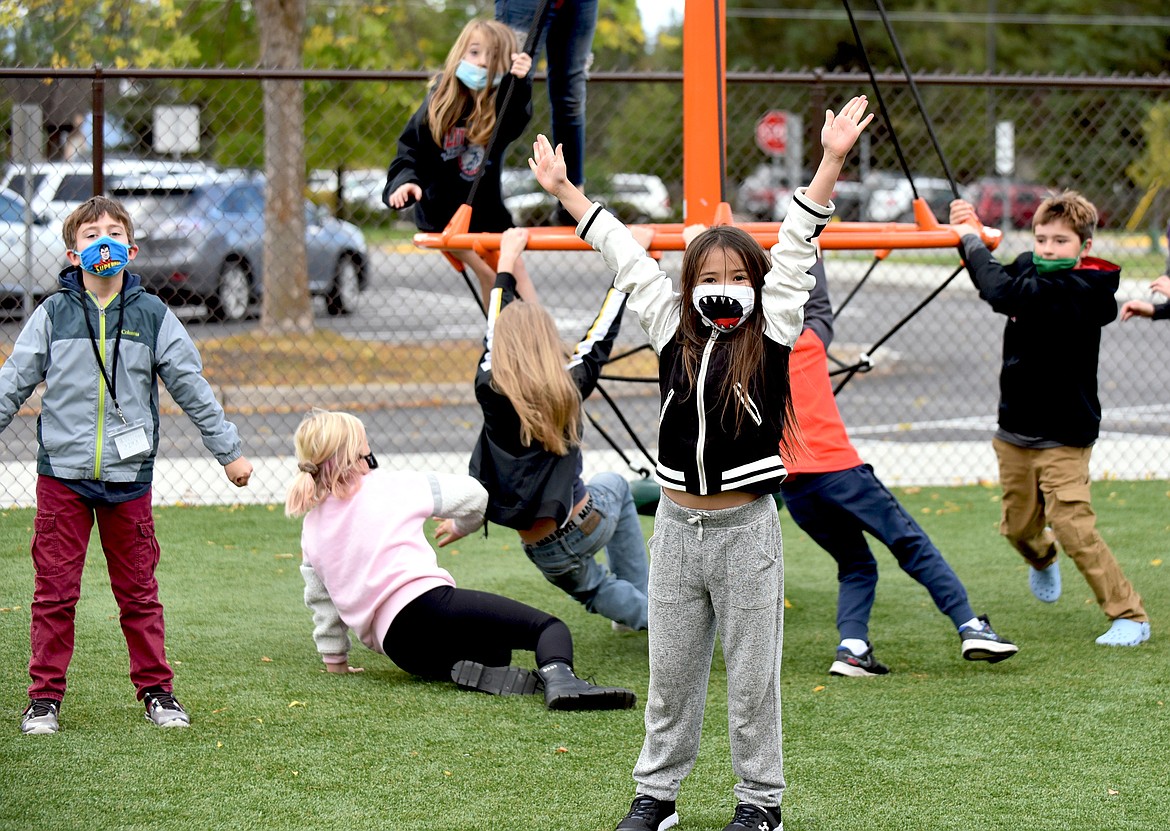 Muldown Elementary fourth graders James Weyh and Ella Siddall-Kim stand out from the crowd as their fellow students play on the new equipment at the school. (Whitney England/Whitefish Pilot)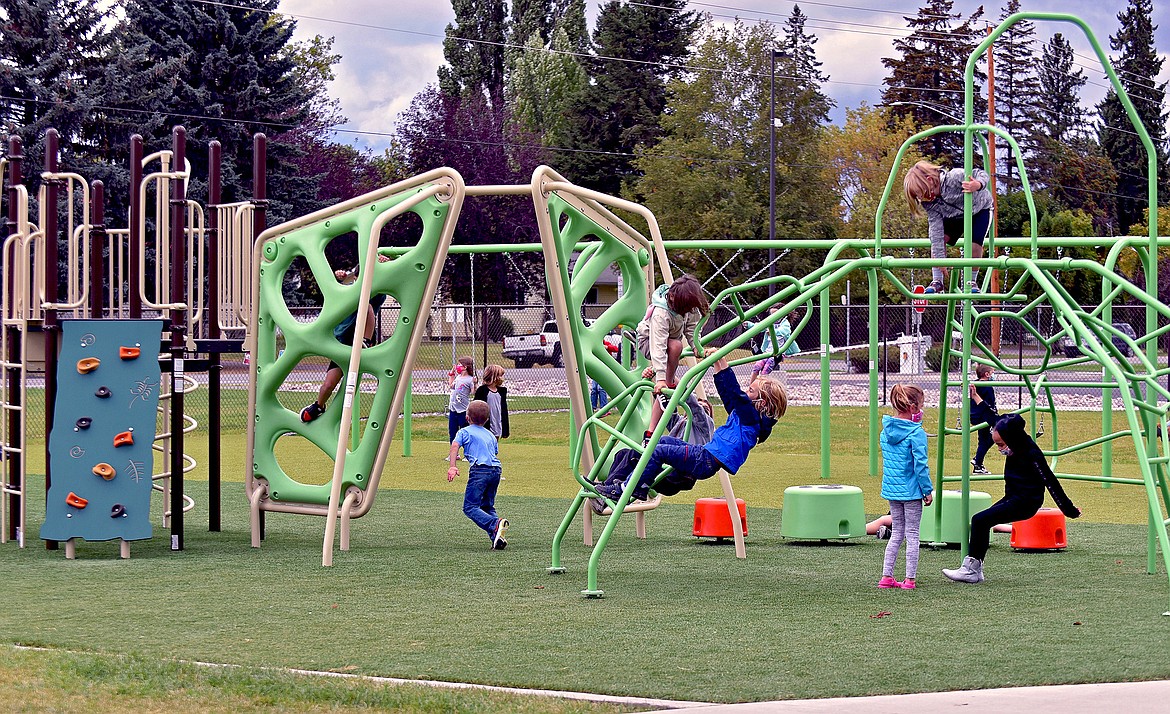 Muldown first graders play on the new playground outside of the elementary school. (Whitney England/Whitefish Pilot)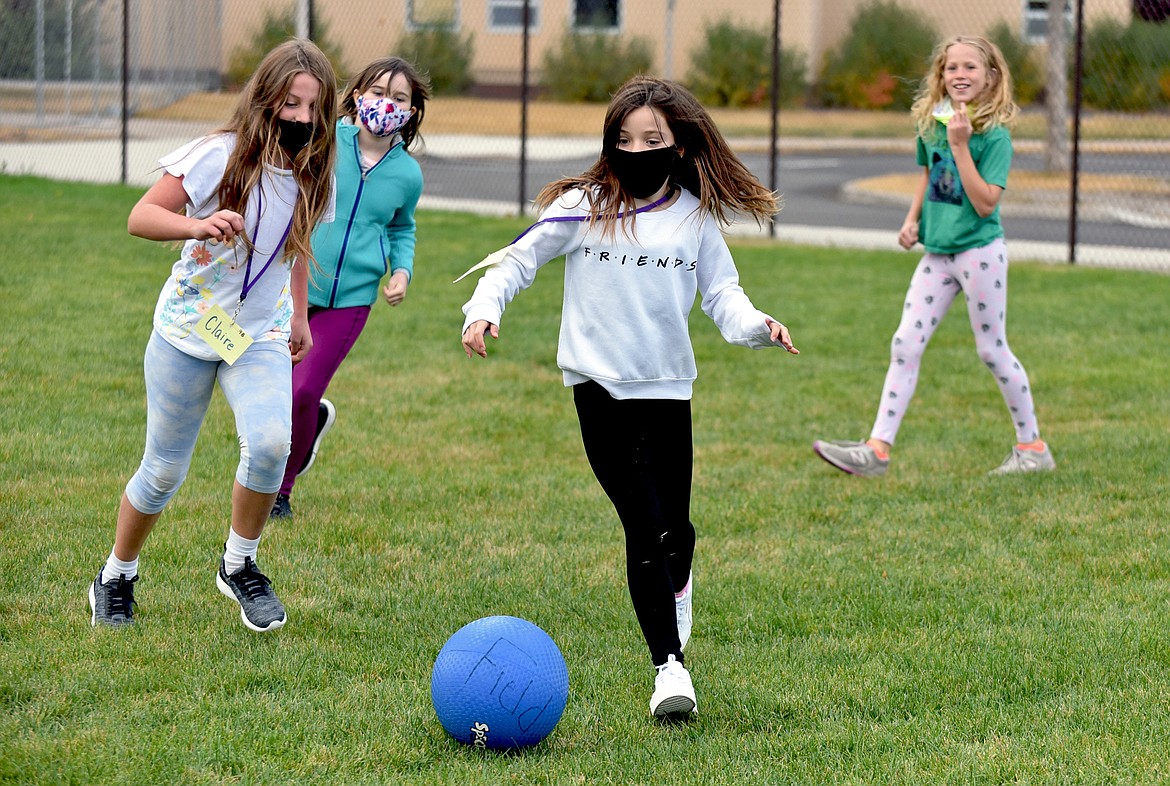 Muldown fourth graders play a game on the open field section of the playground at the elementary school. Pictured from left to right: Claire Graham, Bella Woodruff, Hayley Reardon and Avery Orme. (Whitney England/Whitefish Pilot)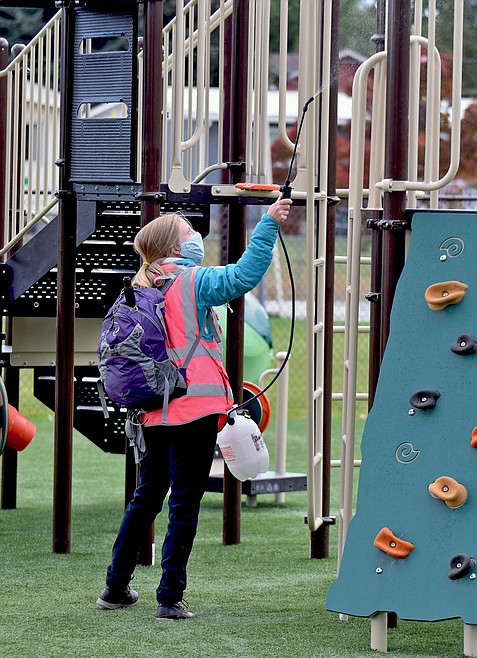 Playground supervisor Rebecca McQuary uses industrial sanitizer to clean the playground equipment between recess breaks at Muldown Elementary School. (Whitney England/Whitefish Pilot)
Previous
Next
by
WHITNEY ENGLAND
Reporter
|
October 7, 2020 1:00 AM
Outside the new Muldown Elementary School, two playgrounds look like ordinary albeit beautiful play areas.
The school's outside space features state-of-the-art playground equipment, basketball courts, open fields and swings. The areas were designed to support imaginative and unlimited open play from all grade levels at Muldown — kindergarten through fourth.
But this school year looks different in the midst of the COVID-19 pandemic, and the playground cannot be utilized in the exact way it may have been designed. Whitefish Schools have extra precautions for inside the school building, but those have also had to be implemented in the outside areas.
Muldown's playground staff has transformed the outdoor areas into organized, structured and safe, yet welcoming, spaces amidst the pandemic.
Rebecca McQuary, who is in her second year serving as a playground supervisor, acknowledged that it's taken careful planning to successfully coordinate the recess program this fall. She stayed up-to-date all summer with the reopening preparations and was able to attend meetings to voice her ideas.
"It's a new structure trying to provide the same familiar activities, but just in a slightly different way that's more safe," McQuary said. "We've been adding a lot of the stuff we've always had inside for structure, outside. So we're not necessarily structuring their play, we're just structuring their environment to help guide them."
The playground staff has four full time supervisors, including McQuary, and one floating supervisor to direct the students as they head outside for recess each day.
As part of the new protocols the playgrounds are split into three zones to keep the same cohorts of students together everyday. This reduces the number of kids coming in contact with each other to less than 50 and would also help with contact tracing, if necessary.
The zones in the larger play area for second through fourth grades are the built-in playground equipment area, the open field and the basketball courts; the smaller playground is also zoned similarly.
An entire grade level will come out to recess just like in years past, but now only two classes make up kids in each zone rather than open play in all areas. The groups of kids alternate zones during each recess period, giving them a chance to play in all areas of the playground throughout the day.
While splitting up the area into zones made sense in numerous ways, it also presented challenges. The staff had to spend the first few weeks of school getting the students accustomed to staying in their zones while playing and not bunching or mingling with the other groups when heading back to class.
McQuary said the playground team made several visuals to assist in this process, including lines and dots on the pavement where students line up and signs detailing what class is in each section at various times of the day.
"I feel like overall the students have been very responsive and really have stepped up," playground supervisor Keith Gardner said.
But the challenge was not only in directing the students about where to play, but in making each zone equally as enjoyable for all the kids. According to Gardner and McQuary, this required some thinking outside the box because, especially for the younger children, previously the playground equipment was utilized more often than the open field.
Some items were added, like bubble machines, that could be used for play while maintaining social distancing.
Muldown's staff is also taking special time to introduce new games, or alternative ways of playing games, where social distancing is easier to achieve. Games like Red Light, Green Light or Simon Says are easy to maintain distancing and introducing non-contact Ultimate Football rather than the touch or flag football.
They also launched an incentive program called "Level Up" to encourage the students to clean up after themselves and help keep equipment organized in the correct areas. The kids assisting in this is vital for the supervisors to be able to sanitize before the next group's recess period.
"So if they put their equipment back in the bucket, then they basically will start adding more things to that bucket," McQuary said. "So it will help us stay in control of making sure we can sanitize everything, but also just provide a little reward for going that extra step to help us."
These unique strategies geared toward recess time are proving successful right now, according to Muldown's staff, but even more importantly they can easily be adapted to different phases as the pandemic continues and a fluctuating number of students on campus at one time.
"Basically just planning and changing the activities specifically to the different phases, but still keeping them familiar," McQuary said. "With enough planning and the right setup you can do anything."
The benefits of recess for elementary students are numerous, but with the extra stresses caused by the pandemic the playground staff believes this time is even more important. Outside the students can take a mask break when needed, work cooperatively together in group play and practice many life skills.
"This is one area where they can actually come in contact with one another and still feel like they're a kid again," supervisor Kenny Weese said.
The redesigned recess program is also allowing for smaller groups of students to get extra support and the environment at school is even more welcoming than before, according to McQuary and the other supervisors.
"Not to say that this has been a good thing, but there's definitely been some silver linings to this I think," McQuary concluded.
---