Bulldog boys golf swings to state championship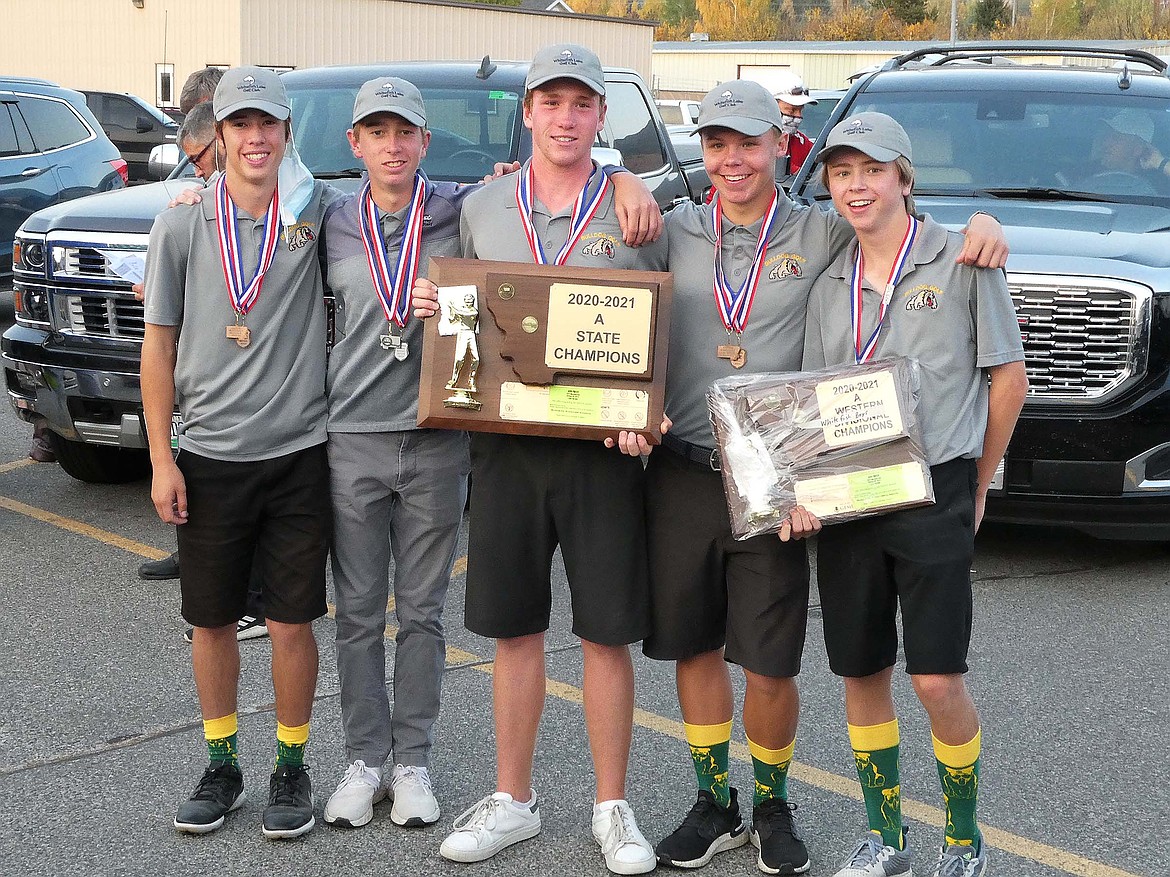 The Whitefish boys golf team earned the State Class A Championship Friday at Butte. From left, are Marcus Kilman, Billy Smith, Cameron Kahle, Johnny Nix and Bjorn Olson. Kahle also won the tournament to become a back-to-back state champion. (Jeff Doorn photo)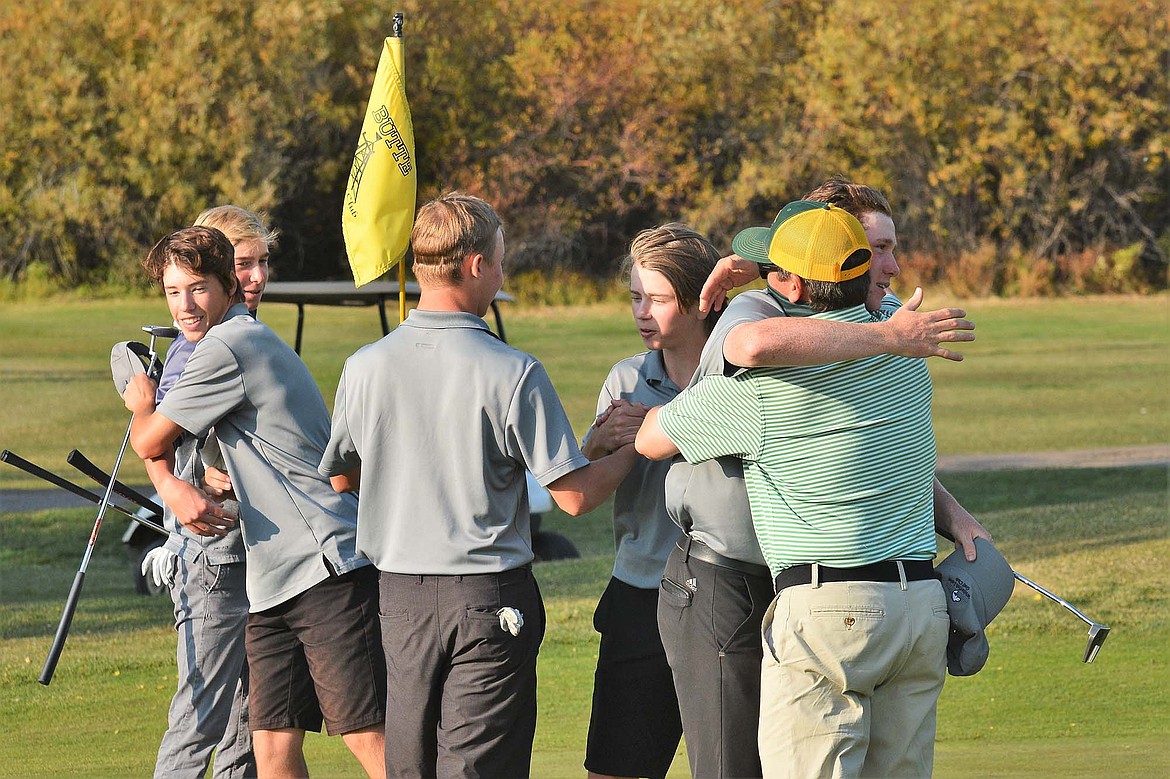 Whitefish head coach Bill Kahle and the boys golf team celebrate their State Class A Championship Friday in Butte at the state tournament. (Jeff Doorn photo)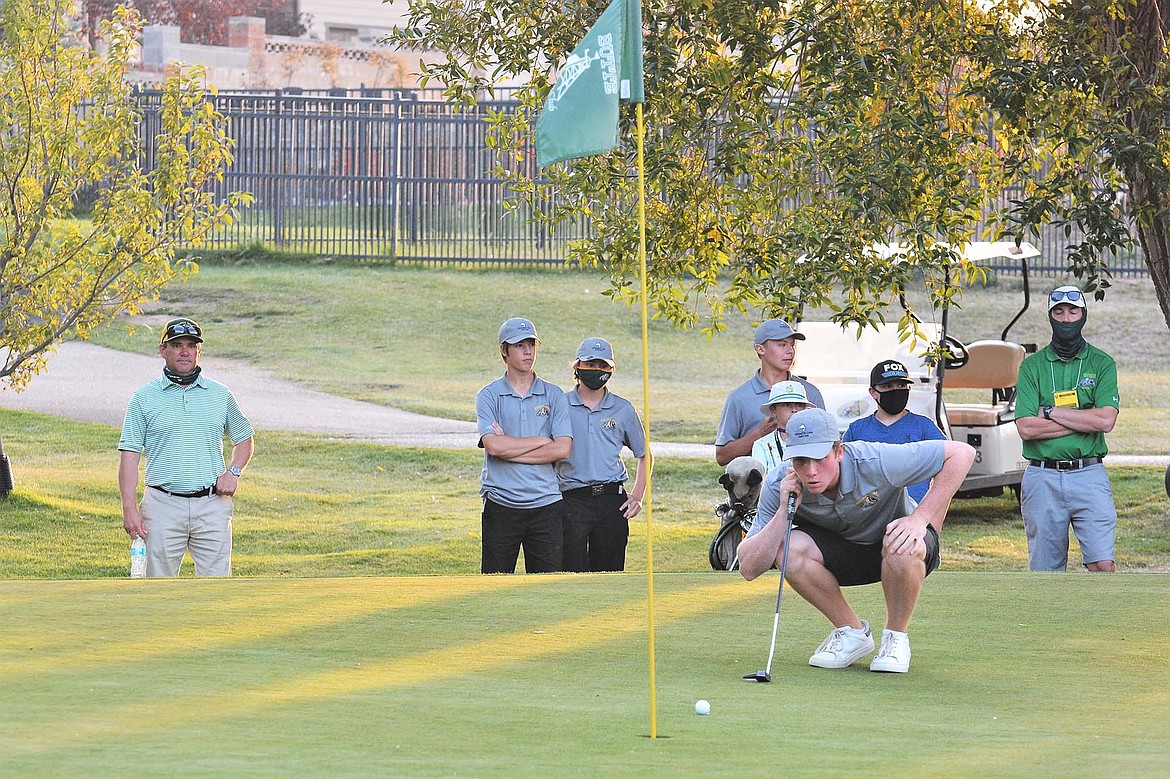 Bulldog Cameron Kahle lines up his putt to win the tournament and state championship in a sudden-death playoff in Butte. (Jeff Doorn photo)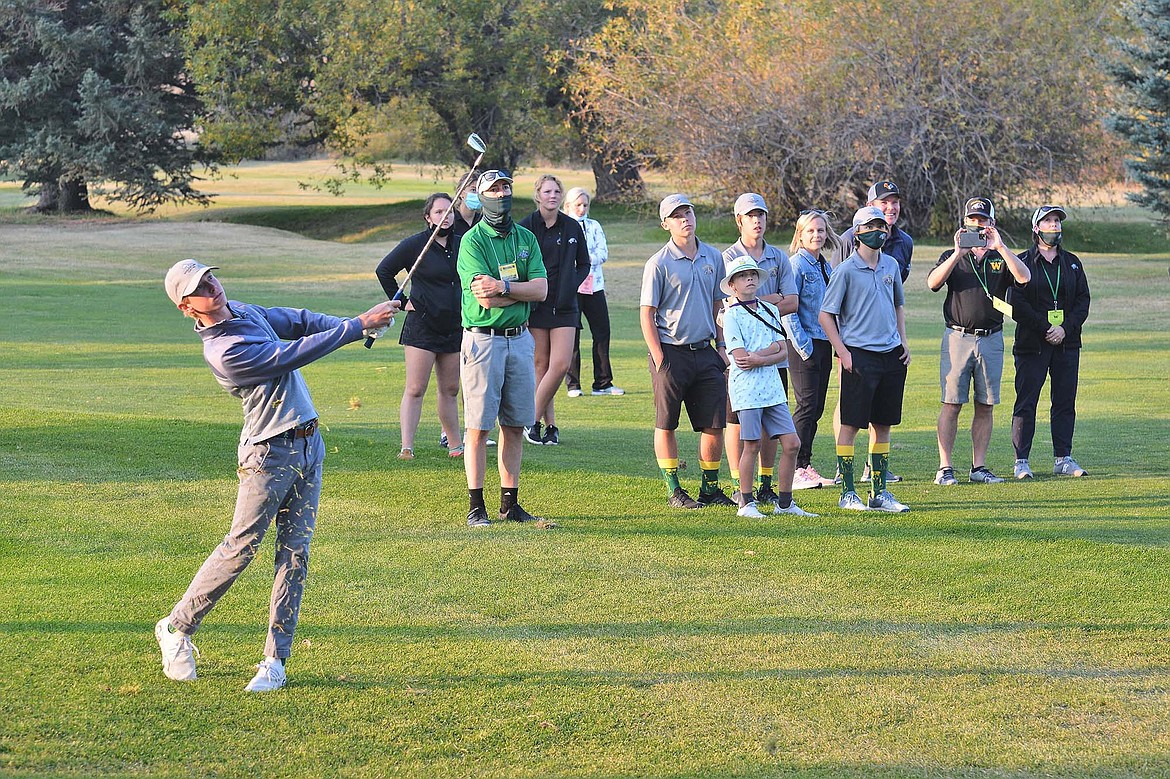 Billy Smith hits his approach shot in the sudden-death playoff Friday against fellow Bulldog Cameron Kahle in Butte at the Class A state golf tournament. (Jeff Doorn photo)
Previous
Next
by
WHITNEY ENGLAND
Reporter
|
October 6, 2020 2:30 PM
Friday afternoon as Bulldog Cameron Kahle lined up his putt during a playoff hole against teammate and friend Billy Smith, he could feel the moment building.
But calm and collected as ever, he lined up and tapped the ball in to seal his back-to-back state championship victory. According to his coach and father Bill Kahle, Cameron has an extra competitive gear he can revv up when the occasion calls for it. And this was the right time for that to kick in.
Along with Cameron Kahle's individual state championship honor, the Bulldog Golf boys team took the team title as well. Billy Smith, who came in second to Kahle, Markus Killman, Johnny Nix and Bjorn Olson all contributed to securing the team state championship title.
"We set some goals for the season as a team and it couldn't have gone much better," Bill Kahle said. "The boys winning state for the first time in many years and Cameron repeating as state champion I think for the first time on the boys side in Whitefish history."
After day one, Whitefish's Smith led with a score of 70 as Cameron Kahle and Carson Hackmann of Laurel were tied in second place two strokes out of first. The Whitefish boys team was already 19 strokes under Billings Central sitting in first place in team results.
The next day Cameron Kahle knew his teammate Smith would not make it easy on him to make up the ground and so he dug deep to focus.
"It was a grind the whole second day just to keep myself in it mentally," he said. "I knew that Billy wasn't going to give up shots super easily and I just knew that I had to keep giving myself chances to tie it up."
Cameron Kahle could have won on the 18th hole, but missed a shot for birdie. This sent Smith and himself to a playoff which he was able to secure on the first hole.
"Once I got to the playoff, I've been in those positions quite a few times and I feel comfortable under the gun," he recalled. "So to be able to get out there and compete it was nice."
Bill Kahle explained that when his son won state last year, Cameron was flying a bit under the radar. However this season, he's had a target on his back and he handled that pressure like the champion he is. Bill also complimented Cameron on his ability to use his competitive nature and stay in it until the end on Friday.
"Although he admittedly didn't play his best golf he told me, he just got to the point where he said I can't lose this tournament, I'm not going to lose it, I'm going to win this thing," Bill said. "And he did, he persevered."
"(Cameron) has an extra gear from a competitive standpoint that a lot of people don't have; that's something you can't coach, you can't teach, you either have that or you don't," he added.
All season Smith and Cameron have been competing and trade off taking medalist honors at nearly every invitation the two compete at. Bill Kahle said those two boys are very competitive, drive each other to be better and are also great friends. But if one of them has to lose, both boys would prefer it be to the other one.
"Obviously they both want to win, they're very competitive young men and they are excellent at their sport; they spend a lot of time perfecting their game and getting as good as they can," Bill Kahle said. "At the end of the day if they are going to lose, there's nobody else that they would rather come in second to."
The girls team battled injuries at the state tournament and did not finish quite as they had hoped, Bill Kahle explained. However he said the team met after day one and every girl had a goal to shave off strokes from the previous day's score — which they did. Kendall Reed shot an 88 which was a personal best score in competitive play.
According to her coach, she was frustrated with her play on day one and wanted to finish her high school career off in a much better fashion. She shaved off several strokes and moved up from 22nd place into 12th.
"I'm so proud of Kendall, I've known Kendall her whole life and have been impressed by her character since she was a very little girl," Bill Kahle said. "It showed at the state tournament… It was every girl's goal was to shave several strokes off their score and boy did Kendall ever.
"So for her to cap off her career at Whitefish High School that way was something that made me very happy and her father Doug was there as an assistant coach and I'm sure it was a thrill for him to see that too."
The future of Whitefish golf is bright. Both Kahles echoed statements acknowledging that the boys team is as strong as ever with four of their five golfers returning next season. With Smith as a natural born leader, Cameron Kahle leaves the team in good hands.
And as far as Smith not winning the state championship this year, Bill Kahle says the sophomore has plenty of chances to win one.
"Believe me Billy is going to have plenty more chances to win the state championship, he's number one a tremendous young man, but also a golfer whose game is going to continue to improve," Bill Kahle said. "He has the mentality and the athletic ability, he can be as good as he wants to be."
Cameron Kahle will look back and remember this time fondly as he continues to follow and support Bulldog Golf for years to come.
"It feels great to be a part of one of the best teams to come through Whitefish High School; it feels good just to be able to say that I was there when we won the state championship, it brings a lot of pride to myself and Whitefish High School," he concluded.
Class A
Butte Country Club
Final round
Boys
Team scores: Whitefish 306-306—611, Billings Central 324-321—645, Laurel 328-332—660, Livingston 343-345—688, Hamilton 352-339—691, Polson 345-348—693, Frenchtown 351-360—711, Havre 252-360—712, Lewistown 350-373—723
Individuals:
T1. Cameron Kahle, Whitefish, 72-74—146, and Billy Smith, Whitefish, 70-76—146; T8. Marcus Kilman, Whitefish, 78-81—159; T10. Johnny Nix, Whitefish, 85-75—160; T25 Bjorn Olson, Whitefish, 90-84—174.
Girls
Team scores: Laurel 338-342—680, Sidney 395-381—776, Livingston 404-404—808, Whitefish 417-392—809, Polson 424-387—811, Corvallis 421-405—826, Ronan 426-424—850, Hamilton 439-429—868, Havre 493-489—982, Lewistown 519-490—1,009
Individuals: T12. Kendall Reed, Whitefish, 104-88—192; 15. Anyah Cripe, Whitefish, 102-94—196; 21. Makenna Woody, Whitefish, 102-99—201; 39. Maddie Sramek, Whitefish, 112-112—224.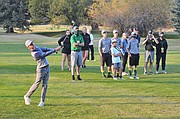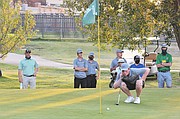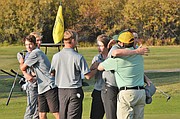 ---