Whitefish football players honored with all-state, all-conference selections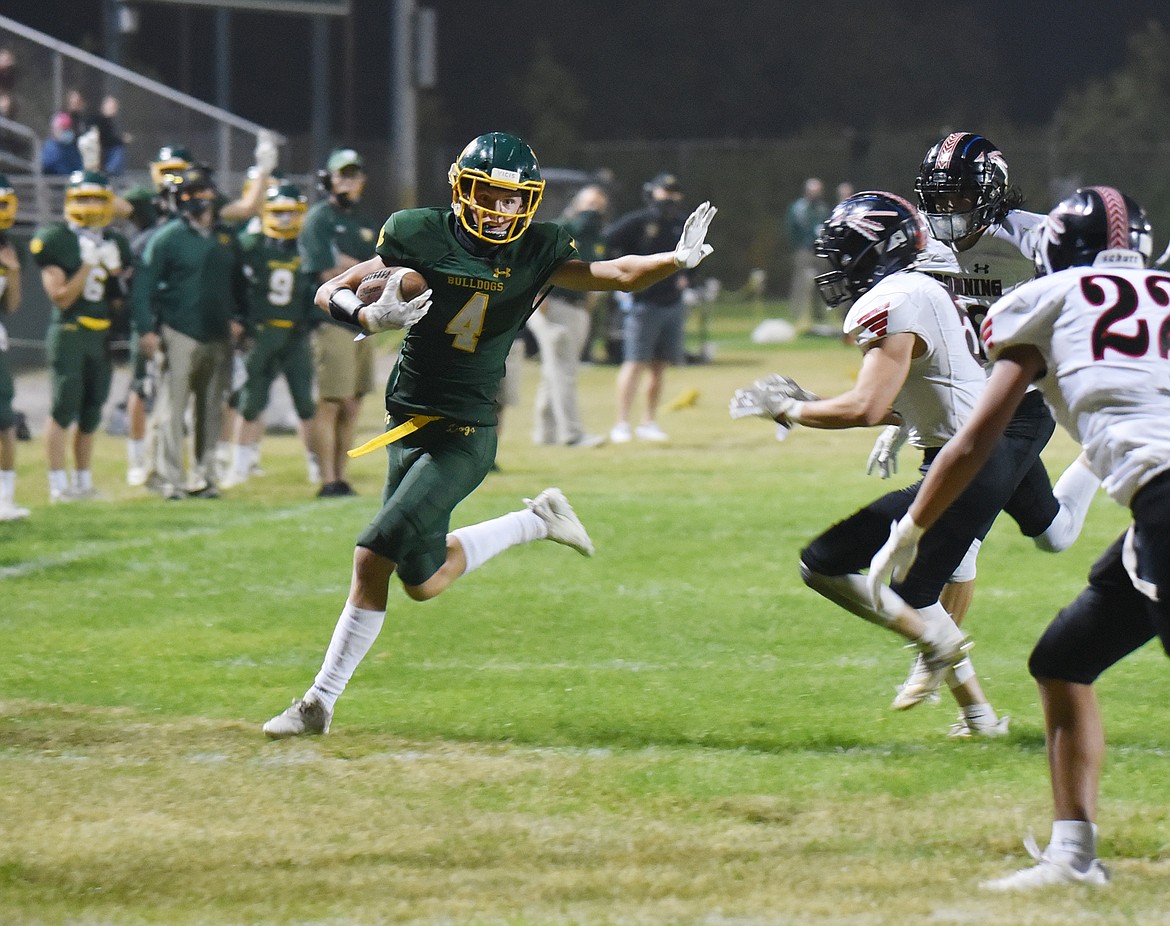 Bulldog junior Jaxsen Schlauch makes a run past the Browning defense Thursday night at the Dawg Pound. (Heidi Desch/Whitefish Pilot)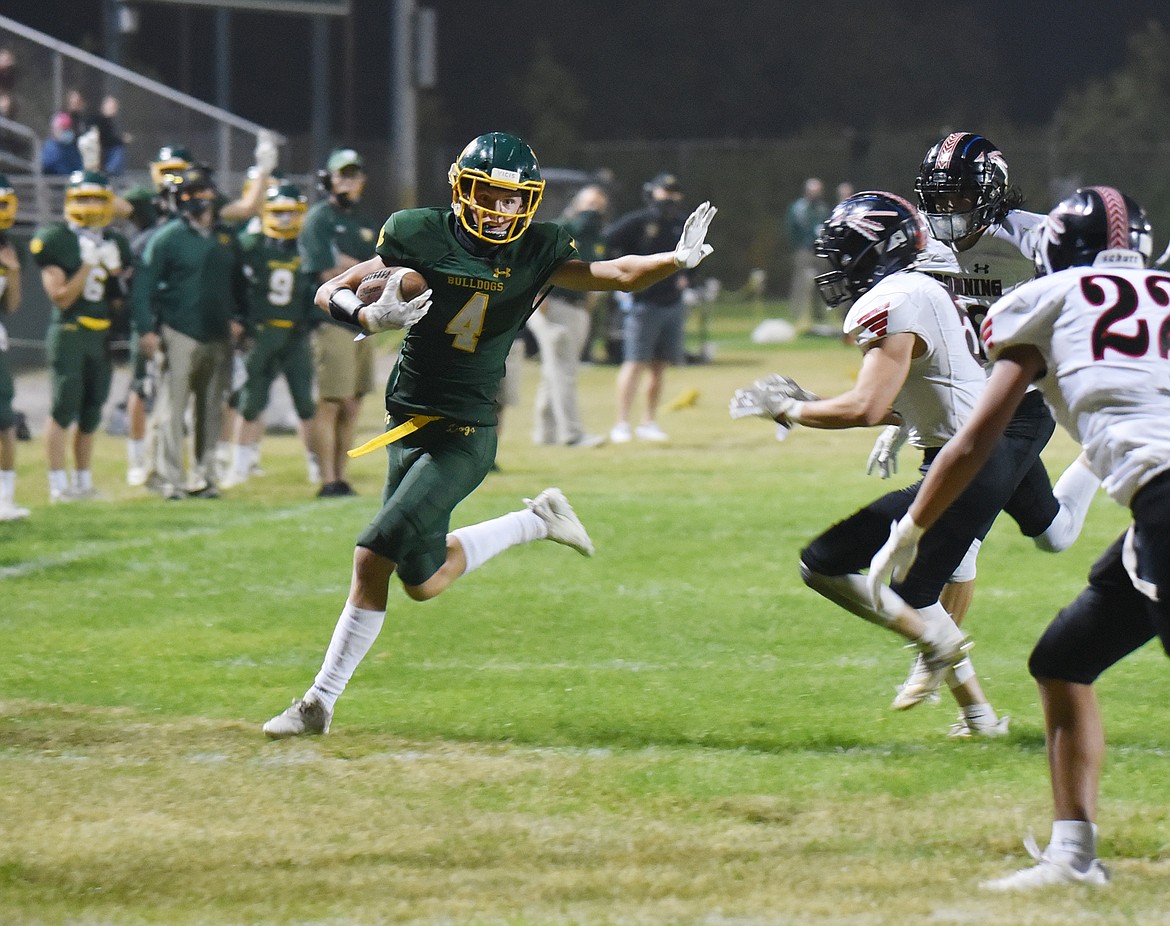 Bulldog junior Jaxsen Schlauch makes a run past the Browning defense Thursday night at the Dawg Pound. (Heidi Desch/Whitefish Pilot)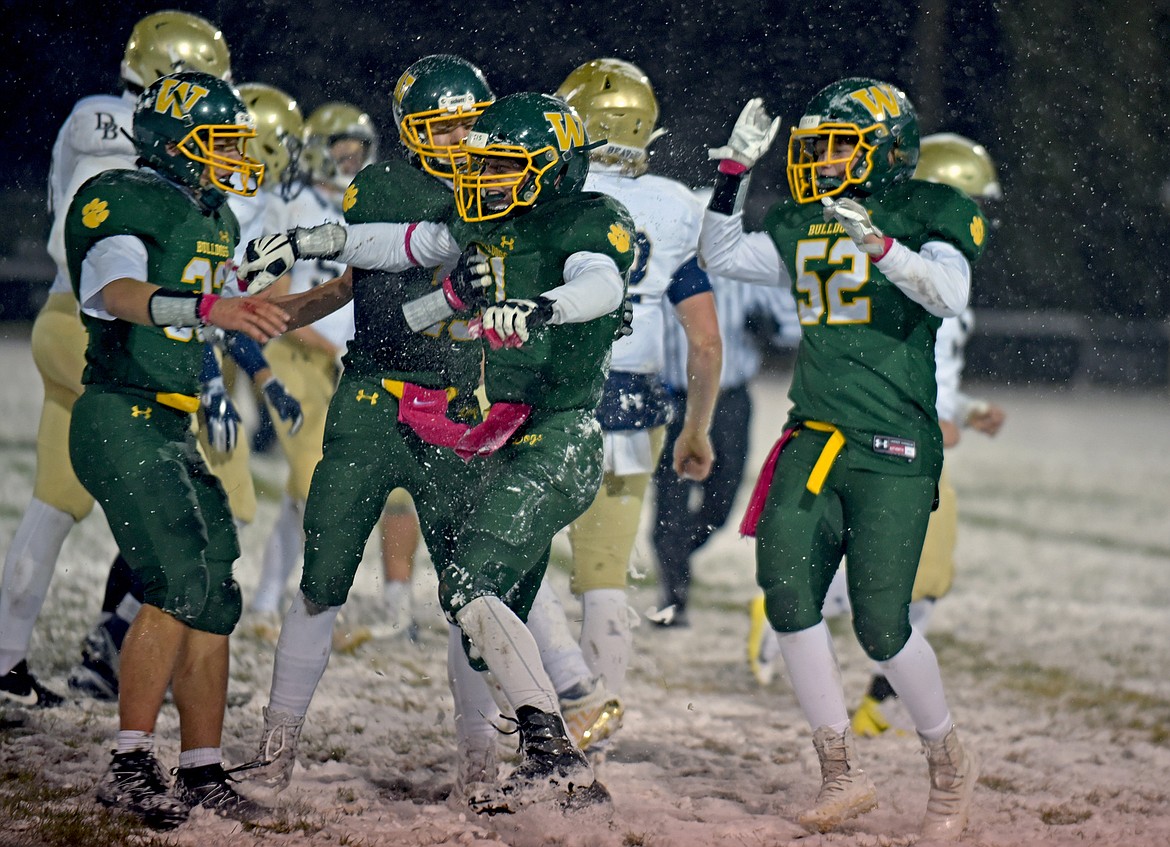 Whitefish lineman Camren Ross celebrates an unassisted sack with his teammates in a game against Dillon Friday night at the Dog Pound. (Whitney England/Whitefish Pilot)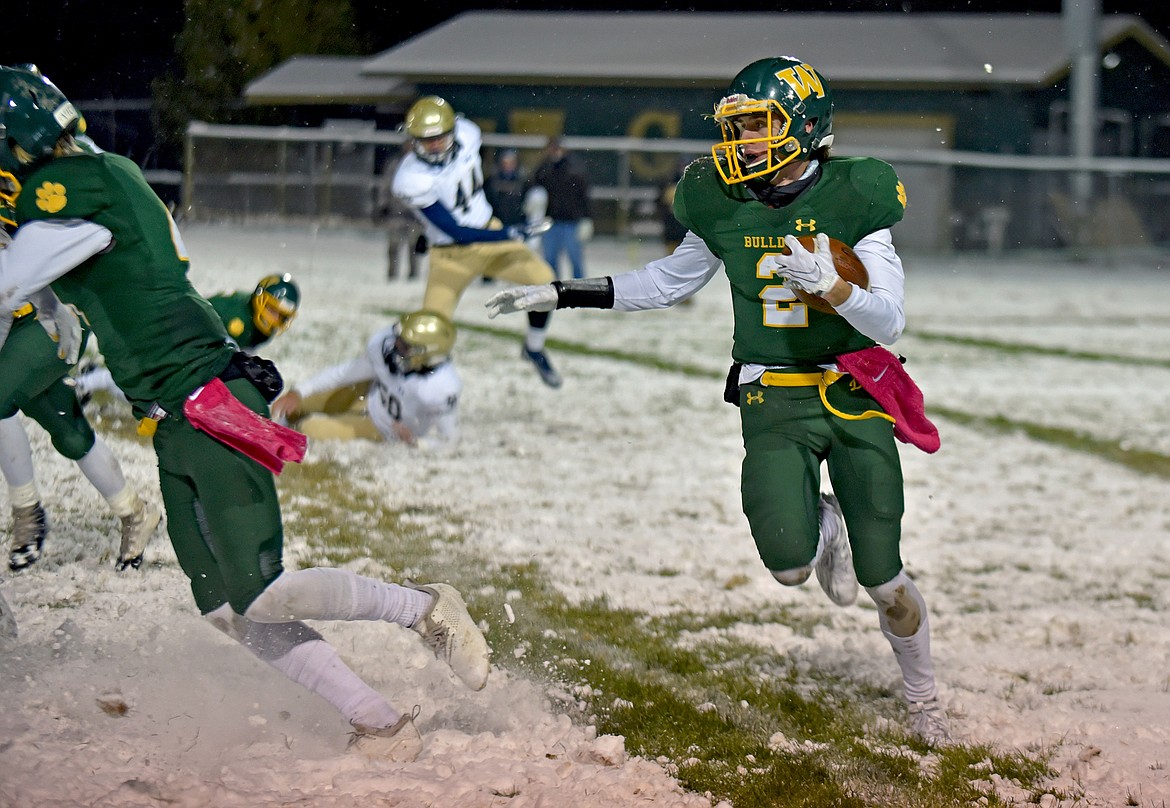 Bulldog Bodie Smith looks for room to run in a game against Dillon Friday night at the Dog Pound. Smith had 138 receiving yards in the game. (Whitney England/Whitefish Pilot)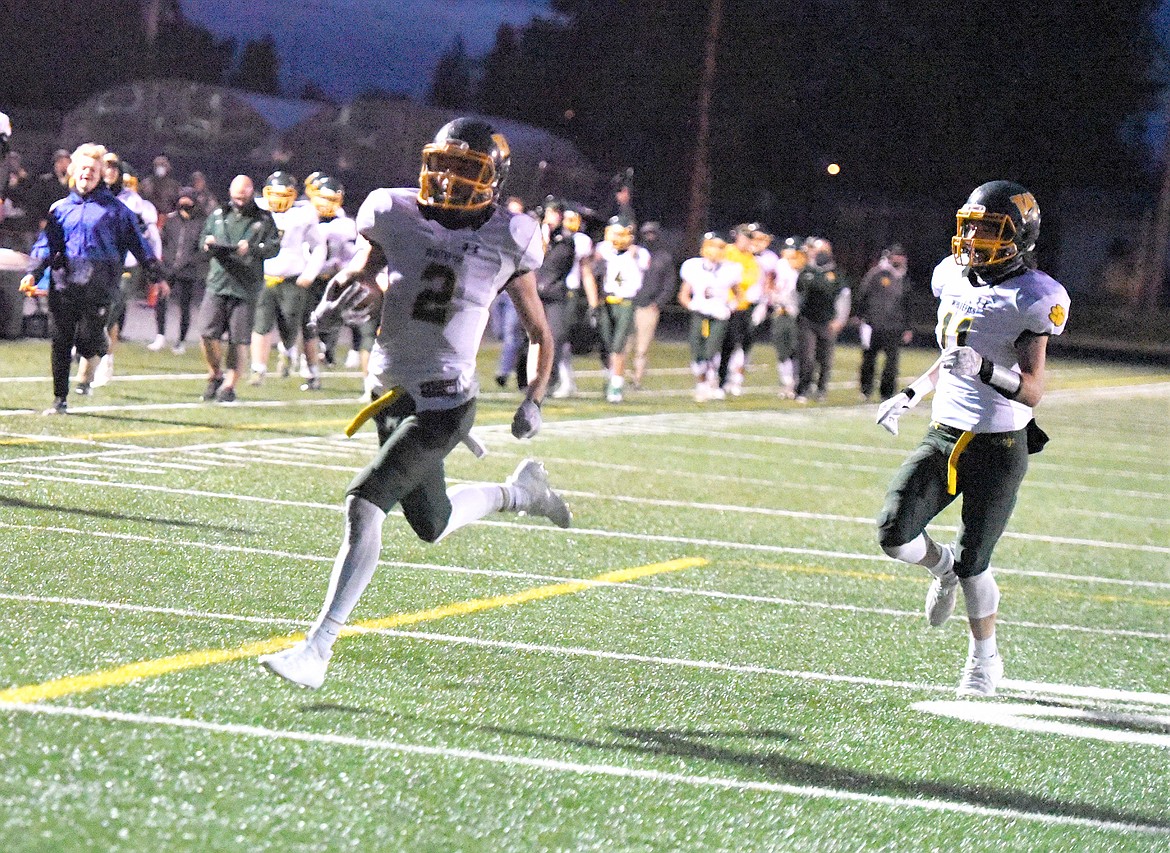 Bulldog Bodie Smith (2) heads for the end zone after taking a slant pass the length of the field late in the first half as teammate Jack Akey (11) follows Friday night in Ronan. (Scot Heisel/Lake County Leader)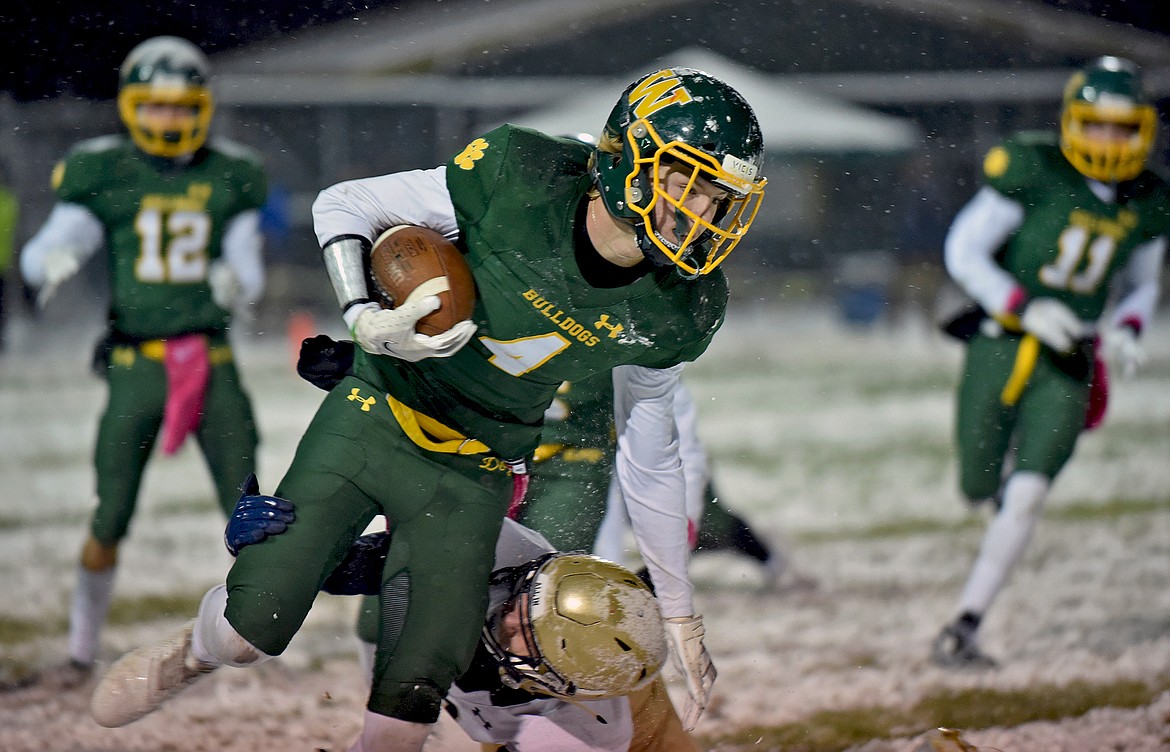 Bulldog Jaxsen Schlauch picks up additional yardage after making a catch in a game against Dillon Friday night at the Dog Pound. (Whitney England/Whitefish Pilot)
Previous
Next
by
WHITNEY ENGLAND
Reporter
|
November 25, 2020 1:00 AM
A handful of Whitefish football players were selected in the Western A Conference's postseason honors last week.
Two junior receivers, Jaxsen Schlauch and Bodie Smith, along with senior defensive end Camren Ross earned all-State selections. Schlauch and Smith were also selected as first team all-conference in the receiver-tight end category Schlauch earned first team all-conference at cornerback as well, while Smith also earned first team all conference at safety.
Schlauch often led Whitefish in receiving yards throughout the season and was known for the ability to spin out of tackles to complete high-yardage plays. For the season he had a total of 42 catches for 618 yards and seven touchdowns; in the Bulldogs final game of the season he racked up a whopping 149 yards. He also wrangled in five picks which made him the player with the most interceptions on the team for Whitefish.
Smith was another big time receiver for the Bulldogs, racking up 622 yards in 33 catches while scoring six touchdowns. He also had 36 tackles and three interceptions. Smith made some jaw-dropping catches, as did his teammate Schlauch, and was clutch in many Bulldog victories this season.
Ross was a mainstay on both the offensive and defensive lines for the Bulldogs this season. At six-feet and 185 pounds, he had numerous sacks and solo tackles while doing his job on the line. As a senior, he also brought tremendous leadership to his team. Ross also was recognized with all-conference first team selections in the tackles and defensive line categories.
In addition, four Bulldogs earned second team all-conference honors — junior guard Tanner Harmon, sophomore quarterback Fynn Ridgeway, senior linebacker Josh Nelson and sophomore linebacker Ty Schwaiger.
Whitefish senior Max Shestak earned an honorable mention selection in the defensive line category and senior Trey Hunt earned an honorable mention as a receiver and tight end.
Next season both all-state receivers, Smith and Schlauch, will return as well as all-conference quarterback, Ridgeway, to head up a dynamic offense.
This year the Bulldogs finished their eight-game season with a 4-4 overall record. Whitefish narrowly missed the Class A playoffs after losing a close game to Dillon 42-33 on a snowy late October night.
---