School board sticks with four days per week in-person learning following special meeting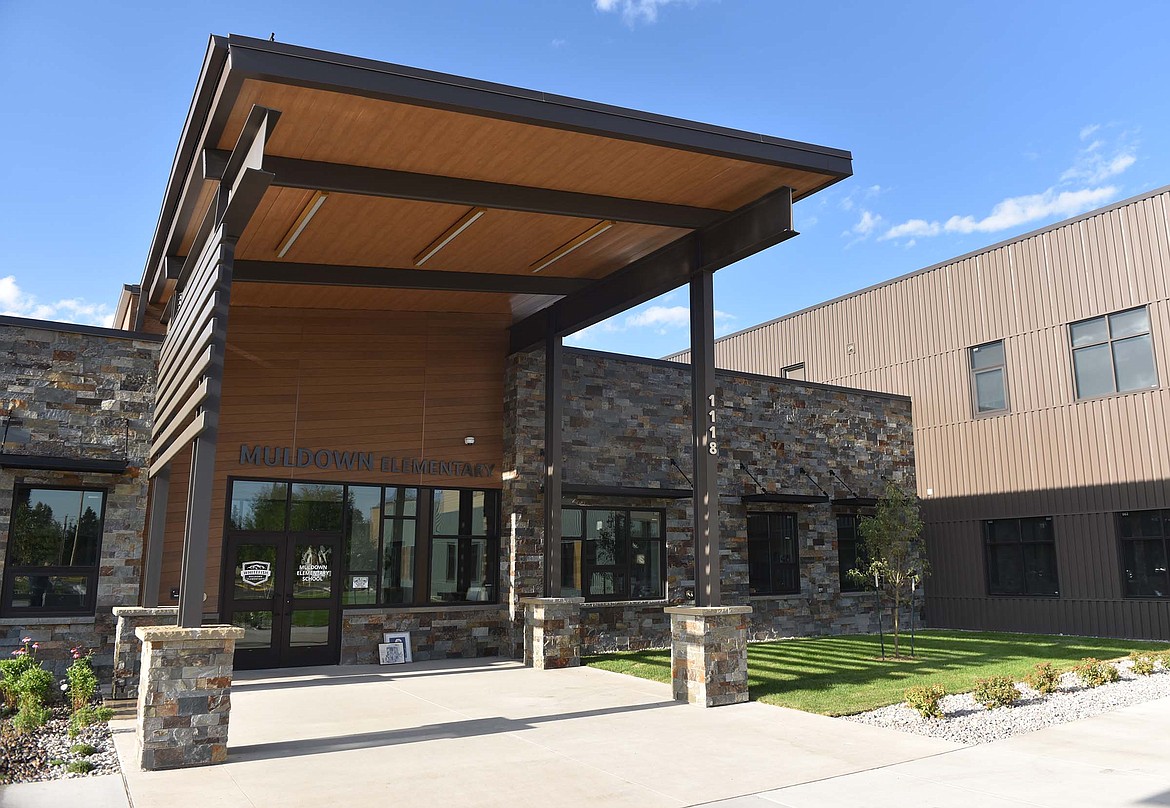 The main entrance to the new Muldown Elementary School building. (Heidi Desch/Whitefish PIlot)
by
WHITNEY ENGLAND
Reporter
|
November 25, 2020 1:00 AM
After a special meeting that lasted more than three and half hours on Thursday, the Whitefish School Board kept with its previous decision to move to four days per week of in-person learning across all grades by the end of the month.
The school board held the meeting to revisit its Nov. 10 decision that increased in-person learning on a graduated schedule over a three-week time period for all schools. Students still have the option of doing remote learning.
More than 200 people tuned into the virtual meeting and at least 30 people made public comment. However, after more than an hour of deliberation amongst the trustees and school administrators, the board decided against changing the plan approved the week prior that has students going to school four days per week under what the district calls hybrid plus.
Public comment was varied, with many in support of increasing to four days per week in-person learning from two days in-person and several expressing that it didn't seem like the right time to make this move with coronavirus cases on the rise in Flathead County.
As of Nov. 15, the Whitefish School District had recorded a total of 51 students testing positive for the virus and 15 staff members. The school district has 1,850 students enrolled and 254 staff members.
The county received 1,011 new COVID-19 cases from Nov. 15 to Nov. 21 and there have been 30 confirmed COVID-19 related deaths, according to the Flathead City-County Health Department.
One area where the board, administrators and those who commented at the meeting all seemed to agree on is the concern over holiday travel and how it could potentially affect the spread of COVID-19 in schools.
"(Our kids) are only going to school two days a week, but everybody else is living life large," Trustee Darcy Schellinger said. "I was really frustrated when we got some of the letters from people that I know are traveling and they're saying, let's stay in hybrid, it seems safe. Well you don't have to travel for Thanksgiving, stay home. It's a lot of hypocrisy and selfishness that I've seen and that's disheartening, but I don't think it's right to make other people pay for that."
Due to the concern over travel, the school district was planning to send out an advisory urging folks to not travel this season and if they do requesting that they quarantine before sending their children back to school.
The increased in-person learning model is referred to by the district as a hybrid plus model and includes four days of onsite education with up to 100% student capacity. One day a week, dubbed "Opportunity Wednesdays," remains as an extra day for one-on-one or small group support for students who need extra help or desire enrichment activities.
Muldown Elementary School began this model on Nov. 16, and Whitefish Middle School's fifth and sixth grade students moved to the new model Monday. The middle school's seventh and eighth grades and all of the high school grades are set to change over to the new schedule following Thanksgiving break on Monday, Nov. 30.
As the meeting began School Board Chair Katie Clarke explained the board's reasoning to hold the special meeting saying that in the week between the decisions made at the monthly business meeting and the special meeting, the school board received a vast response from the community.
"After we made that decision, we received a whole lot of feedback; the response was overwhelming, but there wasn't really an overwhelming or clear consensus within the responses," she said. "In an effort to be responsive and demonstrate care and concern for everyone's input, we called this meeting."
The board discussed its previous decision to introduce a four-day, in-person school week, and for the most part the trustees stood by their original thoughts on the matter — that the spread of the virus is mostly happening outside of schools and that student's academic and social emotional well being is suffering exponentially.
There was also much talk between the board about the weight of this decision and how it feels as if the safety of students, school staff and the community is completely on their shoulders with the county failing to help mitigate the spread of COVID-19.
"It's not our fault," Clarke said. "Whose fault it is, is the community because it's on the community to bring down the spread."
Superintendent Dave Means gave a report from the school's Covid Task Force and explained due to many of the COVID-19 indicators being in the red, the district stands by its original recommendation that was more gradual that the plan approved by the school board. The task force's recommendation was to move kindergarten through second grade to the four days per week learning model and then consider moving other grades to the model after assessing data.
"We have deep concern for our students, how they're doing emotionally, academically and how they're doing in terms of their health," Means said. "We are all in this together and we recognize how challenging this decision is. The task force has come together again this week and we're not changing our recommendation."
Several options for a timeline to move forward with the new learning model were discussed, but the board couldn't agree with several board members expressing that there probably will never be a great time to transition back to increased onsite learning.
"We don't do the unknown very well, right," Board Vice Chair Nick Polumbus said in the meeting. "This unknown, it is draining, it's hard and you're looking at anything to grasp on to. This whole COVID-19, there's a mess around every corner."
"What I want to grasp onto is educating kids and I just think that we've got to get to a point where we're letting our teachers practice their craft with the full effect," he added.
---