CoWorking opens fresh office space in Whitefish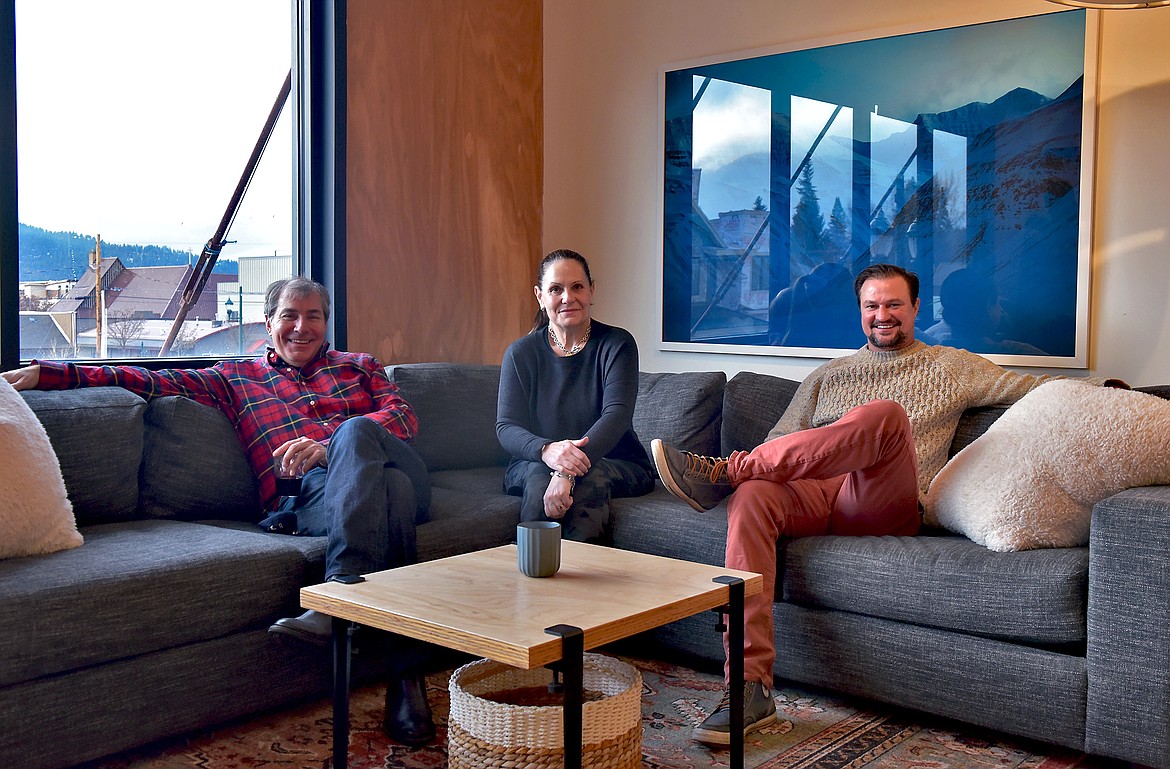 Co-owners of a new Whitefish business called CoWorking on Central enjoy their new space Thursday afternoon. From left to right, David and Rhonda Freel, and Nathan Purdy. (Whitney England/Whitefish Pilot)
The owners of the new business CoWorking on Central celebrate their opening with the Whitefish Chamber of Commerce and some friends at a ribbon cutting ceremony Thursday afternoon. (Whitney England/Whitefish Pilot)
Previous
Next
by
WHITNEY ENGLAND
Whitefish Pilot
|
November 25, 2020 1:00 AM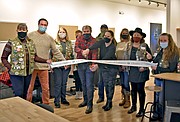 Yoga, coffee and a work space all in one building on Central Avenue in Whitefish — what a dream.
In fact that was an actual dream for Nathan and Holly Purdy who are co-owners, alongside David and Rhonda Freel, of the new Whitefish business called CoWorking on Central. For the Purdys, who already own Love Yoga which is located above the office space, travels in Thailand where they often worked in coffee shops and coworking spaces spurred the desire to start up a shared workspace near their yoga studio.
"We always kind of dreamed about having a coffee shop, yoga studio, coworking space in Whitefish," Nathan said. "And it's pretty amazing, but it has come together in the last five years."
Add in Wild Coffee Company downstairs, which has different owners, but Nathan says they have a great working relationship with the business, and it's a trifecta.
The Purdys partnered with the Freels who have owned a business for the last two years renting out executive office suites on the same floor of the same building, and the new space was a perfect opportunity for collaboration.
The open office space was previously a photography studio and when it came on the market Nathan approached the Freels. David Freel said he was open to the idea of adding the coworking space to his already thriving executive office rental business because of the success he was experiencing.
"It's just an expansion of what our capabilities are that we can offer to people who need office space," David said. "We were highly successful for the first year and a half so we know the market exists here for office space and office requirements in downtown Whitefish."
The coworking office is an open and airy space with common area tables and couches as well as designated desks featuring adjustable heights and lockable filing cabinets. A massive window expands across the far wall offering desirable views of downtown Whitefish and the mountains. And a bonus, the space includes a full service kitchen as well.
According to the co-owners, the space has a coffee-shop feel while maintaining a professional atmosphere. The business boasts lightning fast internet speeds, a reservable conference room with professional Zoom equipment, a sound-proof studio for recording podcasts or webinars, large presentation whiteboards and complimentary coffee.
The coworking space may be reserved for as little as one hour up to 12 or more months. David said he expects most of the desk space in CoWorking to be reserved for three to six months, although is open to whatever potential clients might need. His executive office suites are for six or 12 month leases. The space will also be available after 6 p.m. for event rentals.
Both Nathan and David explained that they saw an increased need for shared office space because of the COVID-19 pandemic. They said many people are working from home, or their second homes, but are desiring a more professional atmosphere with less distractions.
"We've gotten to the point in COVID that people have had to adjust to almost a new way of living and working," David said. "While it was OK in the first 90 days, the first six months of COVID to have your kids in the background, the dog barking at the Amazon delivery guy… a lot of our clients have had to reinvent their brand."
Both the Purdys and the Freels are thrilled to offer this inviting workspace and own another business in Whitefish. Both families call themselves independent business owners, and CoWorking is an opportunity to expand their business footprints locally.
Nathan Purdy is originally from Eureka and his wife Holly was raised in Shelby. He says they have been in and out of the Whitefish area for 20 years and live here full time. The Purdys opened Love Yoga over a year ago and Nathan also runs a couple of small businesses dealing with healthcare.
David Freel and his wife Rhonda are from Fort Worth, Texas and split time between Whitefish and Texas. The Freels enjoy Whitefish and are grateful for the opportunity they had to buy the Ashley Creek Executive Office Solutions business two years ago. David says he is also an independent business owner, owning small companies in Texas with ties to solar electricity, and oil and gas. He also retired from the U.S. Army in 2015 after serving for 30 years.
For more information on CoWorking on Central visit ashleycreekeos.com.
---