Bullock tightens restrictions to slow COVID-19 spread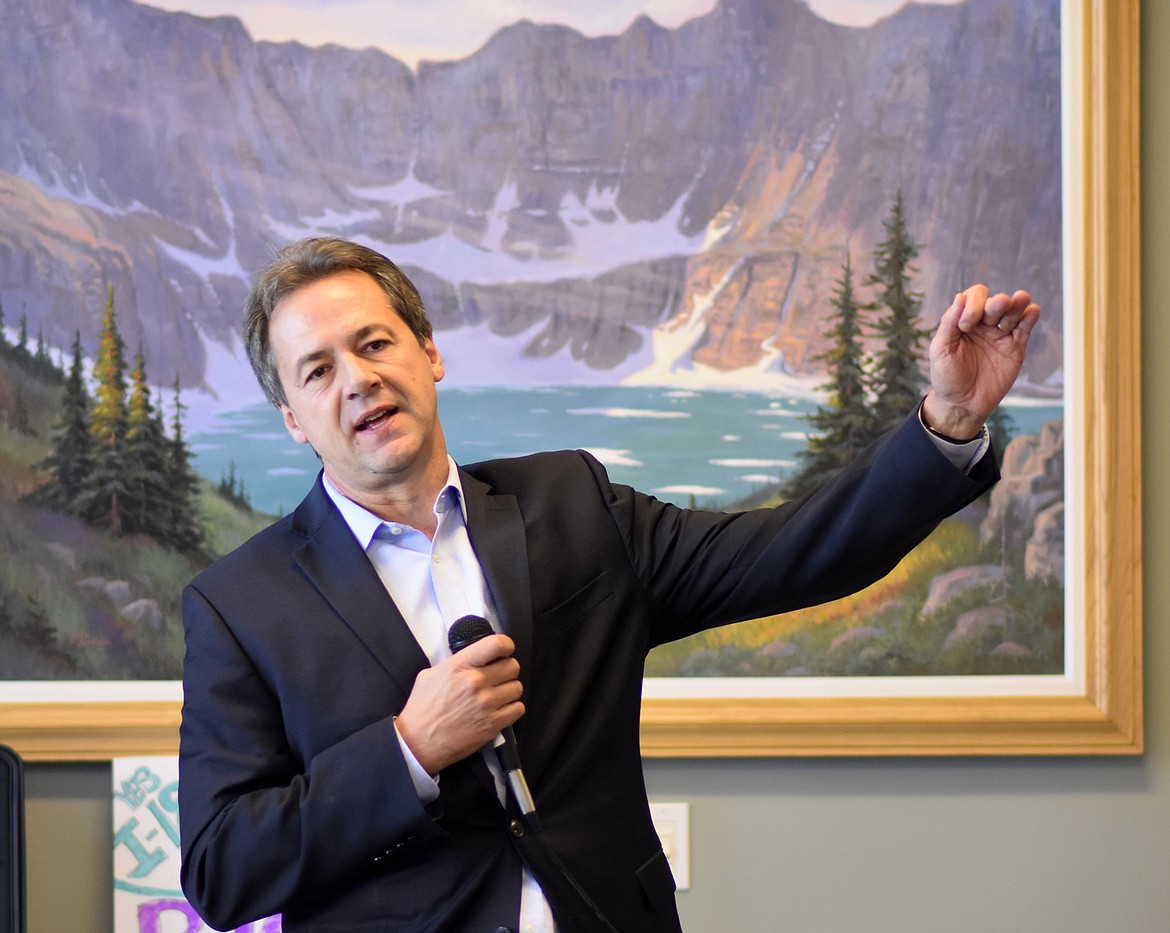 Montana Gov. Steve Bullock speaks at North Valley Hospital at an event in 2018. (Heidi Desch/Whitefish Pilot file)
by
HEIDI DESCH
Editor
|
November 18, 2020 9:00 AM
A new state measure that goes into effect on Friday will limit capacity in bars and restaurants, and limit public gatherings to 25 people where social distancing is not possible.
Gov. Steve Bullock on Tuesday announced the directive aimed at slowing the spread of COVID-19. Face coverings will also now be required in all counties regardless of the number of positive cases.
Bars, restaurants, breweries, distilleries and casinos will only be allowed to operate at 50% capacity and are required to close at 10 p.m. Seating at tables will be limited to six people.
"We must find a way to make it through these coming winter months. We need all Montanans to recognize that there is widespread community transmission, and your risk of becoming infected with the virus increases the more you engage in gatherings of any kind," Bullock said. "We all have to collectively recognize that this virus won't stop spreading through our communities on its own. If we come together and follow the restrictions, we can curb some of the spread we are seeing."
The directive limiting gatherings does not apply to schools, and places of worship can have gatherings up to 50 people where social distancing can be maintained.
Previous directives required masks only be worn in counties with four or more confirmed cases of COVID-19. Bars and restaurants were also previously allowed to operate at 75% capacity.
On Wednesday, Montana had recorded more than 50,500 positive cases of the virus. Flathead County had a total of 1,800 active cases, and more than 5,000 total cases.
Bullock also announced he would direct Coronavirus Relief Funds to aid businesses impacted by the restrictions and provide $200 a week in additional unemployment benefits to Montanans for four weeks.
Another round of Business Stabilization Grants is also being provided to existing businesses that have already been approved and received prior finding. A total of $75 million is being made available to businesses. Businesses must agree to comply with all state and local COVID-19 orders to be eligible for the funding.
In addition, $25 million is being provided to the Montana Department of Labor and Industry to provide those who are unemployed or partially unemployed due to COVID-19 with a supplemental payment of $200 a week for four weeks beginning on the week ending Nov. 28 and ending Dec. 19.
Individuals will receive the benefit if they keep filing their regular payment requests in montanaworks.gov or mtpua.mt.gov.
---