Behind the scenes at North Valley Hospital's laboratory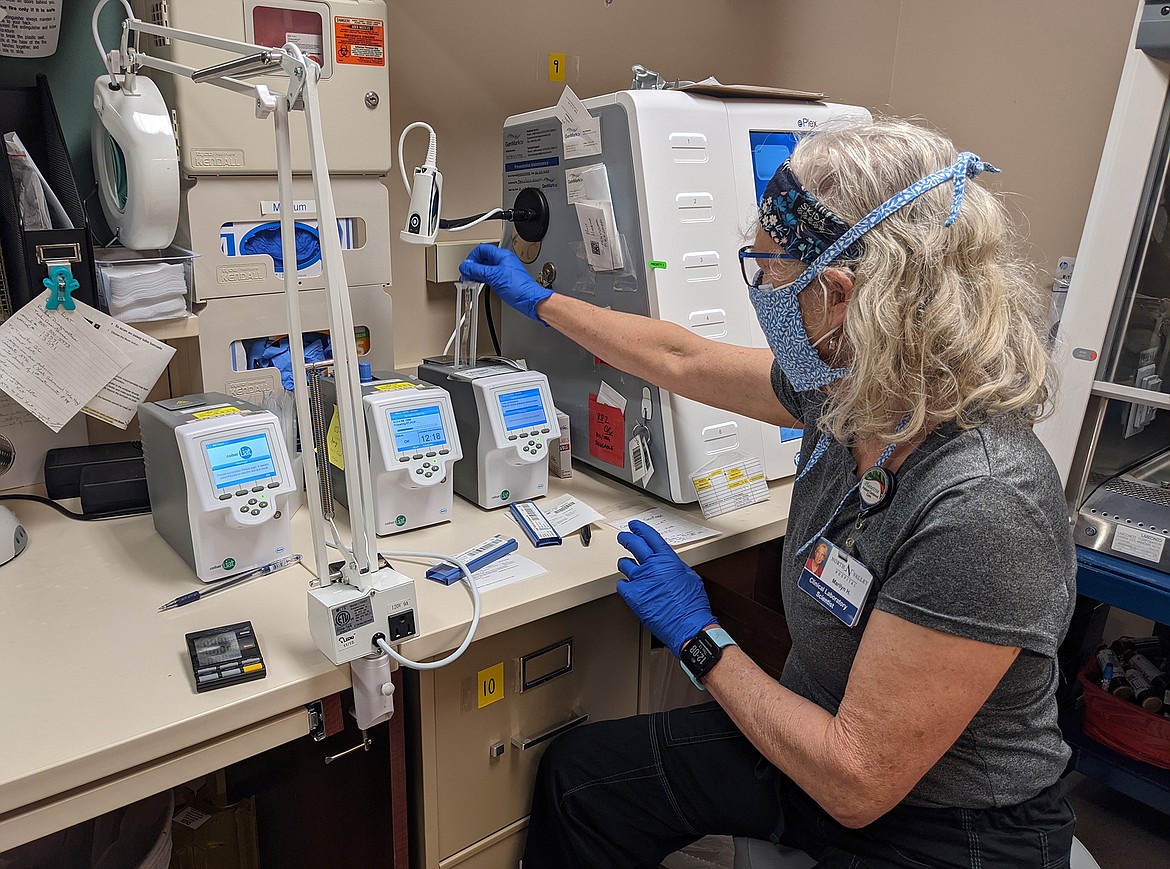 North Valley Hospital Clinical Laboratory Scientist Molly Higgins removes a cartridge from one of the Liat analyzers.
|
November 18, 2020 1:00 AM
North Valley Hospital Microbiologist Christina Beach Hostetler starts her day at 6:30 a.m. She studies specimens, endeavoring to learn as much as she can about each new patient before the morning meeting. Every morning, each inpatient's care team consisting of the hospitalist, pharmacist, assigned nurse, house coordinator, discharge planner, and several others, meet to discuss each patient's treatment plan.
Christina joined the North Valley Hospital team last month after working several years in an urban hospital setting in Portland, Oregon. A graduate of Whitefish High School, she returned to town with her family to be closer to the grandparents. When asked what she likes so far about being in a smaller hospital she says the communication.
"The increased communication and ability to meet face-to-face that just didn't happen in Portland it was too big," Christina said. "The ability to have direct communication with care providers helps to see the bigger clinical picture."
The idea of having one of the laboratory's microbiologists attend the morning meeting came from Molly Higgins, a Clinical Laboratory Scientist with 31 years of experience at North Valley Hospital.
"I had heard about these meetings and thought it would be constructive for a microbiologist to be there," Molly said. "It's a chance to brief the hospitalist with the most up-to-date details about the microbiology in progress."
For example, if a patient comes into the hospital with abdominal pain, the lab runs a urinalysis and places a droplet of urine onto an auger plate. If any bacteria grows it is a quick walk next door to the Emergency Department, or can be discussed at the morning meeting. Additionally, microbiologists can assist pharmacists to determine the right prescription for a patient by testing a bacteria's sensitivity or resistance to antibiotics.
"Being part of the conversation is better for the patient," Molly said. "Microbiology steers the therapy."
For the past 13 years the lab has been under the supervision of Terri Benedict. She manages 27 people, 15 Clinical Laboratory Scientists (microbiologists) and 12 phlebotomists, most of whom work at the main lab at North Valley Hospital. The hospital lab is staffed 24 hours a day, seven days a week serving patients in the Emergency Department and in-patient care. Outpatient services are also available 24 hours a day seven days a week.
"The phlebotomists are the heart of the team, they drive the bus," Terri said. "They are in the eye of the public drawing blood and processing samples for the clinical lab scientists who will perform the testing. Assuring that we receive quality samples for testing is key to providing accurate results to our customers."
The hospital performs an impressive amount of tests for a smaller hospital—about 10,000 a month. Before the coronavirus pandemic, they were starting to trend upward toward 12,000 tests per month—which is twice the amount as when Terri started at North Valley Hospital in 2007.
"We have a bigger test menu than most people realize," Terri said. A number of tests can be processed in Whitefish, and the majority of what they cannot do is sent to Kalispell Regional Medical Center.
"We work very well together, it's an excellent relationship," Terri said. "We try to send what we can to Kalispell to keep the work local. This is especially beneficial for a patient at North Valley Hospital that may be transferred to KRMC. KRMC has additional instrumentation, and can process samples quicker for us than sending tests out to an out-of-state reference lab. We also work closely with the Glacier Regional Pathology group located at KRMC for pathology and cytology testing."
For a small town, North Valley Hospital's Laboratory contains an impressive collection of top of the line analyzers. While the pandemic has increased everyone's workloads, it has also brought a roster of new instruments to the valley. At North Valley Hospital, it has brought the GenMark, a machine about the size of a small refrigerator for a college dorm room that can analyze up to 96 patient samples per day. It has been utilized for COVID-19 and respiratory panels. COVID-19 testing has been added to the current Liat analyzers and can process tests quickly for patients needing admission, and will be adding three more Liats to increase capability.
"We are constantly striving to improve our capacity and capabilities. COVID-19 is tricky and testing has been a moving target," Terri said. "Every day testing and protocols change, everyone has been very flexible. The lab team has really done a great job of managing stress and demand. We are very lucky to have such a dedicated and talented team especially during these challenging times."
It also helps that Terri worked at KRMC for 15 years before taking the leadership role at North Valley Hospital. During this pandemic, this partnership has been key. The lab staff at KRMC have been wonderful partners.
The addition of the new instruments, in what was already a well-equipped lab is impressive however, it is the people that take the quality to a higher level.
North Valley Hospital's laboratory is College of American Pathologist (CAP) certified. The CAP program is recognized by the federal government as being equal to, or more stringent than, the government's own inspection program. It means that North Valley Hospital is running a laboratory that is fully compliant with the upmost quality and assurance for patient safety. The North Valley Hospital laboratory was awarded accreditation by the Accreditation Committee of CAP in 1997 and is inspected every other year to maintain its certification.
Collaboration is key to maintaining the CAP certification, managing regulation is part of our daily process and important for quality performance. Just as the team collaborates daily with other departments, they work extremely well together.
It is estimated that 70 percent of today's medical decisions depend on a lab result. While clinical laboratory scientists are not at the bedside working with patients, they do save lives every day.
"Everyone pitches in and helps out," said Terri. "It's really a wonderful place to work."
Riley Polumbus is the Marketing and Community Relations Manager at North Valley Hospital.
---