Annual Christmas Stroll canceled due to COVID-19 concerns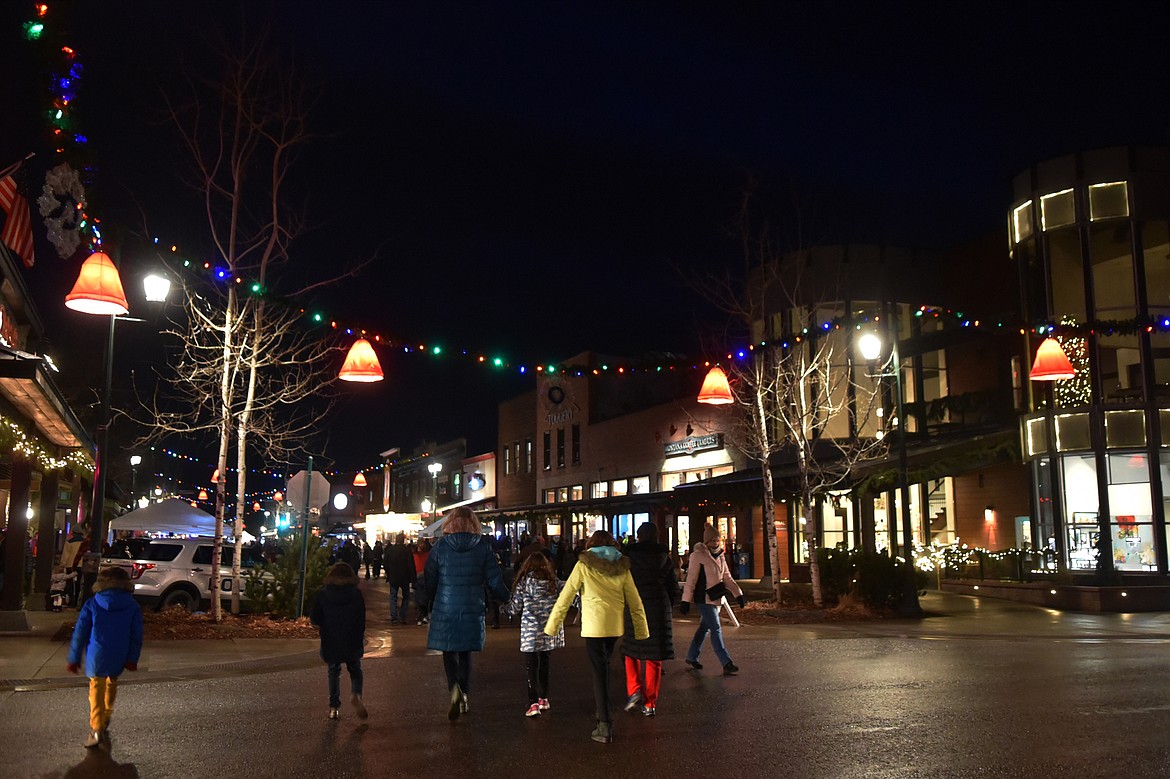 Folks walk Central Avenue during the annual Whitefish Chamber of Commerce's Christmas Stroll. (Heidi Desch/Whitefish Pilot file)
by
STAFF REPORT
Staff Report
|
November 12, 2020 10:05 AM
The annual Whitefish Christmas Stroll in downtown has been canceled this year due to concerns about public health related to COVID-19.
The Whitefish Chamber of Commerce on Thursday announced that the annual event wouldn't be taking place this year as cases of the virus "continue to surge in Whitefish." The event had been scheduled for Dec. 11.
"It's been a difficult year for many of our most popular community events and traditions," said Chamber Director Kevin Gartland, in a release. "And it's been painful to watch. But until we can get the upper hand on the virus, bringing the community together en masse — and possibly exposing hundreds to COVID-19 in a single night — simply isn't a risk we can take."
The annual event celebrates the beginning of the holiday season as downtown shops stay open late, vendors line Central Avenue and the community trees in Depot Park are lit for the season.
The chamber says after consulting with officials from the City of Whitefish, the Flathead City-County Health Department and with local business owners it became clear that bringing thousands of people to Whitefish for the evening couldn't be done safely this year.
Normally a raffle drawing is held during the stroll with tickets obtained by shopping at stores that evening. The chamber is working to keep the program going this year by holding a Christmas Tree Shopping Spree that is an expansion of the popular raffle drawing.
This year, the chamber will provide raffle tickets for purchases made in Whitefish from Thanksgiving Day through Dec. 11, qualifying for a chance to win one of a dozen Christmas trees decorated with gifts, prizes, gift cards and certificates. The trees will be raffled off the week of Dec. 7-11.
The chamber is looking for businesses to sponsor one of the shopping Christmas trees. Those who are interested, are asked to email Chamber Office Manager Debbie Webb at visit@whitefishchamber.org.
The annual window decorating contest is still planned to happen with businesses dressing up their storefronts for the holiday season. Judging will take place the week of Dec. 7, with the winners announced on Friday, Dec. 11. Those wanting to participate are asked to email visit@whitefishchamber.org.
For more information, contact the chamber at 862-3501.
---