Top Copy celebrates 30 years in business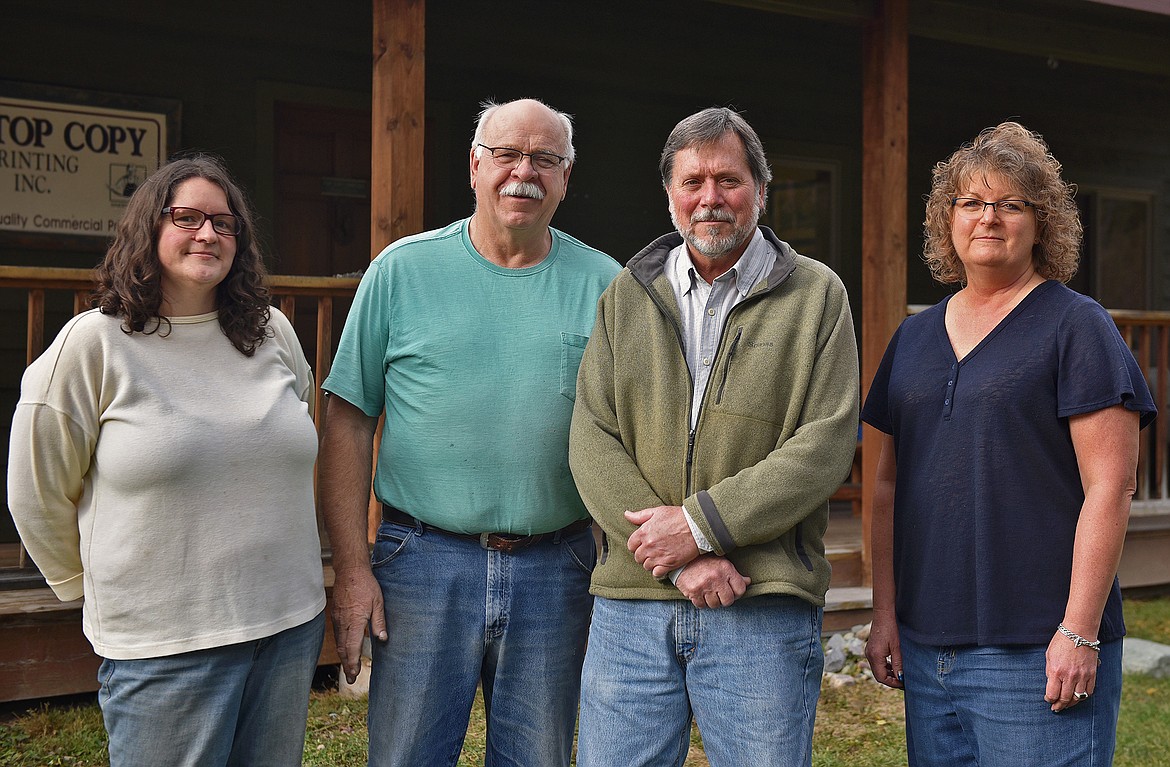 Top Copy staff members stand outside of the printing shop in Whitefish Thursday afternoon. From left to right, Cindy Gillund, graphic designer, Steve Schwartz, press operator, Lyle Hausauer, owner, and Karla Kane, front office. (Whitney England/Whitefish Pilot)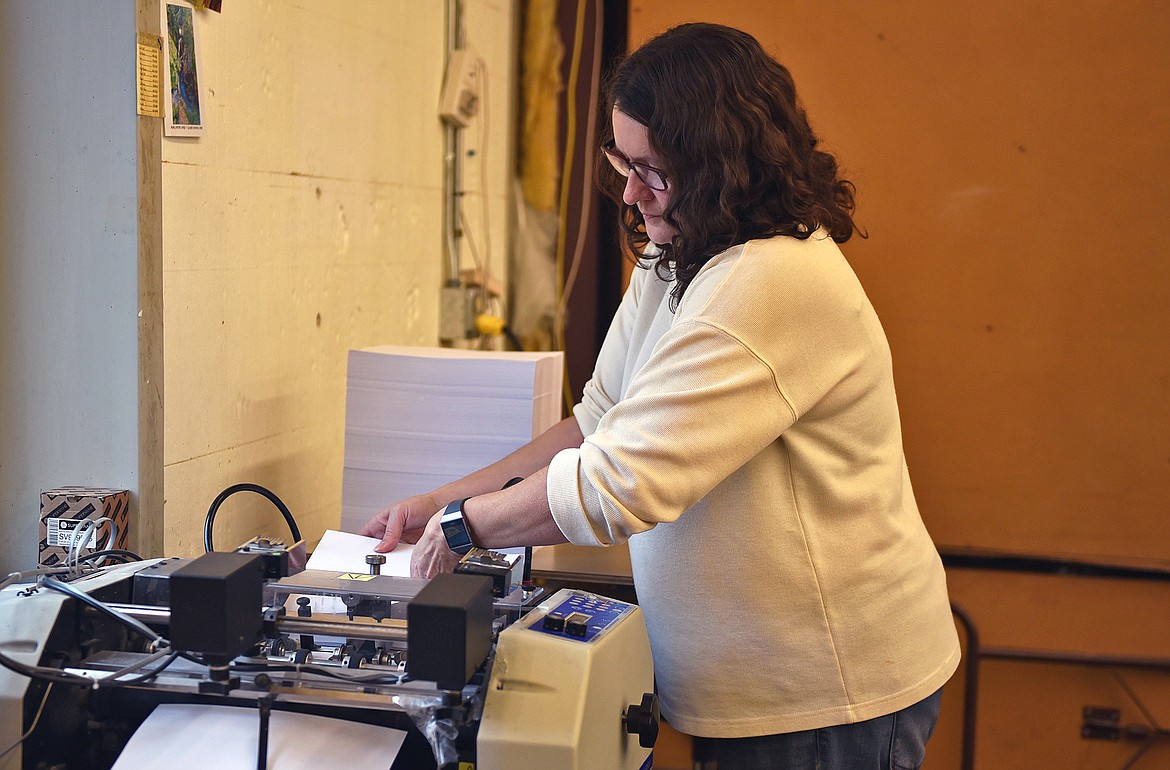 Top Copy's graphic designer Cindy Gillund feeds blank paper into the perforator machine at the print shop. (Whitney England/Whitefish Pilot)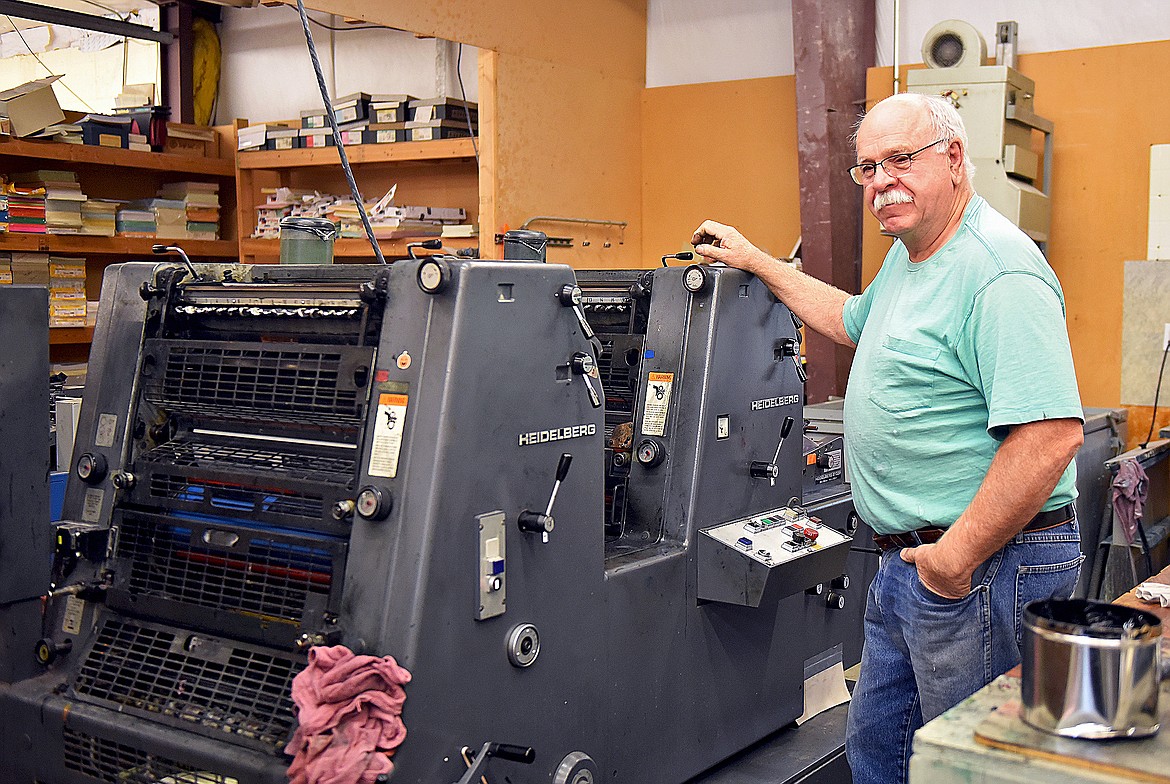 Top Copy's printing press operator Steve Schwartz tends to the machine as it prints out thousands of double-sided copies. Schwartz has been a press operator for 55 years, 20 of those years have been with Top Copy. (Whitney England/Whitefish Pilot)
Previous
Next
by
WHITNEY ENGLAND
Reporter
|
November 11, 2020 1:00 AM
When Top Copy opened, the business was operating out of a quonset hut behind one of the founder's houses in south Happy Valley. Employees were burning pallets inside the building just to stay warm.
Top Copy started out just a bit "rugged," says owner Lyle Hausauer, and much different than it looks in its location today on Whitefish Stage Road.
It was April of 1990 and Hausauer, along with his business partner at the time, had just left a larger printing company to go out on their own.
"Someone went to somebody else and said, they're printing out of the back of their pickup," he recalled the rumors that were circling at the time, chuckling at the memory.
Although that wasn't true, Hausauer explained their original setup and equipment was old school. They formed the business in the 1990s, but had printing presses dating back to the 1960s.
"I mean we struggled," Hausauer said. "We used some pretty old stuff."
Despite the print shop's humble beginnings, Hausauer kept at it. After four years he had bought out his original partner and within seven years he also paid off a private investor to become the sole owner of Top Copy. And this year he and his current staff celebrate 30 successful years in the print business.
"There's times where the 30 years seems like it went real fast, and there's times where it just felt like Groundhog Day because I've been doing it for so long," he said, referencing the 1993 movie where the main character repeats his day over and over.
The business can handle a vast amount of print jobs, from printing thousands of insurance policy documents for some of their largest clients to taking on jobs for local small businesses such as pamphlets, menus, fliers, envelopes and plenty more high end projects.
Top Copy has experienced staff members that Hausauer referred to as "a good part of the backbone" of the business. Hausauer's sister Karla Kane works in the front office and his press operator Steve Schwartz has been running printing presses for 55 years, around half of them he's spent at Top Copy. Cindy Gillund, now the inhouse graphic designer, started with the company 15 years ago originally working in the back running the folding and binding machines. Now her son, Noah, is the print binding and finishing worker.
The staff cranks out multiple types of print jobs without blinking an eye and Hausauer is convinced Schwartz could run the press in his sleep at this point. Top Copy has machines such as a paper folder machine, an industrial paper cutter, a paper perforator, binding machine and, of course, the large printing press. Hausauer said the industry is constantly changing by becoming more digitized, and thus Top Copy recently acquired a Xerox large format color printer and a Xanté digital print system.
Hausauer said his customers not only have kept him in business for so long, but for him, interacting with them is the most enjoyable part of owning a business.
"We've got great people we work with," he said. "People that amaze me are people like Jessy [Lee] at the food bank, Kate [Berry] at Nate Chute, the people at Shepherd's Hand. It's people like that, they're fun to work with because they're doing such neat things."
And during the pandemic, he added many more clients' business has been vital to Top Copy's ability in navigating these trying times.
For Hausauer personally, he says that he basically stumbled into the printing industry. He and his wife at the time were running a place that had cabin rentals, but he was looking for a job outside of that to earn extra income because they were expecting their first baby. By replying to an ad for a sales position with a local printer, without even realizing it he started on the path that would direct his career for the next 30-plus years.
Hausauer's experience in sales helped lift the business to early success. Hausaur recalled making a large print deal with a well known insurance company that involved a $15,000 upfront payment which served as a boost, a taking off point for his business.
Now with several years under his belt in the printing industry, Hausauer hopes Top Copy is around for many more years. As the business has been able to adjust to digital changes in the industry, he's certain there will always be a need for Top Copy.
He's starting to think of a partial retirement, possibly take a step back from his current role, but is unsure of whether he is ready for that just yet.
"This [career] I've been doing for 32 years, hard to believe," he said. "Someday I'll get a little closer to my fly rods and my camper, that's the plan."
For now Hausauer will keep enjoying those bright little moments of his work day when he gets to talk with customers and help with their printing needs.
For more information on Top Copy, visit https://www.loc8nearme.com/montana/whitefish/top-copy-printing-inc/5678116/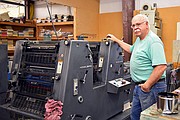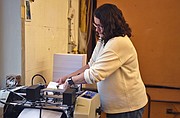 ---