Bulldog senior captains leave soccer legacy well intact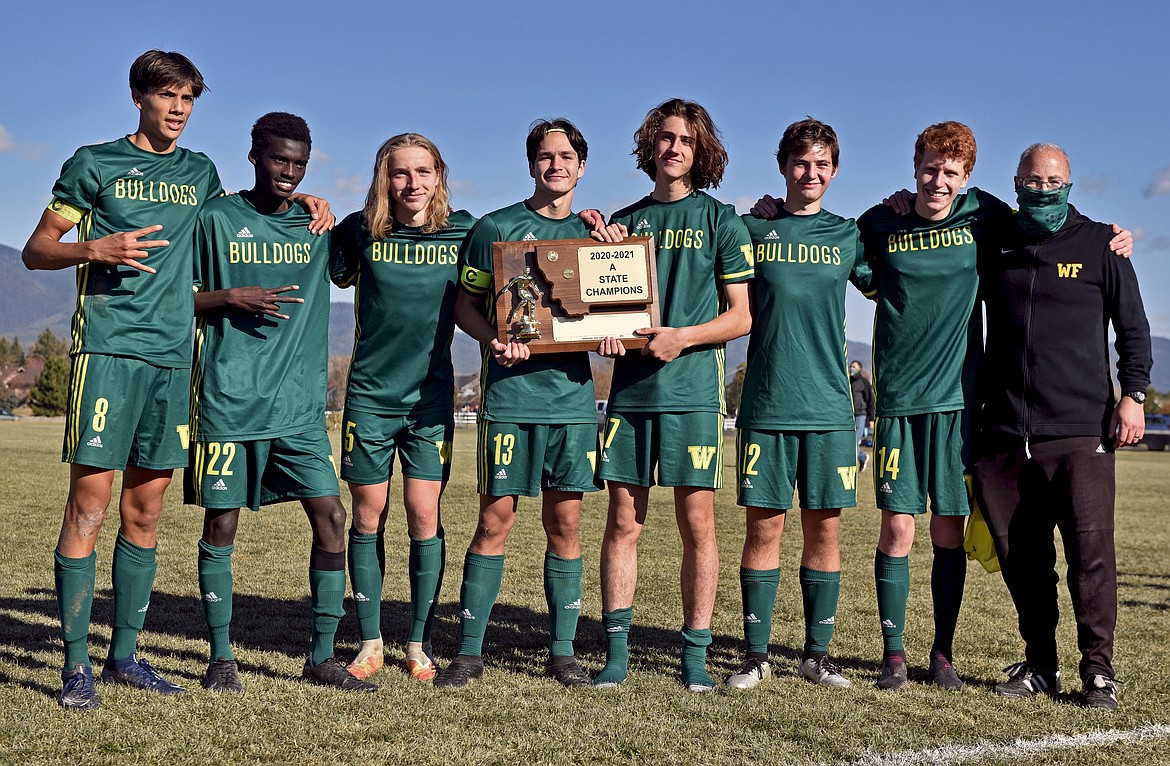 Whitefish boys soccer seniors and coach John Lacey pose with their third-straight Class A state title trophy Saturday at Smith Fields. (Whitney England/Whitefish Pilot)
by
WHITNEY ENGLAND
Reporter
|
November 4, 2020 1:00 AM
There is a lot of pressure involved in taking over the leading roles within a storied, championship-caliber program, but there's power in it as well.
Thirteen games ago Whitefish's senior captains — Brandon Mendoza, Ian Grover and Joshua Gunderson — took to the soccer pitch alongside the rest of the team like they had so many times before. But this time, those seniors were it.
They felt the pressure because there was no longer a safety net of older players above them to score the winning goal or bring the team up after letting one sneak through the defense, Mendoza says. Each and every one of the seven seniors including the team captains rose to the occasion.
Throughout the season the Bulldogs extended their undefeated streak to 44 games, earned home field advantage throughout the playoffs while beating teams by a margin of at least three goals and capped their efforts Saturday with a third-straight Class A title.
"It's everything I could have asked for, starting as a freshman this is what I imagined," Gunderson said following Whitefish's 3-0 championship victory over Columbia Falls. "I knew that we would have a great team and I knew that we would have some great years."
In the finals, Mendoza saw his 21st goal of the season — he completed his senior year atop a noteworthy list of Class A players in goals scored, averaging 1 1/2 goals per match, and also recorded eight assists. Mendoza admits in previous years he was more concentrated on assisting last year's leading scorers — Casey Schneider and Sam Menicke — and this season he made a switch in his focus.
"The first thing comes mentally, I knew I had to step it up a notch to replace where Casey was last year," Mendoza said, going on to explain he also worked hard physically throughout the summer even outside of soccer to improve his game.
"It's been weird though, I didn't expect that I'd get this many," he added. "But I matched what the other boys did last year and that's all I wanted, I just wanted to fill their role and I did, statistically too. I am pretty proud of myself and I'm proud of my teammates too for helping me get there."
Looking back on the season, Mendoza said his favorite goal was during Whitefish's 5-0 Homecoming victory over Columbia Falls. His teammates had piled on four goals in just under 20 minutes and he capped the scoring streak.
"I was on top of the box, so like 20-25 yards out, I just got a pass from my teammate Marvin Kimera, took a touch and just let one fly and it went top right," he said. "It was super awesome. I was just really happy to show everyone what we can do."
Whitefish's head coach John Lacey said Mendoza deserves credit for his achievements. When he joined the Bulldogs as a freshman he was a good soccer player that hadn't quite developed into his full potential physically; though, after starting for the varsity team all four years and a few growth spurts he's had a stellar senior season offensively.
"I've never seen anybody stop him, his work ethic is great, he's a great leader in terms of the example that he sets for the other guys," Lacey said. "So again he's earned everything, he's a hard player to play against and he works super hard."
As Mendoza gratefully acknowledges his place on top of the Class A stats box, he gives much credit to the guys on the field with him. To speak to that, Whitefish as a team recorded assists on nearly 80% of the 70 total goals they scored this season. The Bulldogs style of play leads them to enjoy a game with many passes on the ground and a plethora of goals.
The group of seniors has played together for the past 10 years at minimum, with Mendoza and Gunderson's history dating back to the first grade when both went out for recreational league soccer together. Mendoza says that with that history and team chemistry, he couldn't imagine playing on any other squad.
"It's been really nice being a part of this legacy we've created and been a part of," he said. "The chemistry I couldn't get anywhere else."
Whitefish's defense has been equally as noteworthy this season. Grover, the Bulldog's four-year-starter center back, has stifled several of his opponents' scoring opportunities over the years and especially this season.
Whitefish allowed a record-low of five goals throughout this season's 13 games. The boys posted eight clean sheets including all three postseason games — outscoring opponents 12-0 throughout the playoffs.
"The real record that is a part of this year is our defense giving up only five goals all year is better than we've done through all of this time," Lacey said referring to the six years he's been at the helm. "Brandon certainly led the stats in the state as a goal scorer, but we haven't given up a goal in the entire month of October and a lot of that is due to Ian Grover."
For Grover, leadership seems to come naturally. He's been teaching his teammate Nico Hunter the ways of the center back position and enjoys leading the defense. This season Grover strived to keep clean shutouts every game, although in the early season a few sneaked through, he is proud of a defense that didn't let anything past them in postseason play.
"One of the goals I had was keeping it zero on the scoreboard, and we didn't do that earlier this season which is OK but in the playoffs keeping it zero is even better in my book," Grover said.
He went on to explain the standard he's tried to pass on the underclassmen this year.
"Just the leadership role has been really fun this year," he said. "I kind of reflect on how the seniors when I came in freshman year acted and the years following, so it's kind of a give and take."
As these captains and seniors move on from high school soccer they can all feel proud to leave a legacy behind that is fully thriving and it is up to the future players to make what they want of it.
Mendoza concluded by saying he was glad soccer gave him an avenue to become a role model and that he was able to step into those shoes on and off the field.
"I've tried to become as good of a role model as (the seniors) were to me when I was a freshman… If you see me at school or on the field, I'll be smiling. I like bringing some laughs to everywhere I go," he said.
---