Artist finds talent in painting watercolor
by
HEIDI DESCH
Editor
|
November 4, 2020 1:00 AM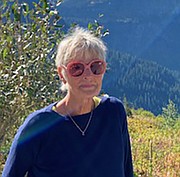 Jeanne Tallman began painting when a friend needed a ride to art class.
"I had never held a paintbrush in my hand before," she said. "That was my first experience taking any art classes and I was already a grandmother then."
Now several years and many art classes later, her watercolor paintings are being featured for the month of November at Phillips Studio and Gallery, in the Kalispell Center Mall.
Tallman is a fourth generation Montanan who lives in Whitefish. After retiring from a career in business and raising four children, she began to work more seriously on her art by taking classes through Flathead Valley Community College.
Her first class was with artist Karen Leigh, who Tallman says has been her mentor. Tallman continues to take classes, along with a group of friends, from Leigh as they perfect their work together.
She's taken a few classes here or there in other art mediums, but watercolor has been Tallman's mainstay.
"It's the only thing I've ever done," she said. "I've taken one or two classes in oil painting, but that's too slow because it has to dry. I like how watercolor allows you to do things spontaneously. You can change watercolor too if you don't like it."
Tallman says she had little faith in becoming an artist, noting that her children refused to play Pictionary with her because she couldn't even draw a stick figure. After that first class her painting was so bad she says she had no plans to go back, but her friend needed a ride so she didn't have a choice.
"I never dreamed I'd have an art show," she said. "But I'm living proof that anybody can be an artist and I really love it."
Tallman has displayed her work at the Hockaday Museum of Art, Bigfork Art & Cultural Center and Persimmon Gallery. She also sells cards with her work on them at Bookworks.

Being an artist has led Tallman to carry a sketchbook and paint kit with her everywhere she goes. She describes her work as "eclectic" because she paints whatever she finds interesting from people to landscapes.
"You remember things better when you paint them," she said.
One of her pieces featured in the Phillips gallery, is a portrait of a blonde woman from behind entitled "Becky."
"I was sitting outside Fleur bakery having coffee and I saw Becky Rygg walk in and I asked her not to move so I could take her picture," Tallman recalled. "I grabbed my camera to take her picture then I went home and painted her."
Phillips Studio and Gallery, at Kalispell Center Mall, provides a showcase each month for a visiting artist. It will hold an opening reception for Tallman on Friday, Nov. 6 from 5-7 p.m.
---